Devon, Pa.—June 4
Martha Ingram's Devon Horse Show got off to an inauspicious start when Private Practice spooked at a fence in the 3'3" amateur-owner hunter, 18-35, over fences on Friday, and they were eliminated for refusals. But Ingram was able to put that in the back of her mind when she headed over to the Dixon Oval to compete in the amateur-owner hunter, 18-35, with Quimby.
There her luck turned around when she piloted John and Stephanie Ingram LLC's Quimby to three blue ribbons on the first day of competition. A yellow ribbon in the stake class helped earn them the division championship and the grand amateur-owner title. Caroline Ingalls and Concerto took reserve.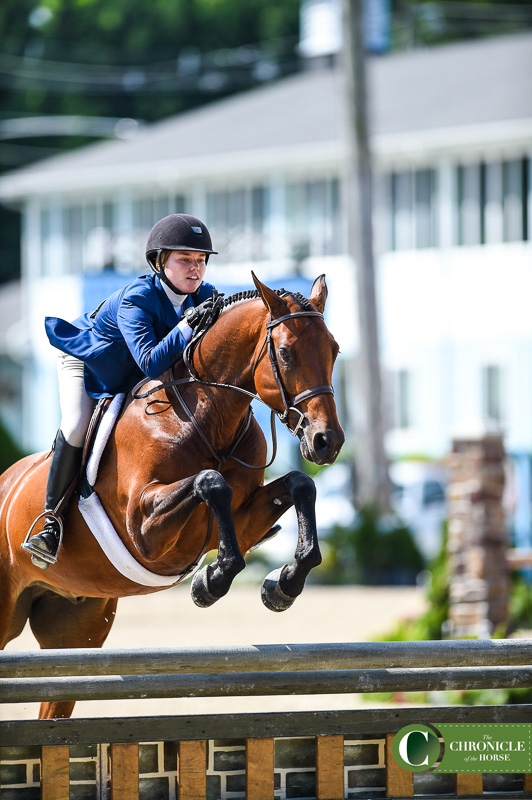 "I had a really magical first day I would say," she said. "Winning all three classes, I could tell you in a million years I never thought that would happen especially at a horse show like Devon just because it's so competitive. But I just had the best horse in Quimby. Even though it's a new partnership I really trust him and know he's going to be good out there."
Martha started showing the 11-year-old Holsteiner gelding (Q Verdi—Zanna I) at the beginning of this year. Previously the gelding primarily showed in the equitation division with Grace Debney, and the pair won the Dover Saddlery/USEF Hunter Seat Medal Final (Pennsylvania) in 2021. His experience in the hunter derbies and his hunter way of going made it easy to transition him to the hunter ring, Martha said. He was fourth in the $25,000 USHJA International Hunter Derby at Devon on Thursday with Kristy Herrera.
"That gave me a lot of confidence to go in and just stay calm but be confident and kind of nail those rounds," she said. 'Luckily the judges like my horse, so it's been really amazing."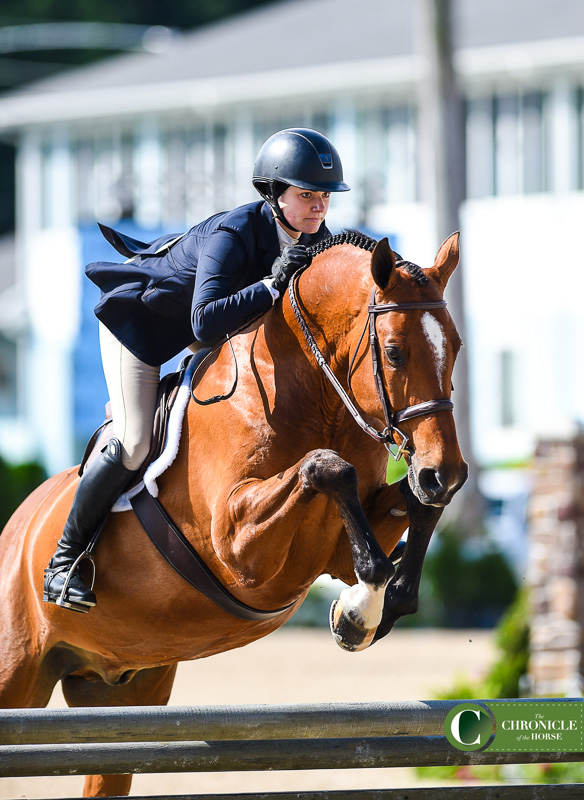 And Martha turned things around with Private Practice today too, taking the win in the handy and second in the stake in the 3'3" division. That gave them enough points to jump into the reserve champion position there.
"It was great to get the reserve champion on Private Practice because we didn't have a very good day yesterday, which kind of was a blessing in disguise which just made me kind of calm and realize that at the end of the day even though it's special, it's just another horse show," said the rider from Nashville, Tennessee. "Of course it's always great to get tricolors and all of the awards, but I'm just really proud of my horses and myself. We're a team. So buckling down and getting it done."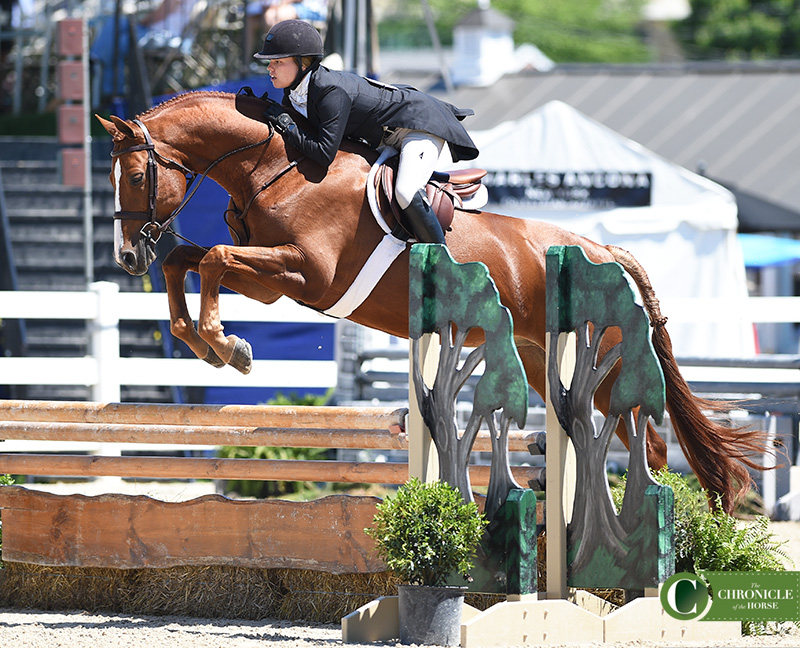 Quest Carries The Torch For Danhakl
While Stephanie Danhakl's Quest is leaving Devon with the grand 3'3″ amateur-owner hunter and 3'3" amateur-owner hunter, 15-35, honors, it proved to be an emotional weekend for Danhakl. While she was thrilled with the result, she was missing her reigning grand champion Enough Said, who died unexpectedly on Jan. 1.
"I call him the 'Devon King' because he's been grand champion three times, reserve champion twice, and usually Quest is just right below him," she said. "Quest really shined, and I feel like Enough Said was watching down on us and giving us some luck and whispering in Quest's ear. He couldn't have been better, and I'm so happy he ended up defending 'Contest's' title."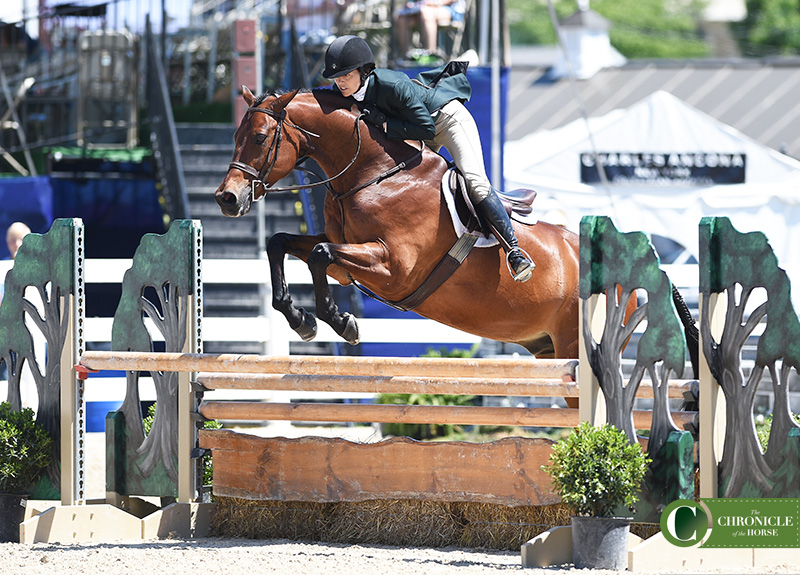 Danhakl and Quest, a 15-year-old Dutch Warmblood (Verdi—Udina) won the first over fences and the under-saddle, were second in the handy and fifth in the stake to take the division championship over Ingram and Private Practice.
"He really stepped right up," she said.
It was a different Devon for many reasons for Danhakl, of Boston, as this was her first as a mother. Her son Miles Danhakl Raymond was born in January, and she only got back in the show ring in late March.
"The first horse I got back in the ring on was Quest. I know him so well," she said. "He's so consistent. I know that he's going to make it around and be safe. I feel really comfortable on him. I guess there was a little pressure on me just because I wanted to defend the championship for Contest, but I couldn't be happier that it worked out this way."
From Waitlist To First Devon Championship
While Irene Neuwirth grew up riding, she didn't show at national or premier-rated competitions until she was an adult. Even still, she dreamed of the day she could qualify for and compete at Devon. When the winter show season in California was cut short due to the EHV-1 outbreak, Neuwirth thought she might have to wait another year for her chance as both of her horses, Juan Carlos and Guess Who were waitlisted.
While Juan Carlos was at the top of the list and made it in quickly, Guess Who sat 13th and got the call-up at the last minute. Both horses ribboned, and Juan Carlos earned the division championship in the amateur-owner hunters, 35 and older.
"I was just happy if I got a ribbon," she admitted. "I was like I got third [in the first class! My trainers John Brag and Mitch Endicott] were like maybe aim a little higher, but I'm like I'm so happy!"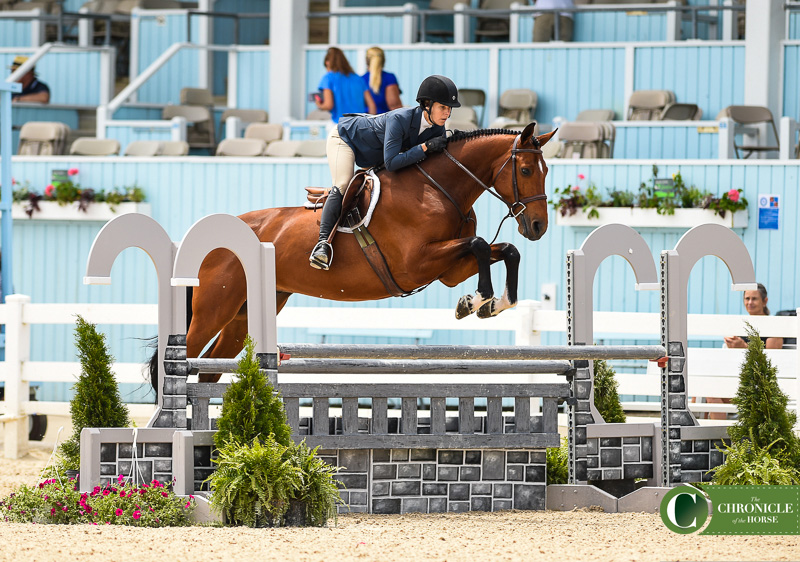 Neuwirth and "Carlos" went on to win two blues over fences and take fifth in the hack on their way to the championship over Sheila Motley and Willing. Neuwirth, Malibu, California,  has owned the 9-year-old Holsteiner (Casall—A-Comme-CI) for a year, and they just stepped into the 3'6″ this year.
She describes her horses as opposites.
"[Carlos is] super, and he's like the amateur dream horse, so a super great attitude," she said. "And my other one has his knees to his ears. He's like a wild hound and a little more green. He was super. They went in and were so unfazed, both of them. I made mistakes, they were perfect."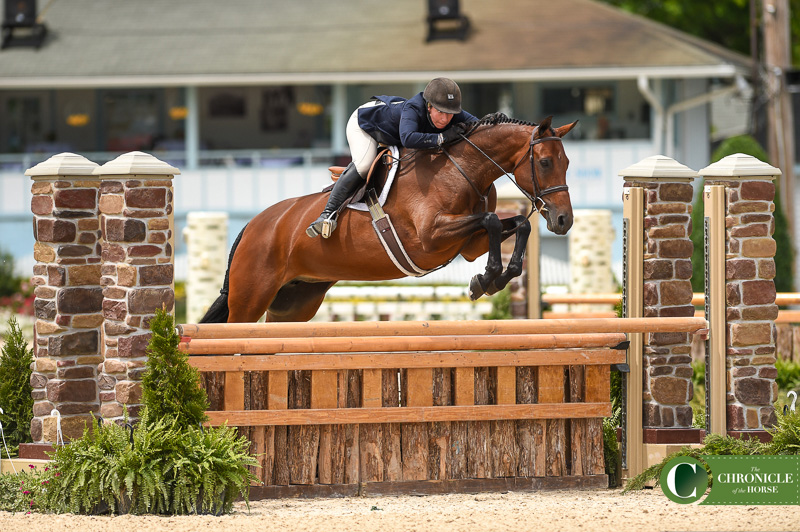 Neuwirth has had an eponymous jewelry company for about 25 years, so she splits her time between that and riding, though she jokes that horses are her first priority.
"I enjoy it so much that I fit it in wherever I can," she said.
And it feels even more worth it after a successful weekend.
"It's just really better than I ever thought it could be," she added. "I'm honored to be here. It's a humbling sport."
Sadrian Stays Cool For Championship
As Lee Kellogg Sadrian cantered around the Wheeler Ring in the stake class for the 3'3″ amateur-owner hunter, 36 and over, division, she reminded herself to balance off her shoulders not her hands. That mantra helped her ride Blink to his best, earning a 90 for the blue ribbon, clinching the division championship over Kit McClorey and High Tide.
"Going into the last class I knew I had to win and he got a 90, so that was hard to do," she said. "Major pressure. Third to last, I was like I've got to pull this out. [It] makes it fun, exciting."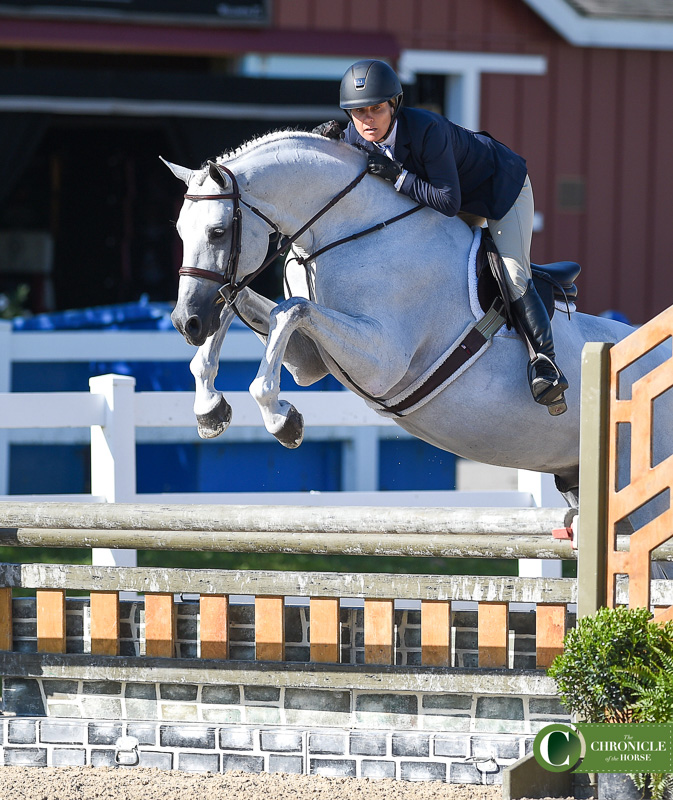 Sadrian has been riding with her trainer Rolf and Jennifer Bauersachs for more than 27 years, and they helped her find her 10-year-old German Sport Horse (Lev'sonn—Contana).
"He's just a special, special horse," she said. "The jumps were not even that spooky, but he was jumping them like crazy. He's an amazing jumper, and I'm lucky that he's a great mover because he won the hack. That always helps. Especially after he spooks in the first class, you kind of need that hack.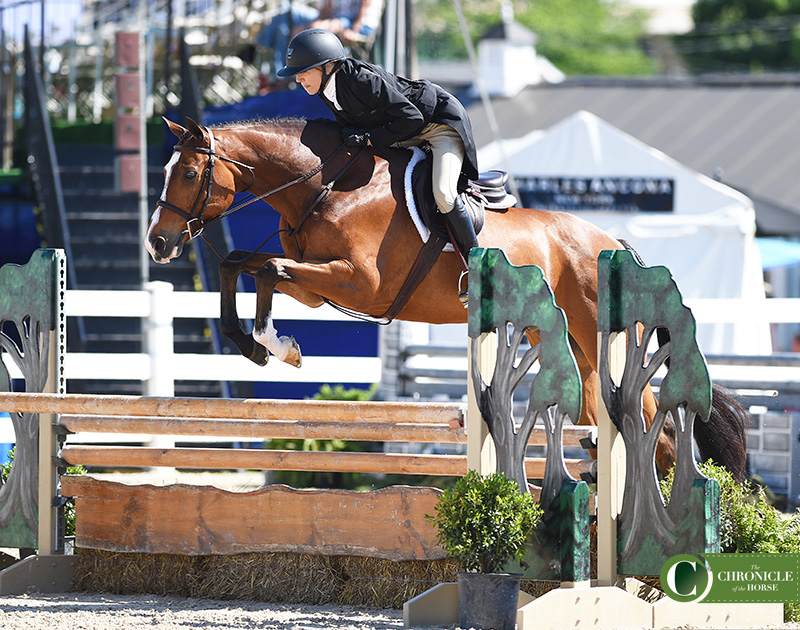 While Sadrian, of Summit, New Jersey, was thrilled with the experience, she didn't take much time to celebrate before heading out to watch her daughter compete in a lacrosse tournament.
"It's hard," she said of balancing all her responsibilities. "But I think in some ways you get uber focused because you have so many things going on and trying to juggle all the kids and everything else that they do. You have to be focused. I got trained. This is it. I've got two minutes of me, and then I have to go back to them."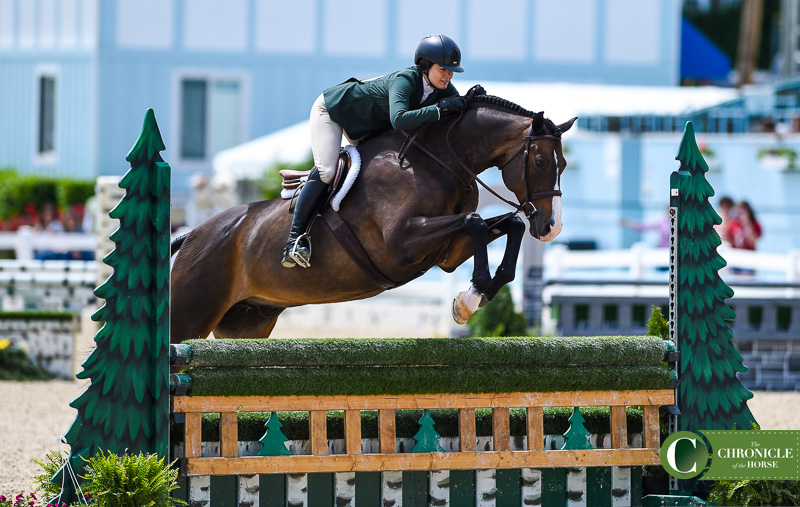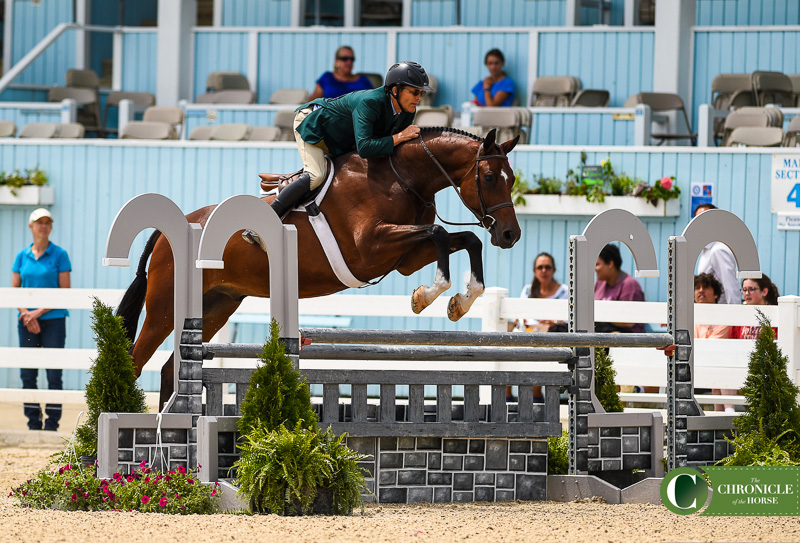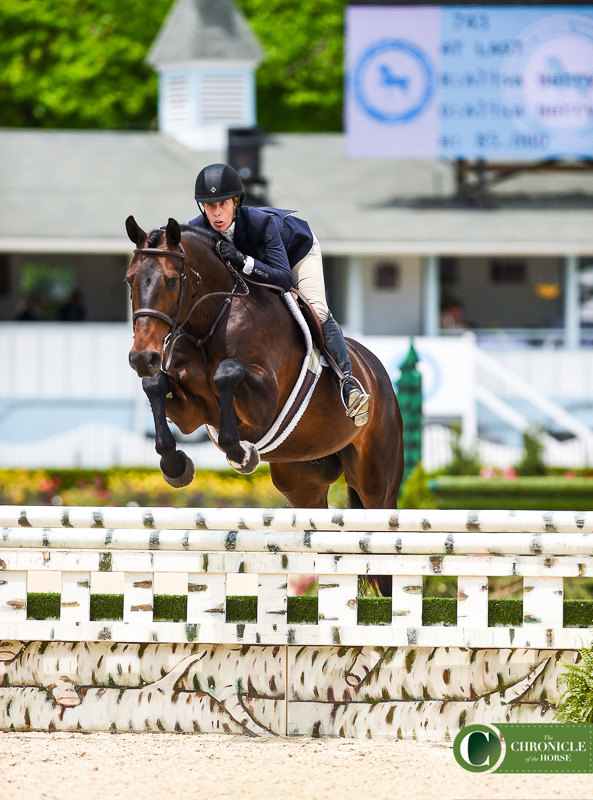 Important Links: Devon Horse Show website / Order of go and results / The complete schedule of classes and exhibitions / Livestreaming / All of the Chronicle's coverage
The Chronicle will be on site all week bringing you beautiful photos, daily reports and more. Don't forget to pick up copies of The Chronicle of the Horse magazine. Junior Weekend coverage will be found in the June 13 & 20 issue, and coverage of Senior Week will be in the June 27 issue.