Washington, D.C.—Oct. 27
Beezie Madden entered the press room with three sashes around her chest. In the arms of Victoria Lowell, Washington International Horse Show president, were Madden's three celebratory boxes of Georgetown cupcakes.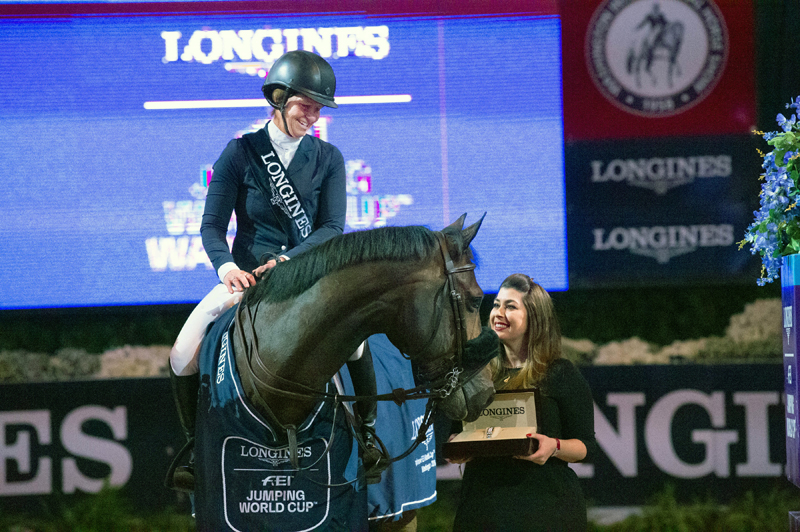 Celebrations were in order as Madden won her third $135,000 Longines FEI World Cup qualifier at the Washington International Horse Show. The victory represented only a fraction of her night's success; she also received the George H. Morris Style of Riding Award as well as the Leading Lady Rider Award.
"This was [Breitling LS's] first indoor of the year, so it's nice to see he's in form, and it shows why he was good at the [2018 Longines FEI World Cup Final, which he won in Paris]," said Madden. "He walked right in here; he's clever, rideable, adjustable [and] careful. He can handle tight spaces like this."
Madden and the 12-year-old La Silla stallion Breitling LS were one of 24 combinations entered. Four proceeded to the jump-off, with Madden topping the leaderboard in 30.74 seconds.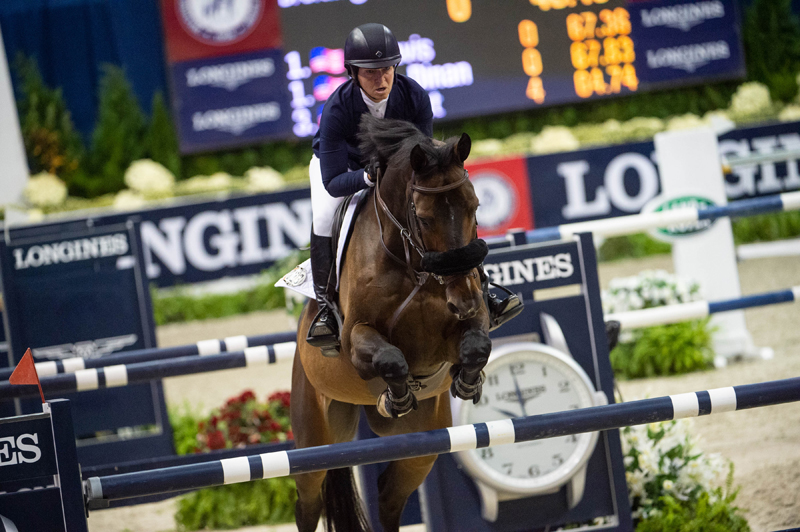 Katie Dinan earned second place with the 13-year-old Irish Sport Horse gelding Dougie Douglas. Her trainer Beat Mändli — victor in last year's world cup qualifier at WIHS— was one of the first to congratulate her on her  finish.
"I would have loved to have a repeat victory for the team, but there's nobody else in the world I'd like to be second to," said Dinan. "Beezie has been an idol of mine for a long time, and Lucy [Davis, who finished third with Caracho 14] is one of my oldest friends in the sport."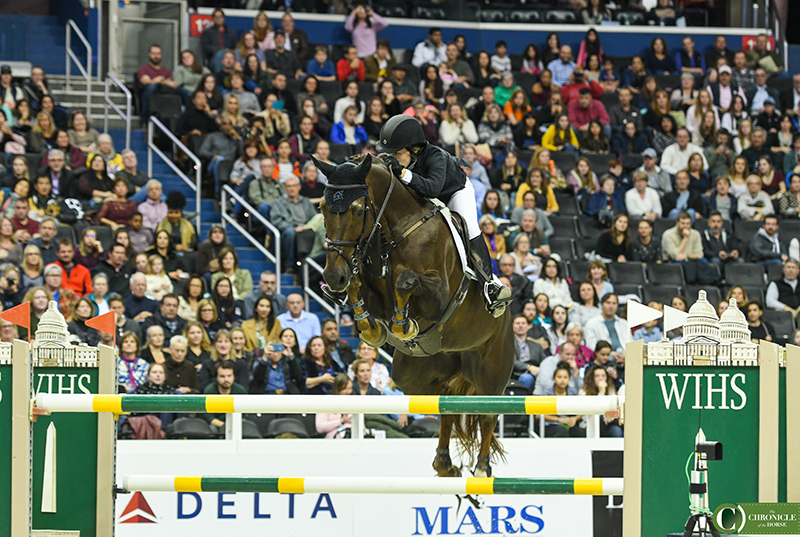 "I have a huge amount of faith and trust in my horse. He's a superstar; he doesn't need a costume to prove it," said Dinan, who has been partnered with Dougie Douglas for the past two years.
"I'm so grateful for him, and I knew with him I could take a great shot," she continued. "I had no choice but to go for it because Beezie was behind me. Last year I was the fastest time but had one down. This year I said, 'There's only four so let's do our best.' "
Davis closed out the top-three placings with the 9-year-old Holsteiner gelding Caracho 14.
"I've been patiently waiting since he was 7, so we know each other well," said Davis. "Lucky for me he has an amazing brain, so I can keep challenging him at each show, and he's been delivering each time."
IMPORTANT LINKS:  All the COTH Washington International  coverage  |  What You Need To Know  |  live results/order of go  |  live streaming  |  show website
More in-depth coverage of WIHS will run in the Nov. 22 print issue. Subscribe today!
2018 WIHS World Cup Qualifier
Chronicle Intern / Oct 28, 2018 6:49 am