Paris—April 12
Beezie Madden is a planner. She likes to create a vision for how she wants things to go, and then she executes it. And in the first leg of the Longines FEI World Cup Jumping Final, coming up with a strategy can be the most difficult part.
With three full courses to follow, you've got to hedge your bets on how much to push your horse. But go too slow, and it becomes harder to move back up in the rankings.
But when Madden comes up with a plan, she likes to stick with it, and today it fell exactly into place.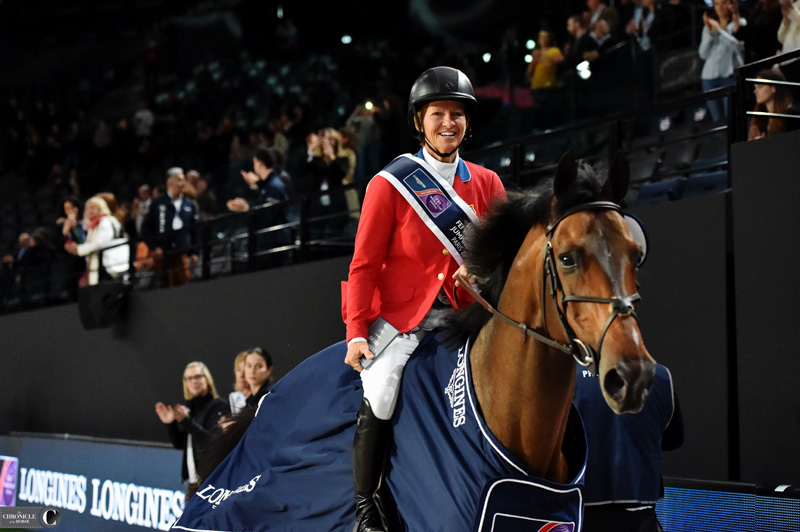 "I thought he was fantastic today," she said of her ride on Breitling LS. "This is one of the hardest parts of the World Cup I think. Obviously the courses get harder, but the strategy and trying to execute it perfectly is difficult, and it shockingly went according to plan—just how I wanted to do it—and he was fantastic. He was right there for me every time I called on him."
Madden was first to go after the mid-class drag break, and with a clear round she stopped the timers at 61.89 seconds to take the lead. Germany's Daniel Deusser came the closest to knocking her off the top spot, finishing in 62.61 seconds on his 2014 World Cup Final winner Cornet d'Amour. Another American, Devin Ryan, slotted into third with Eddie Blue.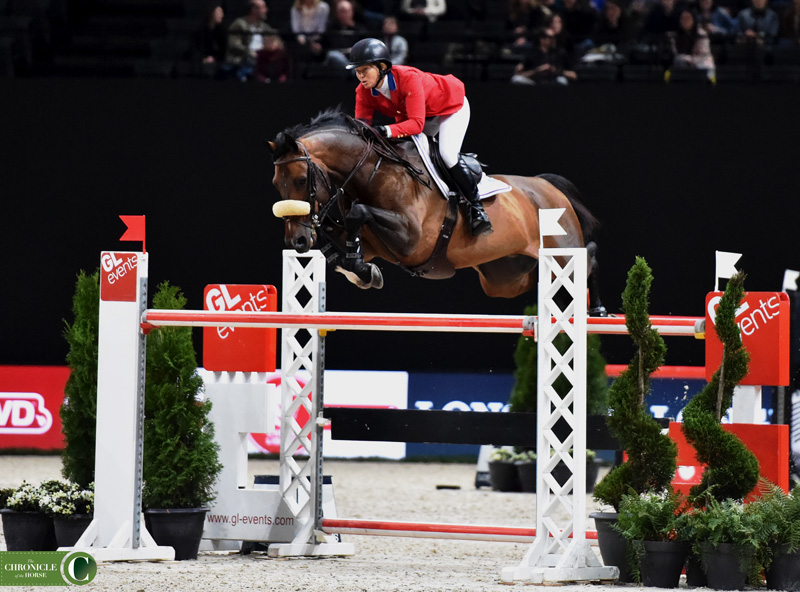 "He has gotten quite fast," said Madden. "He's won quite a few classes the last year and this year as well, and I thought this was one of his strong points. Some horses you might not take the risk today because you need the horse to be rideable and careful for the rest of the competition, but those are his strong points. He's rideable, and he's careful, and tonight I thought it was OK to take a shot. We'll see tomorrow."
Leading after the first round isn't an unusual spot for Madden. She led the speed leg when she won with Simon in 2013—a fact she sheepishly admitted to when asked in the press conference. But she's not going to get too caught up in worrying about history repeating itself.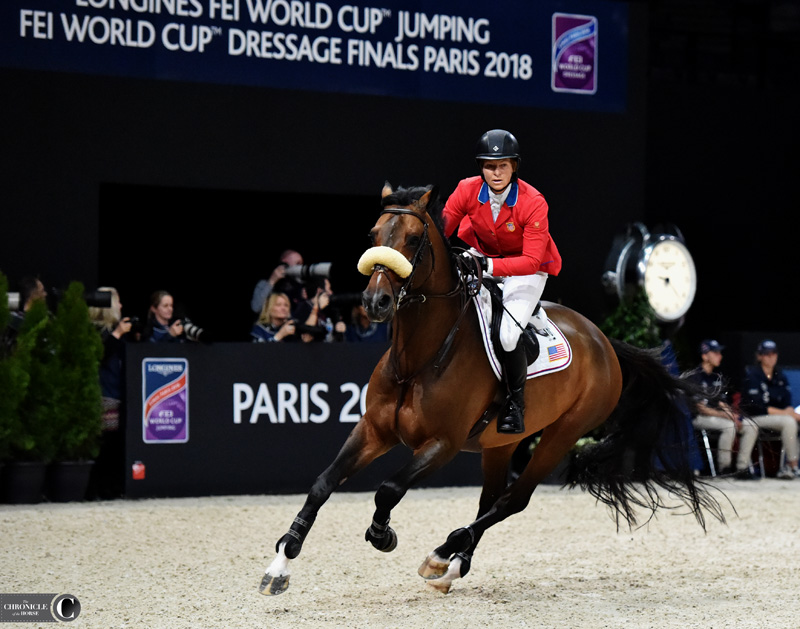 "It's better than the other positions so far," she said. "It's a long week, and I thought this would be a good format for my horse because he's careful and he's fast and rideable, and hopefully he's good for tomorrow, but we'll see. It's a long way to go, and I'm going to take it one day at a time, and at least I put myself in a good position."
The 12-year-old La Silla stallion (Quintero—Armonia, Acord II) got his start with Jeroen Dubbeldam before Abigail Wexner purchased him for Madden in 2013. For the past year he's been on a hot streak, only dropping a single rail this season for two grand prix victories and a second in the only three competitions he's done this year. Because of his success, Madden felt this was a good time to enter him in a championship.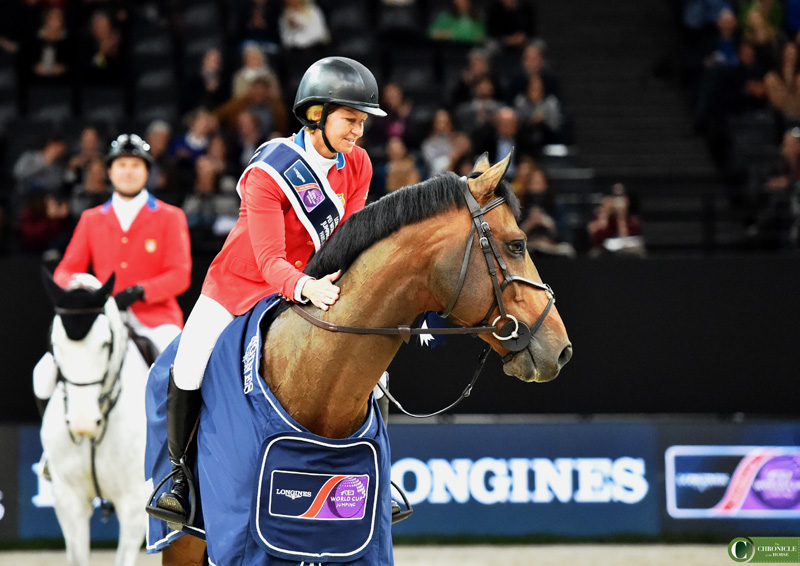 "I've had him the longest of my other horses of this level, so I knew him the best and thought that was best for this championship," said Madden. "Having said that, it is his first championship, so we'll see how he does the rest of the way. He should have the stamina, but we'll see if he can dig in and jump the biggest fences."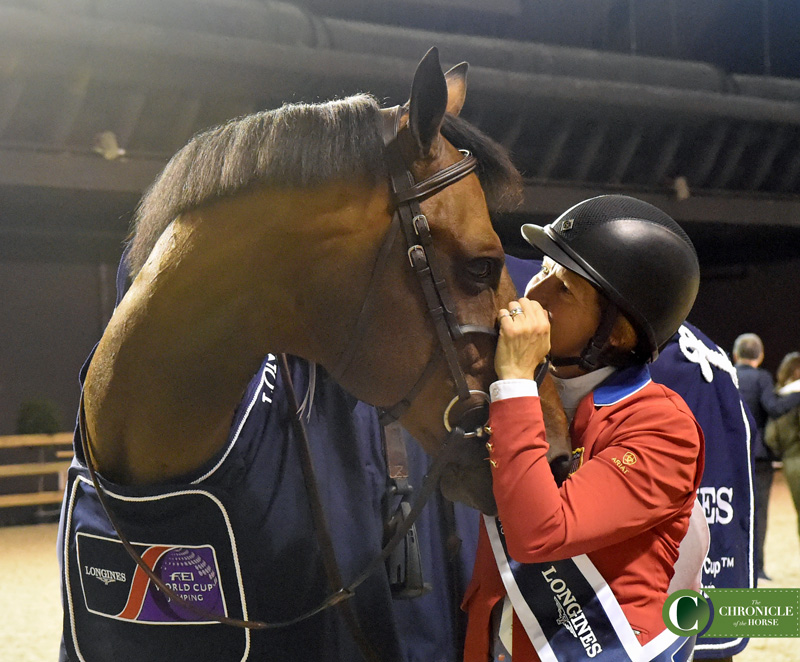 Watch Madden and Breitling LS's winning round.
Deusser admitted he wasn't a fan of course designer Santiago Varela Ullastres' track, but he's happy to be in the hunt.
"I was very happy with [Cornet d'Amour] today," said Deusser. "It was not really a super sharp turn that I could do; I know naturally he's not really the quickest. I cannot leave strides out like Marcus [Ehning] can do for example, so I tried to just have a smooth round and always a forward distance around the corners, and actually it worked out quite well."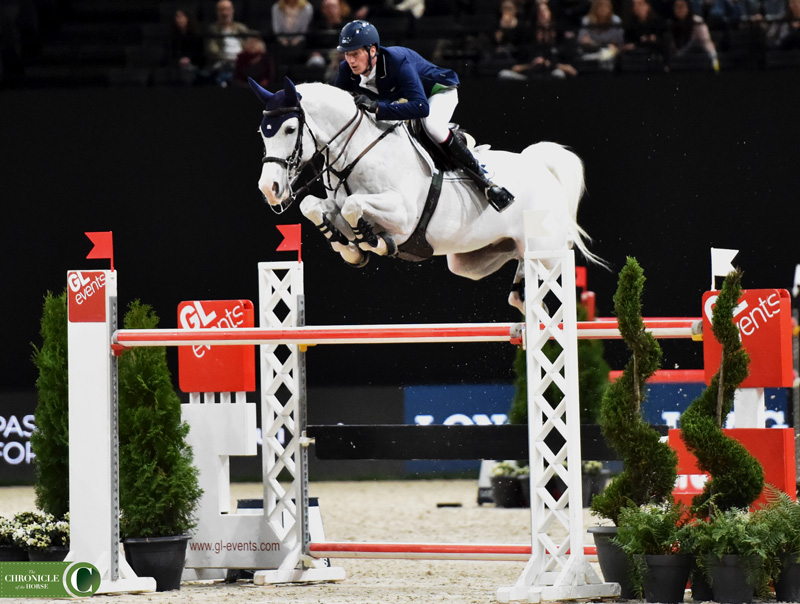 While Ryan's name may be fairly unknown to the European crowd, he came to Paris feeling confident that Eddie Blue was ready to take on the challenge. And the 9-year-old Dutch Warmblood lived up those expectations.
"I rode the plan," he said. "After watching the first couple go I adjusted a couple of things. My horse has such a massive stride that what really made it work was that I was able to make up time leaving strides out. When I walked the course I thought my horse could do five to the last, and it was a little desperate and dicey coming out of the double. Everyone sort of convinced me not to, and then I was pulling so hard for the six, and I obviously should have done the five there, and maybe I would have had the time. But Beezie had a beautiful, class round, so it's always nice to come to the venue and be in the top 10 at least."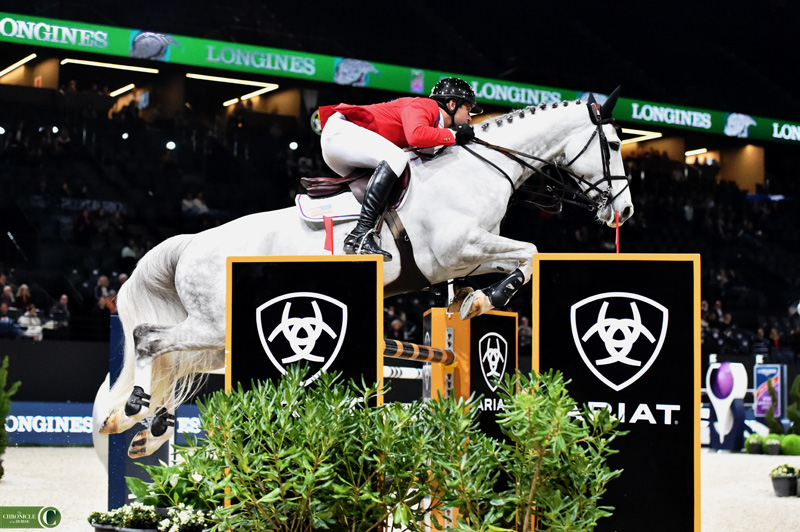 It's Ryan's first time at the World Cup Finals, and he's on a horse he's had since it was a 4-year-old. The gelding was a force to be reckoned with in the young jumper classes, and he stepped into the grand prix with plenty of fight.
"It's awesome," Ryan said. "It's great. When you have a horse like this you know you can play in these leagues, and it's just nice that we have that rapport together since I've had him since he was 4. I have a lot of confidence in him, and I think he has a lot of confidence in me, and I know him really well. Coming into this it wasn't as nerve-wracking because I really know my mount, and I know him well. Like OK this is just another show, let's see what happens and give it a shot.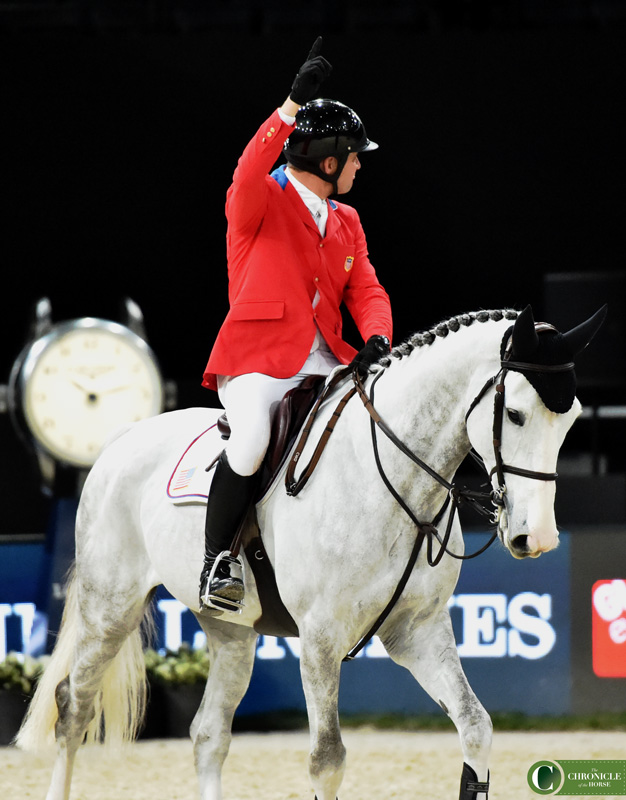 Defending champion McLain Ward and HH Azur had the time to beat Madden—they stopped the timers in 61.67 seconds—but a rail at the oxer in the final combination [fence 12A] left them sitting in 10th overall.
"I thought 'Annie' was brilliant," he said. "When I jumped the Ariat oxer [fence 10] I was up on the time I thought. I was a little slow to the plank; I did one more extra stride than I planned, and I think it took away a little of my momentum, and that's a difficult double to roll back and go away from home. She made a good effort; she hit the back rail, and I wish I'd done the eight and kept the momentum up, and it was an error maybe being a little cautious."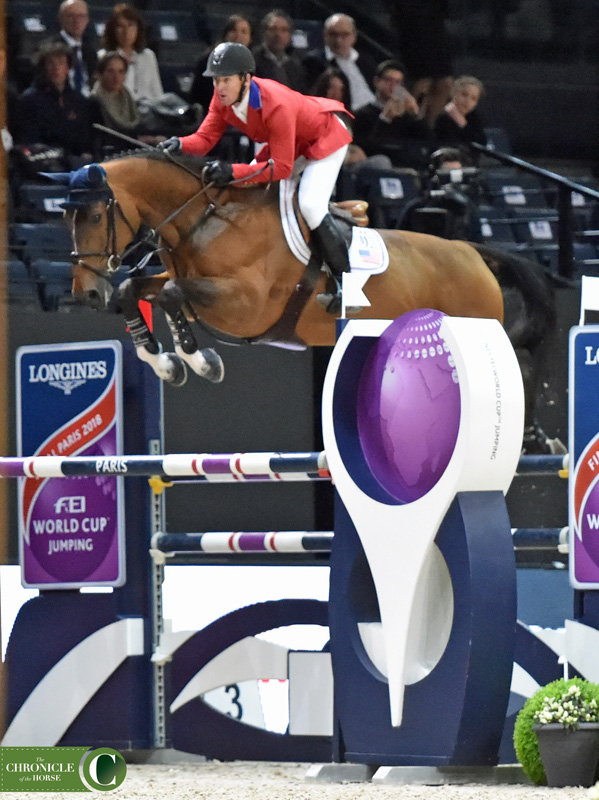 As the title defender, Ward has the most pressure to do well, and now he's trying to look forward to the second round, where he's hoping to make up some ground.
"You're always stressed," said Ward. "You always want to do well. When you have a brilliant horse you certainly don't want to let her down. Yeah, a little frustrated with a simple mistake, but things happen fast; you need it to go your way. It was definitely my mistake, and yeah, on to tomorrow."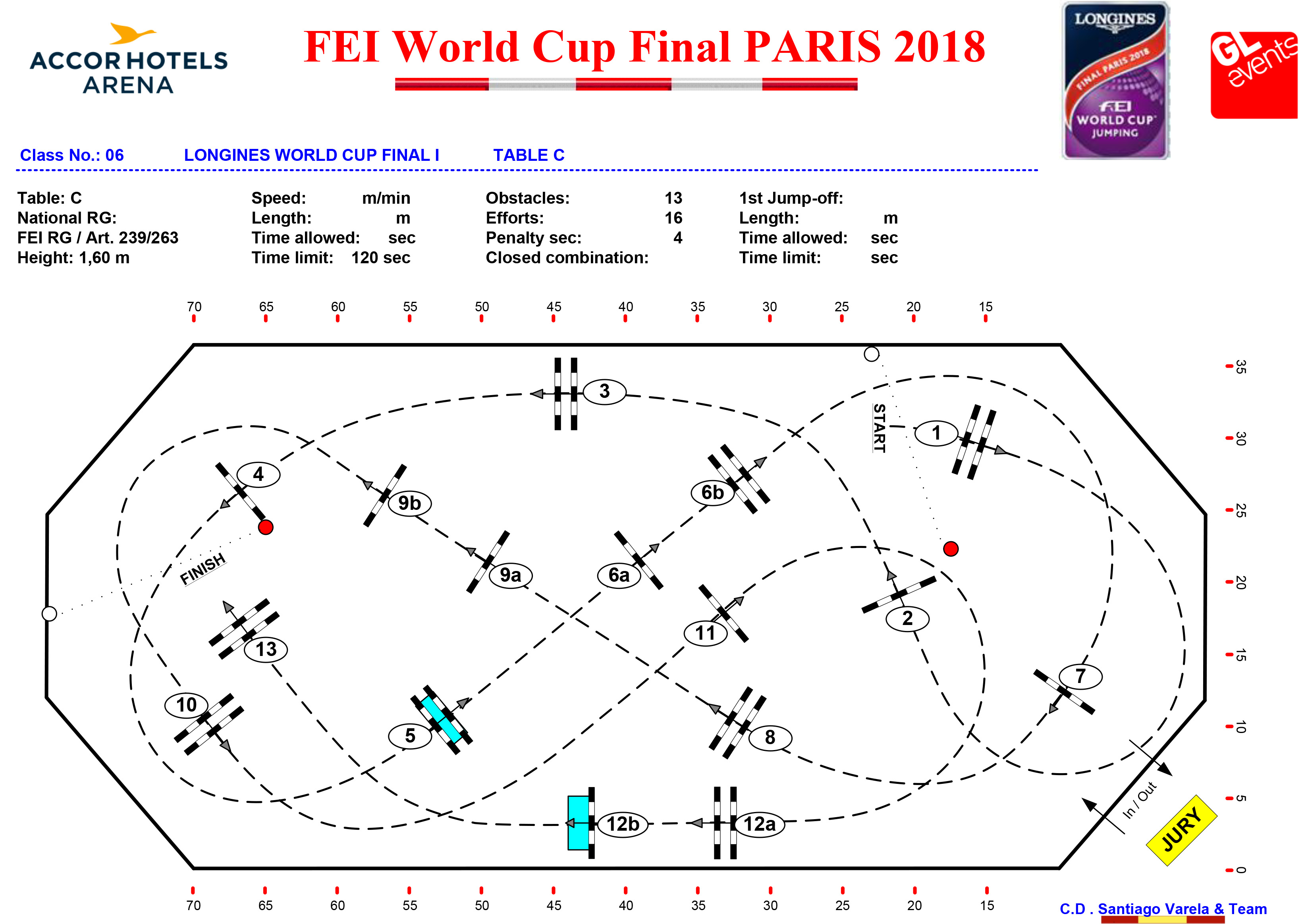 Alison Robitaille is the next best American, sitting 14th on Ace with a single rail on course. She hasn't been to a World Cup Final since 2006, so she's thrilled to be back at the championship level on a class horse.
"I'm so grateful to be back at this level and doing this, and I have an amazing horse," said Robitaille. "I took a break, got married, had two children—one is 6, and the other is about to be 9. I'm lucky to be in a sport where there is a long lifespan for athletes."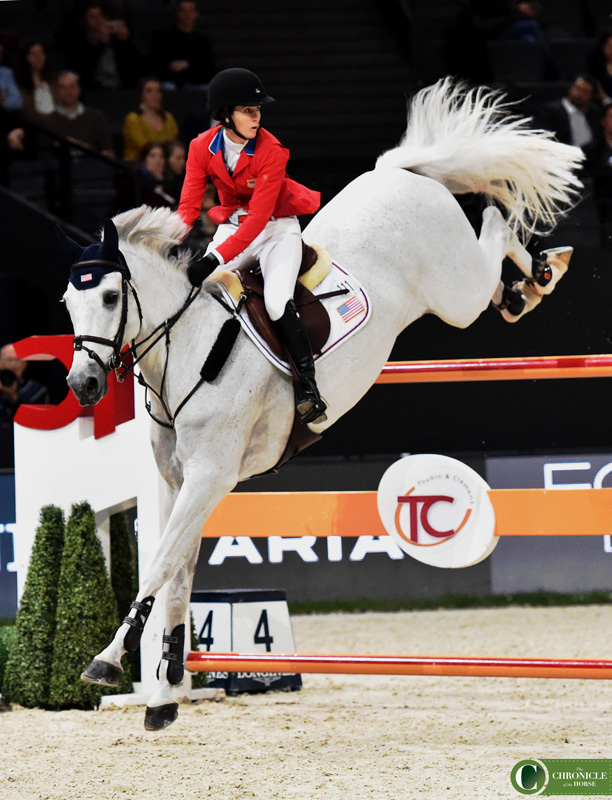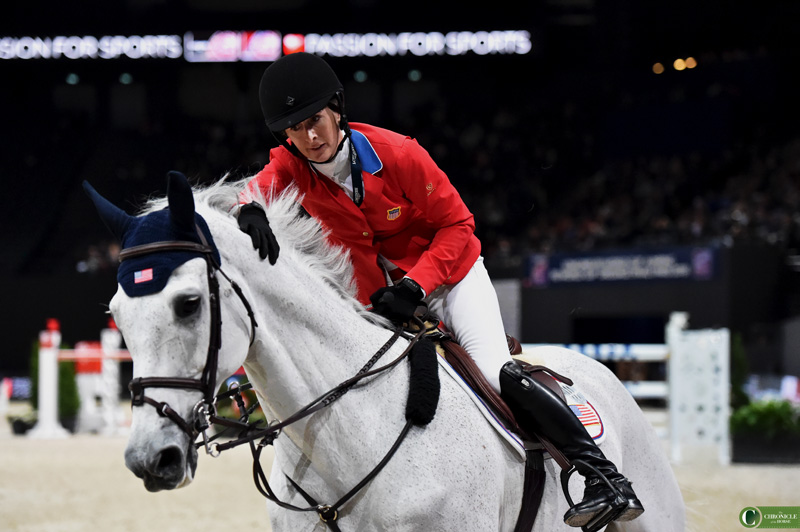 Another World Cup first-timer, Andy Kocher, had a fall in the non-World Cup speed class with another mount Ciana, so he elected to play it a bit safer this evening with Navalo De Poheton to sit 18th.
"I walked this course, and from [fence] 1 to 2 there was an option to go around or go inside, and I was thinking to myself I really should go inside, but I really don't want to go home early," said Kocher. "I want to jump the whole thing. Too many times in my life have I went inside, fallen off, stopped, and sometimes it works, and you're the winner, but do I really want my weekend to be over on the first day? I think I'll try something more conservative.
"I think I maybe made just a tick of an error or got a bit unlucky going to the double. It was a loose three, and I jumped in strong and pulled the reins on Stride 2," he continued. "I thought this would be the round when I'd have the most chance to do something well, so I thought I'd go at it, and I was a little more conservative than I had planned in my head, but I think it worked out. I had a nice round today. I didn't have an amazing round, but I had no disasters. We'll get to jump tomorrow on a good note."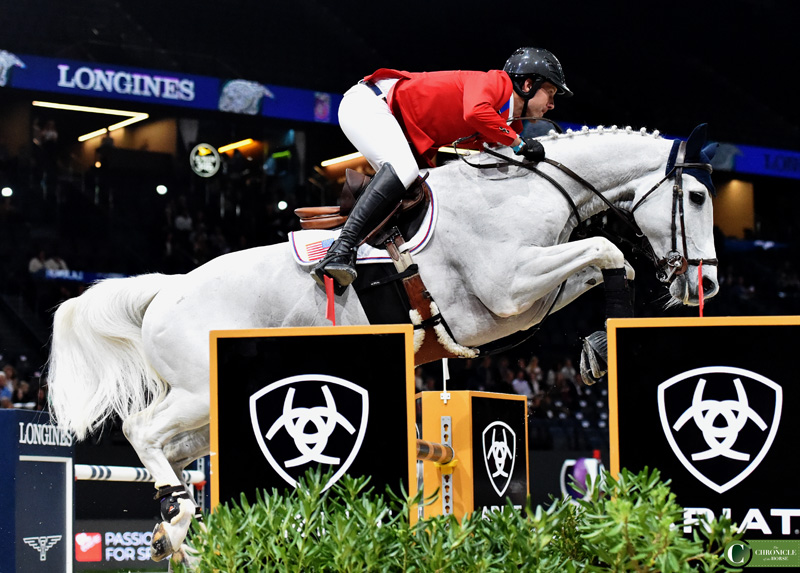 Jamie Barge had a rail on Luebbo for 24th, and another World Cup rookie, Kristen VanderVeen and Bull Run's Faustino De Tili, are right behind her in 25th after they had two rails. Richard Spooner also had two rails on Arthos R. Both Sarah Scheiring aboard Dontez and Charlie Jacobs on Cassinja S had three rails apiece to be 34th and 35th.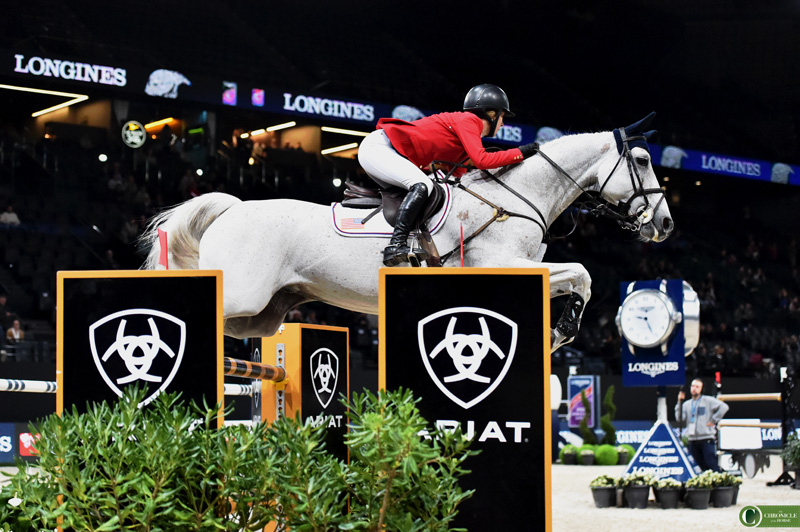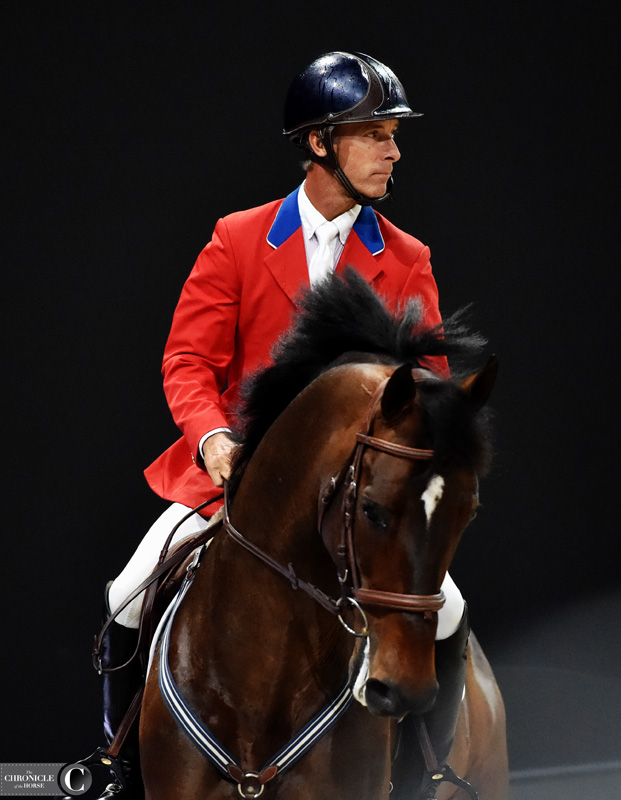 Click here for full results from the speed round.
The Chronicle of the Horse is onsite at the 2018 FEI World Cup Final. Keep an eye out at coth.com for all our coverage of the event in both show jumping and dressage.
Important Links: Paris World Cup website  ⁄  Orders of go and results /  Live streaming/ All of the Chronicle's coverage
Make sure to follow along on the Chronicle's social media outlets: Facebook, Twitter and Instagram.