Tallahassee, Fla.—March 12
Megan Lynn never imagined she'd be leading the victory gallop at the Red Hills International Horse Trials, especially considering it was her first time at the event, but she set the standard in the CIC* on Friday and never let her lead go.
Lynn had one rail in hand today on Elevate Event Team LLC's The Natural E, and she used it over Chris Barnard's track.
"I've never been so nervous! I was a little worried because we don't get to do stadium after cross-country very much, so I wasn't sure what kind of horse I was going to come out with. He was listening really well, but was a little quiet. I felt like he was a little tired," she said. "But he came in there, and I gave him a nice, forward ride because I can get to picking, and I felt like he was really trying for me. I'm thrilled. I'm like, squealing inside!"
Ten of 38 pairs jumped clear in the one-star. Boyd Martin and On Cue moved up to second with one of those clears, while Leslie Law and Up To You de Lorage dropped one rail to switch places with Martin.
Lynn, Versailles, Ky., said her win today was the biggest of her career. She got "Leo" two years ago after Karen Isberg of Kentucky Performance Products offered to buy her a horse.
Isberg had sponsored Lynn on other horses, but decided she wanted to become an owner.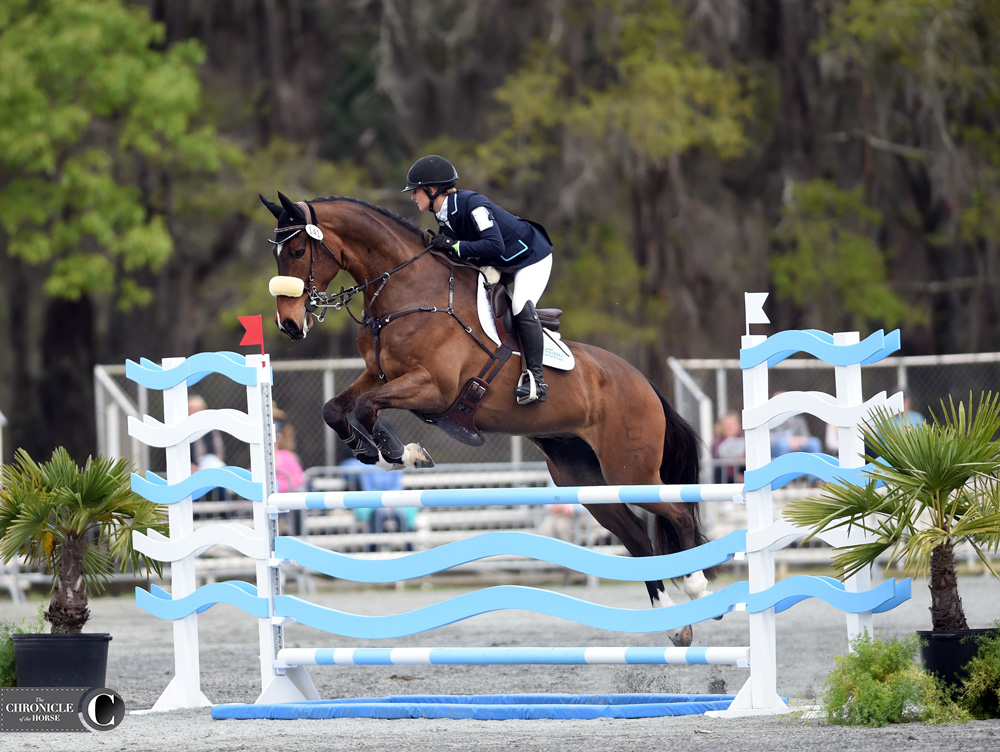 "She said, 'I think I want you to be my rider,' and I'm like, 'Don't you want somebody more professional and been-there-done-that?' And she was like, 'No, no. I want you,'" said Lynn, who's a professional but works part time as an ophthalmic technician.
After making a plan with her trainer Missy Ransehousen, Lynn flew to Europe, and with the help of Babsi Neidhardt Clark and Martha Thomas, found Leo, a 9-year-old Danish Warmblood gelding (Lindaro—Camelott AF Ommestrupp, Come Back II)"I tried several horses, and when I sat on him, I knew he was the one. Funny thing is he had the least amount of experience. He had never evented before, he had never shown. But I thought, this is my horse. We brought him over, formulated a plan, and it's kind of gone to plan, which is shocking for me. Nothing usually goes to plan. I'm usually praying! He's stepped up every plan that we've asked him to do," said Lynn.
"I had only ridden off-the-track Thoroughbreds before him, so when I was over there, I hadn't really dealt with warmbloods much, and he was hot, which is why I think we work so well together. I could work with that more. That's what he gives me out there—he's sharp off my leg, he wants to go forward," she continued.
Lynn is eyeing the Ocala CCI* (Fla.) in April. "I just wanted to come here and perform. I had come here, and I had set standards. Karen's provided me a good horse, I'm very blessed with that. I can't be more thankful for a good coach, so I felt like I had the right tools to do well here," she said.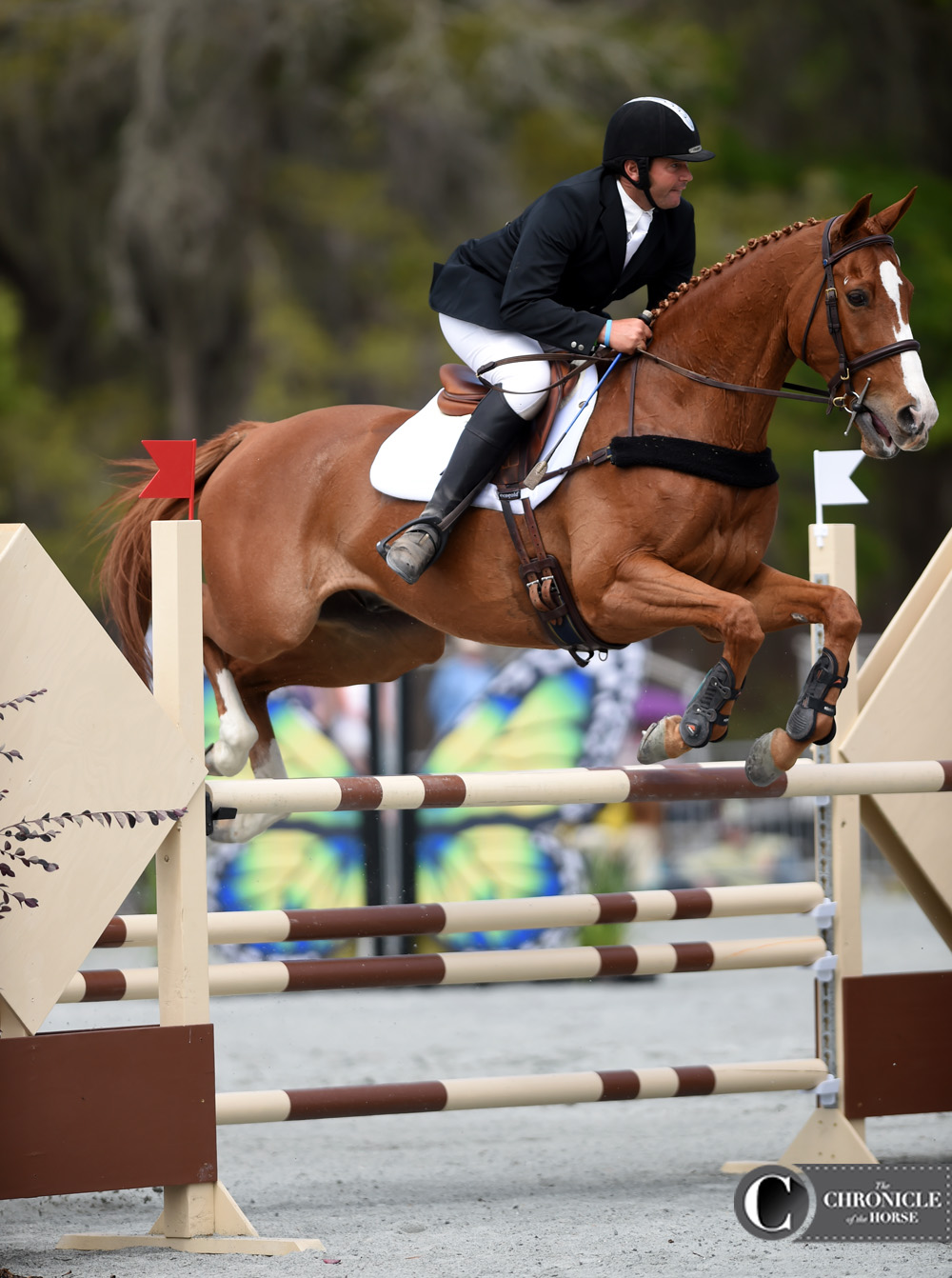 Clayton Fredericks earned his second CIC** victory in a row at Red Hills, this time on Katie Ruppel's Houdini. He traded a young homebred to Ruppel.
"Fair trade I felt! Four-year-old for a four-star horse," he said with a laugh.
Fredericks has taken on the ride for a shot at the Australian team for the 2018 World Equestrian Games (N.C.), and felt that the weekend was a good stepping stone in solidifying their new partnership.
"I don't want to rush it. If we play our cards right I think he has a chance of being on the team. There other horses as well. It takes a lot of horses and a lot of horsepower to make a team. I've got the others still working away. I'd like to have four or five qualified," he said.
Twenty of 41 pairs jumped clear, including the top five. Sara Kozumplik Murphy and Rubens D'Ysieux finished second and Fredericks was third on FE Ophelia.
"I just had one little moment at the last combination where he gazed off into the crowd. I think he thought he was half-finished. I'm really pleased. It's taken time to build his strength up," he said. "We went to [the $100,000 Land Rover Wellington Eventing Showcase] and didn't jump that great. It was probably a bit premature—we only really decided in January that we were going to have a go. It wasn't until four weeks before Wellington that I managed to convince Katie that he should live at my place full time! It wasn't such a trade actually—I gave her one horse, she gave me one and a half horses. I got Spartacus, the miniature pony that goes everywhere with Houdini. I had to have him as well—I wasn't too happy about it but it was non-negotiable! Luckily he's banned from going to competitions because he's caused so much trouble," he said with a laugh.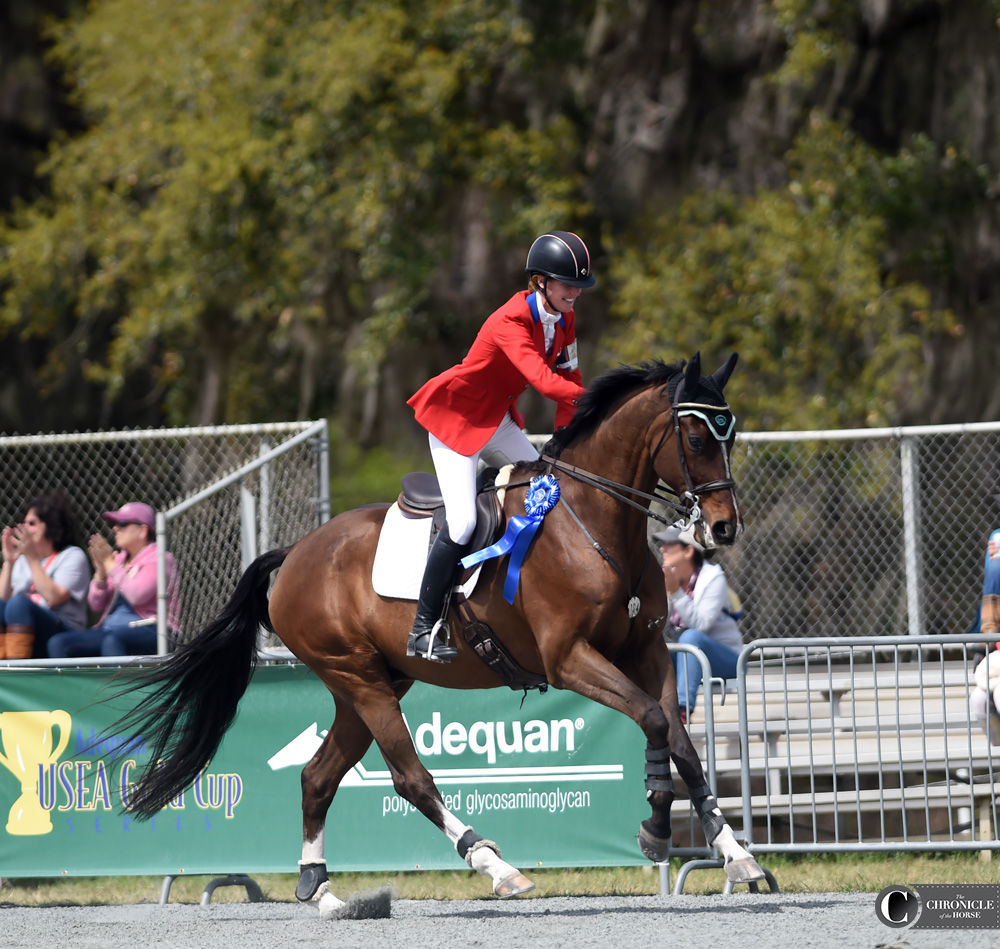 Selena O'Hanlon finished her weekend exactly where she started—in first place in the advanced division with John Rumble's Foxwood High.
The pair had a rail in hand and needed it when the gelding dropped a rail.
"Last year I had trouble on the outside line near the crowd. He peeked into the crowd, and it just took away from the arc of his jump. Today I went in and made sure I went around the outside, but I didn't get a chance to go near the VIP tent," she explained.
After angling an oxer near the VIP tent, "Woody" had a look and had the rail down.
"He has more step than anybody here, he doesn't normally hit from behind. He really answered me. He's getting so adjustable now that it's easier to make the time. I have to remember to take all the tight turns because it's easy to leave things out with him, but then it gets a little flat. I'm super pleased with him today. I'm glad I had a rail in hand!" she said.
O'Hanlon worked with former team coach Clayton Fredericks over fences last year, but has been getting more help from her longtime coach Bruce Davidson this season, as well as Rumble.
"Cross-country is his strongest phase, then show jumping it's about me trusting him. John Rumble's also a great coach. He's got hawk eyes, he doesn't miss a thing, and he's got Jimmy Elder as his best friend, so they both said, 'stop interfering with him so close to the fence. You've got to leave his head alone and try and get there,'" she said.
O'Hanlon is eyeing the Rolex Kentucky CCI**** this spring with Woody, but reflected on last year, in which she was named to the Canadian Olympic team, but replaced in July by Kathryn Robinson due to what Equestrian Canada cited as "based on veterinary medical grounds concerning O'Hanlon's declared horse, Foxwood High."
O'Hanlon denied any medical issues publicly. Since Woody had completed a very full spring season in pursuit of the Olympics, she and Rumble decided to let him have a vacation in Canada at his farm.
O'Hanlon cited her mother Morag as a huge support. "Every time I've wondered whether I'm doing the right thing, she has said, ' just take 10 [minutes] and decide what you want to do because it's what you want to do, not because of how things are affecting you in the current situation.' Also, you get on this horse and you take him out, and you just can't stop riding him. He's a pleasure to work with, he's no trouble to anybody. He's darling to work with, so it's not a chore in any way," she said. "My sponsors never gave up on me, and my teammates. I've been on teams with [Jessica Phoenix] since we were 13. She groomed with me at my first Young Riders. Hawley Bennett contacted me. Riders from all over contacted me and said, 'We're really sorry, you deserve to be here.' That kind of camaraderie is why I love eventing."
For full results, click here. And don't forget to read the March 27 issue of The Chronicle of the Horse for more in-depth coverage of Red Hills.
2017 Red Hills International Horse Trials - Sunday
Lindsay Berreth / Mar 12, 2017 3:43 pm