Mill Spring, N.C.—April 8
When her stirrup broke on cross-country two weeks ago at the Cloud 11-Gavilan North LLC Carolina International CIC*** (N.C.) resulting in a fall, Kylie Lyman decided to take a step back with Lup The Loop this weekend at The Fork, and entered the CIC**.
And by the end of cross-country day today, she got much more than just a confidence-boosting run—she picked up the win.
Moving up from eighth after dressage, Lyman and "Loopy"added 9.6 time penalties to their score. Time was not easy to make on Mark Phillips' and Tremaine Cooper's course, which began in the derby field at the Tryon International Equestrian Center and wound through manicured paths up and down the mountainside.
Clear rounds were hard to come by as well with only nine of 20 pairs jumping clear and one making the time—dressage leaders Cornelia Dorr and Louis M, but they had a stop.
Allison Springer and Lord Willing, leaders after show jumping, had a mandatory retirement at a down bank to a skinny chevron that caused several issues. Since she was first out on course, crews added more footing after to help with the turn to the chevron where Lord Willing slipped and fell. Springer confirmed both she and the gelding were OK, just disappointed not to have the run.
Lyman got more than she asked for over the technical track, but she said both she and Loopy, a 9-year-old Irish Sport Horse gelding owned by Joan Nichols, came out the better for it.
"Today was definitely not a breather for either one of us. There was a lot to do out there. Even though it was a two-star I thought it rode quite difficult," she said. "I think he came away from it having learned something. We both had to work for it, even though we have a lot of three-star mileage, it's not easy. I was really happy we made that decision. We gained something from it and learned something, which doesn't always happen when you take a step back.
"For me and my style of cross-country riding, it was not the most natural. I like to just kick on and go a little bit. The terrain made it more difficult, but I think it was a great experience for the two of us to have to be patient and work with the terrain a little bit more. Things definitely came up quickly, and he was adjustable and really rideable, which has been something we've worked on," she added.
Lyman took Loopy to compete overseas last summer, and while their last outing at the Boekelo CICO*** (the Netherlands) resulted in an elimination on cross-country, Lyman said it was still a positive learning experience.
"I have to remember he's still a young horse in the whole scheme of things. We went to Boekelo, and we both were a little bit green. But he went around Millstreet [Ireland] and Tattersalls [Ireland] and Blenheim [England,] so we both got a lot of mileage. It was a tough end to it, but there were a lot of good things that came out of it, and I think he's definitely a better horse for it. We're going to take a quiet spring after all of that."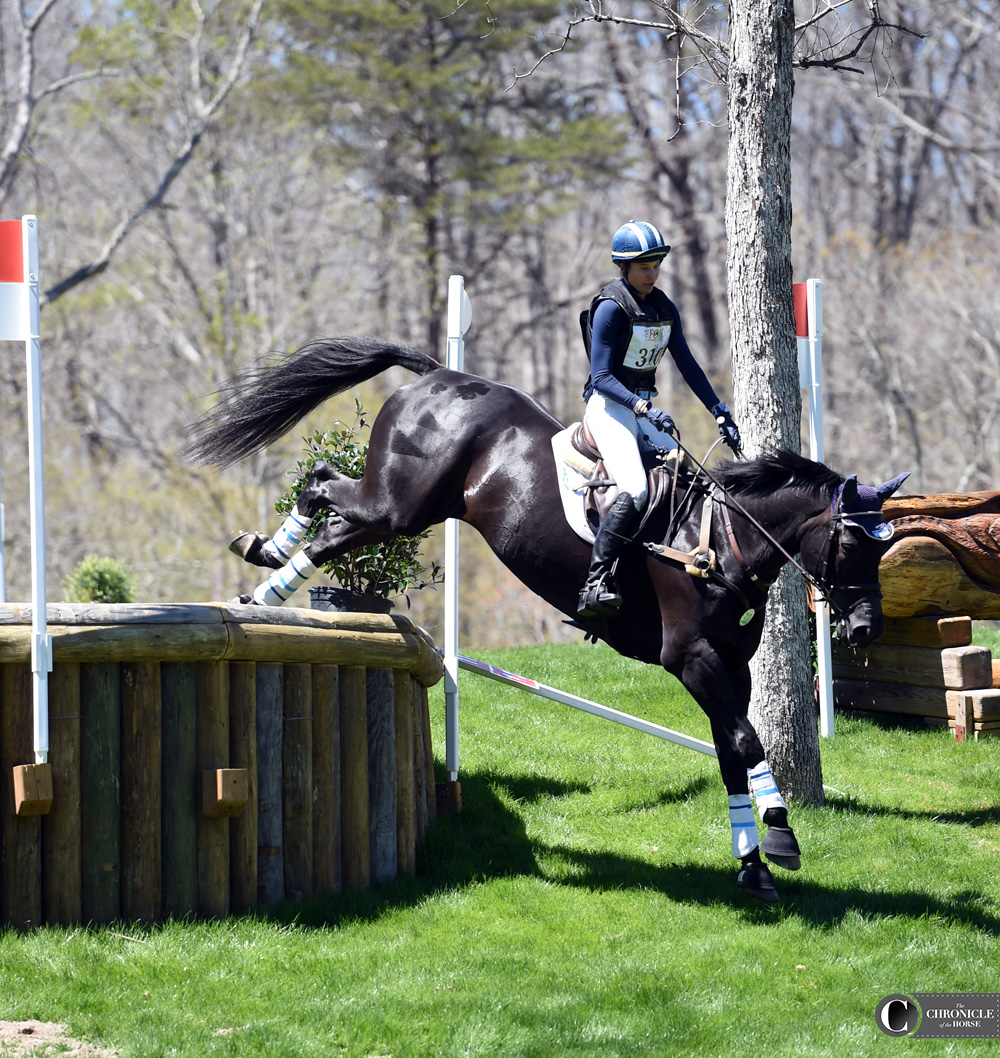 Valerie Vizcarrondo is still getting to know Favian, but they've been competitive all season at the preliminary and one-star levels, and they picked up the win in the CIC* by just .1 over show jumping leaders Rachel Wilks and Great Expectations.
Favian, a 9-year-old U.S.-bred Oldenburg gelding owned by Vizcarrondo, won the 2015 Nutrena/USEA American Eventing Championships (Texas) novice horse division with Tamie Smith and came to her barn last year.
"It took me a bit to figure him out and make him feel like he's mine. He has a big stride, but he's not very strong, and it's a bit tricky. He was in show jumping and dressage boot camp all winter. To transition that into competition was a question mark," she said. "I felt pretty good coming off of Carolina, and felt like this could be a repeat of that situation, but I've never been here before. I didn't come for the AEC, and the reports were all over the place about what it was."
Vizcarrondo was a bit nervous after watching some issues in the two-star earlier in the day, but she trusted in Favian to help her along the way.
"I waffled a little bit on it, but he made me confident because he wasn't waffling at all. He set right out with his really big ears, and they were pricked forward straight out of the box. That was a good feeling," she said.
"I was channeling my Jimmy Wofford lessons to 'plan for the plan to change.' He acted like he was galloping great in the first field, but then he kind of didn't know where he was supposed to go. I was as ready for that as I could be. You just have to trust that you have some training and guts and some skills to call on," she added.
For full results, click here.
We're on site all weekend at The Fork! Make sure to follow us at www.coth.com and on COTH's Facebook, Instagram and Twitter! Check out a full report from The Fork in our April 24 print edition.
2017 The Fork CIC - Saturday Cross-Country
Lindsay Berreth / Apr 8, 2017 5:03 pm