More than 200 Lusitano enthusiasts converged upon the dressage hub of Loxahatchee, Florida, this week to attend the inaugural U.S. Lusitano Association Conference and take advantage of events including a master class with six-time Finnish Olympian and Portuguese Olympic team coach Kyra Kyrklund.
"It was almost 30 years ago when I saw Lusitanos for the first time at the European Championships in Hagen," said Kyrklund, who, this year, became the first rider to be inducted into the Finnish Sports Hall of Fame. "I was asked if I would help the Portuguese riders from the federation, and from there on it stuck."
Eight horse-and-rider combinations took to the arena with Kyrklund at May Faire Oaks for the final day of the conference, held Feb. 6-8. The sold-out three-day event, which included master classes with Kyrklund and Pedro Torres, drew 210 breeders, trainers, owners and riders from across the continent and traveling from Portugal.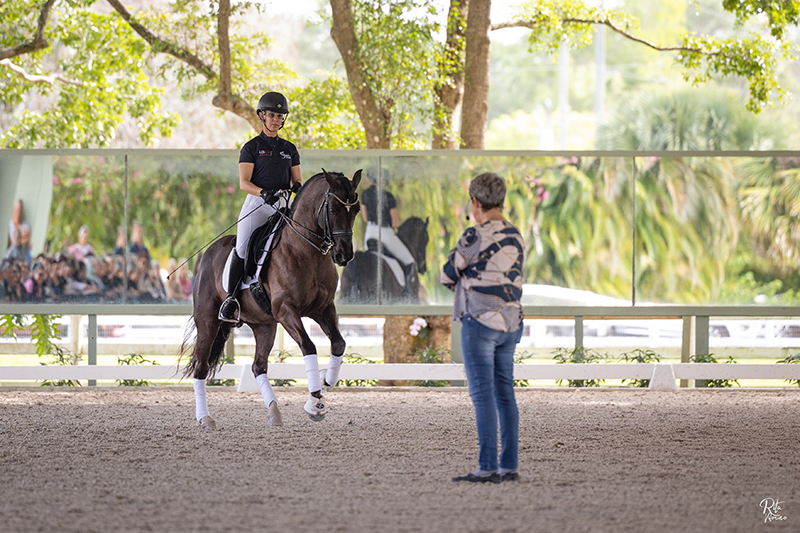 In her lessons Kyrklund's instructions to riders were noticeably concise, simple—and not confined to working with the Lusitano breed.
"It's not like you are training a Lusitano," she said. "A horse is a horse; all horses are a bit different. You have to accept that some of them have a bit more difficulty in the canter or in the walk [for example], and then you just try to work those problems, but other horses have it too."
As dressage breeding evolves, she said, it is leveling the playing field between Iberian horses and their European warmblood counterparts, and stereotypes about the strengths and weaknesses of Lusitanos and other Iberian breeds are fading.
"Nowadays so many other breeds have also learned to do piaffe and passage, so you can't rely on that," Kyrklund said. "You also have to be able to do good half-passes and good extensions in trot, and the whole quality of the canter has to get better.
"What I have seen during these years," she continued, "is that the Iberians are coming a little bit closer to warmbloods, and warmbloods are coming a bit more towards Iberians."
Amateur Kyle McIver, of Wellington, Florida, riding her mare Geada D'Atela, who she competes at Intermediaire under the name "Gigi," worked on piaffe during their session with Kyrklund.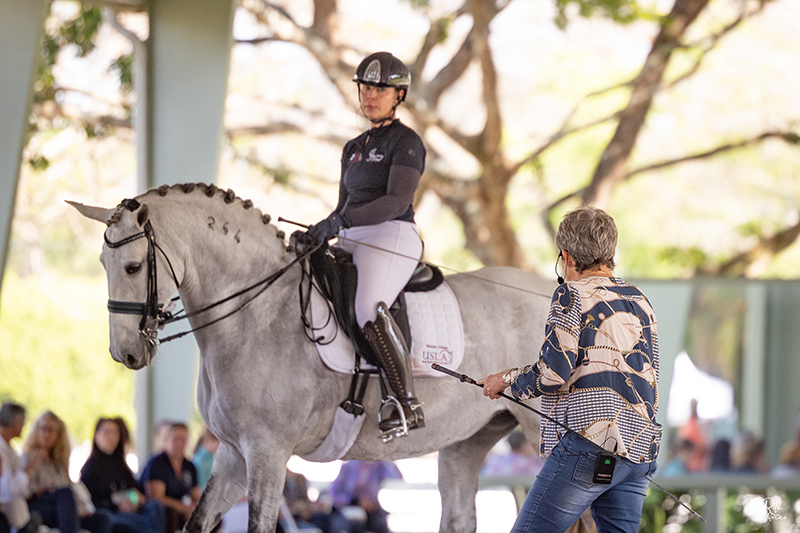 "Everything is great on her but the piaffe," McIver said. "She just has such a big passage, and then the piaffe has been kind of a hole for her."
Kyrklund used the turn on the forehand, an exercise she introduced more than once and called "very useful," to help establish a rhythm and balance that discouraged the mare from getting strung out.
"She has such an extravagant passage that she has a hard time keeping that bounce and cadence in the piaffe," McIver said. "She tends to get quick and tries to find an escape route. The turn on the forehand helped to stop that front end."
Kyrklund employed some extra aides to help McIver during the lesson. She brought out a strap that went across the pommel for either the left or right rein to thread through, allowing the outside hand effective but non-invasive constraint.
"The exercises are something you can take home," McIver said. "Even the simple rein through the strap just to kind of keep a little tension on the rein so she wouldn't pull me out of the tack. The second that I tried it, I could really feel the difference.
"It definitely didn't feel like she was bothered by it at all," McIver added. "It just gave a little bit of extra support, and she wasn't pulling me. She could really get soft with it, which was really cool—I could loosen the rein, and she would stay right there."
In Colombian rider Carmen Franco's session, Kyrklund focused on leg aids to help straighten stallion Emir II in his flying changes.
Sensing Franco was too busy with her legs, Kyrklund instructed the rider to use just one leg aid in a very purposeful manner to get a better reaction while taking the stallion through a series of transitions: counter-canter, canter, walk, straight again, collected canter, counter-canter, into the centerline.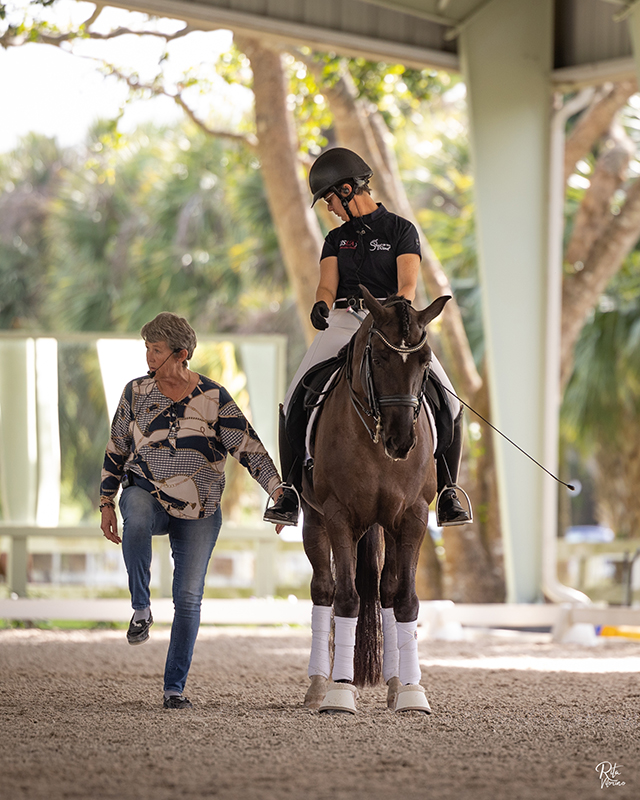 She asked Franco to ride close to the rail in counter-canter and use only the outside aids. Franco was to remain passive on the inside aids until the moment of the flying change—while keeping the horse collected—then use only the new outside rein and the new outside leg.
"It worked," said Franco.  "And keeping the alignment of the horse was a lot easier. Once he was aligned in the correct collection, it was absolutely simple to do the changes. Before him I felt like I had to carry him and do a strong aid, and these ones were as easy as they come.
"I barely had an indication of the leg, and he just changed really nicely," she added.
Kyrklund also spent time discussing Lusitano breeding, both its historical roots in creating stout, nimble horses for bull-fighting and its modern evolution to suit competitive dressage, in part due to concerted efforts amongst Portuguese breeders.
"The breeding of the Lusitanos is a closed shop. Many other breeds can take in Thoroughbreds or some other gene pool," Kyrklund said. "That's the difficulty, you could say, with Lusitanos changing very quickly, but they have changed. The size is bigger, and they are gearing more towards dressage. They [the breeders] have done a lot with the size and the quality of the walk and the quality of the canter.
"But they were bred for bull-fighting, and I think the good thing with Lusitanos is they still have that sort of working [ethic], as a working horse," she continued. "They are very willing and most of them are sensitive enough but not stupid."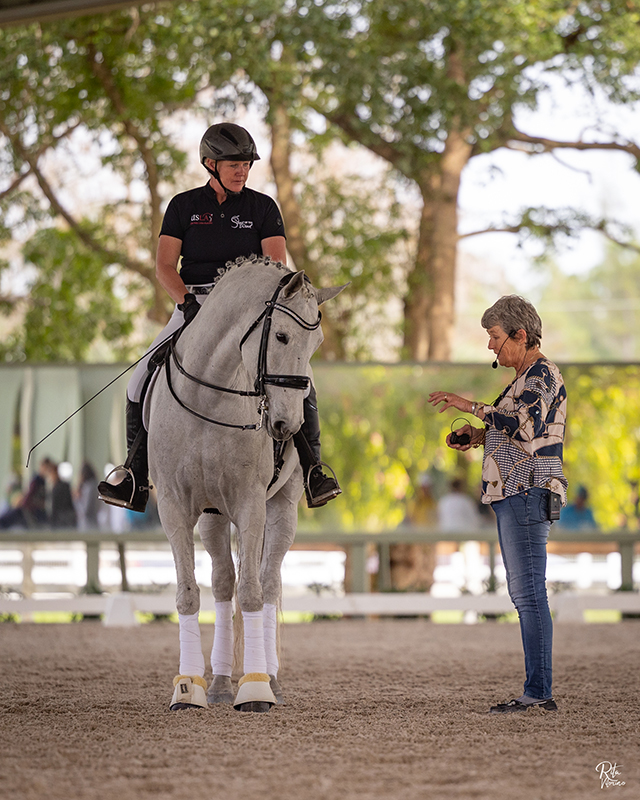 The inaugural USLA conference speaks to the growing popularity the breed is enjoying outside its home country, said João Pedro Rodrigues, master chief rider at the Portuguese School of Equestrian Art in Lisbon.
"The Lusitano has an image outside [of Portugal] that we never saw in the past," he said. "The last 25 years has seen the evolution of the Lusitano. This event is so important, because we need more breeders. There are 5,000 Lusitano mares around the world [while] the Hanoverian or Holstein is around 20,000."
Auditors at Kyrklund's clinic left with their notebooks full and parting advice from Kyrklund:
"The best riders are very adventurous," she said. "They are not afraid of trying new things. You try and say, 'This doesn't work for me; I try something else.' I have tried to give you ideas, and I hope that you go home and experiment. I would be happy if at least half of you went home and tried something new."