The new normal of no spectators didn't lessen the electric atmosphere surrounding the Galway Downs International CCI4*-L, as dressage commenced on Oct. 29, in Temecula, California. VIP tents, tables and lounge areas surrounding the Grand Prix arena were packed with masked exhibitors and their approved people as Boyd Martin and his familiar partner Long Island T entered the court. But it was Martin's newer horse, Luke 140, who topped the 12-pair field with a 29.4 from FEI ground jury members Sandy Phillips, Wayne Quarles and Valerie Vizcarrando-Pride.
"My first horse [Long Island T] was brilliant in the warm-up and terrible in the ring, and Luke was not very good in the warm-up and a champion in the ring," Martin said. "I prefer they do it like that."
The Luke 140 Syndicate's Holsteiner gelding is a "hot, feisty number" who faces a big test on Friday in his first CCI4*-L over a track created by Clayton Fredericks, the new cross-country course designer at Galway Downs.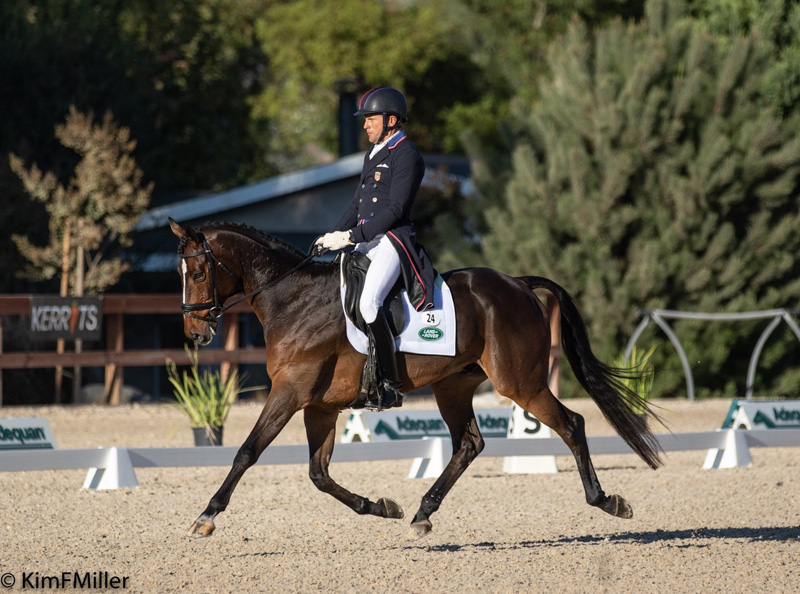 Martin is among a handful of top-ranked eventers to trek from the East Coast to compete at Galway Downs. "It's a world-class facility," said Martin. "The rings are unbelievable, and it's turning into one of America's premier event facilities."
Phillip Dutton and Fernhill Singapore, who also came from Pennsylvania, are second on 31.3.
With East Coast heavy hitters in the ring, California-based Tamie Smith may have the weight of West Coast hopes on her shoulders. But that wasn't evident in her cool horsemanship on five horses in the FEI divisions.
She is third in the four-star on her daughter Kaylawna Smith-Cook's German Sport Horse, Passepartout, continuing his rocket ride begun with Smith-Cook and carried on with Smith during her daughter's pregnancy.
"I am so proud of him. He was uphill and pushing out to the contact," said Smith. This pair is followed by Texas-based Rebecca Brown and Dassett Choice. Brown made a positive showing with this horse and her second four-star entry, Fernhill Fortitude, formerly campaigned by Jenny Caras.
Even behind his mask, the big smile those third- and fourth-placed standings put on USEF Emerging and Developing Rider Coach Leslie Law's face was unmissable. He's coaching the Adequan USEF Futures Team Challenge captained by Smith and including Brown and young rider Charlotte Babbitt.
Babbit and 2 A.M.'s fourth-placed standing in the CCI3*-L after dressage puts Law's team in the pole position over the squad led by Erik Duvander, USEF high performance eventing director. Team Erik is captained by Elisabeth Halliday-Sharp, riding Cooley Quicksilver, and fellow four-star pair Emilee Libby and Jakobi. Halliday-Sharp and the gorgeous gray sit fifth, and Libby and Jakobi are 10th.
Contesting her second CCI3*-L, Babbitt said she benefited from the Futures Team experience even before competition began during jump and flat schools with Law and team meetings. Tangible tips? "I learned to go to a team member if I need help, but to remember that you're the one who got yourself on the team," the Northern California-based rider explained. "We talked about learning to lean on your teammates when you need to, but not shifting your perspective or approach unnecessarily."
It was a special treat to see Smith's Pan Am Games team gold medal partner Mai Baum and his owner Alex Ahearn do the test ride before the four-star dressage. Mai Baum has already earned his qualifying scores for 2021 Tokyo Olympics consideration.
"Twisty and turny between long gallop stretches" were the characteristics mentioned by several four-star contenders in anticipation of Friday's excursion over Galway Downs' 242 acres.
In several cases, major challenges arise on relatively short notice, putting a premium on boldness and confident communication. Having most of the track roped off is new this year, eliminating opportunities to cut corners that existed in the past and intensifying the pressure on pace over track.
Smith Sits Atop CCI3*-L
Smith leads the pack with Elliot-V on a score of 29.8 from judges Sandy Phillips and Robyn Fisher. That's even after forgetting the "stretchy circle" and a brief hitch in a canter depart.
"He is a super horse that is really great in all three phases," Smith said. The Dutch Warmblood is owned by Louisa Southworth, one of Smith's off-to-college students. "Louisa was watching it on the livestream, and she texted me saying, 'That was pretty magnificent,' " Smith said. The Southworth family is looking to syndicate Elliot-V for Smith to keep campaigning.
Close behind Smith is amateur rider and USEA Area VI chair Asia Vedder and Isi on a 29.9, then professional Auburn Brady-Excell on BSP Tuxedo with a 34.2. All three are among the nine of 12 division contenders eligible for the CCI3*-L USEF National Championships, hosted for the first time on the West Coast.
Concurrently, the CCI3*-L also includes the National Young Riders Championship for the John H. Fritz Trophy for U.S. riders aged 16-21.
McEvoy Leads The CCI2*-L
There were an Olympian and a Pan Am Games gold medalist in the 34-horse CCI2*-L contest, but non-pros lead after dressage. India McEvoy and Redbull are on top with a 26.5, with junior Haley Turner and Shadow Inspector second on a 26.6.
"He was very green last year, and we haven't done much this year," said McEvoy, a small animal veterinarian from Northern California. "He is a very obedient, relaxed horse who is nice to ride in the dressage ring. He's had some pretty good scores, but I'd say this is one of his best."
Downtime during the pandemic has allowed for extra focus on self-carriage in the canter for Redbull. McEvoy rides mostly on her own, as she lives two hours from her coaches James Alliston and Helen Bouscaren. "Dressage and cross-country are his stronger phases," McEvoy said of the Hanoverian-Thoroughbred. "He's a big horse [17 hands] and getting him to fit himself into the dressage ring has been a challenge. He has gotten stronger in his movements and has built himself up over the break."
Full results can be found here.
Follow the livestream here.