Bridgehampton, N.Y.—Sept. 4

Five horses qualified for the jump-off in the $300,000 Hampton Classic Grand Prix, and with each return effort, a faster trip was delivered.
First there was Japan's Karen Polle, the winner of this very class in 2015. She was quick but not quite as fast as Beezie Madden. Madden guided Quister to a time just fractions of a second faster. Even speedier was Charlie Jacobs, who flew over the short course with Cassinja S and posted the quickest time of them all. He gave a thumbs up on his way out of the ring. The round went well, and it seemed like it would stand to be the winner.
But then in rode Irishman Richie Moloney, and luck was on his side.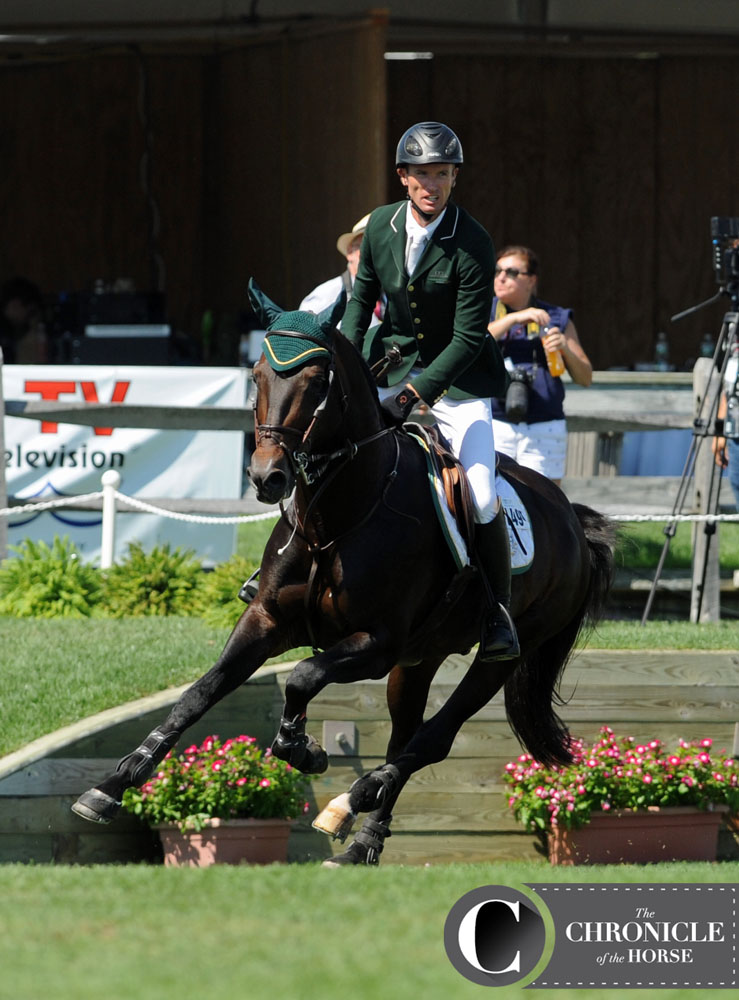 Richie Moloney and Carrabis Z. Photo by Ann Glavan.
He blazed over the first few fences, holding steady with Jacobs' time. The last two fences were a vertical rollback to an oxer, and Moloney had Carrabis Z flying over the vertical, giving it a hard rub. It's Sunday in the Hamptons, and the crowd is huge—they collectively held their breath as the rail swayed back and forth and stayed in place. Andrew Welles and Brindis Bogibo tried to challege him, but they had to settle for third—Moloney had the winning time by 1.55 seconds.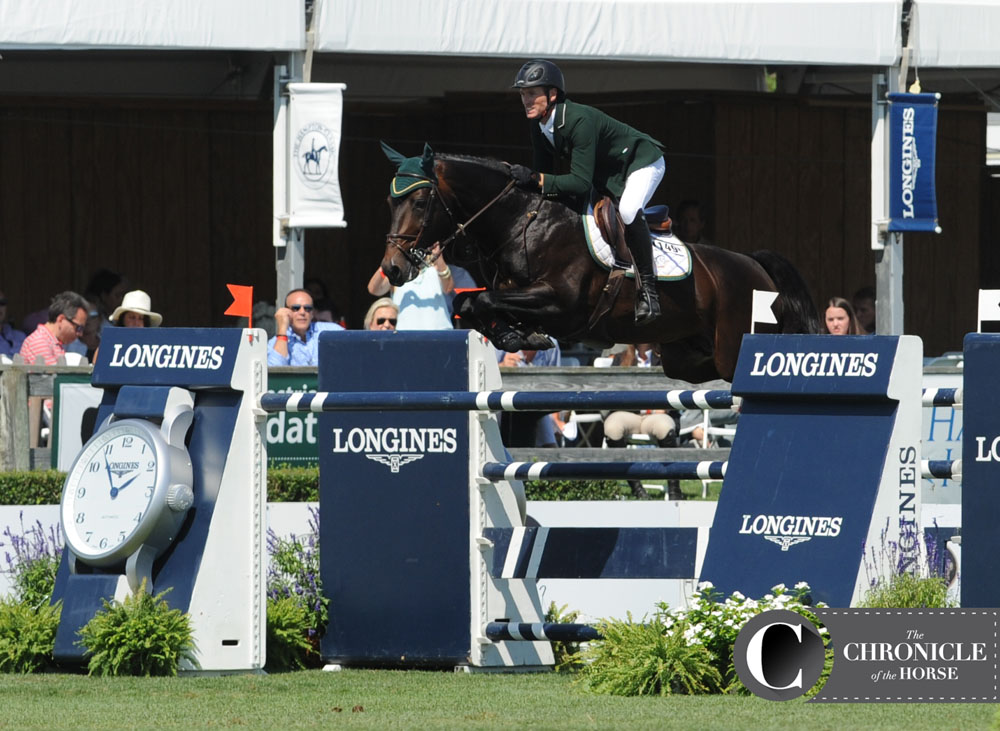 Richie Moloney and Carrabis Z won the $300,000 Hampton Classic Grand Prix. Photo by Ann Glavan.
"It feels great to win the grand prix; my horse is really jumping well," Moloney, 34, said. "He's been jumping well for over a year, and this week he felt great. Friday [in the welcome], he had a great round. He had an unlucky time fault, maybe that helped for today."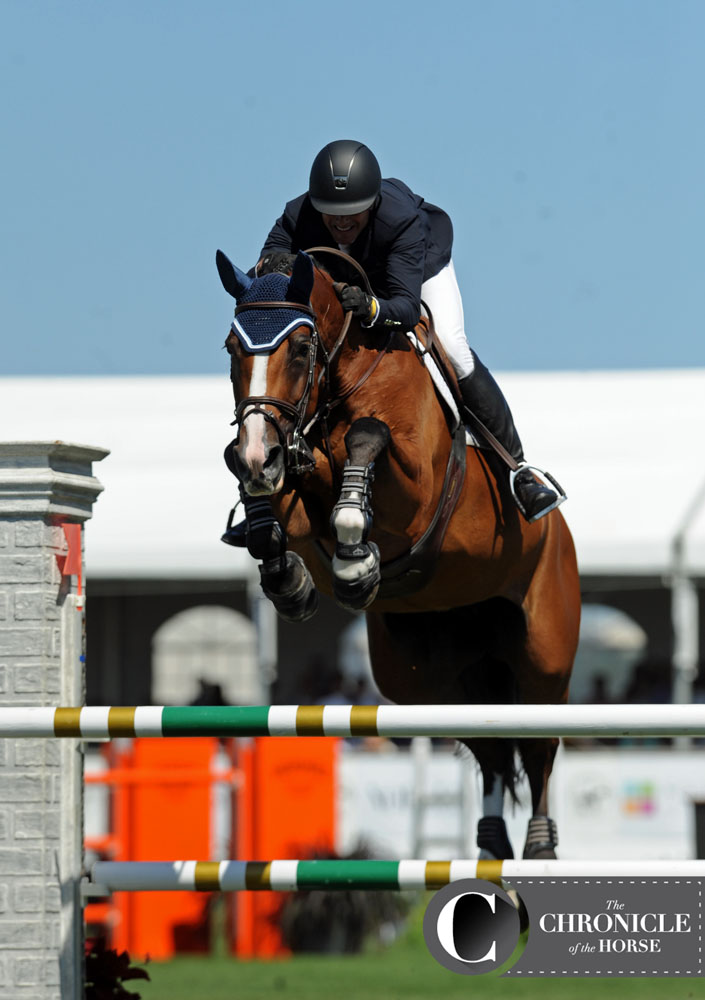 Charlie Jacobs and Cassinja S took second. Photo by Ann Glavan.
Jacobs and Cassinja S took second to Moloney, leading the rest of the 29-horse start field for the grand prix. A number of the horse-and-rider pairs had serious problems at the triple combination—it collected a number of stops and rails, and Jacobs addressed his strategy for the particularly tricky part of the Alan Wade designed track in the press conference.
"I knew I wanted to have some good energy coming up to that. It was an oxer-oxer-vertical, a very tight two to a one," Jacobs explained. "So I wanted to come in with a lot of momentum and hope my horse would really express herself over A, push for B, even though it's a tight two you have to push, and then hold up a little bit for the C jump. I thought at least for myself that was a recipe to get through there without a rail."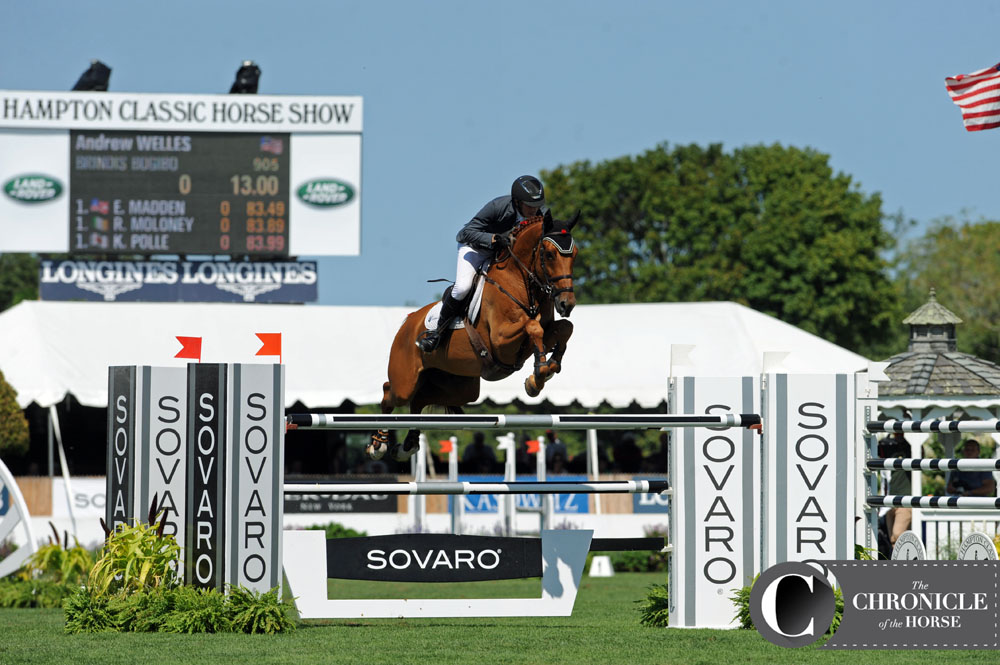 Andrew Welles and Brindis Bogibo took third place. Photo by Ann Glavan.
Third place went to Andrew Welles and Brindis Bogibo, and the 28-year-old rider was by far the most expressive in how pleased he was to find himself in the top three of the biggest class at the Hampton Classic horse show.
"It's unbelievable," Welles said. "There's been a few times this year riding this horse where I said, 'I just feel so fortunate to be a part of this class,' and there was a lot of talk of a hurricane or a tropical storm rolling in today [during the grand prix], and 11 o' clock rolls around, and it is just as beautiful of an afternoon for a grand prix as you could imagine. So I already felt fortunate to be in the class, and to be up here is just unbelievable."
Click here for full results from the class.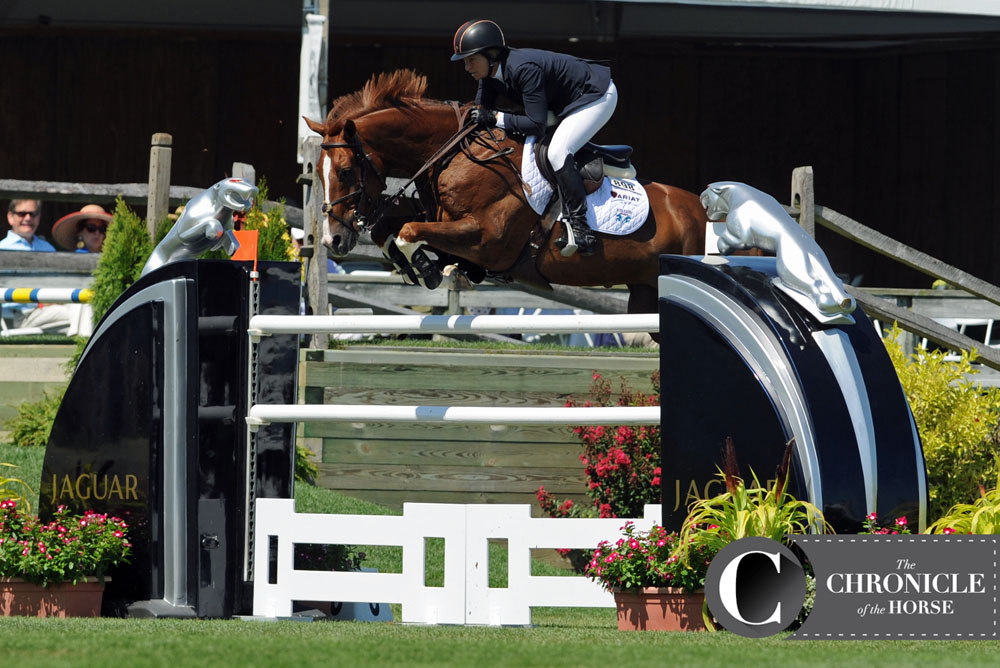 Beezie Madden and Quister took fourth place. Photo by Ann Glavan.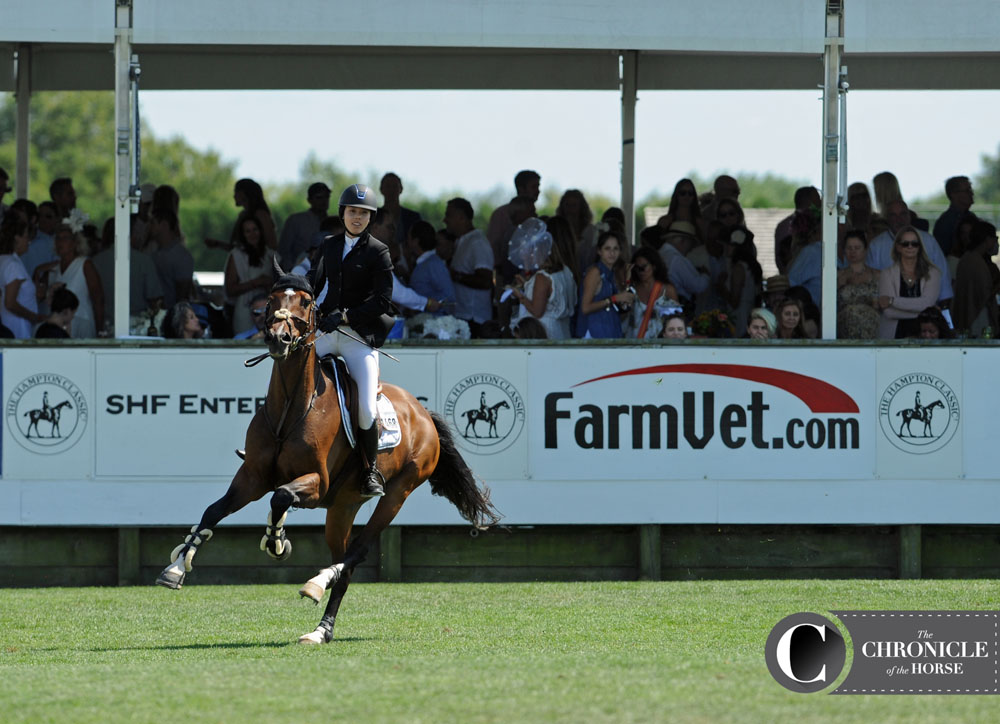 Karen Polle and With Wings took fifth place. Photo by Ann Glavan.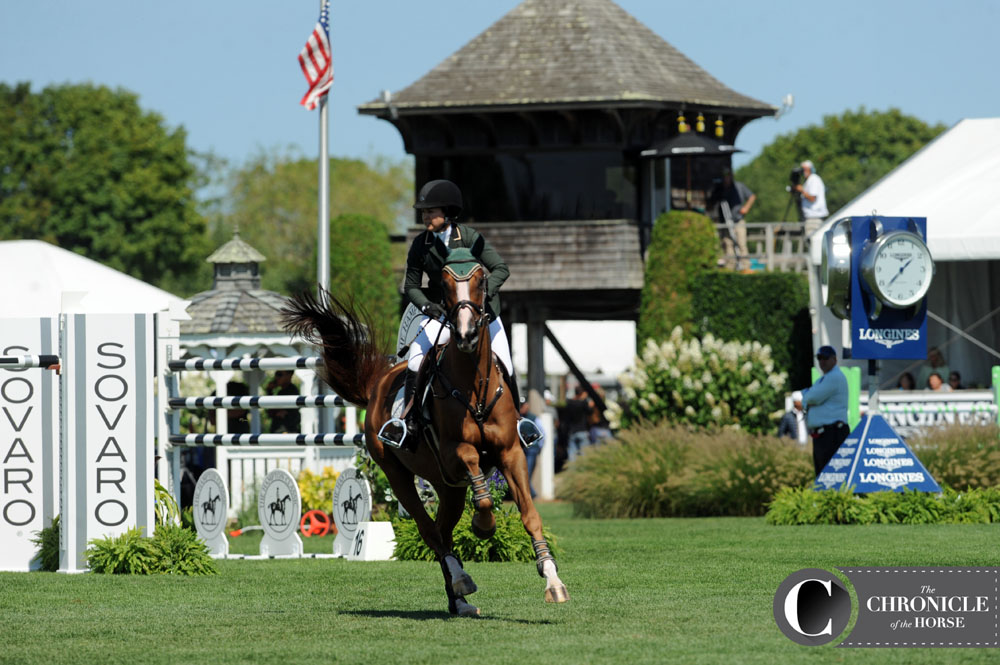 Danielle Torano and Callas III had just a single time fault over the first course, landing them in sixth place. Photo by Ann Glavan.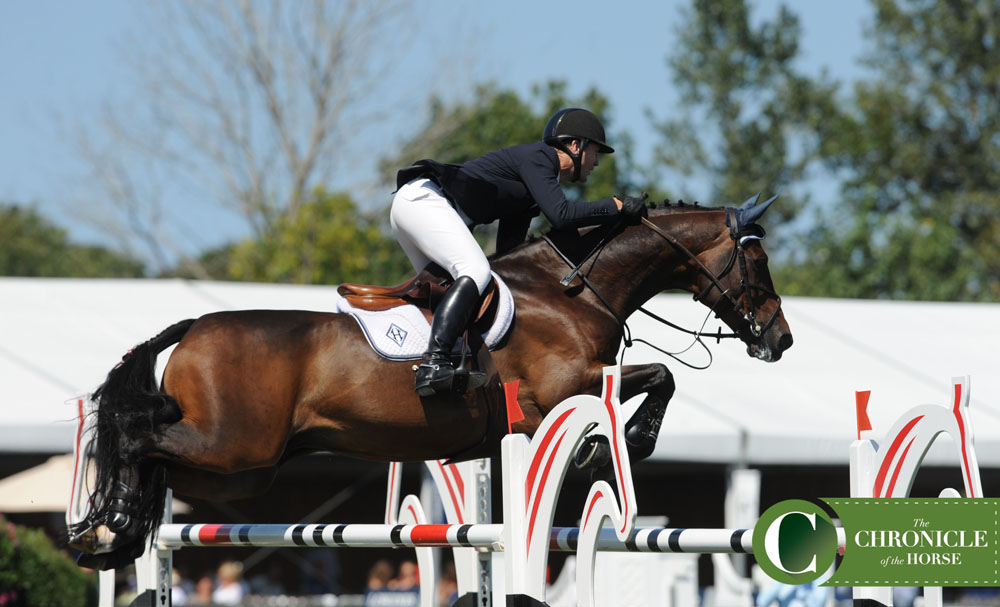 Friday's welcome class winner McLain Ward and HH Carlos Z had a single rail in round one to take seventh place. Photo by Ann Glavan.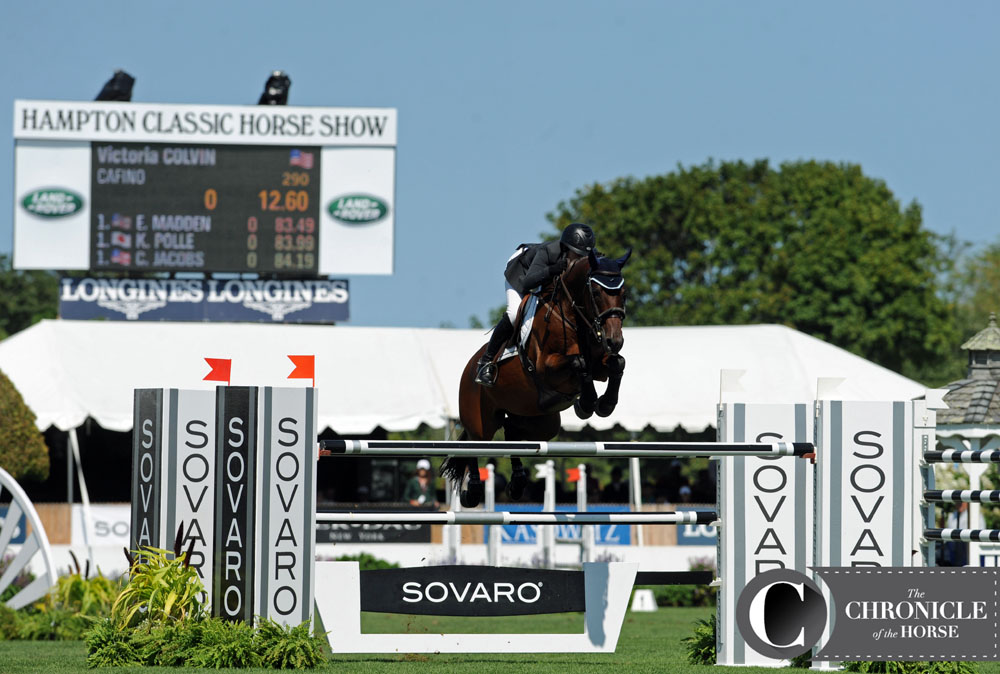 Tori Colvin was the youngest rider in the start field at 18. She piloted Cafino to eigth place. Photo by Ann Glavan.