More than 100 foxhunters enjoy a hunt weekend in South Carolina.
On the weekend of Jan. 25-27, riders from more than 14 hunt clubs met on the lush and generous 6,000 acres of marshland, woods, ponds and waterways that comprise Poplar Grove, in Charleston, S.C. The Lowcountry Hunt hosted its annual hunt weekend and welcomed guests from hunt clubs from Virginia, North Carolina and Florida to name a few.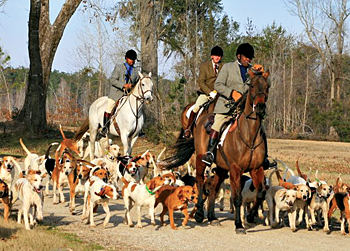 In a setting described as an outdoor wonderland, more than 135 riders and horses and more than 60 hounds came together for one of the largest known foxhunts in the greater Charleston area.
Poplar Grove is proud to host the Lowcountry Hunt as well as Middleton Place Hounds.
The Lowcountry Hunt territory consists of lands in coastal counties from Charleston south to Beaufort County. Dr. Mark Shambley, senior MFH, and Joint Masters Nina Burke and Melinda Shambley joined Huntsman Anthony Gibbs in showing good sport.
The Lowcountry Hunt is a relatively new hunt group, founded in spring 2006. Don't let the relative youth of the Lowcountry Hunt fool you, though—gracious, genuine and growing, Lowcountry is a club to watch if you are interested in South Carolina fox hunting.
Among the hunt clubs in attendance were Middleton Place Hounds (S.C.), Four Winds Foxhounds Hunt (Fla.), Flat Branch Foxhounds (S.C.), Rappahannock Hunt (Va.), Green Creek/Greenville County Hounds (N.C.), Tryon Foxhounds (N.C.), Mecklenburg Hounds (N.C.) and Aiken Hounds (S.C.).
The field reflected a diverse array of horses—Andalusian, Hanoverian, Belgian and warmblood mixes, Irish Sport Horse, Friesian, Shire, Spotted American Saddlebred, McGurdy, Thoroughbred, Palomino, Paints, and Quarter Horses to name a few.
Peggi Lyn Noon, Equestrian Director at Poplar Grove, was pleased with the variety of horses and hunt clubs present. "A beautiful day, glorious land, charming people and a morning spent on horseback. What more could a person want?" she said.
Friday's hunt did not fail to please. While the fox apparently chose to decline his invitation to the hunt weekend, a black coyote took the riders on an extensive tour of the Poplar Grove landscape.
Friday's hunt breakfast, held in the spacious Poplar Grove boathouse, was attended by more than 200 riders, Masters, Huntsman and guests. Vic Mills, principal in Poplar Grove, was, once again, a welcoming host and emulated the charm and plenty for which Poplar Grove's residents and landscape are known.
As is often tradition at a Lowcountry breakfast, Dr. Mark Shambley provided entertainment with his re-telling of the historical Battle of Cowpens, known as being an American tactical masterpiece of the Revolutionary war.
When asked about the vision of Poplar Grove's founders, Mr. Mills stated, "Poplar Grove is committed to the type of growth that will protect the environmental integrity of the land, such that activities including foxhunting, trail riding and even carriage rides alongside beautiful homes, will all take place with a respect for our environment in mind."
Melinda Shambley, Joint Master of Lowcountry Hunt, summed up the day of the thundering stampedes of hooves, blizzards of dirt clods and the baying of hounds by saying, "Poplar Grove provided great sport; everyone was safe and we are already receiving reservations for next year!"

Marykay Antenene