After starting the year in California, he travels to Arizona for multiple wins.
The name may have changed, but he's still winning. Jane Fraze's Chapman topped the regular working hunter division with Peter Lombardo during the Kachina Classic, Feb. 13-17 in Tucson, Ariz.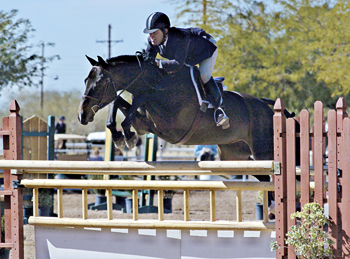 When Fraze bought Chapman last year, she changed his name to Henderson but now has decided to revert to Chapman. "No one else liked the name 'Henderson' but me," she said.
As Henderson, the Dutch Warmblood was second to Mandarin in the 2007 USEF Zone 8 regular conformation division and fifth in the Zone 8 regular working division.
The change of name this year didn't affect Chapman's way of going as he scored two blues and two reds on his way to the regular working title; he was also reserve to Mandarin and Lombardo in the regular conformation.
"Chapman is a really nice horse," said Lombardo, who started riding him the summer of 2007. "He's a big-going, scopey horse. I just had to get used to him. He's so big-going that I take my time. It's helpful to show him myself so I know what to tell Jane when she rides him."
Mandarin is a little bit of a different ride. "He's small and forward-going," Lombardo said of the chestnut gelding, who does double duty with Fraze in the amateur-owner division. Fraze has owned him for four years.
"He's very consistent for a horse showing so long; he still jumps way up," Lombardo continued.
Fraze finds the horses different to ride. "Chapman is lovely," she said. "Peter figured him out. He's a rather sensitive horse so the rider has to be slow and quiet. It's the opposite of what I do with Mandarin and what I do naturally. He's making me a better rider."
Fraze hopes to qualify the horses for Devon (Pa.) and indoors. Both horses came to Tucson after a successful season start in the first two weeks at the HITS Desert Circuit in Thermal, Calif.
Smooth Sailing
Also on the trailer from Thermal to Tucson was Archie Cox's Ondine, who Jamie Sailor rode to the small junior hunter championship.
"She'd never ridden him before," said Lombardo. "She's a great catch rider."
Ondine is a contrast to Sailor's own horse, an 18-hand 6-year-old jumper. She was concerned about riding the mare because of Ondine's smaller size, but she was pleasantly surprised.
"She has a pretty big stride," she said. "I didn't have to gallop down the lines. She finds her distances really well. She's slower in the warm-up than she is in the show ring. It tricks you. I was really thrilled when Peter picked me to ride her."
Sailor was born into a horse family and began catch-riding ponies at an early age. "I showed on the B circuit and then went to [trainer Mike Edrick's] barn to show on the A circuit," she said. "I didn't have a horse. I was 10 and catch-riding all the time."
Edrick's daughter Megan rode the 6-year-old Westphalian mare, Vegas, to the second year green hunter tricolor.
"My dad found her as a 4-year-old," Megan said. "We brought her along. She's super sweet and straightforward. We worked on getting her balanced and getting her looking fat and happy. She's really brave. We did a lot of transitions, galloping and setting her on her hind end. We did lengthening, collection, and transitions at all gaits. We take her on trail rides to build muscles."
First Is Best In Kachina Classic Grand Prix Romelia Calderon had the unenviable task of being the first to jump off in the $25,000 Kachina Classic Grand Prix.
But she had a plan aboard Pernot. "I had to keep moving and turning while
trying to stay tidy and collected," Caldereon said. "My plan was to make them run and have rails. I wanted to make them all chase me."

They might have chased, but they couldn't catch her. Nine of the 25 starters returned for the jump-off. They all took a shot at defeating Calderon's quick and clean round. For a time it looked as though Allison Kroff and Miss Hans, winner of the grand prix the previous week during the Sundance Welcome, might out-run her, but they pulled a rail.

Only one other horse, Van Schijndel's Cindy with Natasha Merback in the irons, went clean.

Calderon has had the ride on Pernot, an 11-year-old Dutch Warmblood mare, for four years. "She has a lot of power and heart," she said. "She's not an easy ride. If you find her that happy medium, she'll jump. We do a lot of flatwork. We do hours of sitting trot, making her hind end work, trying to get her to stretch long and low."
Megan has recently turned professional. Both her dad and mom, Lolly, are trainers. While she's making a name as a hunter rider, her true aspirations lie in the jumper ring. Megan was on the gold-medal Zone 10 team at the CN North American Junior and Young Riders Championships (Va.) last summer. She rode her Young Riders mount, Kandel, in both the Sundance Welcome and Kachina Classic grand prix classes in her first year at that level.
Nick Karazissis Jr. also trains with Mike Edrick. During the Sundance Welcome the first week of the Arizona circuit, he won the regular working hunter championship on Tredington Suite, an
11-year-old Hanoverian.
"He's a beautiful mover and an outstanding jumper," said Mike. "When you ride him, you know he's special. We've had him for three years. Nick's aunt, Jenny Karazissis, used to show him and won quite a bit. He's been a champion from the first day he walked into the ring."
She's Back
After an absence of several years, Sandra Bierman returned to the amateur-owner hunter ring with her new horse Likewise, the champion in the 36 and older division.
She purchased him in July from Don Stewart; his daughter, Erin, had been showing the horse. In 2004, Bierman showed the USEF National Amateur-Owner Horse of the Year, Rumors.
"I had a couple of green ones and decided I wanted to get back into the amateur-owner arena," she said.
She and trainer Sherry Templin went to Stewart's to look for horses.
"This horse trotted into the ring and I said 'that's the one.' He has a lovely personality and more of a motor than Rumors," Bierman said.
Bierman started riding with Templin when she was 8. After high school she went to college and law school at UCLA and didn't ride for 12 years.
"I met my husband in California," she said. "He got a job in Arizona and we moved back. I always wanted to come back to riding. Sherry and I have a long relationship."
With Jessica Arnold in the irons, Newport captured the large junior hunter championship. They imported the 12-year-old Holsteiner from Germany one year ago to replace her appendix Quarter Horse.
"Newport is much more mellow and level-headed," she said. "I was a little too aggressive when I first got him. We're working on consistency. Usually, I biff one fence. We work on staying on a flow in a gallop."
Arnold's mother, Denise Fraser, rode Quarter Horses; she introduced her daughter to horses at an early age. By the time she was 4, Arnold had a Shetland pony that she rode around the backyard.
Newport is an all-purpose horse, going in equitation classes as well as the hunter ring. They were second in the USEF Talent Search and won the hunter phase of the Washington International Equitation Classic.
John Charlebois' student Hallee Foster has also learned a lot from her ride. She guided the 19-year-old Dutch Warmblood Amstel to the children's hunter, 14-17, championship. She's been leasing him for two years from Jeanne Lyon.
"He's particular about how he likes to be ridden," Foster said. "He wants really delicate hands. You almost sit still and leave him alone. We've developed a high level of trust. I do as little as I can, and he helps me find jumps. I try to perfect it and perfect it."
Luminous Shines
Julie Butdorf from Eugene, Ore., was champion during the Sundance Welcome in the large juniors on Luminous and reserve at the Kachina Classic in their first season in the juniors.
Butdorf imported Luminous, an 8-year-old Westphalian, three years ago. He was then a green jumper, and at first her trainers, Mike Galloway and Kate Krum, showed him.
" 'Henry' grabs your attention," Butdorf said. "He has a 'look-at-me' attitude. He's a lovely mover with a gorgeous jump, but he's lazy. We work a lot on keeping him moving forward and keeping him balanced. On Tuesdays we do flatwork without irons. We do solid basics—circles in a collected trot and gymnastics."
Butdorf's mom grew up riding. When she moved out to Oregon 25 years ago, she started training with Galloway.
"I was 5 weeks old when they put me on a horse and got my first pony when I was 8," said Butdorf. "I had to switch schools a bit. My barn family and horse were a place to go. I'm going to school in Eugene so I can still ride. Working with another living being makes me happy and gives me a sense of accomplishment."
This is Butdorf's last junior year. "I'll do some equitation, and next year I'll keep riding as an amateur. "I'd like to go back East and show indoors."
Priscilla Dance