I knew my life was about to change. I kept pinching myself to make sure I wasn't dreaming as my horse, Diesel CF, was loaded onto a massive 777 cargo plane bound for Liège, Belgium. We were about to begin 60 days of intensive training with my riding idol, German Olympian Helen Langehanenberg, which isn't something that most amateurs even dare dream about. But there I was, standing on the tarmac at Los Angeles International Airport, ready to leave my farm and my life in Southern California behind for the unknown in Germany.
Daring To Dream
I bought Diesel (Dressage Royal—Ria Grande, Ritual) as a rising 5-year-old stallion in 2016. He impressed me at every step—from our first flight in 2016, to competing at our first show only a few weeks after import, to breaking 70% at our first CDI in 2020 on the small tour, to his first foal crop—and continues to do so.
The road to Germany started in late 2019, when I participated in a 10-day Hanoverian Breed Orientation Course in Germany. While daydreaming about who I would want to train with if I ever had the opportunity, Helen took center stage. Not only is she an Olympian, but she is also one of the few riders to have ever broken the 90% barrier. She's won countless medals in World Championships, European Championships and World Cups. Among U.S. dressage fans, she's also known as the rider who developed Steffen Peters' Tokyo Olympic partner Suppenkasper to the Grand Prix level.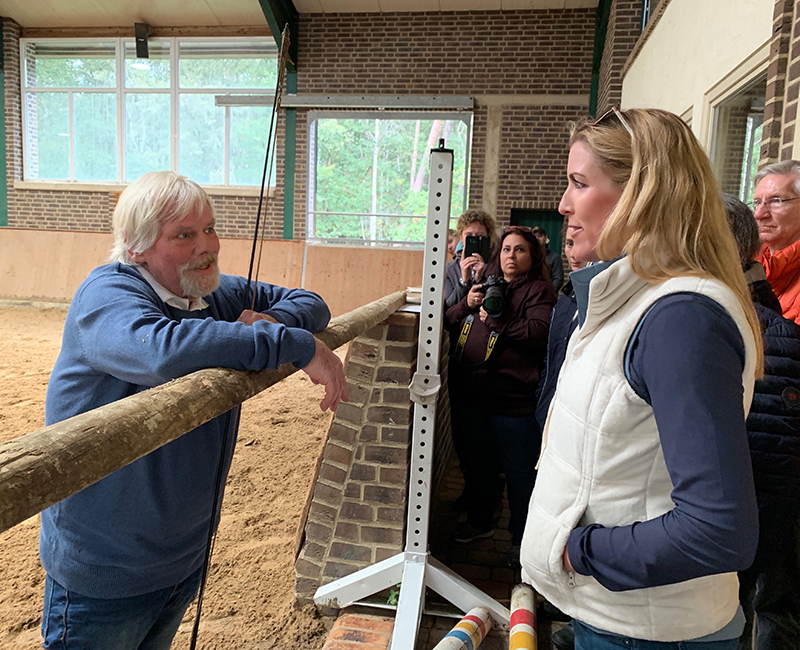 Perhaps most importantly to me, Helen campaigned Diesel's full brother, Damsey FRH, to the top of the sport, taking third together at the 2019 FEI World Cup Final in Gothenburg (Sweden). She's the rider who knows Damsey best, so I felt like she already knew Diesel.
This trip initially seemed impossible, but I couldn't get the idea out of my head. I reached out to Damsey's co-owner, Susanne Meyer, to see if training with Helen would be possible. Susanne put me in touch with Helen, and in October 2019, with the support of my stateside trainer Amelia Newcomb, the wheels started turning.
My father generously agreed to fund the trip as "college" for Diesel, whom we hope to make the centerpiece of a breeding operation we are developing on our avocado and mandarin farm in Moorpark, California. We planned the trip for autumn, when the heavy grove work of picking, pruning and shipping is done for the season, and my partner Olly Hutchinson, his father and my aunt agreed to take over my remaining farm duties so that I could be away for two months.
Starstruck In Billerbeck
Fast-forward two years, and Diesel and I arrived at Helen's stable in the small town of Billerbeck, Germany, on Oct. 16, 2021, after an incredible flight where Diesel and I were the only passengers aside from a young Knabstrupper colt (and the pilots, who were happy to have a fellow human on board). It was darker and colder in Germany than I was accustomed to, but even jet lag couldn't overshadow our arrival.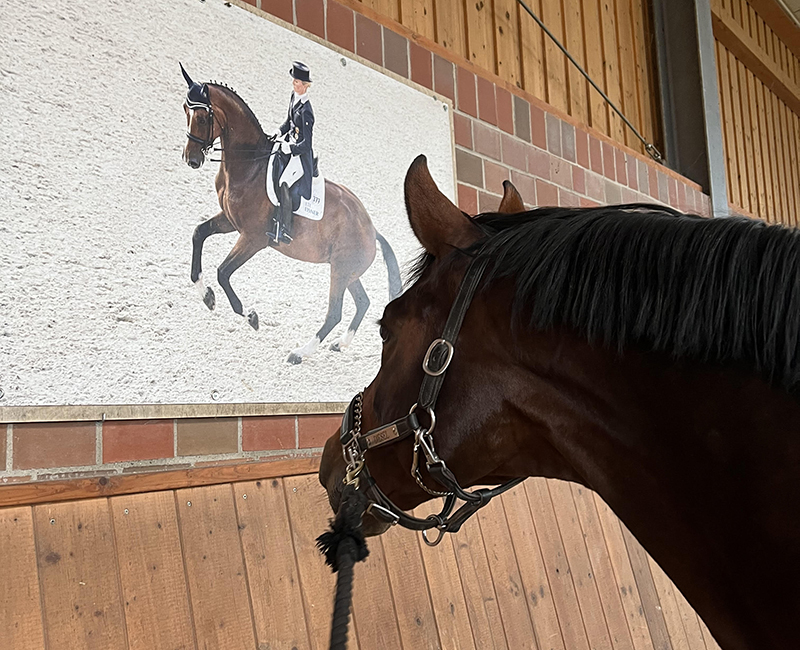 Helen's facility did not disappoint: It had an immaculate barn, spectacular arenas, manicured landscape, turnouts and grass pastures. This was clearly a place where people dedicated their lives to dressage. As I walked into the barn that first day, to say I was intimidated would be an understatement, but Helen and her team were immediately warm and welcoming and made us feel right at home.
While Diesel settled in quickly, I struggled to adjust. I have traveled in my lifetime—I grew up in Southern California, studied environmental science at the University of California, Berkeley, in Northern California; earned my degree in marine biology from James Cook University in North Queensland, Australia; welding and EMT schools in Florida; motorcycle mechanics school in Arizona; and later graduated from Le Cordon Bleu and worked as a private chef for years—but it still was surreal to be living in Germany with a different language, different food and different customs. Luckily for me, I was in great hands with Helen and her team. Despite her busy schedule, Helen always had time to be kind, polite, thoughtful and inclusive. Helen is a class act and a role model on every front.
One morning Helen whisked me away at 1:15 a.m. to drive to Herning, Denmark, where she rode Annabelle 110 in the FEI Dressage World Cup Qualifier for the Western European League. It was inspiring to watch riders like Ingrid Klimke, Cathrine Dufour, and Patrik Kittel; and equally as inspiring to see horses I was so familiar with from videos like Franziskus, Atterupgaards Cassidy, Blue Hors Zack and Touchdown.
Herning was a fantastic introduction to European dressage. Yet, in some ways, the experience left me conflicted. In Europe, horses are a huge part of society, culture and history. Germany owns multiple stallion stations, where they breed and campaign stallions as state-owned businesses! In Germany, riders have celebrity akin to that of baseball players and football stars in the U.S. Most people in the U.S. don't even know what dressage is, let alone the names of horses and riders.
Watching some of the best equestrians in the world was equal parts inspirational and disheartening. Suddenly, Grand Prix felt so far away. Could I ever do Diesel justice? 
Dialed In, Dialed Up
Within the first two weeks, I fell into a routine of helping at the stable in the mornings. There seemed to always be one or two grooms and/or Bereiter students out sick, so I tried to step in and lessen the burden. Working in an elite training barn is no small task. By 1 p.m., I usually had walked between eight and 10 miles.
I rode with Helen five days a week, and quickly saw a difference in my riding. Diesel was more serious. I was more serious. I'm not sure how else to put it. If you compare the U.S. and Germany, the dial is just turned up. The expectations are greater; dressage is not a hobby.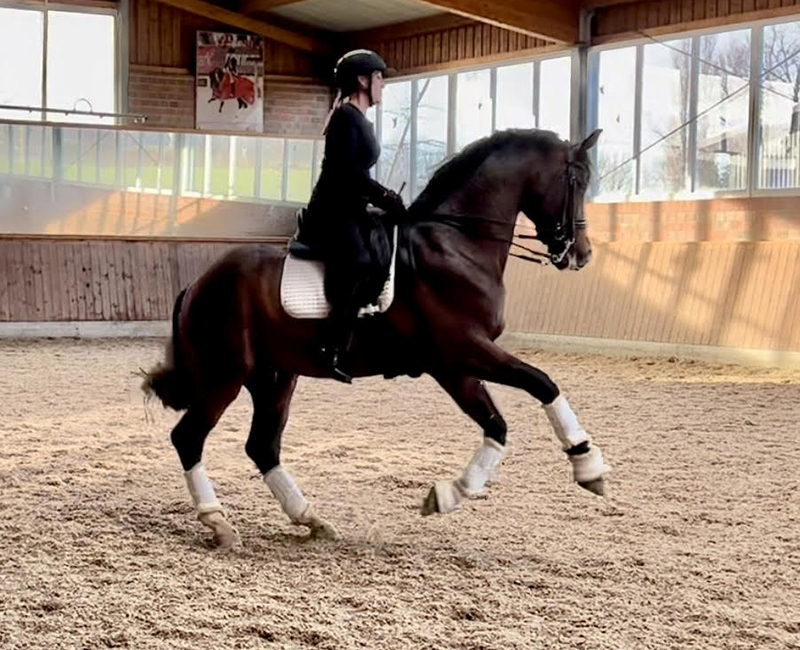 To me, dressage is all about partnership and connection. I showed Diesel consistently during the first four years I had him, but due to COVID-19 and the loss of shows the past two years, I offered him to U.S. breeders instead. Breeding Diesel opened so many doors for us. I made new connections and friends, and it feels like Diesel has one big, amazing extended family. However, not getting into the show ring made us rusty. Helen's rust removal strategy was to ride one test a week, starting with Intermediaire II.
Truly understanding the concept of connection was by far my biggest takeaway from Germany. I had glimpses at home, but I always thought that the more power and expression your horse had, the stronger their connection in front, but it's actually the opposite.
"Connection," as defined by the 2019 USDF Glossary of Judging Terms, is the "state in which there is no blockage, break or slack in the circuit that joins horse and rider into a single, harmonious, elastic unit. A prerequisite for throughness." While in theory this makes sense, in reality it's a complex idea that takes an understanding of our sport that is, I think, only obtained at the highest levels. Yet, it is third on the training scale.
Riding dressage is like reading a book 10 times: Every time you read the book, you find new meaning; if you read the book every day, year after year, your understanding keeps evolving. It is no wonder that the best riders in our sport have been doing it for decades.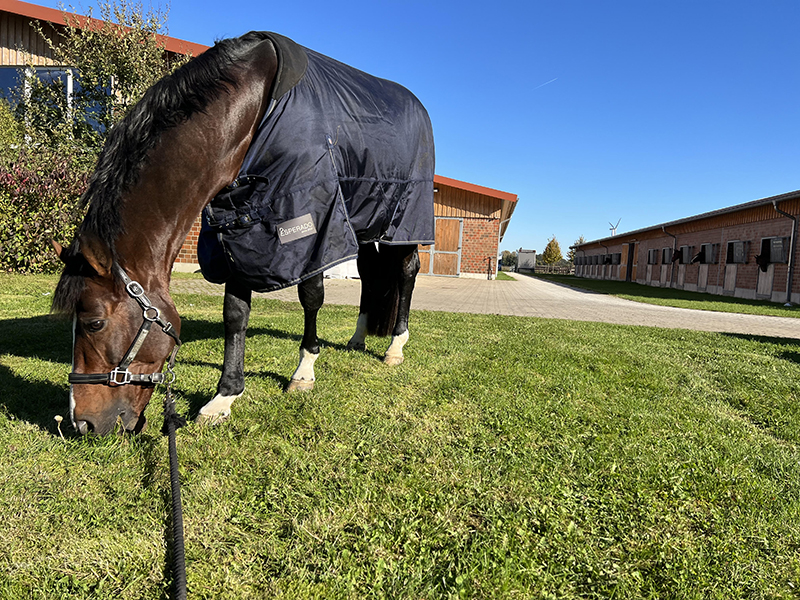 Waking Up And Coming Home
On Dec. 17, as I walked Diesel back into his paddock at home in California, I felt grateful, proud, relieved and overwhelmingly happy. We made it through two months in Germany. Diesel spent 10 minutes leaping, rolling, whinnying and cantering around his paddock. I knew he was happy to be back among the avocado trees and under the California sun.
Our immersion into the elite dressage world was an eye-opening and transformative experience. I came home with a renewed enthusiasm for our sport, and I can't wait to continue to show our small world just how incredible Diesel is. At Helen's advice, we've entered our first Intermediaire II, hors concours, at the Desert Dressage III CDI (California) in late February, then hope to return to the next show a month later and ride for scores.
Germany also reaffirmed that I love keeping dressage as a part-time passion, which enables me to be the only caretaker for Diesel and invest in our partnership outside the arena. Hopefully, the strength of our partnership, along with solid training and a little luck, will be the secret ingredients that help us become a Grand Prix combination in the next year and internationally competitive in the coming years.
---
Kasey Cannon is a life-long Californian and horse lover who took up dressage in her late 20s. She acquired Diesel as a rising 5-year old and together they have advanced up to the CDI level. Kasey currently works full-time as a farmer and is planning to build and manage a world-class dressage facility and stallion station on her Carronada Farms in Moorpark, California. To read more about her two-month experience in Germany, visit her blog "60 Days With Helen Langehanenberg."