The "1% rule," to me, represents hope.
Here's how the math works: If I can get 1% better each day for one year, I'll end up 37 times better by the end of the year. It's an exponential growth curve.
I love this rule. It gets me through the times when I feel like I'm not making progress, because 1% is pretty small—so small that at times it is hard to see.
This rule shows me the path, one step at a time. If each of my daily trot-halt-trots gets a tiny, tiny bit better, I can go from "trot-waterski and hope for several strides-check out my mount's browband because he's so inverted-finally stop moving" to a quiet, invisible half-halt. Even if I'm nowhere near that in today's training session.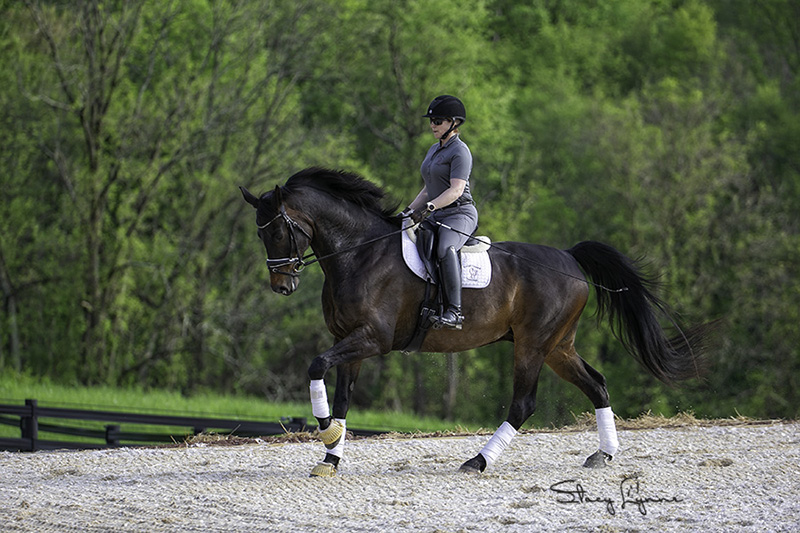 It's part of the long-game idea that dressage is built on.
The fancy moves we perform at Grand Prix look so incredible to us humans. But to the horse, who has built up piaffe by 1% a day over years, that piaffe is really just a "trot-halt-trot" done over and over and over. The transition is repeated until the horse is strong enough to find the space between the trot and the halt where piaffe lives.
I use this rule in so many areas of my life, not just training horses.
But the rule also works in the opposite direction: If I get 1 percent worse each day for one year, I'll decline to near zero.
In 2019, I sat in despair about my weak business and staff management skills. I had gone through an expensive divorce and made some changes in my priorities. That priority shift pretty much destroyed the business model I was running. Honestly, that business model did not support my passion and was running me dangerously close to burnout, but with so much change in my life, digging out of that hole seemed impossible. My business wasn't covering its own expenses, and I was living on credit cards. I was strongly considering a career change just to make ends meet.
I was sitting in the bad side of the 1% rule. I was out of choices. I decided to work on it, to get 1% better over time.
I revamped my business model for Straight Forward Dressage into something that inspired me. I tossed out my accounting model and rebuilt it from the ground up. I downsized and relocated my business—twice, actually. I took a deep breath and sold horses and equipment, a really hard decision to let go of things that served my past in order to make room for my future.
This process was hard. Really hard. I spent sleepless nights worrying about my choices. I cried for the things I let go of while I fretted about my future.
Last year I bought a new trailer for SFD—a brand spanking new one, and I paid it off nine months after I picked it up. I met my goal: SFD ended 2021 entirely debt-free. That trailer represents so much more than just transportation for my horses. To me, it represents the cumulative effect of getting 1% better at running my business each day.
But most important, I get up each day inspired to do my job again. I head down the centerline ready to show off the amazing horses I get to ride. I am inspired to be the best coach for each and every one of my students.
My horse, Larry, is a product of this same idea. Three years ago, he had a bunch of areas that needed to get better—his submission and willingness to take pressure, his hip and back muscle strength, his ability to be led quietly through gates. I tried to hurry his progress on the gate issue by sending him to a cowboy, but he just came back with a sore neck.
So instead, we used treats—lots and lots and lots of treats—to reinforce putting his head down, cuing relaxation, and politely going through the gate. He got a treat for each 1% of trust he gave us when going through a gate. He now goes out like a good boy 99% of the time.
Three years after I brought home this big boy because I was curious if I could help him, he did his first, albeit messy, third level tests at a schooling show last month. It needs a lot of work, but I trust that 1% at a time, he will maintain the rideability I'm looking for. Because we had it, more than 1% better, in the second test.
That being said, the gate thing is still my favorite of his accomplishments.
To me, the 1% rule represents hope. It puts that hope in a bite-sized chunk that I can digest, one day at a time.
As the old joke goes: How do you eat an elephant? One bite at a time.
So I keep plugging along. One percent at a time.
---
Ange Bean trains from her Straight Forward Dressage in Pottstown, Pennsylvania, and travels throughout the U.S. as a clinician. She is the founding trainer for Straight Forward Dressage Trainer Talks, a web-based discussion on the highs and lows of dressage horse training, and she maintains a personal blog. Her credentials include USEF 'r' dressage judge, ARIA Level 3 certified in Dressage and Stable Management, USDF bronze, silver, and gold medal, and USDF bronze and silver freestyle bars.