Tallahassee, Fla.—March 10
RF Scandalous has been a prolific winner for Marilyn Little since she bought the mare in 2014, but last fall she had a couple of unusual cross-country blips on her record.
Little had been working hard on the details of "Kitty's" performance in each phase over the summer after a strong fourth place finish at the Luhmühlen CCI**** (Germany), but things just didn't pan out the way she'd hoped.
At the USEA American Eventing Championships (North Carolina), Little was leading after show jumping but fell off on cross-country. Then at the Ocala Jockey Club CIC*** (Florida), she had an uncharacteristic run out, and Little broke her foot in the process when she hit it on a jump.
But as of 2018, Little's hit the reset button in her mind, and she's not looking back. She's learned not to dwell on the past, and has come out strong, leading the Red Hills International CIC*** from start to finish.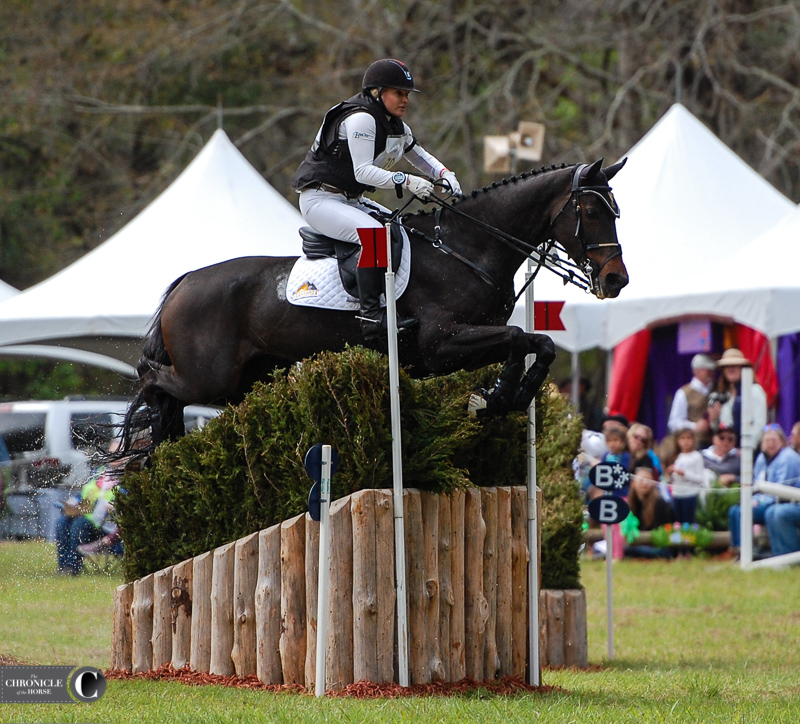 "She's my friend and partner," said Little of the 13-year-old Oldenburg mare (Carry Gold—Richardia, Lario) owned by Jacqueline Mars and Phoebe and Michael Manders. "I stare at her every day wondering how she's doing. Her performances have always been very good, so when they aren't it's very disheartening, but that was last year, and I'm glad we got it out of the way last year. There's going to be a lot of ups and downs. That's horses. When there's only one, it's easy to overanalyze."
Little came home from Luhmühlen wanting to figure out how to take Kitty from a new four-star horse to a championship horse, with eyes on the FEI World Equestrian Games (North Carolina) this fall.
"I took her out of competition during the summer and most of the fall to really try to nail those things down," she said. "I felt coming into those competitions that I had those, like, we are so ready. But you know what? Sometimes it just doesn't work."
Little said talking with new USEF High Performance director Erik Duvander helped change her way of thinking and not get bogged down with "paralysis by analysis."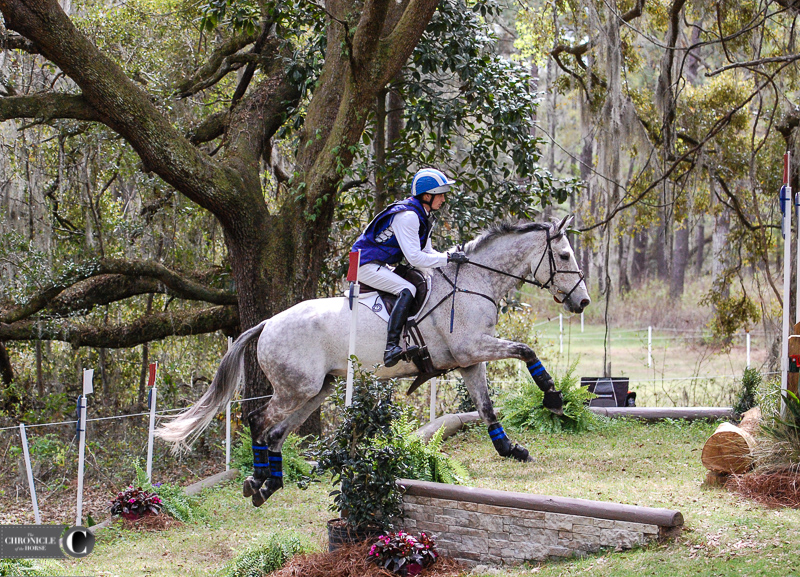 "There's a fine line sometimes," she said. "You have to try to learn from your mistakes but not let them become stumbling blocks. We've tried to stay the course and figure out what might have gone wrong and try to fix it, but I think the feeling that she gave me coming into those events was that we are close. It didn't go well cross-country, but she actually gave me the ride that she gave me today, which is what I've been trying to achieve with her since Luhmühlen. She was a horse that's really rideable, attentive, fast away from the jumps—just very ready. She gave that to me again today, and I'm thrilled. Erik Duvander said, 'You've got to stop dwelling on it. You've got to move on, and say she's rebounded, she's back.' I don't know where she went, but that cat's back! It's wonderful."
Little, who's been keeping Kitty fit in Wellington, Florida, while she competes her string of jumpers, had planned to go a bit faster for a fitness run, but the mare lost a shoe at the third fence when she tripped on landing. She finished with 10.4 time penalties.
"She was brilliant from start to finish," said Little, Frederick, Maryland. "I had a slowish start. I didn't want to come out of the box too fast with her because it's her first big run, and we're working on control. I didn't know she lost it. She struck into herself in a way that I had to take a couple of steps to make sure she was alright. We carried on, and I kept her conservative until after the 6abc combination, and then let her go, but we lost a pretty good amount of time there.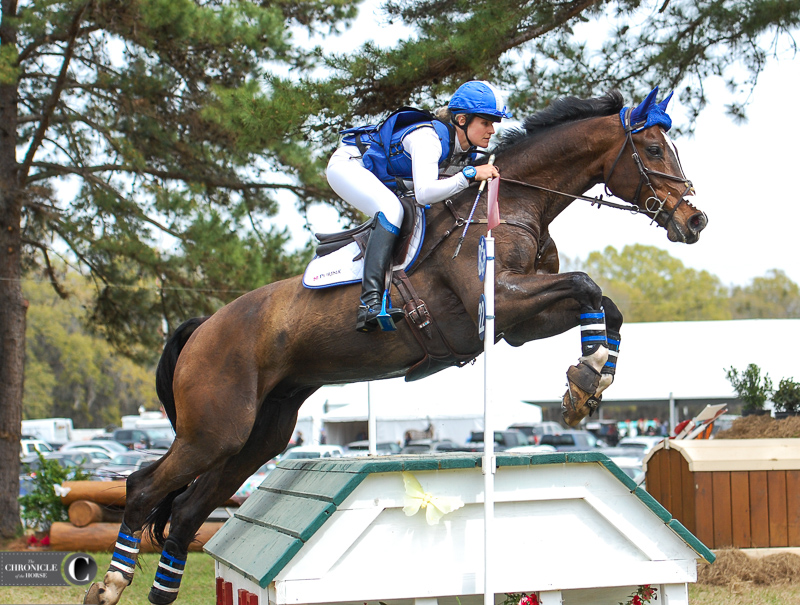 "I think it worked out well for her because it gave her some time to settle in, and she was spot on the rest of the way," Little continued. "She read everything really well, which is wonderful for the horse but also a testament to the course design. It was hard to make time. The horses looked great at the end of the course, which is really what you love to see. You came out with a better horse than you went in with, and that's awesome."
Twenty-four of 31 starters completed with no jumping penalties, and only one, Whitney Mahloch and Military Mind, made the optimum time of 5 minutes 59 seconds. Forrest el-Effendi fell from Winter Colony at fence 18, Goliath's Gap, and three pairs retired on course.
Jacob Fletcher and Atlantic Domino made a big move up the leaderboard, first climbing from 13th after dressage to eighth after this morning's show jumping. 2.4 time penalties vaulted him into second.
Fletcher and the 13-year-old Irish Sport Horse gelding (Dunlough Striker—Atlantic Amanda, Glidawn Diamond) have been together since 2014 and won the advanced division at the AEC in 2015 in Texas, but they've had some trouble on cross-country from time to time at the three-star level.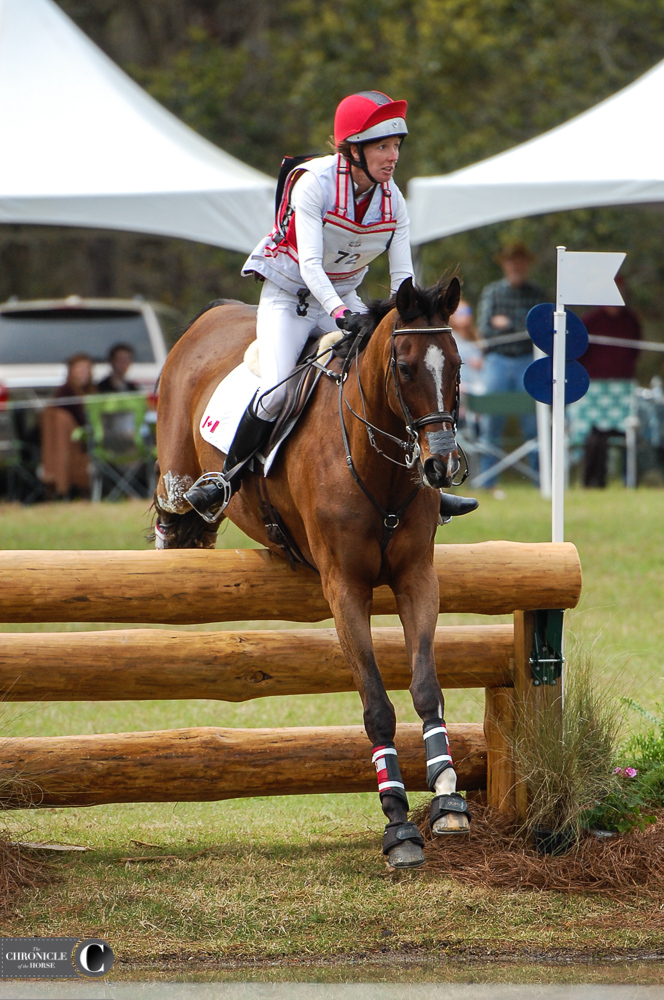 "We've had blips at almost every three-star we've done, so it's great to get one under our belt!" he said. "He's a bit small-strided, so I've struggled with making the longer distances cross-country, and he's a very careful jumper too. I fixed that, but then I would come in too hot on occasion and have a blow by. It's been finding the middle ground. Hopefully I've got it now."
Fletcher, North Little Rock, Arkansas, splits his time between selling insurance and running his eventing business. He's participated in the Eventing 25 training sessions this year, which combined with the gelding feeling more rideable and strong this year has made a difference in his riding.
"I found it hard training in Arkansas alone," he said. "I would set stuff up that wasn't tough enough. I always set stuff too easy to make it feel nice, then I'd go to a show! It's really good to get tuned up. Mike [Huber] and Leslie [Law] are around so I'm not so thrown in the deep end!"
For full results, click here.
For more from Red Hills, click here.
2018 Red Hills International - CIC*** Cross-Country
Lindsay Berreth / Mar 11, 2018 8:21 am