Since she's been focusing on her top-level jumpers over the past few months at the Winter Equestrian Festival (Fla.), Marilyn Little has had to get creative when conditioning her top event horse RF Scandalous.
She thought coming to The Fork CIC*** for her first run would be a good test of "Kitty's" fitness, and she's had a good start to her weekend, leading the division after dressage on 41.7.
"She's been galloping out in the everglades on the dykes and through people's yards, and obviously very much on the flat, so we'll see what her fitness is here," said Little with a smile.
The Fork has been held at The Fork Farm and Stables in Norwood, N.C., for the past 15 years, but owners Bernadette and Jim Cogdell decided to move it to the picturesque Tryon International Equestrian Center this year.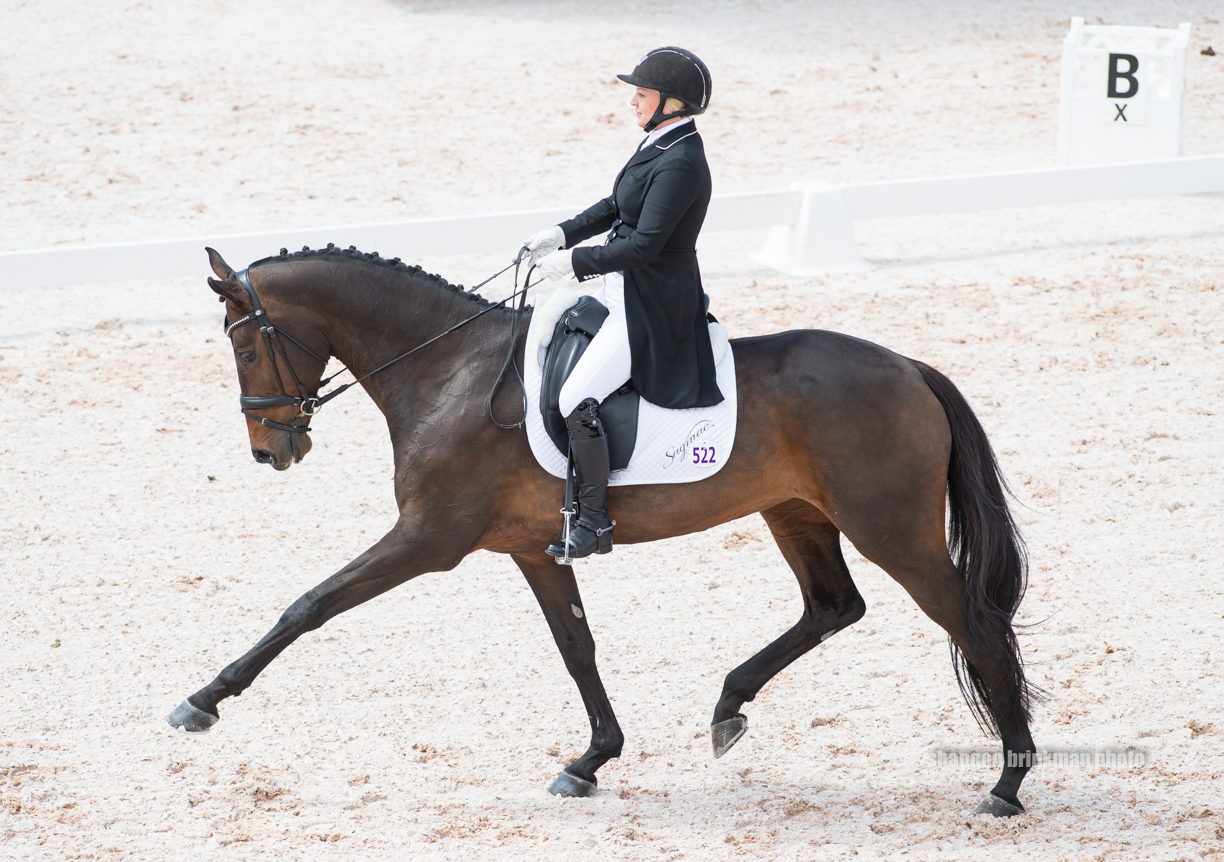 Dressage was held in the George H. Morris Arena, the main arena which is surrounded by 6,000 seats, making for a lot of atmosphere, and that's just what many riders want as they look towards the Rolex Kentucky CCI**** at the end of the month.
Little is not aiming for Kentucky, but still appreciated Kitty's performance today.
"I'm was really pleased with her. I thought she did a good job. Coming from very warm weather, it was quite chilly and windy, so I wouldn't have blamed her if she'd been a little fresh, but she was very focused, and she did a nice test. I could have maybe ridden her up a little more. I was conservative thinking that there could be some effects, but she was great," she said of the 12-year-old Oldenburg mare, who's owned by Jacqueline Mars, Robin Parsky and Phoebe and Michael Manders.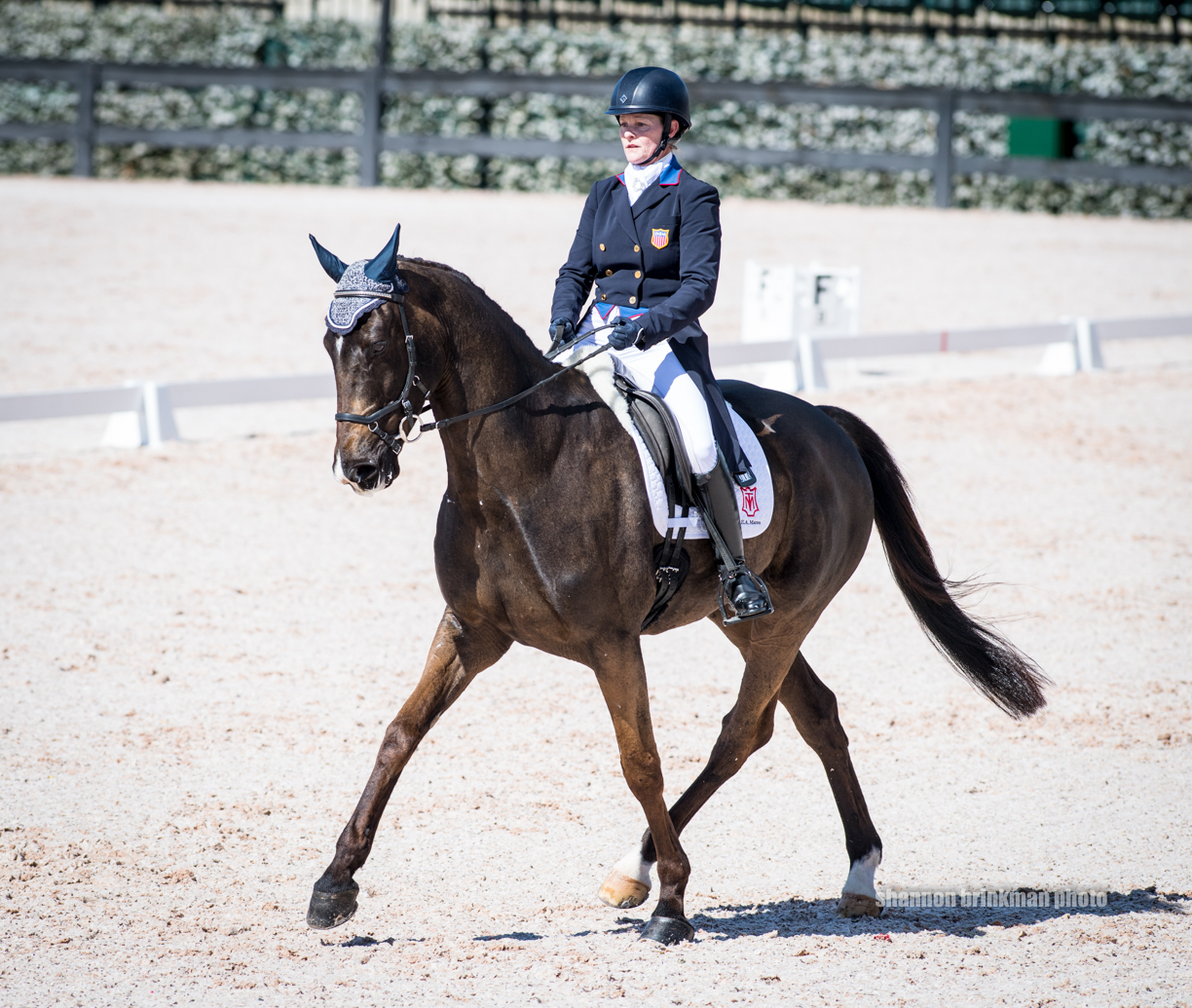 Kim Severson and Cooley Cross Border, a 10-year-old Irish Sport Horse gelding owned by the Cross Syndicate, slotted into second place on 43.7. They've come to The Fork off of an advanced win two weeks ago at the Cloud 11-Gavilan North LLC Carolina International (N.C.).
Severson is tentatively eyeing Rolex depending on how the weekend goes.
Severson credited "Crossy's" recent form on the flat to Patrick "Packy" McGaughan, a past Pan American Games team rider who's a popular coach.
"He's started showing up whenever, watching my test, telling me what he thinks. I've always known him, but never asked for help, and somehow it's morphed into this great 'eyes on the ground' situation, and he's been incredibly helpful," said Severson. "He's been watching Crossy come along this spring, and says two or three little things, and it makes a lot of sense, and I think about how to proceed. I've made a lot of good progress with him—having him better connected, but being more expressive with more power in his gaits as well as being just more relaxed. He's worried a little bit this year—his learning curve's gone pretty steep since last fall. But he's doing really well and taking it very well."
Neither Severson or Little had found the chance to walk the cross-country course for the three-star yet, which is brand new and being held on an adjacent former golf course.
The three-star field is smaller than years past, with 20 starters (Caroline Martin and Pebbly Maximus were eliminated during her test for blood in the horse's mouth per FEI rules). Riders had more options this year as Chattahoochee Hills (Ga.) moved their CIC*** date and the Fair Hill CIC*** (Md.) moved back one week, but The Fork also added beginner novice and novice divisions and will become the first U.S. Eventing Association-recognized competition to host the new modified 3'5" level, so it will be a busy weekend.
Three-star riders will have tomorrow off as the CIC** and CIC* divisions show jump. Show jumping for the three-star will be held Saturday morning, followed by cross-country on Sunday.
For full results, click here.
We're on site all weekend at The Fork! Make sure to follow us at www.coth.com and on COTH's Facebook, Instagram and Twitter! Check out a full report from The Fork in our April 24 print edition.