Allentown, N.J.—May 12
The sandbox time is over, and it's on to cross-country tomorrow at the Jersey Fresh International Three-Day Event! Terminator ducks, frisky snowbirds and an anxious Boyd Martin lead the way after dressage in the CIC divisions—check out their thoughts on their tests and tomorrow's course.
The Three-Star Snowbird Champ
Marilyn Little's eventing and show jumping strings spent the winter in the tropically warm Wellington, Fla., so the overcast and 50-degree day caught RF Scandalous, or "Kitty," by surprise.
"She was a little fresh this morning," Little said with a laugh. "This is the coldest weather she's seen since last fall, and she's getting fitter now that we're looking toward the [Luhmühlen CCI**** in Germany] next month. So she's quite fit, and she was telling me all about it this morning."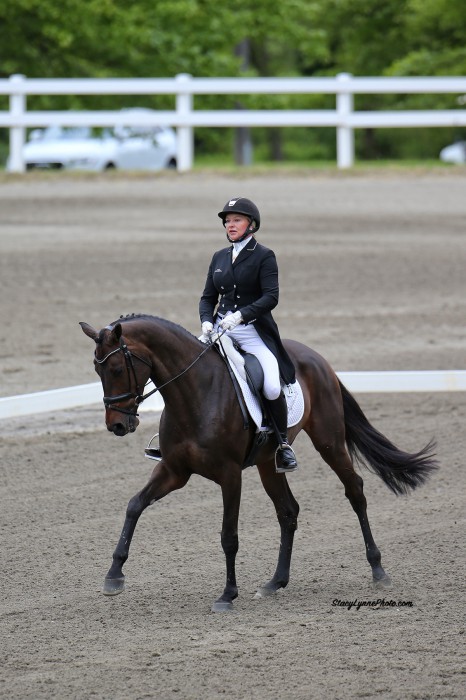 No matter—the decorated three-star pair turned in an excellent test, earning a 37.7, better than second-placed Phillip Dutton and Fernhill Revelation by 5 full penalty points.
"She was very professional and wonderful to ride in there, just as she usually is," Little said.
Looking toward Saturday's spin around the newly redesigned Mark Phillips cross-country course, Little is confident in Kitty's fitness despite her slightly unorthodox approach to it.
"We got a lot of show jumping and dressage in over the winter, so now it's been all about the fitness since The Fork [N.C.]," Little said. Kitty and Little won the CIC*** at The Fork in April.
"Since then we've just been turning up the volume and adding in the hills and the terrain, which obviously we didn't have access to in Wellington," Little added. "We'll have a better gauge tomorrow and then still a few weeks to build on this [before Luhmühlen]. Part of the reason we came here is I thought it would give her another boost on her fitness."
He's A Terminator, Not A Duck
Lauren Kieffer spent much of 2016 getting to know one of her newest upper-level partners, D.A. Duras, a horse owned by Debbie and Tony Adams and Jacqueline Mars. The horse's personality reminds Kieffer of the goofy cartoon duck Baby Huey, but owner Adams thinks the horse is deserving of a more battle-ready nickname.
"I'm supposed to call him The Terminator from now on," Kieffer said with a laugh. "We'll see if it sticks."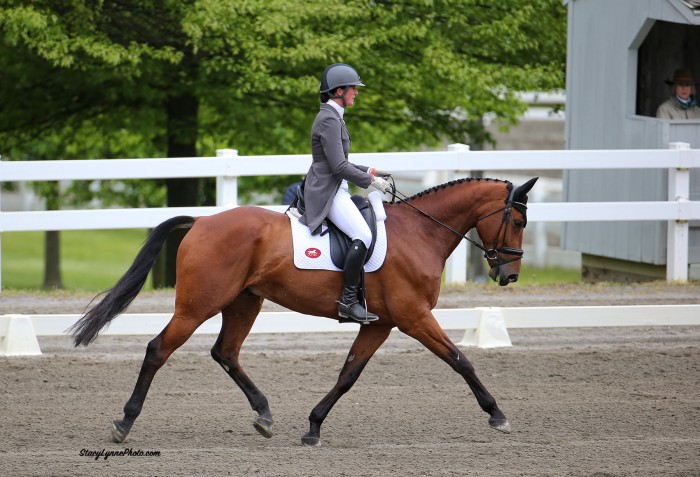 Kieffer and Duras are sitting in the lead after scoring 46.9 in the CIC** test.
"I really have to thank the girls at home that have been riding him; I haven't gotten to ride him for a few weeks," Kieffer said. She rode at the Rolex Kentucky  CCI**** before flying straight to the Mitsubishi Motors Badminton CCI**** in England.
"He was really good. He was really up this morning; the cold weather got to him too," said Kieffer. "He's really getting pretty confirmed, and he went in and was pretty good, so hopefully he keeps getting stronger and stronger, and I'll be able to push him a little more."
Boyd Martin, Nervous?
It's not an adjective you would usually apply to the veteran four-star and Olympic rider, but it's what he's feeling going into tomorrow's cross-country on Long Island T.
"This is our first attempt at this level, so I'm pretty nervous about it, just because he has taken a bit to get a partnership going with him," Martin said. "But he's had a really good run the last couple starts, so I think we're in good shape, and he should be a good horse for me because he is so flamboyant in the dressage."
The pair scored 47.0 to slot in just behind Kieffer and Duras.
"We'll find out a lot tomorrow," said Martin.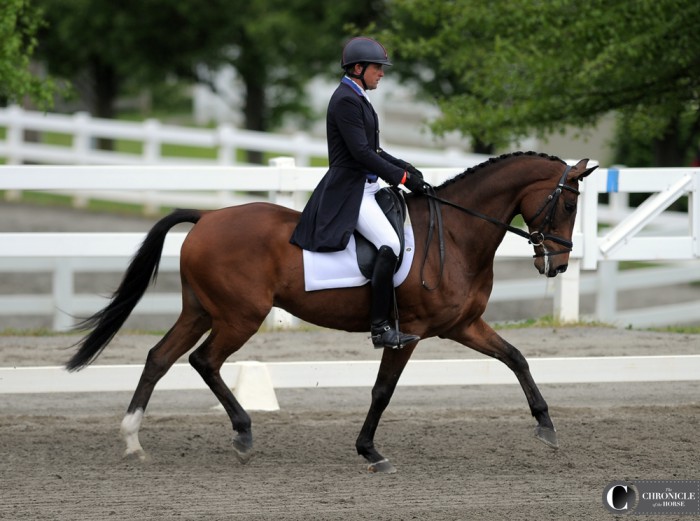 How Bout That Cross-Country Course?
The cross-country course at this year's Jersey Fresh is brand new to competitors—it was redesigned by Phillips and features an additional field and a new water complex. (You can find a link to all division's course maps here).
"I think it's beautifully presented with a pretty nice flow in the beginning. I'm crazy about the first part of the course; I think it's a great way to get them going," Little said. "Then afterward there's some real accuracy questions and tight rollbacks, which keeps you on your toes at the end, and the middle is plenty strong."
Dutton will tackle the CIC*** division aboard Fernhill Revelation.
"I think it's a fair bit more horse friendly," Dutton said of the cross-country course. "It's certainly not overly strong or hard, but like Marilyn said there's still more terrain here than you think and a lot of jumps, so I think you'll still be proud of your horse at the end."
Tamra Smith and Wembley lead the CCI***, and Cornelia Dorr and Louis M lead the CCI** division. Both CCI divisions did their dressage Thursday, and you can read about their tests here.
The weather is looking gray for cross-country day with a high of 51 degrees and a 100 percent chance of rain—stay dry and check back with The Chronicle to see how our dressage leaders fare, and don't forget to look at the June 5 issue of the magazine for more in-depth coverage from Jersey Fresh!