Bromont, Quebec—June 7
"This qualifies as a really good day, and in this sport, there are a lot of different kinds of days! It was a really good one," said Marilyn Little at the conclusion of the Jaguar Land Rover Bromont Three-Day Event.
In fact, she had an amazing day as she brought home wins in the CCI** with RF Overdressed and the CCI*** with RF Demeter—two very different, but very consistent horses.
Little brought RF Demeter, or "Demi", to Bromont after pulling up on cross-country at the Rolex Kentucky CCI**** in April due to lost front shoes.
The pair were second after yesterday's cross-country and when overnight leaders Emily Beshear and Shame On The Moon pulled two rails early in the course, Little moved up, despite a rail down. Beshear ended up in second with Canadian rider Waylon Roberts and Kelecyn Cognac taking third with one rail.
Marc Donovan's show jumping course was tough, with none of the 17 three-star riders jumping clear. Rails fell throughout the course and horses looked a bit tired, but Demi, a 12-year-old Oldenburg mare, stepped up for Little.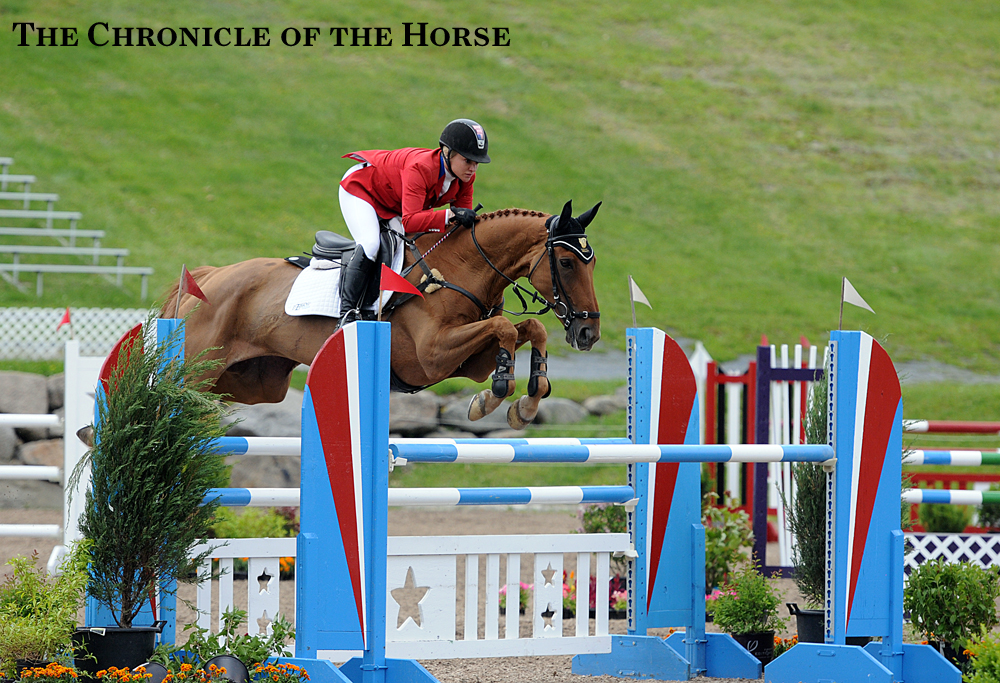 Marilyn Little and RF Demeter won the CCI*** at Bromont. Photo by Taylor Joyce.
"I did have [the skinny down early in the course]," she said. "It felt a little bit late; I think she had it behind, because she came off the ground well. And that's a pretty uncharacteristic rail for her to have. She's normally very sharp and very careful at the verticals. I was actually more concerned because she felt a little tired at the triple but she put out a great effort there. If I had to do it over again I'm not sure I could do it better! She gave it a great go and she stepped up again."
Little was complimentary of Donovan's track because the rails were scattered throughout.
"Marc does a wonderful job designing and I think he also has a wonderful way of reading the field, and he's a real horseman," she said. "I don't think that he overbuilt today. As Isaid yesterday, I think it was a very strong [cross-country] course. It asked a lot of the horses and I think the horses were feeling it, you could see that at the jog this morning. All in all, they jumped well, but there were just little mistakes everywhere—you can tell it's a great course when there's mistakes coming all over the place and not just in the triple or in the double or just time faults."
As for RF Overdressed, or "Oreo", Little was thrilled to bring home the win for his owners, Jacqueline Mars, Raylyn Farms and in particular, Robin Parsky, who attended her first event as an owner after coming from owning several show jumpers.
"I just think they're going to have to come more often because this was really lucky!" she said. "Jacqueline Mars is an incredible, incredible supporter of the sport, so this is a wonderful day for her. She also owns Demi, she's part of Team Demeter, and she's one of the very first people to get on the board and really help support me and help support my endeavor in the sport and believe in me and I owe her so much for that.
"And it's also very exciting to have Robin Parsky here because she's coming from my sport, show jumping, and coming here, and she just loved it," she added. "Obviously she had a wonderful weekend but she is exhilarated by the sport and she loves looking at the horses and she's such a horseman—she really sees the difference and appreciates the horses for the athletes they are, and that's just a wonderful thing to see in an owner. Also my parents to be here—they own part of both horses as well and they do so much. They make all of it possible. It was a really special weekend."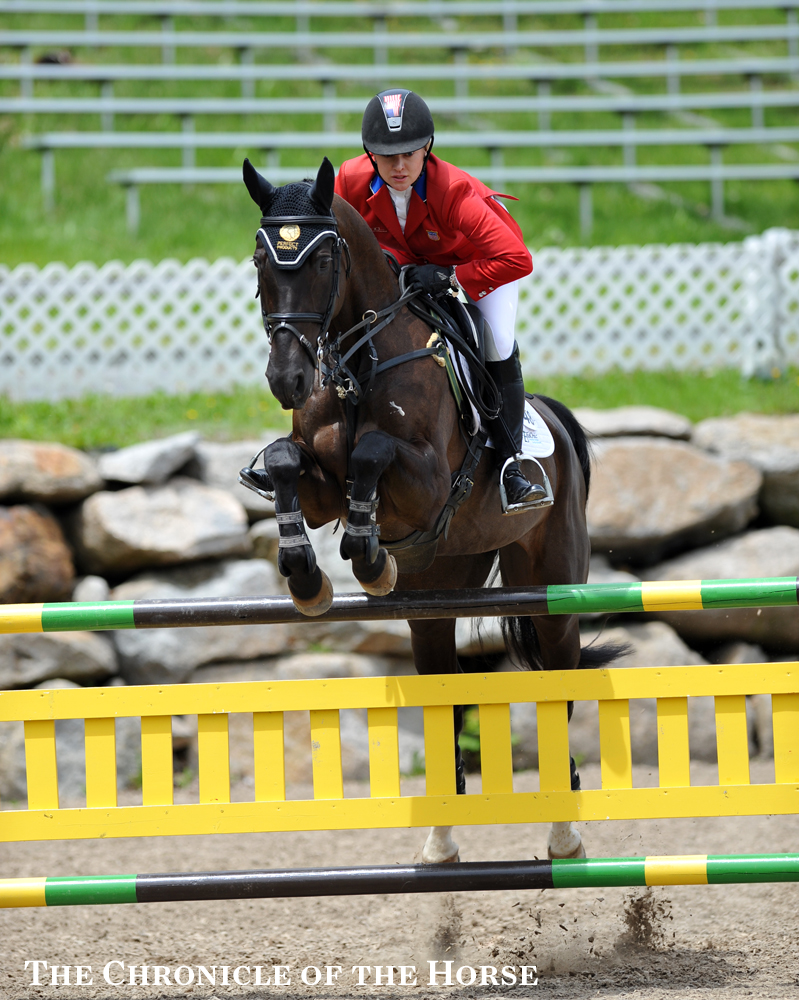 Marilyn Little and RF Overdressed won the CCI**. Photo by Lindsay Berreth.
Oreo, an 8-year-old Hanoverian, won the CCI* at Ocala (Fla.) this season and will have a break now before Little decides what to do next. She kept him at the lower level for several events to keep his confidence before trying a two-star again and it clearly paid off.
"He was a bit tired today; that was certainly the biggest, longest course he's ever done in his career," she said. "The best I can tell, they have to learn how to be tired and still perform, and he really rose to the occasion this morning. When you start a partnership, you have hopes of what they're going to be, and then when they start to become that, it's very rewarding and very validating, not just for me but for the whole team that puts so much into making and developing the horse."
Live And Learn—But Still Win
"I got a little cocky at the last but you live and you learn I guess!" said Beau Guimond after his CCI* show jumping round on Filibuster ST that landed them at the top of that division. With one rail in hand coming to the last fence, an oxer, Beau fist-pumped in celebration a bit prematurely, and "Buster" ticked the rail unexpectedly.
But the 22-year-old from Harrisburg, Pa., shrugged it off. After all, Buster only started jumping less than two years ago, when Boyd Martin found the now 8-year-old Hanoverian for Guimond, his then-working student. Buster was doing training level dressage and the pair immediately clicked into a strong eventing partnership.
"He was too wild in the dressage; he was very hot and bucked everybody off!" explained Guimond. "So he found his calling—he likes to run and jump."
After a strong dressage test, which put them in the early lead, and a faultless cross-country round, the pressure was on for the final phase, their weakest on paper.
"[The course] rode a bit more forward than I was anticipating; he's got a big step, so I sort of got in there and had to adjust my plan a little bit," he said. "I thought it was going to be quiet; I had to sort of take it on a little bit more. He's a really good jumper."
Beau is very hands-on when it comes to the care of his horses. He runs his own barn in Harrisburg, and his daily routine involves taking care of and riding seven horses, mostly young prospects, there, owned by himself and clients.
"Even Boyd and them, they take good care of their horses themselves," said Guimond. "That's important; it's not just handing them off, you've got to be hands-on. It develops a relationship with the horses too."
In keeping with his rapid rise up the levels, Beau hopes to take Buster intermediate in the fall, after a bit of time off following Bromont. "And if the stars align, a CIC**!" he added.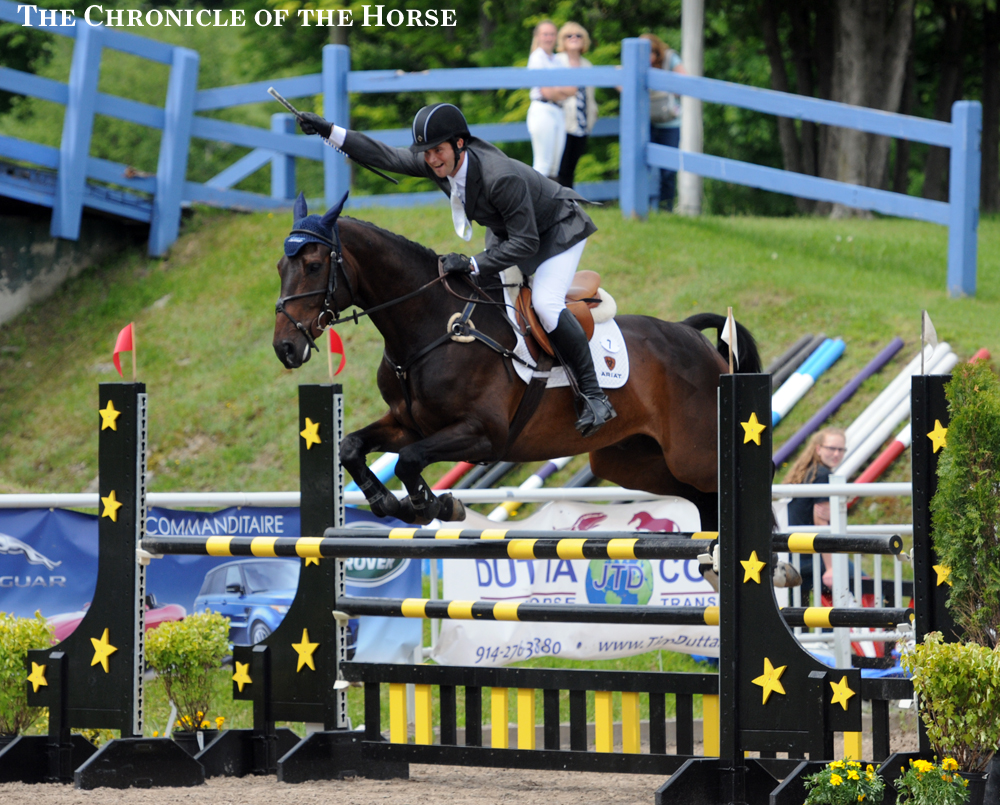 Beau Guimond celebrated his CCI* win with Filibuster ST at the last fence. Photo by Taylor Joyce.
Will Coleman took second on Butch Cassidy and Lucia Strini on My Royal Cooley were third.
Square And Steady
When Waylon Roberts cleared the last fence of the CIC** on Bill Owen, he couldn't contain his excitement, fist pumping and giving the thumbs up to the crowd. He had one rail in hand, and used it at a triple-bar midway through the course, so the pressure had mounted making victory taste even sweeter.
"I was really pleased with him; he answered everything for me really well," said Roberts, 26. "I think at the triple bar I saw a very good stride from a ways away and I don't think he read the front rail very well. We had the front rail of a triple bar, which I've never had! But you know what, the rails are there to come down!
Their win marked a huge achievement considering "Bill" has only been eventing for three seasons. Roberts, who's based at True Prospect Farm in West Grove, Pa., where he trains with Phillip Dutton, purchased him from an amateur who had only lightly ridden him as a pleasure horse. Without any experience in dressage or jumping, Roberts had his work cut out for him.
This spring, they competed in their first advanced division at Pine Top (Ga.) then at the Carolina International (N.C.), and with each new event the 11-year-old gelding of unrecorded breeding continues to impress Roberts, and also pay credit to his intensive training program with Dutton.
"He works with Bill and I quite a bit and the exercises he sets are to get the horse straight—a lot of straightening exercises to make sure he's jumping square," Roberts said. "And then same for me; I get very excited and can get going too fast and get a bit quick with my body, so as long as I keep myself square and centered, it really helps Bill do the same. Phillip's helped immensely with that."
Colleen Loach placed second on Qorry Blue D'Argouges while Stuart Black on Tre du Kernat were third.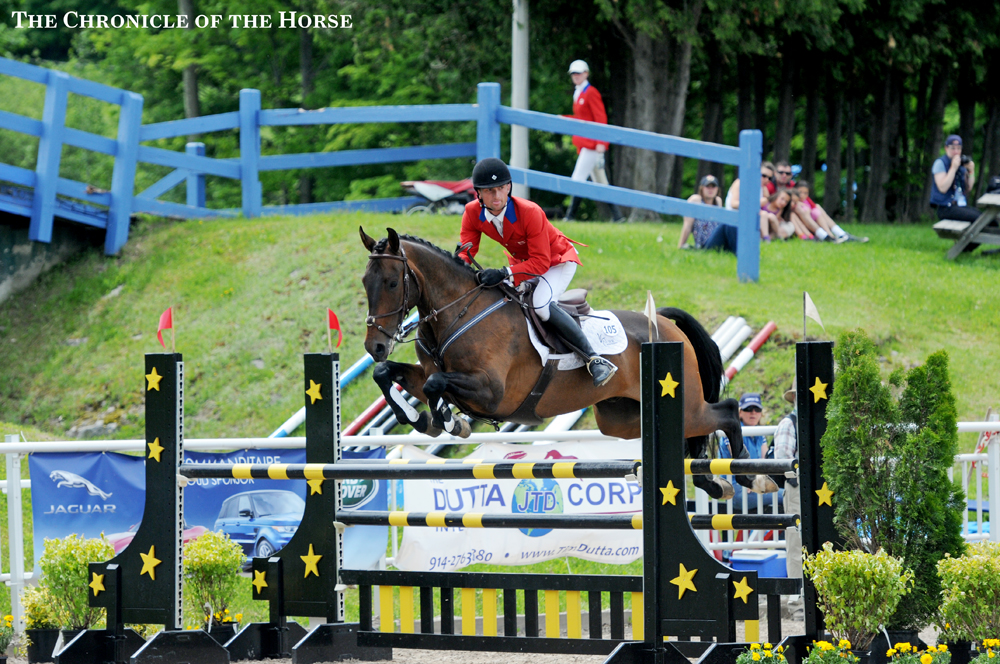 Waylon Roberts and Bill Owen won the CIC**. Photo by Taylor Joyce.
For full results, click here.