Mill Spring, N.C.—April 9
Excitement was in the air this morning at the Tryon International Equestrian Center as spectators, officials and riders trekked over to the White Oak golf course property to christen the brand new The Fork CIC*** and advanced cross-country courses on what will be the site of the 2018 FEI World Equestrian Games.
Thirty-four pairs headed out over Mark Phillips' and Tremaine Cooper's courses, and the day went almost seamlessly, with no one incurring a jumping penalty in the CIC***.
Riders knew time would be a factor over the undulating terrain, and in the end only three pairs made the time.
Marilyn Little and RF Scandalous, leaders after show jumping, added six time penalties but it was enough to bring home victory (47.7) ahead of Doug Payne on Vandiver (50.8) and Kim Severson on Cooley Cross Border (51.7).
Little thanked Mark Bellissimo, managing partner of Tryon Equestrian Partners, for his vision for The Fork, which made the move to Tryon after 15 years at Jim and Bernadette Cogdell's Norwood, N.C., farm.
"It was such an opportunity and a pleasure for all of us to be galloping around on the future WEG course, knowing we're putting footprints on what will one day be very hallowed ground," she said.
It was "Kitty's" first advanced run of the year, and Little said yesterday she had no expectations for making the time.
"She gave me a great run out there. I'm very pleased that her two of her owners, Phoebe and Michael Manders, were able to be here. Jacqueline Mars and Robin Parsky wish they were. It's just been a beautiful weekend from start to finish," she said.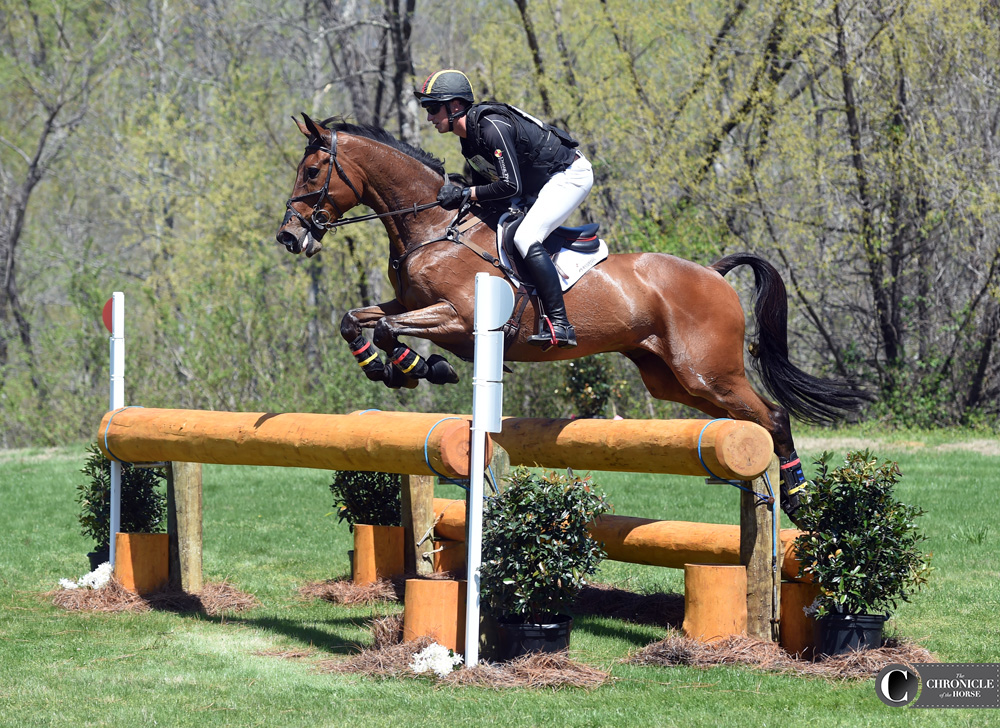 Payne had one of the two double-clear rides on his own, Jessica Payne and Debi Crowley's homebred 13-year-old Trakehner gelding (Lizzy Jahnke and Princeton and Chelsea Kolman and Dauntless Courage were the other double-clears).
Doug also finished first and second on Marshall M. Dillon and Botanja, respectively, in the $15,000 Jumper Classic held at Tryon during the Tryon Spring III Horse Show being held simultaneously.
"I'm just trying to be smoother and smoother and more efficient with the lines taken and with the ride in general. I'm lucky to have such a talented horse because he's got an exceptional gallop. I just cruised around," said Doug of his ride on Vandiver.
Severson's plans for the Rolex Kentucky CCI**** with the Cross Syndicate's Cooley Cross Border are still up in the air depending on how he comes out of this event, but Severson said he felt up to the task.
"'Cross' was fantastic. It's not always been smooth sailing, but I think the last couple of years it's continuing the go the right way. He got better and better this weekend. I made a big mistake going into the water, he fought for it the rest of the way around the course. He was good in situations where I didn't give him the best ride. I'm thrilled with him," she said.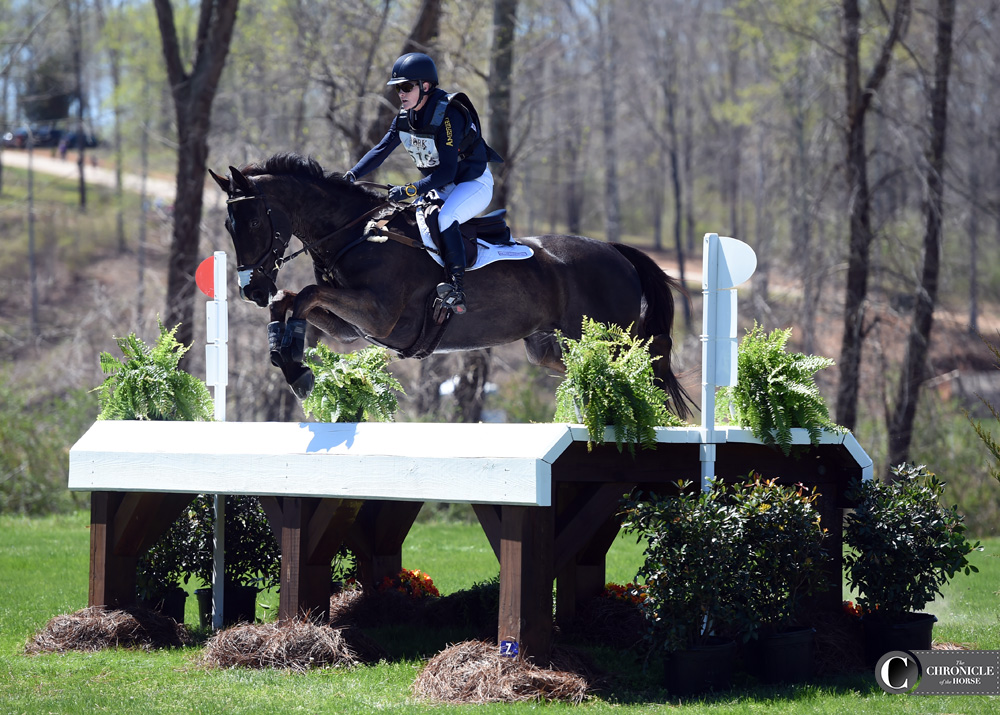 "I think the course was excellent. I thought the undulating terrain was really good, it's something you don't get a lot of quite like that. The course was very forward riding, and there were very few problems. It was hard enough, and the horses seemed to understand the questions. There wasn't anything tricky," she added.
Little agreed, adding that for Kitty, who's only completed three three-stars, including winning the Dutta Corp Fair Hill International CCI*** (Md.) last fall, she thought the course was challenging.
"The first combination over the first bridge, I thought that that was strong. For a confirmed horse that's experienced at the level, it probably wouldn't have seemed so strong, but for her, this is only her [fourth] three-star cross-country course, so it was all I could think about. Once we got through there I could breathe a sigh of relief and was kicking myself because she handled it so much better than I thought she would," she said. "She handled it like an old horse, and then we could enjoy the rest of the track. It was beautifully designed, and very forward riding, and it kept the theme the whole way and allowed you to keep the rhythm. That's one of the things going into Rolex as a final run, you want enough of a challenge, and you want them going there beating their chest at the end of this month in Kentucky."
Little isn't planning on Rolex for Kitty, but is thinking about the Luhmühlen CCI**** (Germany), although no plans have been finalized.
"She's 12 years old, but she's only a few years into this sport. Today she gave me the feeling of an old horse out there. She felt very confirmed, very confident at the fences. It was her first run of the year, but I let her go around at minute four, and she just started flying," she said. "I think that spoke well to her fitness for the first run, and I think Luhmühlen is definitely on the table. She strikes me as a horse that's ready for the four-star. I couldn't have asked for a better feeling from her at the jumps today. It was a great kick-off to a good season."
Jim Cogdell said he was happy to see The Fork in a new home, and is excited for the future.
"I see a great vision for the sport. What we see here today is only a tenth of what we're going to see in the next five or six years for this great place. Obviously bringing the WEG to North Carolina is tremendous," he said. "We're part of that, and I like that as a legacy to leave. Mark and Sharon [Decker, Tryon COO] and the staff—I can't talk enough about how much the people we brought over from The Fork. It's been fun—scratching our heads figuring out where we're going. I'm very happy with our decision."
Bellissimo added he's thankful to be hosting the event.
"I want to thank Jim and Bernadette for having faith in us to take what was probably their child. I appreciate the opportunity to do this. I think the competition was great today. When dealing with footing and safety—this is one of the most dangerous sports, for us we pride ourselves on footing in our jumping and dressage facilities. This is new ground for us literally and figuratively," he said. "There's great opportunity here, and this is a passion project for me and my family and partners. I do think the course you saw today—that's one third of our footprint. That's six holes of the 18-hole golf course. There's a lot more property. This will be 18 holes of golf course converted into what I think will be one of the most spectacular cross-country properties in the world. That's what's exciting for me and our team."
For full results, click here.
We're on site all weekend at The Fork! Make sure to follow us at www.coth.com and on COTH's Facebook, Instagram and Twitter! Check out a full report from The Fork in our April 24 print edition.
2017 The Fork CIC*** - Cross-Country
Lindsay Berreth / Apr 9, 2017 5:11 pm