Washington, D.C.—Oct. 24
It's hard to find a fault in Lindsay Maxwell's fall season Belgravia, a 10-year-old warmblood by Cyrando de Bergerac. They're fresh off a championship at Capital Challenge and they will be adding another entry to their list of accomplishments. With a fantastic handy round and a flawless stake, Maxwell rode into the champion spot for the low amateur-owner hunter, 18-35, division and rounded it out with the low amateur-owner grand championship at the Washington International Horse Show.
"The course was fantastic for him. It's great to walk up in the morning and read a course that's good for your horse." said Maxwell. "It's a long course; it's been a long week; he's definitely getting tired, but we went in there, and he perked right up and jumped around beautifully. I'm really proud of him."
"He's been really consistent. He's a really fantastic horse. I can count on having the same horse every time I come out, which is a really nice feeling," she continued.
Jef Lauwers Sets Aside Nerves

A bobble in the handy round left Jef Lauwers a little nervous going into the stake class for the amateur-owner, 18-35, division. Even though he was behind, Lauwers was able to push his nerves aside to ride his 13-year-old Oldenburg Sutherland (Sir Donnerhall—Glorious Lady) into the championship spot.
"We had a little struggle in the handy, but we recouped, and he's good now," said Lauwers. "It's a good end of the season. He's done now for the year; this was his last show. And now we just regroup for Florida."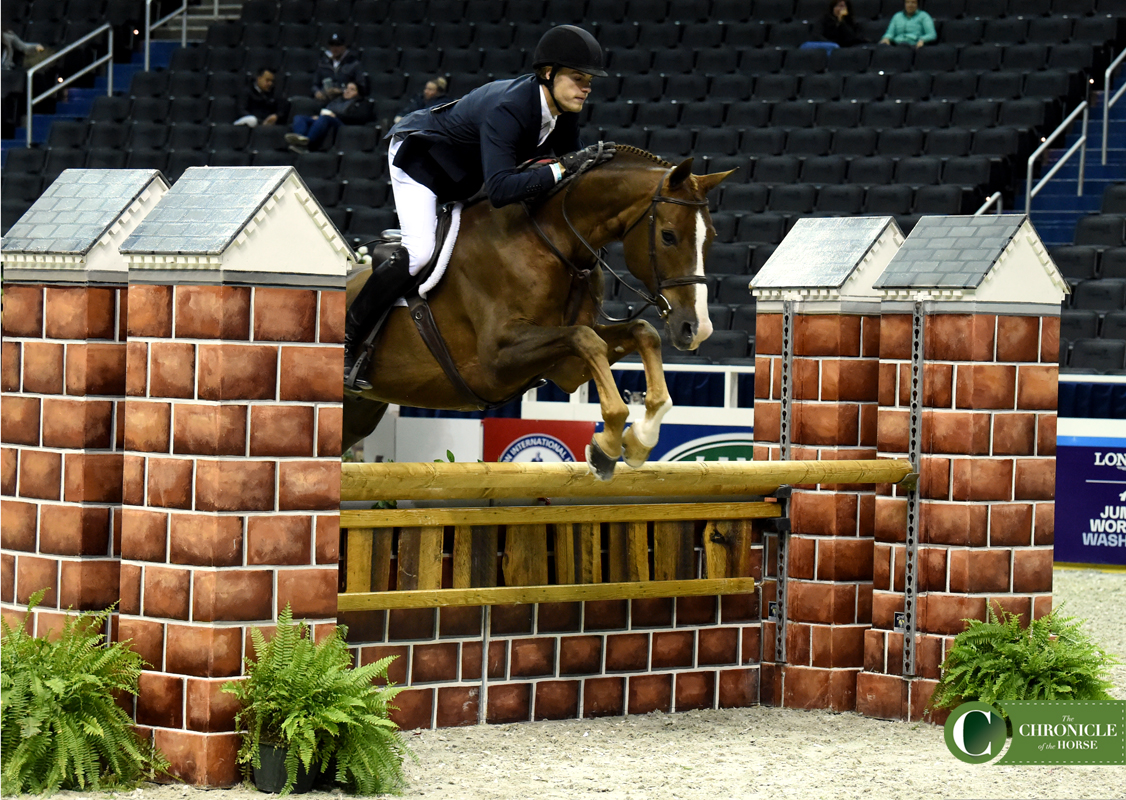 Sutherland, who is owned by Lauwers' husband Peter Pletcher, couldn't have been less concerned with all the energy around him; the gelding was much more interested in the goodies involved with the win.
"I was trying to convince him that if he does well, he can get treats and anything he wants," said Lauwers. "Carrots, apples, and bananas [are his favorites]."
Christina Fisher and her own Everything is Gucci slid into the reserve spot, marking Gucci's very first indoor show. For Fisher, this accomplishment with Gucci hits close to home.
"I got him in January, and this is kind of really emotional because my brother passed away in January. So I named him after my brother because he would always say 'Everything is Gucci,' " said Fisher. "I felt like he was out there on course with me throughout the whole thing."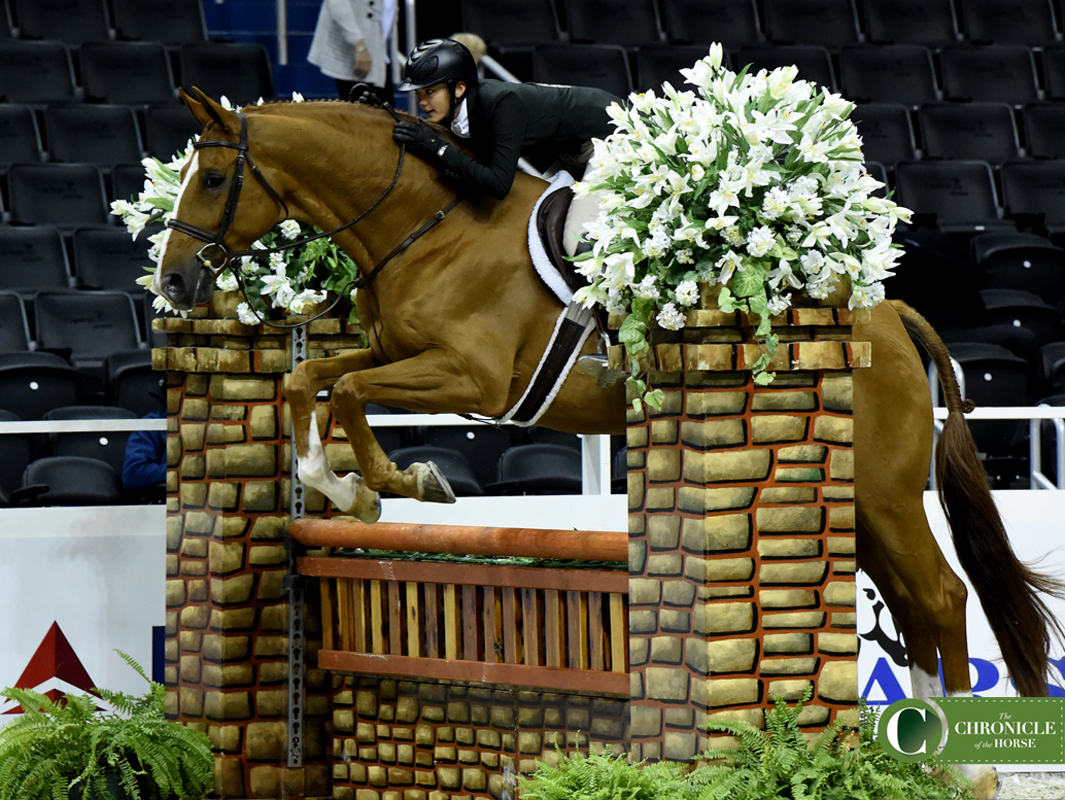 Gochman And Catch Me Can't Be Beat
After Becky Gochman woke up this morning, she considered not even riding at all. She wasn't feeling 100 percent, and she wanted to make sure that she gave Catch Me (Casiro I—Wonne I) a strong and confident ride. Scott Stewart had given "Snoopy" a winning ride yesterday, and the pair took reserve in the high performance today, and Gochman wanted the gelding to end on a high note. Thankfully for her, Stewart and the rest of her crew at Baxter Hill gave her a pep talk and convinced her to give the amateur-owner, 16 and over, division championship a go. That extra shot of confidence boosted her to the champion spot.
"This was the first year that I've ridden him here, and he was a little spooky yesterday," said Gochman. "He is a little quirky; he studies the jump so much, but that's what makes him a great horse as well. He really jumps up and uses himself well. He's also very comfortable in the air, so it's just a lot of fun. After Scott won a class this morning on him, that gave me more confidence to ride him today."
Gochman has bonded with Snoopy, despite his quirky personality.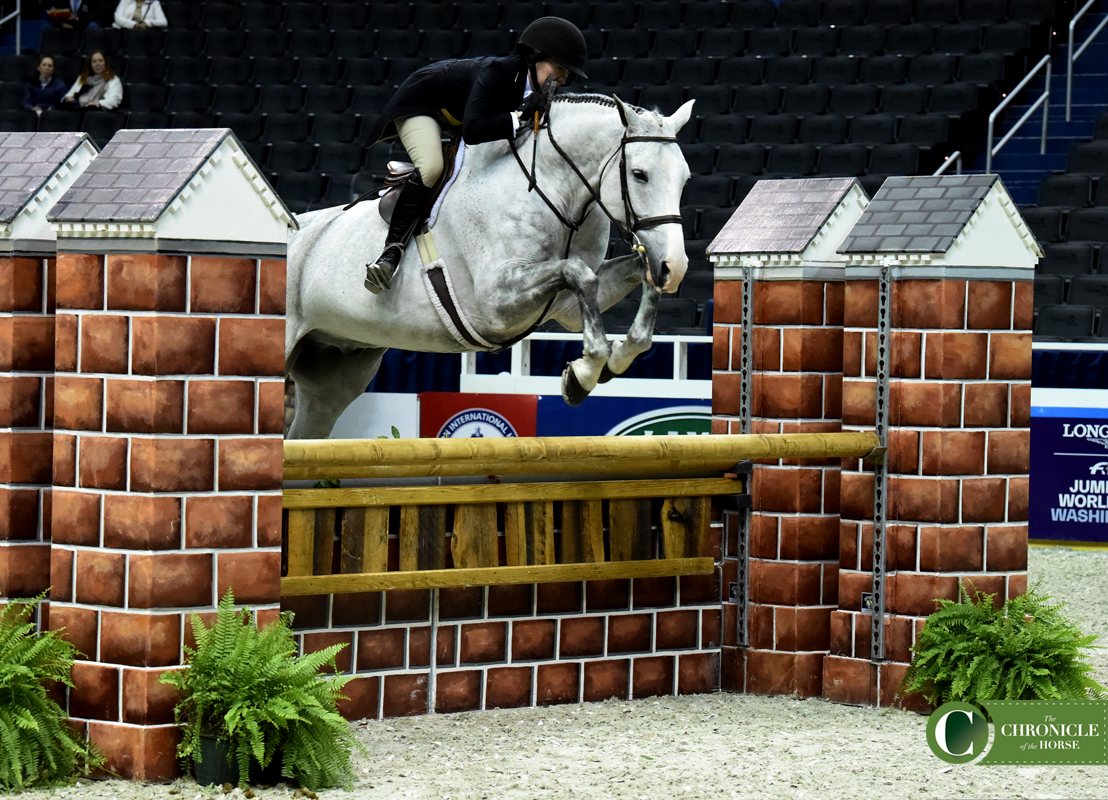 "We don't push him too far, and that's really paid off. We decided early on when I bought him that we would take our time turning him into an amateur horse. We still do it very carefully because he's not the easiest," said Gochman.
Gochman was also the recipient of the Technicolor Award, donated by Lindsay Maxwell. The award is awarded to a hunter that best exemplifies the style and presence in the ring of a classic hunter in the amateur-owner divisions.
Virginia Fout and Carma Beat All Odds
When Virginia Fout first purchased Carma (Rhodium—Pascha) almost four years ago, she wasn't sure if he would be able to compete. Before she bought him from barnmate Montana Coady, Carma had been out of work for two years due to an injury.
"It was sort of a 50-50 shot if he was going to get back into it, and we gave it a shot. And here we are," said Fout. "It's been a great partnership."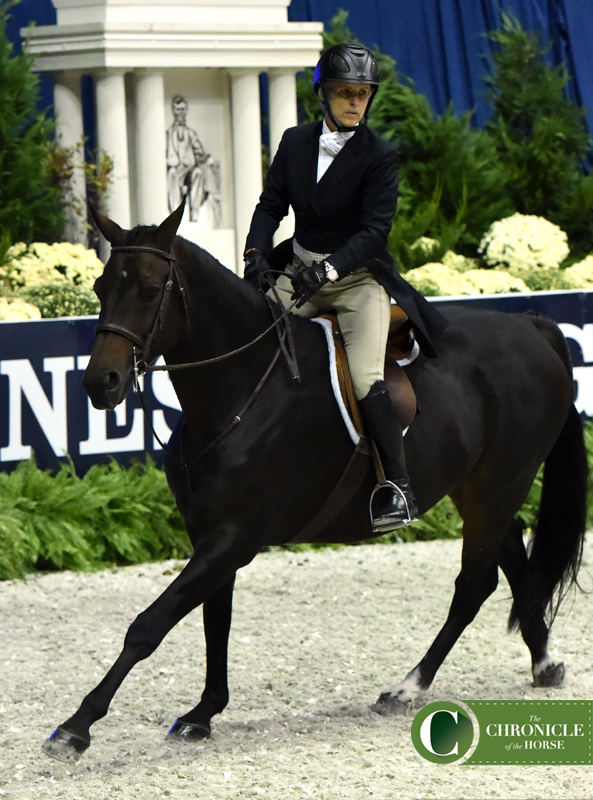 That risk paid off, and Fout has piloted Carma to the low amateur-owner, 36 and over, win for the third year in a row.
"It's just so special coming back here because I'm from Middleburg, [Virginia]. So it's like old, home week for me a little bit. It makes Washington even more special because my parents competed here. So it makes it a real mark on my calendar to come every year because it's such a special show for me," said Fout.
IMPORTANT LINKS:  All the COTH Washington International  coverage  |  What You Need To Know  |  live results/order of go  |  live streaming  |  show website
More in-depth coverage of WIHS will run in the Nov. 22 print issue. Subscribe today!