It was the best of times, it was the worst of times, wrote Charles Dickens. But in Ava Brugger's case, it was the worst of times, and then it was the best of times.
On Jan. 3 she was medevacked to the Children's National Medical Center in Washington, D.C., and transported to their intensive care unit. She had gotten a bacterial infection in Mexico at Christmas, and the infection led to toxic shock and septic shock.
"Luckily we had just landed before she got sick," said Ava's mother Heather. "She went into organ failure, and she was on full life support. She was in the hospital almost all of January and then back again in April. She lost all the skin on her hands and feet, had a collapsed lung and serious vision loss, but it was a miracle she didn't die or lose a limb or a major organ."
The 10th grader at Madeira School (Va.) remained in the hospital for weeks. After relearning how to walk through rehab, Ava found her way back to the barn and into the saddle with her trusted partner Prime Time, or "Jack," a 17-year-old Danish Warmblood gelding of unrecorded breeding she bought Nov. 4, 2015.
"Before I got sick I broke my arm, so I was already kind of a step behind in my riding goals," Ava said. "And then when I got sick—I got really a step behind.
"[Riding] definitely helped me balance stuff a lot more," she continued. "Even before, it was a big part of keeping me sane and stuff through the whole thing—like getting to see my horse. The day I got sick, I actually went right back to school from the airport—and that day at school, I threw up, and I wasn't feeling well. I had a really high fever. But I still went to the barn and rode my horse, and I felt 100 percent good when I was riding. Then when I came home, I got sick again, and then I went to the hospital."
Ava returned to showing in March at the Hollins Spring Welcome (Va.), earning the championship in the pre-children's/adult hunter division. However, April brought on another hospital visit when Ava contracted a staph infection.
"To say she has missed a lot of school and training [and] shows would be an understatement," said Heather, Bethesda, Md.
When the worst of her sickness finally subsided—although she still has vision and lung issues—Ava moved up to the children's hunter division with Jack's help. In their short period of showing at 3′, Ava and Jack qualified for the Washington International Horse Show Regional Horse Show and USHJA Zone 3 Championship (Md.) in the children's hunter, 14 and under, division. The pair earned reserve champion honors there, which meant Ava and Jack commenced their journey to the Verizon Center in Washington, D.C.—a goal unforeseen and unexpected.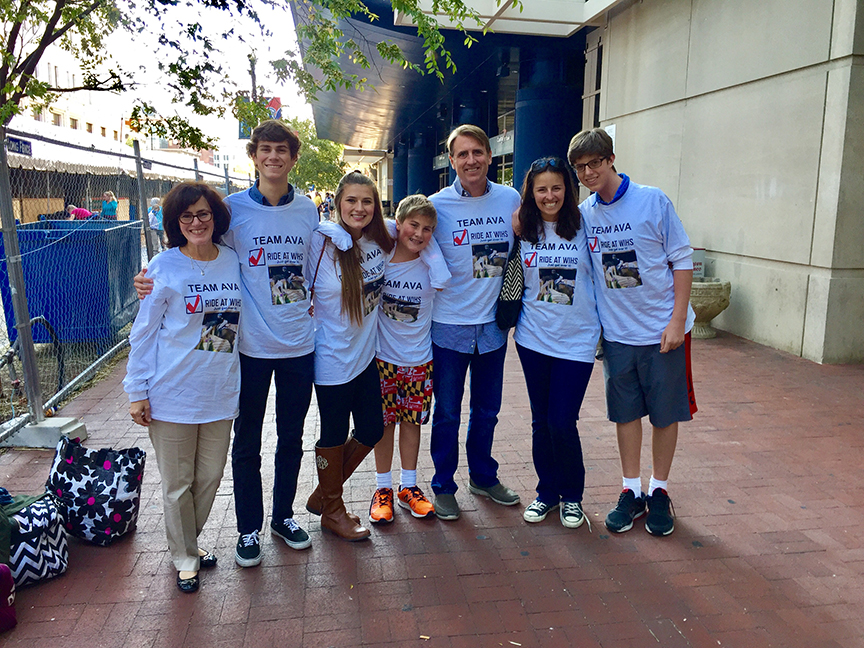 Ava Brugger's family and friends cheered for her in personalized shirts. Photo courtesy Heather Brugger

Under the tutelage of trainer Ian McCarthy and with many fans watching, the 15-year-old rider and Jack clocked around in the WIHS Regional Hunter Finals, thrilled to compete there.
But then less than a week after Ava completed a life goal of competing in the Washington International Horse Show, she added a hospital bracelet next to her pink Washington exhibitor wristband. She was readmitted to the Children's National Medical Center on Nov. 4 for another blood staph infection, sourced to a mass in her breast.
"The doctors think this is likely a result of her organ failure from toxic shock in January," said Heather. "They think there is an issue with ducts/drainage.
"They are also going to look closer at her immunity," continued Heather. "She will need a surgeon but not until the infection clears in two to three weeks."
Ava's been in and out of the hospital and her suburban emergency room repeatedly as she's battled the side effects of her January toxic shock syndrome and septic shock as the result of a bacterial infection.
"The plan is to get her through this infection and then focus on the 'why' and trying to prevent future happenings," Heather said. "Good news is we caught this super early, so things should be OK."
Despite these hospital visits, medications and upcoming appointments, Ava still hopes to squeeze in some riding and showing with her horse Prime Time in addition to showing with the Madeira School's Interscholastic Equestrian Association team.
"Basically it's been a long road that is far from over," said Heather. "Thank God for her horse and all her horse friends—[an] amazing community of love and support. Who needs a therapist when you have a horse?"