This is my first winter in Wellington, Florida. I feel a little out of place, but honestly, I'm enjoying it. It's great to be back in the sun and in a different area, so it's something new and fresh. I went to the beach for the first time since middle school, which was great. We're here for two months, so instead of laying around the house on my days off, I'll try to see what's around.
My mindset has been on the positive side of things. I've been eager and excited to see what the next step is for me in Phillip Dutton's program and life. I've been really happy with my riding, and it's crazy how much I've improved. Now, I feel like I can sit on a horse and be confident and actually know what I'm striving for in a ride.
Everything is falling into place, and my confidence is coming back. Sometimes I still hit those walls, but now I problem solve. I take my time, work through everything, and get the results I want. It's going in the right direction, and I'm excited to see what other areas I'll improve on.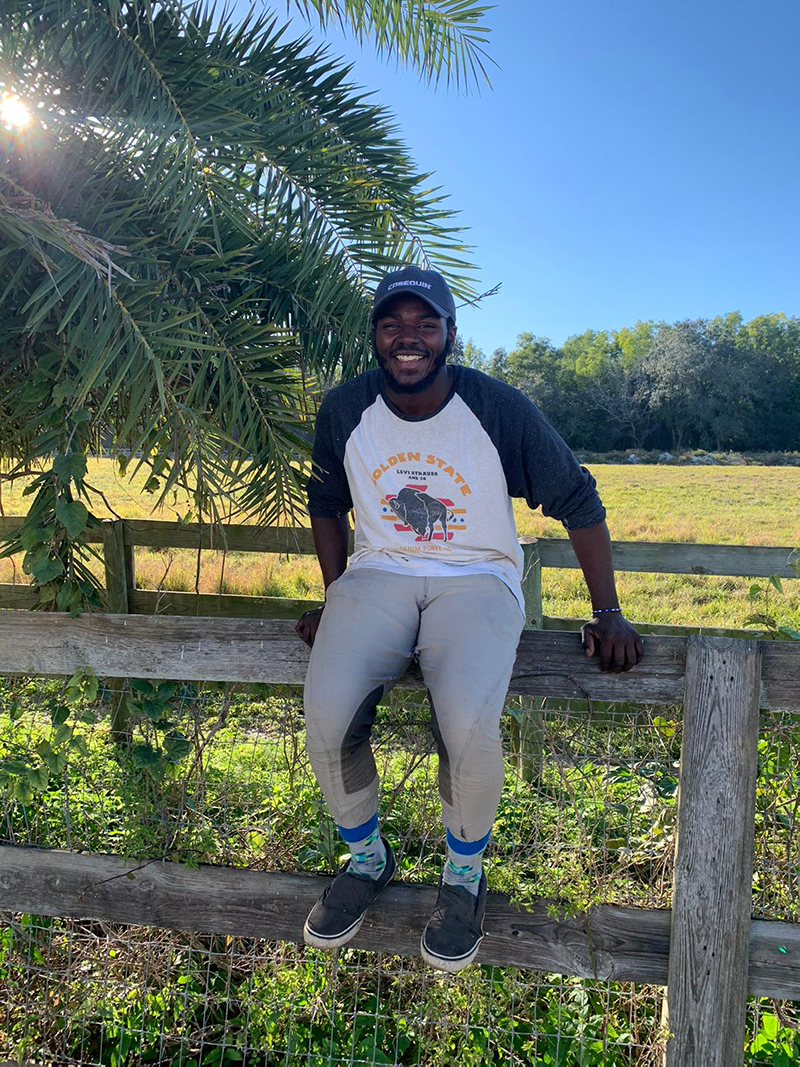 In November, I got my first sales horse, Emily, an 11-year-old Dutch Warmblood. I had her from Thanksgiving until the end of December, and it was the best experience I could've asked for. Hands down, I would do it all over again.
My friend Collin Reynolds imported the mare three years ago; she was doing some 1.35-1.40-meter grand prixs in Europe. Collin ended up switching "Emme" to eventing and producing her up to the preliminary level. When she found out I was coming to Phillip, she was like, "Would you be interested in taking Emme in and getting mileage on her and trying to sell her?"
I got to ride Emme a little bit last summer, so it was exciting to have her in Phillip's program. She has experience and is a really nice mare. She's a different type of ride for me, a bit more of an "I want to take you to the fence" horse. My horse, Godard, I had to ride him a little bit, whereas, with her, I'm more a passenger because I know she's going to commit.
Phillip gave me weekly show jumping, cross-country and dressage lessons on her to help me keep her going and improve her and myself on the flat and over fences. He's mentoring me to make horses sellable and make them rideable on cross-country.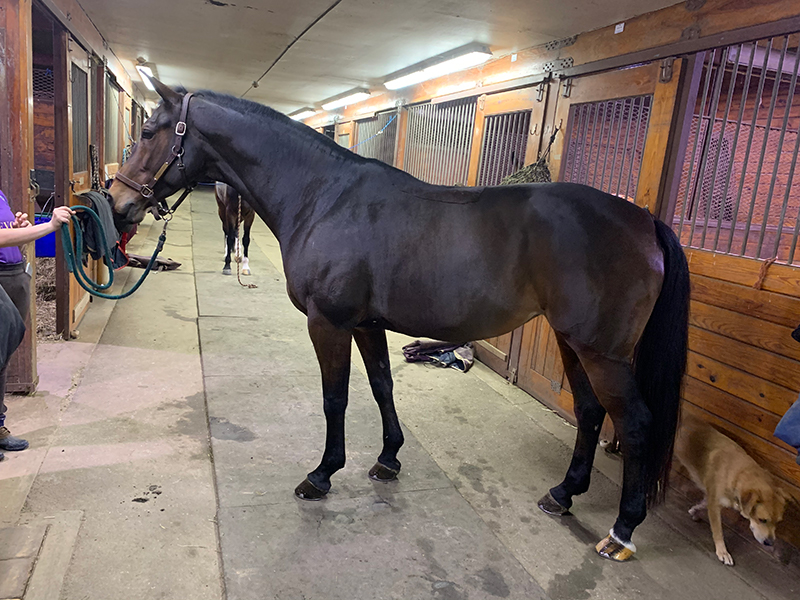 The main focus for me when I got Emme was trying to make her more rideable. She had done the bigger show jumping classes, so she understands her job, but my biggest thing was getting her to be more relaxed. She's a very bold horse. You point her at anything, and she's going to go. You tell her, "I want you to jump this on an angle," and she's like, "I got you. I'm going to take this at an angle."
My focus was on her still having that same drive to get the job done but also getting her to understand that she's not jumping a 1.35-meter fence, so it's OK to have moments of being relaxed to the fences.
In Europe, she was strictly a show jumper. She was really good and hunted for the fences. That's what she did even when I was riding her. I'd land from the fence, and she always was hunting for that next fence.
I didn't always give her the perfect distances, but she never held it against me. She was like, "All right, you messed up there. Next time, let's try it again." She had the same attitude every jump school, always looking for what was next and two steps ahead of you. Like, "You want me to do that? I got you. You just sit there," and that's what I would do. I would sit there and point her towards the exercise, and every single time she was there.
Emme during a jumping lesson with Phillip Dutton.
I got the good sales experience of people coming in and trying her. It felt good to hear them give me good feedback about her and to see [the clients'] trainers get on and have as much fun as I do on her.
Selling horses is always a gamble. People see several horses, so they're always going to go with what they feel is right for them. But I was proud of seeing her behave like the same horse I had ridden every day. Seeing her act like that for an amateur definitely gave me a good feeling.
Emme didn't sell, but it was the best experience I ever had. It was fun getting her back into work and seeing the improvements from when I first started with her and then seeing where she ended in the program.
Just because this project wasn't successful doesn't mean that every other one isn't going to be. I got education that I needed, and that's the most important part. I got my feet wet, so now I know what to look for the next time an opportunity is presented.
Emme schooling cross-country. 
I got to school preliminary again. I got to show jump again. I got the confidence I needed to flat again from riding her every day. I got the confidence I needed over fences. Everything slowly started coming back into place, so while this experience might not have gone how we wanted, it was No. 1 on the totem pole of education for me.
I don't have any sales horses currently lined up. What's next for me is to be determined. I'm just letting life do its job and time do its thing. When the time is right for me to have a horse, it'll come in. Good things come to those who wait, and I know there's something out there.
---
Deonte Sewell began working for Phillip Dutton in September. Sewell, 23, grew up in Elkton, Maryland, and started riding when he was 12. After high school, he worked at Tom Proctor Racing Stables in Elkton, where he got his first horse, Godard, an off-the-track Thoroughbred gelding.
Sewell went on to work for Overlook Farm and Appleton Equestrian before joining Chris Barnard and Justine Dutton at show jumping barn Notting Hill Stables (Florida) earlier in 2020. The Chronicle published a profile of Sewell in the Sept. 7 & 14, 2020, issue.