In the Global Champions Tour Grand Prix of Antwerp, it was leading French lady, Penelope Leprevost, with her fiery chestnut mare Flora de Mariposa who stole the show following a nail-biting jump-off to take victory at the Belgian show.
Triumphant Penelope declared her horse "just amazing" after scooping first place in the grand prix against a stellar field. Many of the top horses in the world had their first serious outing of the season, with Casall ASK, Flora de Mariposa and Hermes Ryan all on incredible form in their first CSI5* show and taking the podium positions.
Christian Ahlmann of Germany stretched his overall lead in the championship ahead of the next leg of the global circuit which takes place in Shanghai, China next weekend.
The GCT of Antwerp was held next to the mighty River Scheldt and the first round of the grand prix was a big course, with designer Luc Musette setting the fences to the full 1.60-meter height featuring tall verticals and big oxers. Yet again, delicacy and care were the order of the class with light poles and cups allowing for easy rolls at the lightest touch, and clears were slow to come in the early draw. Lauren Hough of the United States and Ohlala were the first to go, and the first to jump clear following an impressive opening round.
Of the 45 starters, 18 went through to the next round, with 14 in total jumping clear, and four more in on 1 fault or 4. Keeping the challenge consistent for the high calibre field, the second round threw forward many questions for the world's top combinations.
Amongst the names who made it through were Ludger Beerbaum of Germany and his grey mare Chiara, Kevin Staut of France with Reveur de Hurtebise HDC, Eric Lamaze of Canada with Chacco Kid, and Pius Schwizer of Switzerland with Ailina. Belgium's Nicola Philippaerts of Belgium was the top home rider, through on 4 faults with his horse, Bisquet Balou C.
An unusual refusal from Harrie Smolders' Emerald N.O.P. meant he would drop down the field, much to the crowd's disappointment, and as the riders took their turn it became clear that the bar had been raised to lay the foundations for an exhilarating jump-off. Many fell short of the double clear, collecting 4 faults, including LGCT Ranking leader and world No. 2 Ahlmann and Codex One who just caught a pole in the final segment of the course. John Whitaker of Great Britain and Echo of Light, who had looked so strong throughout agonizingly had the final fence down, with Whitaker shaking his head as he exited the arena.
Rolf-Goran Bengtsson of Sweden and the phenomenal Casall ASK were next to go; the pair have won six diverse LGCT Grand Prix in their career so far, and looked to be on incredible form under the floodlights tonight. Showcasing a partnership that will go down in history as one of the strongest in the sport, Rolf and Casall exuded style and class as they took the second round in their stride, earning themselves a place for the final round.
A total of five went through to the jump-off. First to go was Leprovost, who look determined from the outset and showcased clear intentions of setting the pace for the final phase of the grand prix. She and Flora rode an incredibly feisty round, with the little chestnut mare jumping her heart out for the leading French rider, galloping to the last in a display of agility and skill.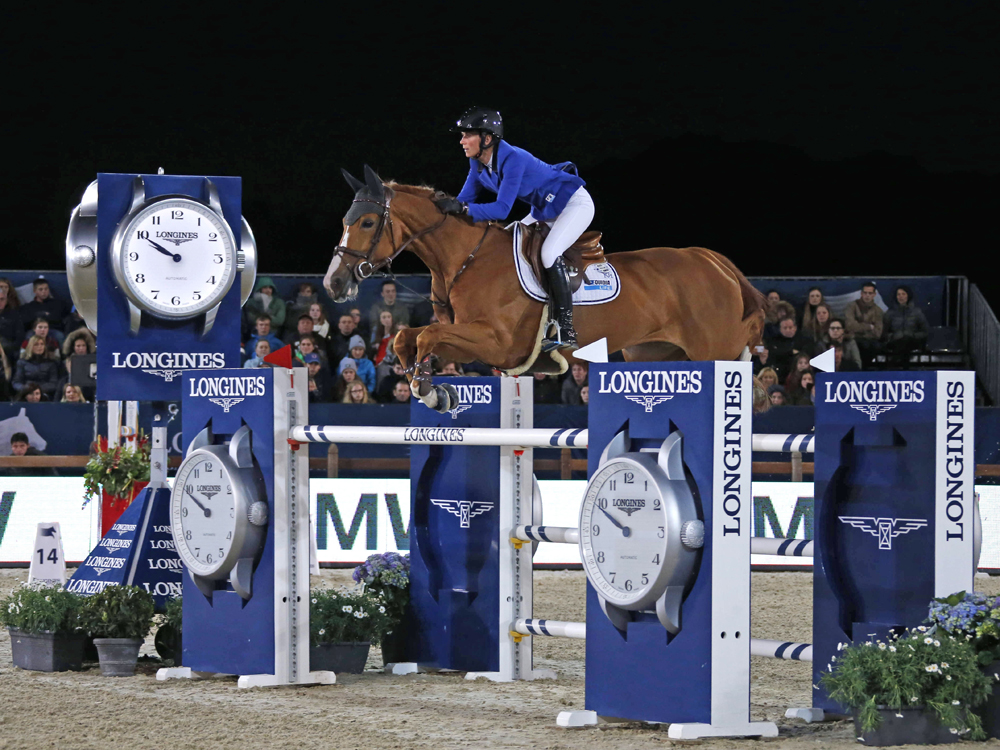 Penelope Leprevost and Flora Mariposa on their way to the Longines GCT Grand Prix of Antwerp win. Photo by Stefano Grasso/GCT
"My mare is very fast," Leprevost said. "For Flora it was the first big show since Geneva; I'm happy with my plan as she had a three-star show before. She was just amazing today."
Next up was Meredith Michaels-Beerbaum of Germany and her big striding horse, Unbelievable. Despite their valiant efforts, they were 3 seconds off Penelope's time and unable to do more.
Bengtsson and Casall returned to the arena, knowing they had everything to do to beat the fantastic pairing of Leprevost and Flora. The experienced combination gave it their all, but took less risks and crossed the line in 34.59 seconds. Next came Hough and Ohlala —another speedy combination—however a pole down meant they wouldn't make the podium this time.
Last to go was world No. 1, and former LGCT Grand Prix of Antwerp winner, Simon Delestre with Ryan. The pair were fast, with the audience spell bound until the last fence where whoops and cheers rang out as they crossed the line. Despite the impressive performance, the French rider finished in 33.74 seconds, just tenths of a second from his compatriot Penelope.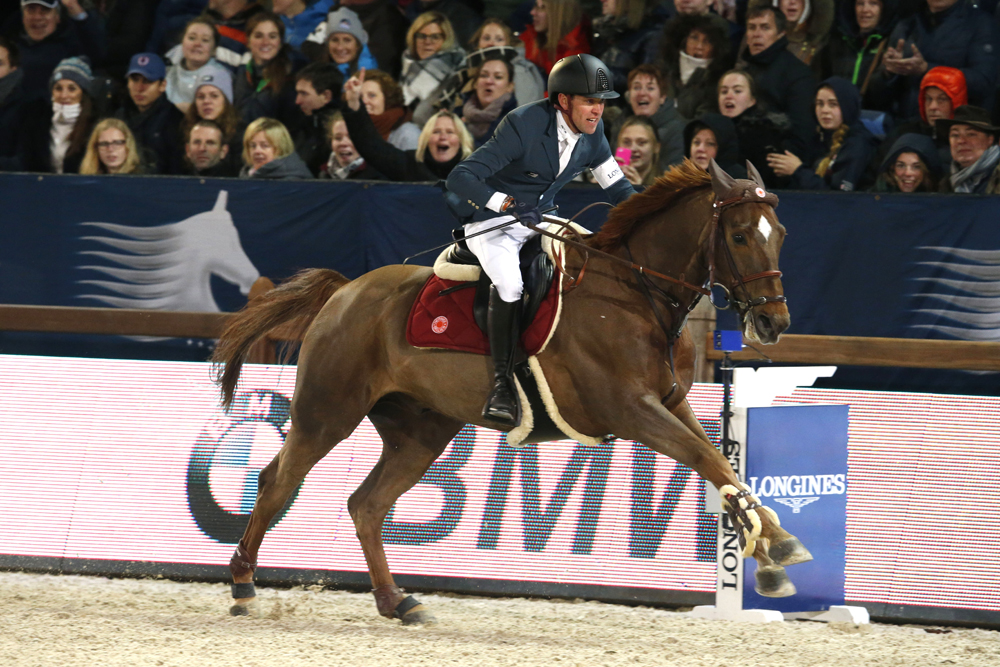 Simon Delestre and Ryan gave it their all, but ended up fractions of a second slow to take second. Photo by Stefano Grasso/GCT
"I have won three times here, but today Penelope was really, really fast, and we had a fantastic jump-off," Delestre said. "On the vertical after the combination I preferred to do eight [strides], as seven was really risky for me, so she was faster today. I'm really happy with Ryan—it was the first five-star since Geneva so to do three rounds like he did today was fantastic."
Ahlmann finished up eighth in the class, but remained to top of the series rankings. "I'm very happy to be the leader, but it's only three shows down and we have another 12 to go," he said. "As everyone could see, every class is very good sport—it's hard to win so it's a long way to go but I want to try keep it! I'm in the lucky position that I have four or five horses at this level. Codex did his first show after a longer break following Doha, so he's really fresh. Then I have Taloubet who's having a break now and will come back in four to six weeks. It's a strong group, but it's what you need for this kind of show and season. We'll hope to keep it like it is, and then we're competitive every week."
For full results of the Longines GCT Grand Prix of Antwerp, click here.
Antwerp Diamonds Shine Bright In Sparkling Home Win
Photo by Stefano Grasso/GCT

It was a glittering display of teamwork as Antwerp Diamonds shot to the ranking lead after stealing a sparkling win at their home venue for the third round of the Global Champions League. Under-25 team rider and home hero Jos Verlooy (Belgium) said, "We came with the big guns—our aim was to win, and we did, so I couldn't be happier!"
The Antwerp Diamonds have taken the top spot on the team ranking leaderboard, coming away from round three on 75 points, just two points ahead of Monaco Aces and Valkenswaard United, who are tied on 73 points apiece. The battle for the lead has moved up a gear, and with the teams looking ahead to Shanghai for the fourth round of action, rivalries and strategy are beginning to show.
Donning their team jackets for the first time in the championship, which sported personalized names, logos and team sponsors, the chilly weather in Belgium posed no problem for the 12 teams, all hot to compete for the first European leg of the GCL. Watched by fans and VIPs, with more tuning in via the GCL TV live streaming, the scene was set in the intimate sand arena, nestled next to the River Scheldt.
The first round course was tough, and set at the full 1.55-meter with plenty of turns. Just three teams jumped a combined clear in the first round: Rome Gladiators' Laura Kraut (United States) with her experienced grey 18-year-old gelding Cedric, Marlon Módolo Zanotelli (Brazil) with the 11-year-old stallion Rock'N Roll Semilly, Monaco Aces' Schuyler Riley (United States) with her fiery chestnut mare Dobra de Porceyo and Daniel Bluman (Colombia) with his 11-year-old stallion Conconcreto Apardi and Antwerp Diamonds' Audrey Coulter (United States) with the 13-year-old bay Domino and Jos Verlooy (Belgium) with his impressive grey stallion Caracas.
Some big names failed to make it into the top eight teams, with surprises from all areas of the course.
The pressure was on under-25 rider Jessica Mendoza (Great Britain) of Miami Glory rode a stunning round to jump clear with her 10 year old bay gelding Sam de Bacon, as team mate Scott Brash (GBR) and his 15 year old bay mare Ursula XII had an uncharacteristic 12 faults, placing them in the drop zone. Similarly Shanghai Swans' Ben Maher (GBR) with Boomerang picked up 12 faults, and despite second-to-go U25 team mate Jessica Springsteen (USA) jumping a superb round with her talented 13 year old bay mare Davendy S, they too were excluded from the second round of action.
The next round had all the excitement of a jump-off with pace and time counting to the final result. The three teams on clear were fighting amongst themselves, vying for position but also conscious they needed clears to stay high on the leaderboard. The Vienna Eagles had a good round, with Rodrigo Pessoa (Brazil) and Citizenguard Cadjanine Z lifting them up the order, however his combined four faults with teammate Lauren Hough (United States) and grey gelding Cornet 39 meant they would finish in sixth.
The Monaco Aces were looking hot to win, until Bluman crashed through the last fence, to the groans of the crowd. John Whitaker (Great Britain) of Valkenswaard United showcased his anchorman role, jumping clear again with his top mare Ornellaia, while speedy team mate Bertram Allen (Ireland) and his experienced grey mare Molly Malone gave it their all to push the team back up to second place.
Rome Gladiators focused on strategy, with their tactics to go slow and clear. All went well until Marlon clipped the back of the rainbow oxer—their slow time dropped them back down the field, just shy of the podium and in fourth overall.
But it was the Antwerp Diamonds who reigned supreme. Coulter had one down in her round, meaning there was extra pressure on Verlooy, who galloped between the fences, and jumping clear—finishing on a combined 4 faults and an impressive 111.77 seconds overall.
"It's amazing to be at our home venue, and to be winning is really great," said Coulter. "We came close in Mexico and Miami, but Valkenswaard beat us, so it was good to beat them today! It's exciting!"
The GCL now heads to Shanghai for the fourth round of competition, next weekend in China.