Kim Lennox has always had a thing for draft crosses. In dressage, she knows that makes her an outlier.
"The first question I get whenever I ride with a clinician is, 'OK, what is he?' " Lennox said of her Georgian Grande, Count Darby Grande. "So, I tell them he's a cross between a Shire and a Saddlebred. Then they ask, 'And he can do dressage?' After they start watching him move, though, they're like, 'Oh! Wow!' He's unusual to look at; he's got a lot of leftover parts. But he sure knows how to use them."
Before purchasing the 16.3-hand gelding in 2015, Lennox learned dressage on a Hanoverian-Shire and an Oldenburg-Shire. In the past 10 years, she's seen attitudes change towards nontraditional breeds.
"In the Pacific Northwest anyway, we're seeing more and more diversity in horses, and I think it's such a good thing," Lennox said. "Good riding is good riding is good riding. When I first started bringing these draft crosses into dressage, judges were pretty critical on not having a warmblood type with that big, giant movement. Now, it seems like they're a lot more open-minded to diversity in horses and recognizing correct as correct. You can have a Quarter Horse or an Arabian or a draft cross and be out there participating, learning and having fun.
"It's a fun endeavor when you have something very different," she added. "Then you can say, 'Hey, look, different works! Different can do it, too!' "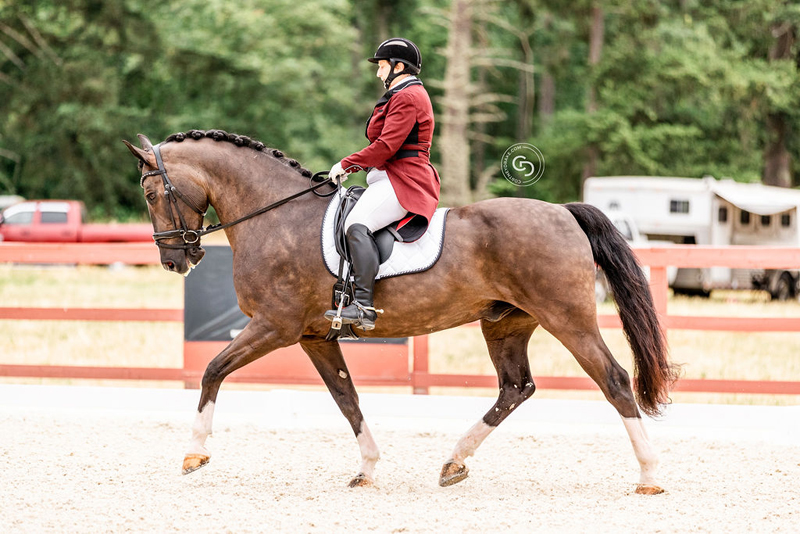 Evacuation On The Double
Lennox, of Scappoose, Oregon, qualified for regional championships at fourth level and Prix St. Georges this year. But as fires spread through the Portland area in September, she didn't know until days before the event if she would make it to the GAIG/USDF Region 6 Championships held at Donida Farm, in Auburn, Washington, Oct. 2-4.
"Two and a half weeks before the show, a fire broke out half a mile from our barn at 5 p.m. We got evacuated that night" she said. "The winds were still up, and if they'd have shifted, it would have blown right into our barn. Two days later, another fire made us evacuate from the barn we'd evacuated to. It's scary to be evacuated from your barn. I feel so sorry for everybody who lost so much."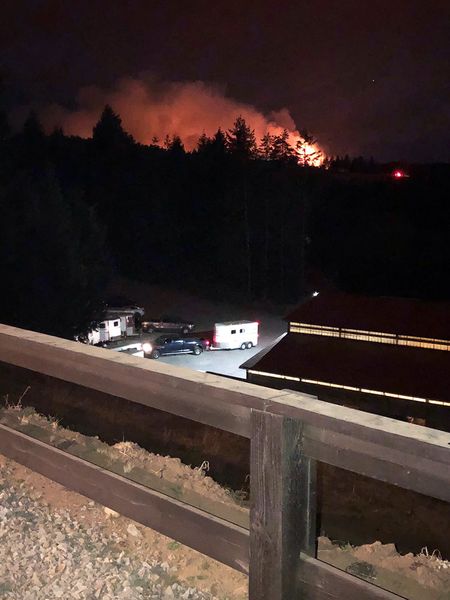 Lennox waited out the fires in Bellingham, Washington, where Rebecca Rigdon, who trains Lennox's trainer, Jessica Wisdom, happened to be staying.
"By the time I went back home, the barn had reopened, but the smoke was still so thick," she recalled. "I was lucky he wasn't exposed the whole time, but the discussion still was, do you ride, do you not ride? 'Darby' can be destructive without exercise, so I had my vet come check his lungs and evaluate him. While we were standing there, he leaped into the air and fell down on his side. She said, 'I'm more worried about him doing damage like that than I am about his lung capacity at this point. He's going to hurt himself if you don't get him moving soon.' "
Lennox brought Darby (Smokey Of Kentwood Farm—CA Calico Countess) back slowly, monitoring his breathing and respiratory rate. At the last possible moment, she decided to compete. They won both their championship classes: adult amateur fourth level (63.75%) and adult amateur Prix St. Georges (59.92%).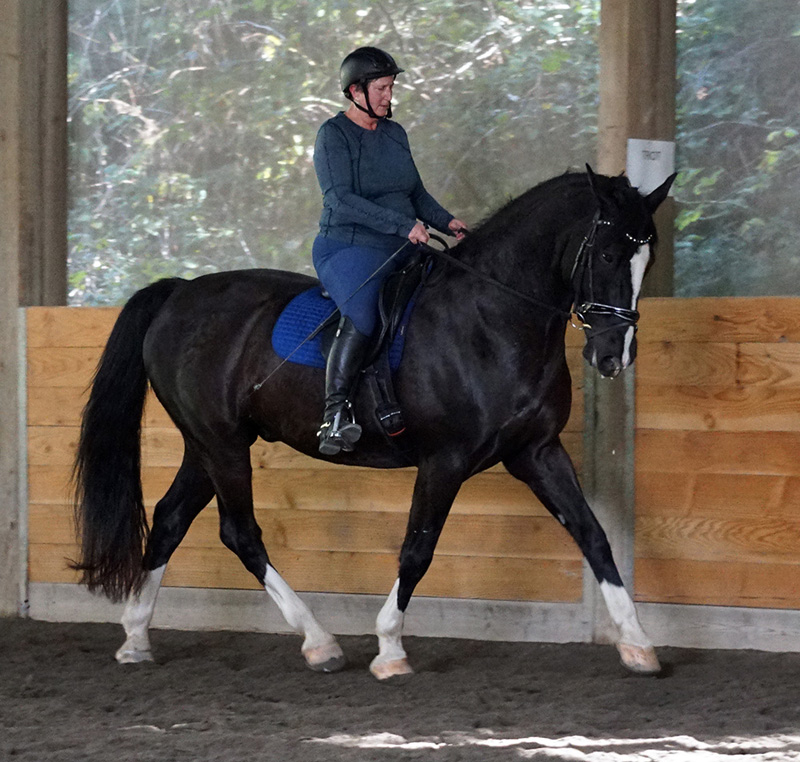 "I know some people will probably shun me for going," she admitted. "I made the decision with my veterinarian, and if I thought I was jeopardizing Darby's health in any way, I would have pulled him. People need to stop being so judgmental. We're all advocates of our horses, and we all have to make our own decisions."
Barrels And Bikes And Beach Rides

Born in Orange County, California, Lennox, moved to Oregon after college at 20 years old. She had an Appendix Quarter Horse mare whom she barrel raced, then a draft cross named Tonka Toy whom she evented. She met her husband, Jeff Lennox, and moved to a small farm where their first son, James was born.
"That completely changed my life," Kim said. "I didn't want to be anything but a mom for a while. I sold everything and wound up horseless for seven years."
Kim got a job as a sales representative for a veterinary pharmaceutical company, a position she's held for 33 years. Along with their two sons, James Lennox and Chris Lennox, she and Jeff raised a small herd of cattle and the occasional sheep.
When her youngest started school, Kim started thinking about horses again.
"My working partner, she had two horses and had been bugging me to go riding with her," Kim said. "We went out and rode all day on the beach. In Oregon, all the beaches are publicly owned, so you can ride anywhere. Jeff came home that night, and I said, 'Honey, I just went on a trail ride. I have to get a horse.' About a month later, I had another draft cross.
"My kids never did get into it," she continued. "My youngest thought he wanted to once. But I was smart. I leased a pony first instead of buying. The very next weekend my husband, and I love him to pieces, he brought home a dirt bike. Chris never got on that pony again. It's OK. The whole family rides dirt bikes now. I figured I might as well join them. We all ride bikes to go camping a few times a year."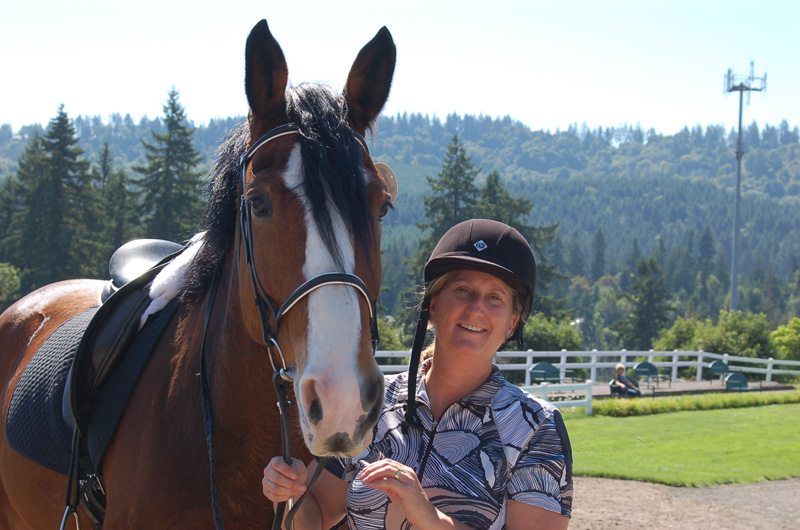 If They'd Braid Him, She Would Come
The weather in Oregon makes it tough to keep horses at home unless you have an indoor arena, so Kim moved her horses to Wisdom's barn and started taking more lessons.
"Even then, I thought, 'I'm not going to ever show again because I really don't like braiding my horse,' " she said. "I really hate it. Jessica kept asking about showing, so finally I told her why I didn't want to. She's like, 'Kim. Seriously. You pay somebody to braid your horse.' And I was like, 'Oh! We didn't have that in my day! Let's go!' "
Kim fell in love with dressage competition and set her sights on the FEI ring. But neither of her horses showed much potential beyond first level.
"I was at dinner with Rebecca Rigdon, and some friends and I started talking about how incredible it would be if I could find a horse that could fulfill my FEI dreams and be a draft cross, too," Kim said. "Rebecca looked at me and said, 'I have that horse. He's in my barn now.' She told me he was a Georgian Grande, then she told me what a Georgian Grande was. I said absolutely not. Half Saddlebred? No way. But we came home from dinner, and I went to the barn and checked him out. I rode him the next day.
"He was kind of goofy, but he was good. I liked him," Kim continued. "Every once in a while, he does that camp out thing that Saddlebreds do and drives me a little bit crazy. I never thought I would admit to owning a Saddlebred. Now I'm proud of it."
Ignoring The Critic In The Mirror
Darby had been schooled through fourth level when Kim purchased him. In the last five years, he's carried her from first level to Prix St. Georges.
"I've been our biggest challenge," Kim said. "He's so willing, but he's not going to let me ride incorrectly. Jessica Wisdom is an absolute dynamo, and she helped us tremendously. I was so afraid for so long that I was going to ruin him. That was my hurdle to overcome. I had to accept that he was going to forgive me, and I could get my education on him without messing him all up. Well, and his ground manners suck, too, but we don't talk about that. He's gotten much better.
"This year we rode our first FEI class, and I just cried and cried," Kim continued. "Everybody at the whole show knew it was my first time wearing a shadbelly. I cried putting it on; I cried going into the arena; I cried when it was over. But once we got in there, it was all business. Darby was like, 'I got you Mom!' "
At 14, Darby has years of upper-level competition left in the tank. At 59, Kim feels confident that she does, too.
"I'm lucky my husband is so supportive of this endeavor," she said. "He never asks what things cost because he really doesn't want to know. He just says, 'Did you have a good weekend? Did you have fun?' He never even asked what I spent on Darby. Now that's a pretty special guy! And anyway, I love my job. Who needs retirement?"