Christmas magic fills the air on the first Saturday of December every year in the small city of Lebanon in southwestern Ohio. On that day, the city's population swells from the norm of about 21,000 to well over 125,000, or even double that in some years, for the Lebanon Horse Drawn Carriage Parade and Christmas Festival.
The 2021 parade and festival, held Dec. 4, was the 32nd renewal of this horse-drawn holiday happening, after the coronavirus pandemic forced its cancellation last year. According to Madison Hartman at the Lebanon Chamber of Commerce, this year's parade attracted a crowd of around 100,000 spectators and 71 parade entries hailing from several states rolling down the city's streets at 1 p.m. and 7 p.m. Though down a bit from its normal 100-plus entries, probably due to the pandemic, the Lebanon carriage parade is still thought to be the largest all horse-drawn parade in the nation, Hartman said.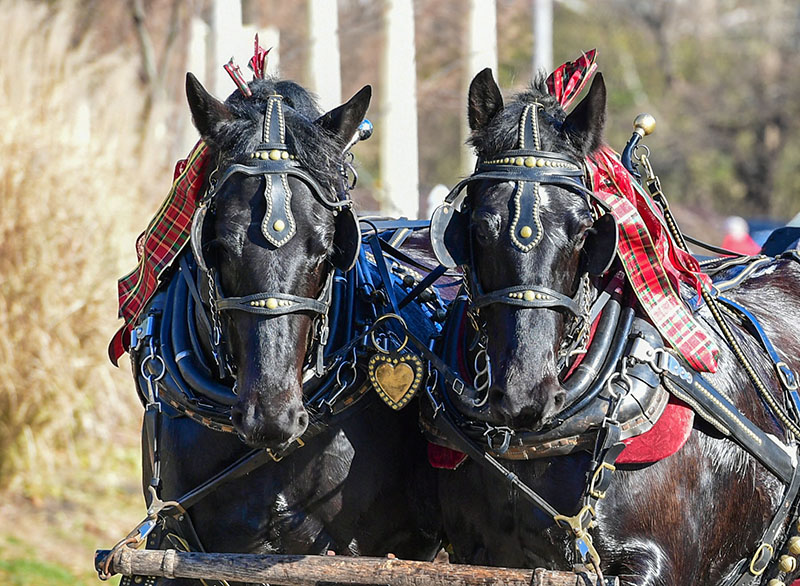 Pat South, who was the Lebanon Chamber of Commerce President when the idea for a parade was hatched in the late 1980s, explained the origins of the event.
"We wanted to establish some holiday events in beautiful downtown Lebanon to showcase the businesses in downtown and around town. And, to entertain local residents and hopefully draw from other local communities, too," South said. "So, in 1988, we had kind of a trial run thinking that we liked the idea of horse-drawn carriages, and we had a small event with maybe eight horses and put together a committee, but that wasn't the official first parade. The next year, 1989, we decided that we had hit on something with the carriages and we had our first parade. We wanted it to be all horse-drawn carriages; we didn't want any other types of entries."
From 15 or 20 carriages and about 15,000 spectators that first year, the event grew rapidly, to double the entries and a crowd of nearly 100,000 four years later.
"It was an instant success," she said. " We had all kinds of thank yous from the merchants and others involved and offers of help for the next year. Law enforcement and the city of Lebanon have been wonderful in their support."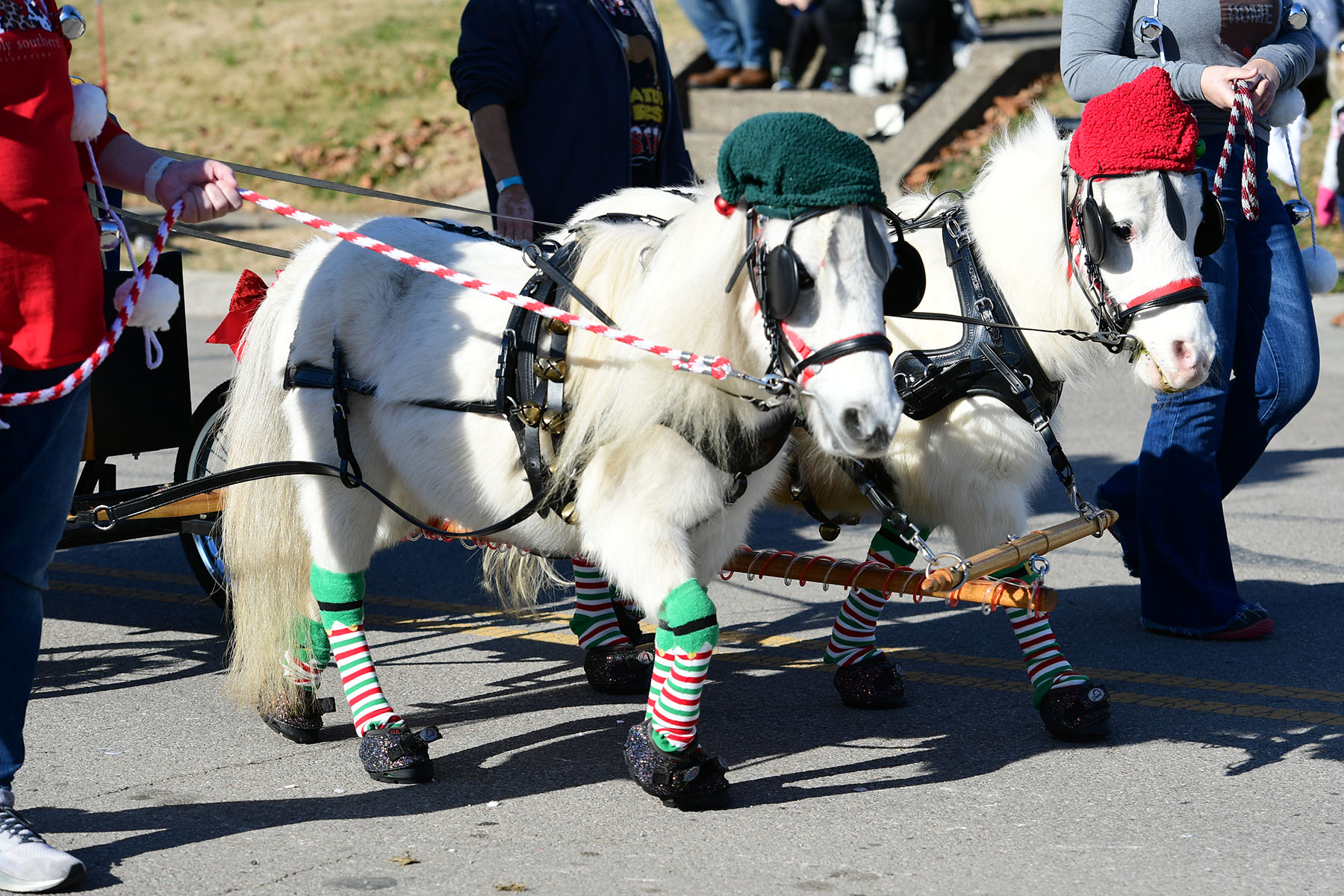 The parade is known for featuring a wide variety of equines, and this year was no exception. This year's parade entries ran the gamut from teams of draft horses to miniature ponies and donkeys, with Arabians, Hackneys, Morgans, Standardbred ex-race horses and others in the mix.
Heather and Scott Kaufman, Yellow Springs, Ohio, were second-time participants this year with their 7-year-old Friesian mare Tinka HFK.
"This parade was on my bucket list to do with my 'bucket-list horse,' " Heather said of the mare she competes in driving, dressage and hunt seat, most recently at the International Friesian Horse Show Association's World and Grand National Championships. "I got her when she was 4 and unbroke. We are learning together with help from friends. When we get this one in the book, it will be a total of six parades that we've done together."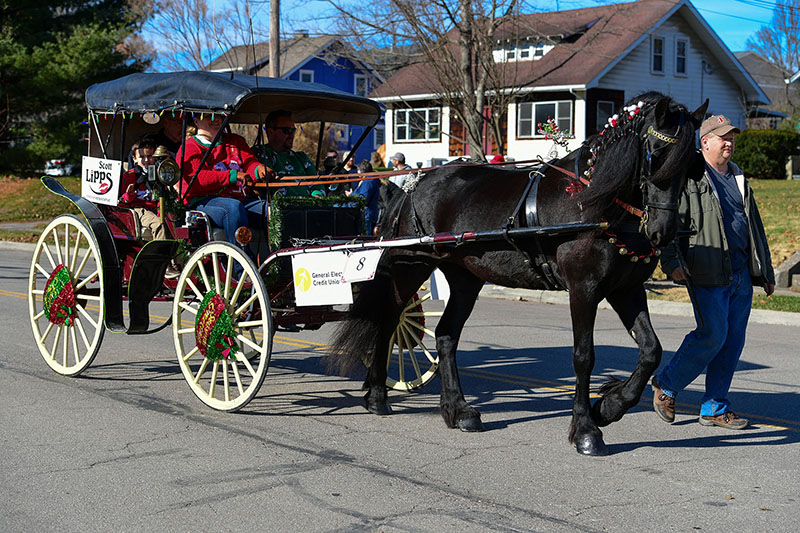 Lebanon, nestled in picturesque rolling hills between Dayton and Cincinnati, was founded in 1802. The parade route goes through its historic downtown district and past the circa 1803 Golden Lamb Inn, which is Ohio's oldest continually operating business. Over the years, the Golden Lamb has hosted no fewer than 12 U.S. presidents along with other celebrities and dignitaries.
In addition to the parade, the city's accompanying Christmas Festival this year offered entertainment, visits with Santa, a live nativity scene, a food and craft fair, shopping, and other family-friendly holiday activities. The line was out the door for candy cane- or sugar cookie-flavored frozen custard at Whit's, a local favorite. Festival volunteers dressed in holiday garb helped with crowd control, answered questions and collected donations toward next year's event.
For more information on the annual Lebanon Horse Drawn Carriage Parade and Christmas Festival visit https://www.lebanonchamber.org/carriage-parade/ .