When Alexa Lee planned her jump-off route for the $20,000 TAKE2 Jumper Finals, held at the Kentucky National Horse Show earlier this fall, she spied a line through a skinny gap between fences in the middle of the arena that would shave seconds off the clock. The route was risky, but despite her nerves and the pressure of riding first, Lee had complete faith in her partner, Satins Angel.
"She turned on her haunches, and she went right in the middle there," said Lee, 27, of Johnstown, Ohio. "I was like, 'Thank you so much!' "
The bold move paid off, and they topped the 15-horse field to capture the championship. But the win was just the most recent evidence of how far their relationship has come. From the beginning, Lee and "Satin's" story has been about learning to trust—to trust instinct, to trust each other, and to trust that things will come right in the end.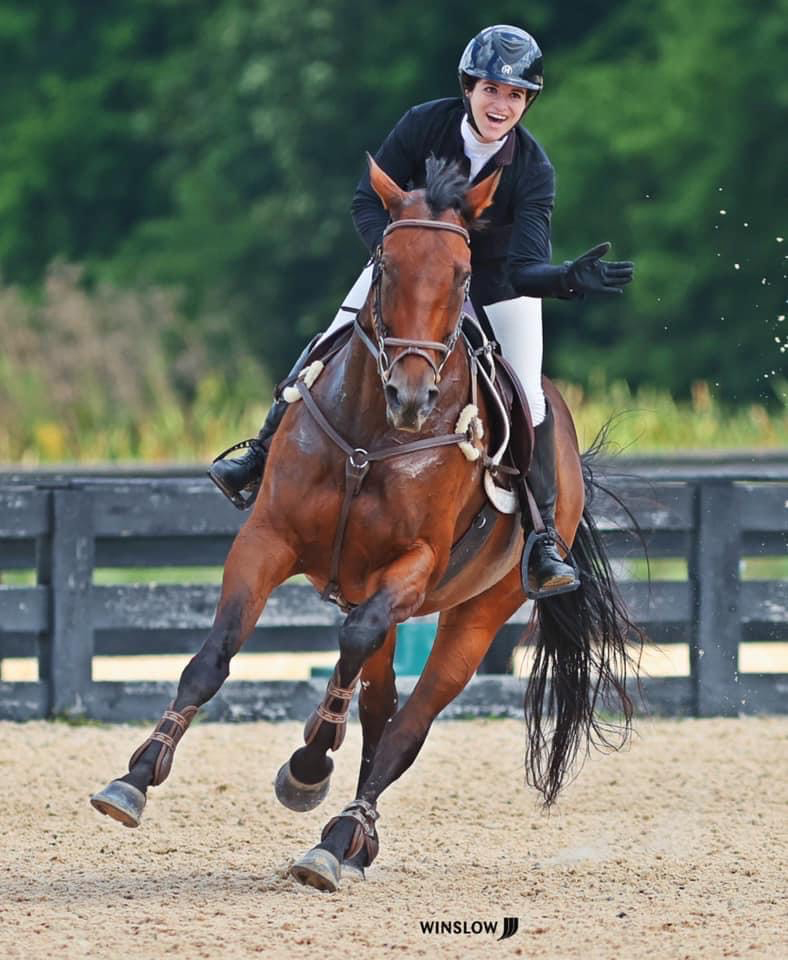 "I have been nervous going into the arena in the past because I always felt someone was judging me," said Lee. "With her, I don't care if we have a rail, and I don't have that, 'Oh, you're judging me' thing. She's this killer, amazing horse, and she may have a good day or a bad day, but the fact that she lets me ride her, I can be thankful for that."
When Lee first met the plain bay Thoroughbred mare in 2016, she wasn't horse shopping. And even if she had been, the 8-year-old ex-racer wasn't exactly a stellar prospect. The mare had scars all over her face, one knee was larger than the other, and if you went anywhere near her head, she threw it up in the air.
Lee got on the 16.3-hand Satins Angel (Jockey Club name Queen Satin) anyway, and within two rides, she was in love. She already owned one horse and was just embarking on her career as an electrical engineer, but she found herself making an offer.
"She was just a trier," said Lee. "She tried so hard to be a perfectionist, and I'm a perfectionist too, and that's always been my downfall. She tries so hard to please—she never was mean or trying to fight me. She just wanted so badly to do what was right."
With 18 starts and three wins, Satin (K One King—Pale Satin, Slew City Slew) experienced modest success before bleeding ended her track career. She passed through a few trainers after coming off the track, before ending up at the Sugarcreek Auction in Ohio. Rough handling, combined with her sensitive nature, resulted in a fearful, anxious animal who weaved and paced in her stall and cringed when people approached her. At the auction, Satin refused to run through the chute.
"They beat her so badly she reared up on the stands," said Lee. "This horse doesn't rear, ever, but she went straight up because she was so terrified."
Ultimately, a local trainer took pity on the mare and bought her. But the pair was not a great match, and Satin was soon for sale again. That's when Lee entered the picture.
"When I met her, I just loved her heart," said Lee. "In the beginning, no matter what, that horse would jump anything for me. She may have been beaten down, but she would still try. I loved that heart about her, and I wanted that horse. She could do things somehow, some way."
During the first year Lee owned Satin, she passed countless hours with the mare, often just standing in her stall, where they shared boxes of Nilla Wafers or Teddy Grahams, Satin's favorite.
"I did everything with her," said Lee. "I spent time with her; I showed her I care; I did massages. If they react really scared, I'm not going to freak out with them. I just say, 'It's not a big deal. Let's just do it again.' I feel like she fed off my confidence."
One day, the head shy mare pressed her face into Lee's chest.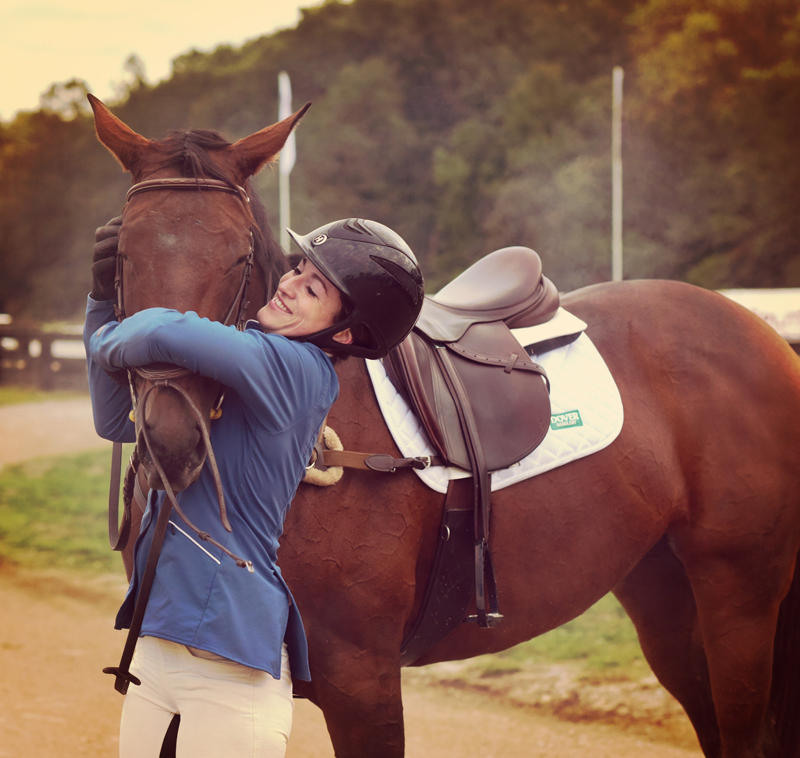 "That was the biggest, 'Oh my gosh, I can't believe you're letting me do this to you' moment," said Lee. "She trusted me, that I wasn't going to hurt her. She trusted that I would do what is best for her. She trusted that my intentions were always good, so no matter what situation I put her in, she knew I wasn't going to do anything bad to her.
"It takes time," Lee continued. "Building muscles takes time, but it was also building that trust, the consistency. It was me going out and seeing her every single day, cleaning her stall, just spending that time talking to her, grooming her."
Despite lacking muscle and experience, Satin never refused a fence, even if it was new or scary. "She just jumps her heart out for me, every time," said Lee. "When we go into the arena, we think, 'Let's just go have fun and enjoy ourselves.' Then we do much better as a team. We don't feel the pressure. She is hard on herself, too!"
Satin and Lee made their U.S. Equestrian Federation jumper ring debut in November 2017 in the low children's/adult division. Since then, they've led the U.S. Hunter Jumper Association Zone 5 Thoroughbred Jumper standings three years in a row and are currently ranked sixth in the Zone in the high adult amateur jumper division. Last year, they were the Ohio Hunter Jumper Association high adult jumper reserve champions.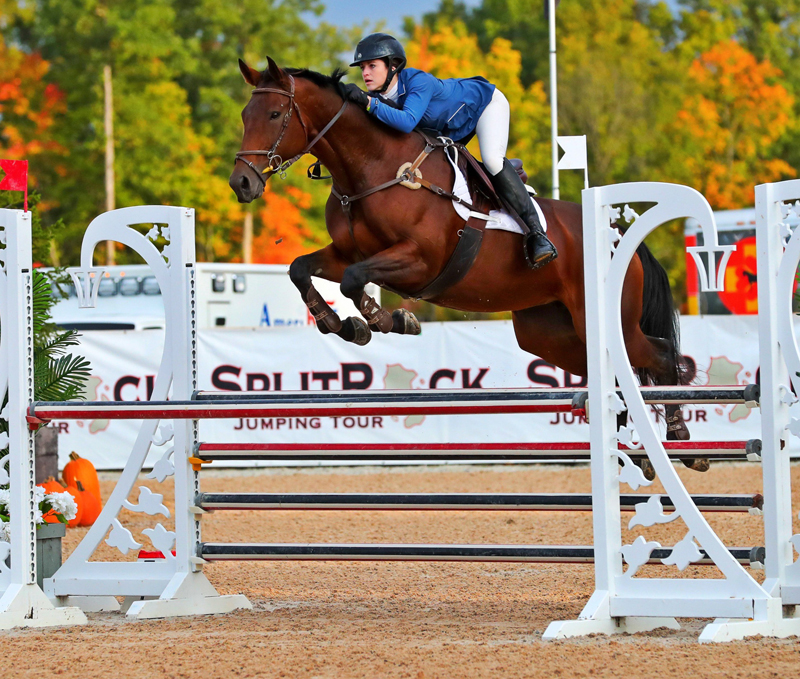 "She is just an incredible horse," Lee said. "I don't care about fame. It is about her and putting it out there that you can give these Thoroughbreds a chance. She may not have perfect conformation, but she jumps, and she carries me around."
Lee says Satin's sensitive nature, once a liability, is now her greatest asset because it makes her eager to please. "Satin has taught me to become more patient and understanding," said Lee. "Nancy Kotting, a dressage trainer, taught me about praise. If they do something good, give them a pat. I would notice her ears flick back in response. That really stuck with me."
Their partnership has also benefitted from the guidance of grand prix jumper rider and trainer Angela Moore of Stealaway Farm in Johnstown, Ohio.
"She has brought us to where we are competing in the high adult jumpers and moving to the low junior/amateur owner jumpers," said Lee.
Lee hopes Satin will take her into the 1.30-meter ring. Now 12, the mare hasn't mellowed and barely tolerates the light week Lee tries to give her after a show.
"I can never retire her," said Lee with a laugh. "I will still have to ride her every single day. But if there is ever a day that she says, 'Oh I'm done jumping'—I can't imagine that happening because she just gets so excited. When the buzzer goes off—she is ready."