Pop Art competed at the 2010 Alltech FEI World Equestrian Games (Ky.), the 2008 Olympic Games in Hong Kong, the 2009 FEI World Cup Finals (Nev.) and dozens of CDI Grand Prix classes. Spectators know his name, and announcers know his history.
For Jill Irving, who's leasing the 16-year-old gelding from his previous rider, Canada's Ashley Holzer, going down centerline the first time aboard the famous chestnut was a bit unnerving. But now?
"Once you do it, everyone's like, 'OK, that's just what she's doing now,' " said Irving with a laugh. "Now everyone's over it. But there was a mental challenge. I was like, 'Oh, I'm riding a famous horse.' I have these big shoes to fill, and I didn't want to disappoint the horse's trainer, my friend, Ashley. When you have such a talented horse, you feel like you should always be able to perform."
At Dressage At Devon this weekend in Devon, Pa., Irving rode Pop Art to top finishes in both the Grand Prix for the freestyle (fifth on 69.80 percent) and the Grand Prix freestyle (sixth on 72.30 percent).
"Pop Art is very experienced. He knows his job, and he wants to do his job in the ring," said Irving of the Dutch Warmblood (Amsterdam—Jodyprinses, Cabochon) owned by Rusty Holzer and Ian and Moreen Nicoll. "I'm the luckiest person in the world right now. I'm very aware of the fact that I may not have a horse who goes like this again. Every day is a gift."
After Irving's Grand Prix test, the Canadian contingency erupted with cheers, especially Ashley. Ashley and Irving, 50, have been friends since they were teenagers; that friendship helped Irving through a family tragedy she endured this summer. Richard Gougeon, Irving's father, was killed in a plane crash along with his son-in-law, Richard Ross, and nephew, James Gougeon, in July.
"Everyone was really emotional this weekend, and a lot of people were crying [after the Grand Prix test]," said Irving. "When I came back [to riding], Ashley said, 'You're going to be really fragile for about a year.' She's right, but I said to her, 'Poppy is a good grief counselor.' "
Irving, an adult amateur, took 10 years off of dressage to compete in the hunters along with her three daughters, but she returned to the sport in 2008. She now has four horses she rides with Ashley—including a small tour mount she also showed at Devon, Dio Mio—and four younger horses overseas in training with Christilot Boylen.
Irving also competed a younger Grand Prix horse, Degas 12, in the Grand Prix for the Special (ninth on 65.17 percent) and Special (10th on 62.70 percent) at Devon.
"I'm proud of him too," she said. "He's a green Grand Prix horse with a green Grand Prix rider. You're going to have peaks and valleys in this sport, especially with horses who lack experience. This was a good time to introduce him to the crowds.
"If I just had Pop Art, I'd probably be fooled into thinking this is easy," she added. "It's a false sense of security you get. It makes you realize the wisdom that horse has, and the mileage he has. It makes you respect the training of that horse. He's really a phenomenon. He's a master. Axel Steiner [judge at C for the Grand Prix freestyle] wrote on my test saying, 'Keep learning from the master.' "
Holzer Wins Grand Prix Special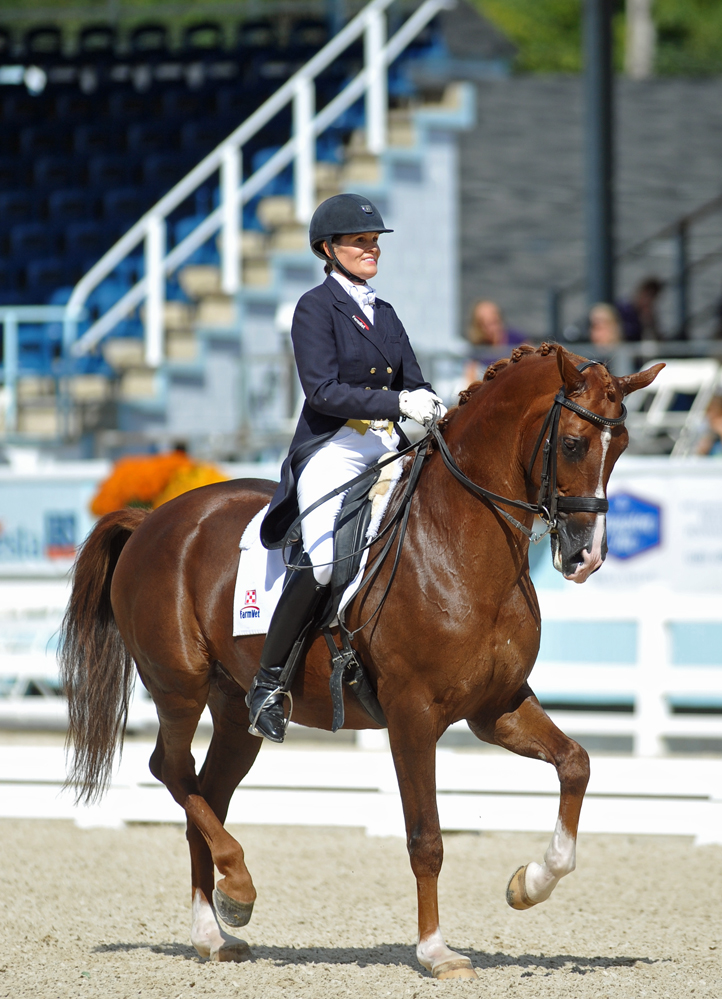 Ashley, who won the Grand Prix for the freestyle and placed second in the freestyle aboard Breaking Dawn, continued her streak of Devon success today, Sept. 29, by winning the Grand Prix Special with Jewel's Adelante (73.70%).