The U.S. Dressage Finals is one of my favorite shows, for a few reasons. It's a big-deal show, at a fantastic venue. The team that runs it is the All-Stars, the best of the nation's various show management companies all coming together. It's a great way to get the young horses some mileage in a big environment, and success here is a nice feather in your marketing cap. But none of those are the biggest reason I love the U.S. Dressage Finals. Let me explain.
Elvis, my up-and-coming star, is brilliant. He's energetic but also emotionally stable, he's smart but not wicked. Every day with him is a pleasure. He's also a horse who finds it easy to hide behind the bridle and drop the low back out, and I've spent a tremendous amount of time and energy rewriting that muscular pattern. At the Festival of Champions over the summer, I demonstrated really good boring work: good in the self carriage, good behind, but lacking in power and expression. I scored in the mid-60s with one hiccup in each test, placed in the bottom of the ribbon pile, and went home with a fire in my belly to start adding the power needed to get the big marks.
Off I went to our regional championships in October, and I let him rip. It was brilliant; he was brilliant. The work started coming easier. The power started becoming more manageable. I practiced, over and over, both on and off the horse, going to my core and not my hand, taking the time to make sure the half halt went all the way through instead of Elvis dropping the back and the bit. I visualized. I meditated. I've been eating right and working my guts out at the gym. I did the fitness work with Elvis, to make sure he was both cardiovascularly and nutritionally primed.
And then I came to the Finals, and went down centerline in my championship class Thursday, and I whiffed.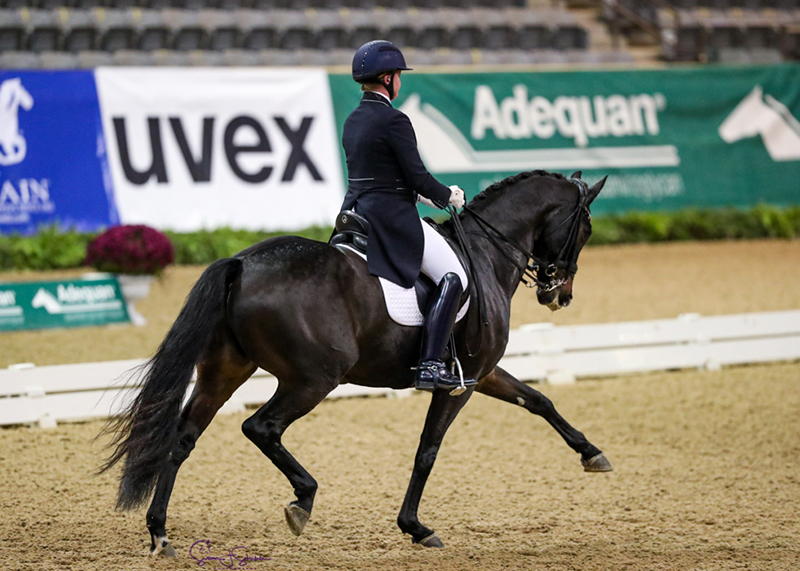 I mean it. I dropped the ball HUGE. Elvis felt absolutely incredible in the warm-up. And as I went around the ring, I thought to myself, now sit quietly and elegantly, and make all this power and expression you've created look easy to wrangle. That's a good theory, right? But that's not what I did. What I did was freeze up, stop softening my elbows and testing the self carriage every other step. And Elvis thanked me for providing a nice rigid surface to lean against and put his front legs down and his nose behind the bit. And that was that.
The failure was absolutely not Elvis's fault. You can't fault a horse for falling into a trap you set. And so I went back to the barn, hugged my boy, and had a few beverages to shake it off. I followed my own rules for post-show pouting and let it go at the 12 hour mark, and with a clear heart and mind, I started planning for what comes next.
Well, mostly clear. I'm still annoyed because I know better—I've dealt with this self-carriage thing before, and I'd hoped that I'd closed the book on the issue this spring. I'm still annoyed because Elvis has been SO brilliant and I'm desperately trying to get some sort of recognition of that outside of my own tribe. I was passed over for a big grant for the second time, I keep missing the criteria for the developing list, and I was really hoping for a big public success as I come into 2022 and continue approaching people about joining the syndicate that owns Elvis. And I'm annoyed because I came to the Finals for one class—on Thursday, no less—and so I had no other attempts at redemption that week. (Though it was with TREMENDOUS joy that I helped my longtime friend and student Abe Pugh, aboard Alice Drayer's Trakhner stallion Elfenperfekt, win reserve champion honors in the Open Grand Prix Final. Huzzah!)
All this brings me to my favorite thing about the U.S. Dressage Finals: the adult amateur first level musical freestyle championship.
There's all breeds and shapes and sizes represented at all the levels here, but the first level AA freestyle championship class tends to get the widest selection of not-fancy-warmbloods. Most of the riders in this class are people with non-horsey jobs and lives and challenges and struggles. And they are STOKED to be here. The grins on their faces when they hit that arena are incredible. And as I'm sitting here—shaking the last of my pout about woe is me, I got almost 66% at the national championships on a self-made young Grand Prix horse on a really really terrible ride—it's impossible not to smile and cheer for the grassroots of the sport, on their draft crosses and Fjords and rescues and Thoroughbreds, and their joy at being there.
It's easy to get jaded, riding the high performance wave. I've been chasing this dream for so long. The time, the money, the heartache. Last night someone I heard someone say, "You know, it would be nice to know the ages of the riders in these FEI championships, so we know who's the next generation coming up," and at the ancient, decrepit age of 37, it's hard not to feel like I'm withering on the vine.
But I made the time (and put on the layers, brr!) to watch the first level AA freestyle championship. It helped me remember that this is fun. That it's a privilege to be there at all. That we are so, So, SO lucky, to be able to live the lives we lead with these gracious, charitable animals. And now I'm going to get back to work, smarter for the experience of the week.
---
Lauren Sprieser is a USDF gold, silver and bronze medalist making horses and riders to FEI from her farm in Marshall, Virginia. She's currently developing The Elvis Syndicate's Guernsey Elvis and her own string of young horses with hopes of one day representing the United States in team competition. Follow her on Facebook and Instagram.