I changed barns this summer, moving Azul to Walnut Knoll Farm in Manakin-Sabot, Virginia, to train with Ada Cosby. The move had nothing to do with the level of care or training I was receiving. Azul was progressing very nicely, but I craved the camaraderie of riders who were solidly in their adult years as opposed to a program mostly focused on those at the tail end of their junior careers.
With a new trainer came new perspectives, and accordingly, new challenges for me and Azul. Ada instantly set some higher expectations for our flatwork, which then leveled up so noticeably that when I posted a video from a lesson, one of my friends exclaimed, "Wow, she's grown up overnight!" Best of all, when we jumped, I felt like I had finally gotten my eye to a good place. The distances, whether they were long, short or perfect, were always of my choosing—no more chocolate chips or Hail Marys for this adult amateur!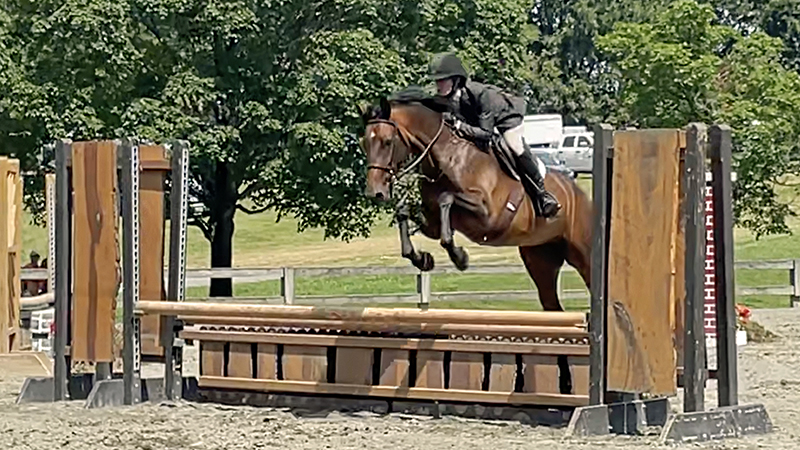 Then one day, Ada came into the ring and said, "Today we're going to start playing around with doing the step. She's ready for it, and if we keep her in this little canter to the jumps, she's going to get too used to it."
After our flatwork, we warmed up over some crossrails and then turned our attention to a line that we usually rode in the "add" five strides. Our mission? It was time to make the "regular" four strides happen.
One of the main reasons I purchased Azul was for her lovely canter. Ada perfectly described it one day as "scopey," able to move up or wait as needed. So it was no surprise that the four strides, which was set on the normal 12-foot stride, came up easily for her every time. It didn't feel rushed or flat like it had with my previous horse, Callie; it felt slow and ground-covering and wonderful.
After a few times through the line off each lead, Ada decided it was time for us to jump a little course. She put one of the jumps up to 2'6"—a stone wall off a long diagonal approach—and came up with a small course that ended with that fence.
I came around to the first jump and got there to a nice distance, but then Ada said, "You're going to have to open up that canter, that's the 'add' canter, you won't get the line." So after landing, I moved up a gear, and we flowed down the line in four strides. Then, it was one last jump for a fantastic course.
I cantered through the turn and came down to the stone wall. And I saw nothing. Azul, bless her heart, chipped like a champion and came around to gamely try again. And again, I saw nothing. Ada said not to look for the distance, just to focus on the rhythm, keep my shoulders back and not fade coming to the jump. But despite trying my best, I came and again saw nothing. On the fourth try, I finally came around and made something work and then repeated it one more time for good measure, but I still ended the lesson feeling like it had been more luck than skill.
Even though my mind knew that these days happen, it put me into a bit of a panic. How could my eye completely stop working over the course of one lesson? Hadn't I just been so proud of the fact that I finally felt pretty consistent again? What was going haywire?
"It's the canter," Ada said. "It's the bigger canter. You learned how to ride the little canter, but now the canter is opening up, and you're going to have to learn how to ride the bigger canter, too."
The problem: The bigger canter raised some long-lost demons and also brought back some (I thought) long-lost bad habits. My very first horse I rode as a junior, Shiloh, would regularly land off a long distance, grab the bit and bolt. In order to protect myself with him, I found it easier to fade to the jump or give up altogether and chip rather than risk getting run away with on the backside. When I replayed my ride on Azul, I realized I was doing the same thing.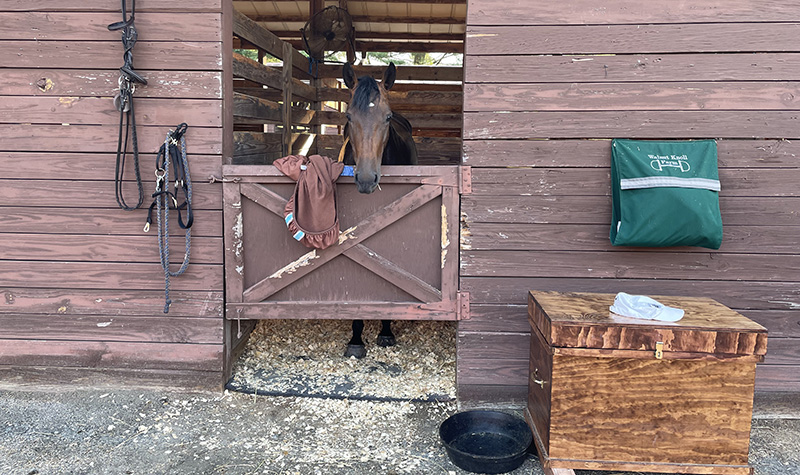 The next time I jumped Azul was the schooling day of my first rated show with her. The jumps were set at 2'6", and the goal was to get the step. After jumping around once with the add to let her see everything, it was time to step up to the bigger canter. Sometimes, the distance magically appeared, but more often than not, my old demons took over. If the distance felt like it would be even slightly long, I felt myself not committing and chipping. I could remember all of my flatwork practice and listen to all of Ada's real-time feedback, but the challenge for me was a mental one.
Suddenly, it was show day and time to warm up before our class. I came around to our first vertical in the schooling ring and chipped spectacularly. I regrouped to canter around and try again, when Ada said, "Sophie, stop, come here a minute. Let's talk."
Apparently, she could sense what was happening, because she looked at me and said, "You've got this, but you have to trust your horse. Azul will jump no matter what, she's already proven that. When you see that longer distance, she will easily do it, but you have to ask her. She can't do it without you. She's still a baby, and she needs to feel your leg all the way to and over the jump. Keep your shoulders back, keep your leg on, keep your hand supportive, and trust your horse. If you see the shorter distance, you'll be in a good position to back her off and wait. If you see the longer one, don't be afraid of it."
I came around again. I kept my shoulders back, I kept my leg on, I kept a soft feel of her mouth, and I rode her every step. I saw the slightly longer one, and instead of backing off, I closed my leg. She gave me an amazing effort.
"That's it!" Ada said, "Come again off the other lead!"
She put the jump up one hole, and this time when I came out of the corner, I saw the shorter one. I sat a little deeper with my shoulders back, and she got right to the base and gave just as good of an effort, "Great!" Ada called. "Let's go with that one!"
I went into the ring, took a breath, and remembered that Azul wasn't Shiloh. The bigger canter wasn't a harbinger of something scary, and the longer distance wouldn't result in getting run away with. Even though I was Azul's trainer, now it was time to let Azul teach me something: that I could trust her. She had already leveled up—I just needed to join her.
Suddenly, my eye returned. Jump after jump, I came out of the turn with my legs on and my shoulders back and saw something. When it was long, we moved up. When it was short, we moved back. When it was there, we flowed. We made all of the numbers, and had we not landed on some wrong leads, which necessitated simple changes, we may have even pinned in one of the largest divisions at the show.
I couldn't have been prouder of my little horse. My husband Sean said he couldn't have been prouder of me. Ada said that she couldn't have been prouder of us both.
There are few things as rewarding with horses as helping the young ones learn their job. Seeing them grow from day to day brings constant enjoyment. While for sure there are plateaus, and low points, the high points along the way make it all worthwhile. But one of the most special high points is the moment you trust your young horse enough to let the learning go both ways.