In his most recent blog series, horse trainer and blogger Justin Haefner is bringing readers along as he goes through a self-designed series of work and training experiences meant to broaden his understanding of horses, as described in "Becoming The Bridge." Here, he shares his experience from the first stop in this tour, Sons of the Wind Farm in Loxahatchee, Florida.
---
I have always found that the wisdom of the horse tends to ring clearer than any spoken word, and it is my responsibility to listen.
The idea of the "traditional riding academy" seems to be dying with each passing generation. With this, the idea that a student should learn to ride a well-schooled horse before educating a young horse is being lost as well. In the equestrian world today, riders with less formal education tend to end up with horses in their earliest stages of development. I am one of these riders. I am not a rider coming from a background of formal education nor have I competed professionally. I am a rider who is desperate to learn about and from the horse, and this is what guides the meandering path of personal development that recently landed me in Vitor Silva's Sons of the Wind Farm in Loxahatchee, Florida, for a week of riding Grand Prix dressage horses.
I am a lot of things, but an experienced dressage rider is certainly not one of them—at least not in a competitive sense. I am somewhat of a cowboy with an interest in body work, fueled by a deep and childlike love for horses. Although I would not describe myself as a dressage rider, somehow I have arrived at this deep love and appreciation for dressage. Not only the dressage seen in a show ring, but the dressage that lives within everything we do with a horse.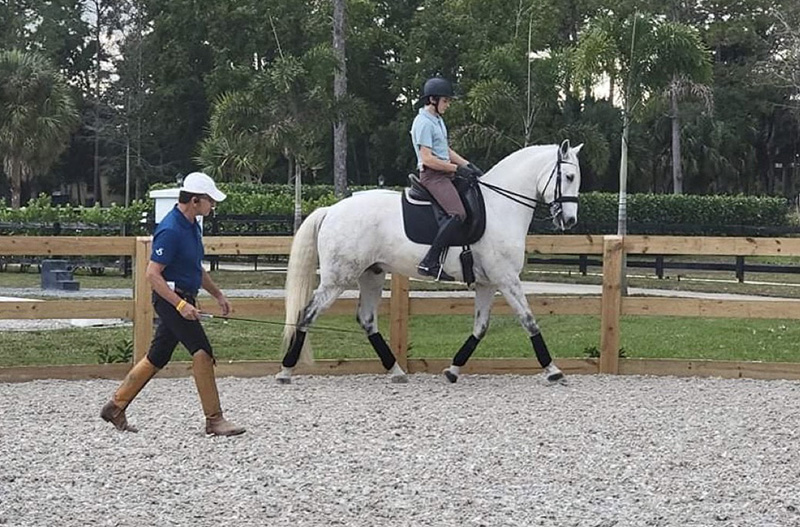 In looking for an educational experience that would satisfy my itch for formal dressage instruction at a higher level, Vitor Silva's intensive riding program sounded like a fantastic fit. My father (and business partner) Paul and I pulled into Sons of the Wind late on a Monday night and were graciously greeted at the door, and we fell asleep eager for the days to come.
Vitor sees his barn as a school. In school you go to the library to learn from books. In his school the books just happen to be kept in stalls, and you can read and learn from each and every one.
As I read through this library it was hard not to appreciate the wisdom carried by each truly educated horse. There is a brutal yet liberating honesty that comes in every lesson taught by these masters. The honesty of a well-schooled horse is a gift that can tell you, "yes, you have it," or "no, try something else." One ride after the next, I relied on the wisdom of a horse that knew a lot more than I, and it became a compelling conversation. This is the gift of a school master.
Following the lessons on our third day in Florida, I approached Vitor after several hours of the most demanding lessons of my life. I asked, "Vitor, after watching me ride today, what's the most important thing I should be thinking about for tomorrow?" His response certainly was not the answer I was looking for, but it landed in a place deep within me. While I've had difficulty recalling exactly how he said it, Vitor made clear that, even though he is the teacher, it is not his place to tell me what I need to work on; that I needed to look within myself in order to move forward.
When everything comes together in just the right way to present me with the right "feel," it then becomes my job to find it once again. Vitor teaches, but the learning itself must come from within me. As the student, I have the ultimate responsibility to find the feel that I want to recreate and then go figure out how to do just that. What I took away from his response is that it is wonderful to have people to look up to, but at the end of the day, it is up to me to find my own way.
The final two days went by incredibly fast. The amount of information I took in, and now work to retain, is amazing. As the week came to a close, my dad and I found ourselves in Vitor's office talking about aspects of being human that go far beyond horses. He taught us about posture, equitation, balance, shoulder-in, but as our week came to a close, what was most prominent to me was the example he set of compassion and a life lived for the art of dressage and the education of horse and rider.
Vitor taught me that the art of dressage is far less about the result than I had previously thought. "The art" is living by your principles and being consistent day to day. Educating a student is about presenting your best as a teacher. In turn, the student carries the responsibility to find their own expression of the art within this guidance. Vitor said many times, "Let me show you this feel." From there, I now understand it is my responsibility to play within that which I already possess until I can find that feel once again.
This library full of beautifully educated horses has been brought to life by Vitor, not necessarily through the expectation that each horse will progress, but because no matter what, he will spend the time they need in the arena day after day, sticking to his principles and living his art.
I knew I was traveling there to learn from a master. I figured we would meet a master of dressage, a master horseman, someone educated to the highest degree. What I found seems to be a master of kindness, clarity and compassion. A man of principle who is dedicated to his art.
As our final day came to a close. and I watched the sun sink over the palm trees and arenas, I was left with the feel of far more than piaffe, passage or flying change. I was left with the feel of an art I know I do not quite understand, and the inspiration to go and find it within myself.
---
Justin Haefner is a born and raised Virginia horseman who dedicates his life to helping riders and horses reach their full potential. He specializes in the foundational development of young high-performance horses, and with a background in vaquero-style natural horsemanship, Justin has developed a passion for creating a style that incorporates the teachings of classical dressage and equine bodywork to best understand the psychology and physiology of every horse he trains. In his partnership with his father, Dr. Paul Haefner, Justin runs Riding Far, LLC, which brings together modern psychology and foundational horse development to help horses and riders work through their individual roadblocks to reach their full potential.