Harrisburg, Pa.—Oct. 16
Following the final medium pony over fences class at the Pennsylvania National Horse Show, Olivia Sweetman's brain was thinking in 10s, 6s, and 4s trying to calculate the champion and reserve. The 12-year-old from Wellington, Florida, has a reputation for being better at math than some adults—and correcting them in a few instances if need be.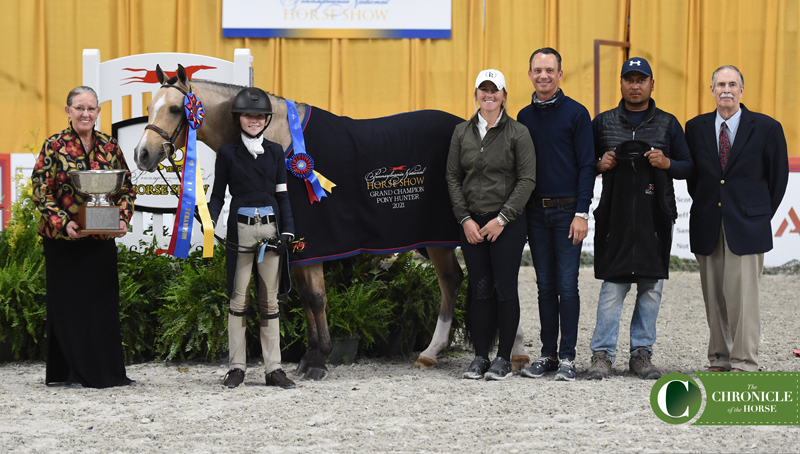 "Math is for sure my strongest subject in school—it always has been," Sweetnam said. "Everything's related so it's a lot easier, and it's actually a lot of fun for me to do. So, when I was younger, before I knew the points, I was like, 'Hey mom, who's champion? Who's reserve?' And then she'd explain it all to me. She'd be like, 'This one is champion because it was second and that's 6 points. And first, that's 10 points.' So I eventually got it.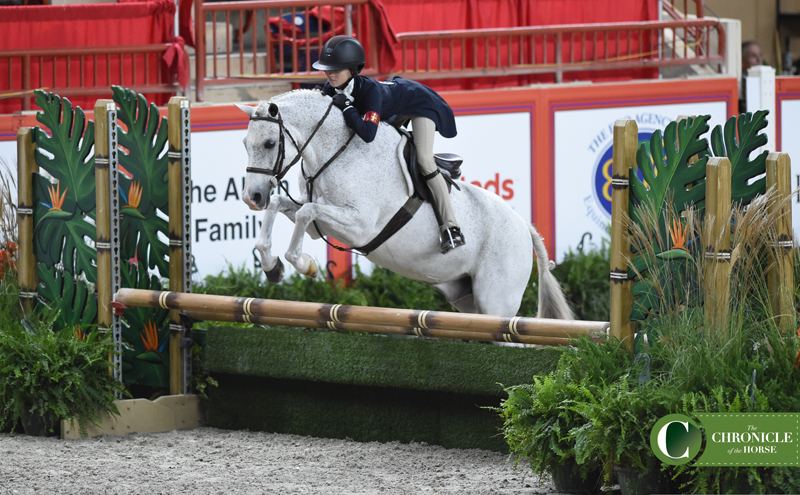 "I'd literally come out of the last class, and I'd be like, 'OK, this one's champion. This one's reserve,' " she continued. "And actually, multiple times [at the Winter Equestrian Festival], I've corrected the person because they got it wrong."
But besides being a whiz with numbers, the digits actually help Sweetnam with her nerves in pressure-packed situations.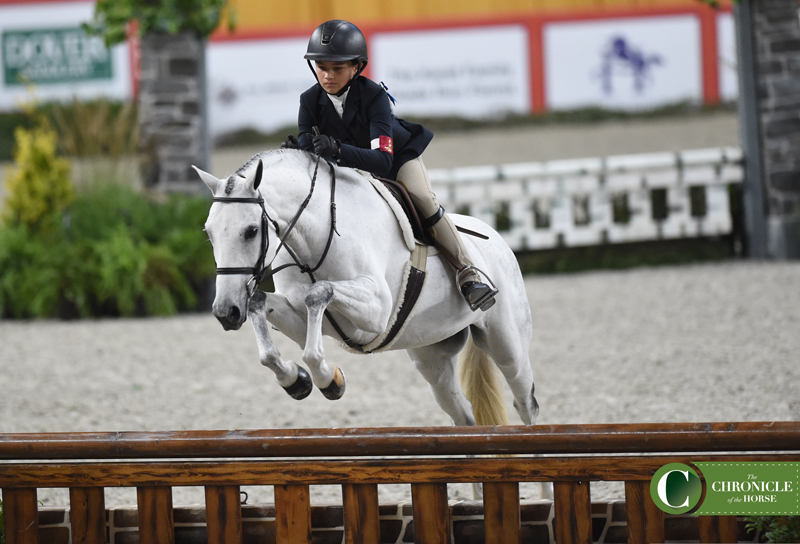 "So when I do the points, it kind of helps me and makes me know that I don't have to blow it out of the park," she said. "I just need a consistent round. I don't have to go and save the world or anything. It kind of helps my nerves sometimes."
Sweetnam admits that nerves have overruled her in years past at Harrisburg—but no more. She earned the medium pony championship on her partner of three years, On Your Mark. Lauren Padilla and Smallwood Mystic took reserve.
"We bought him when he was young, and I was also young," she said of the 13-year-old Welsh Pony gelding (Gayfields Comin' Up Roses—Hillcrest's Jewel Of The Nile), bred by Jim Davis. "So it was like a green rider and a green pony—and we grew up together. So it's really special."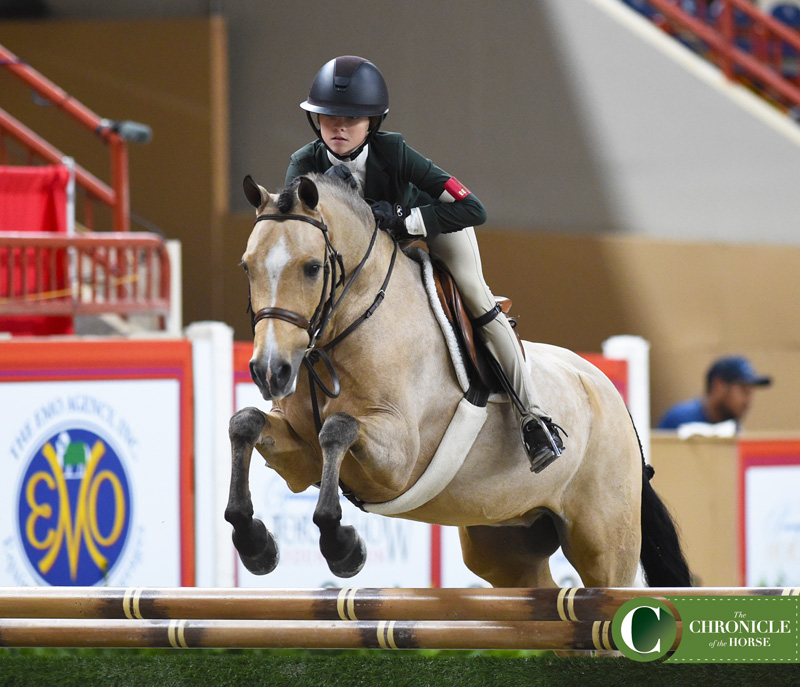 In the large pony divisions, she guided Goldmark, a catch ride for Take3 LLC and Stacey Weiss, to the champion tricolors, with Emma Dyson and D'Artagnan coming in reserve.
She also won the inaugural Pony Hunter Winners Stake on Goldmark, and claimed second on On Your Mark. The judges rewarded her consistency with Best Child Rider On A Pony honors, and she earned the pony rider sportsmanship award as well.
"We didn't think he was going to qualify," she said of Goldmark, a  6-year-old Dutch Warmblood gelding of unrecorded breeding. "It was very last minute, but I'm very happy he did. We didn't have high expectations for him because he's still a green pony. But he definitely exceeded those expectations, and I'm so proud of him."
Though she's a veteran of the pony ring, this marks her first championship—or two—at Harrisburg.
"It was really special to come back here and win because I was also nervous," she said. "So, it was great to see that I could overcome my fears and pull it off."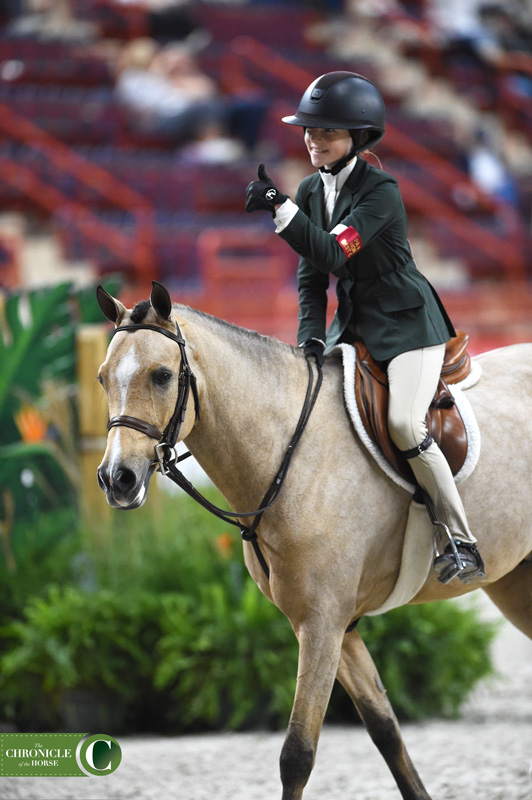 The Solace Of Ponies
When David Belford of New Hope Farm first met Ava Barnes two years ago, he knew that his veteran pony Rico Suavé fit the bill as the perfect partner to show her the small pony ropes. Prior, the 12-year-old from Cincinnati, Ohio, had only competed in the children's pony division.
"You can't ask for a better pony to teach you a real true sense of how they should ride," said Belford. "He really shows you how it should feel. And I think she's just really adapted to that and really picked up on it. That's why it's become such a fast-forward momentum for her."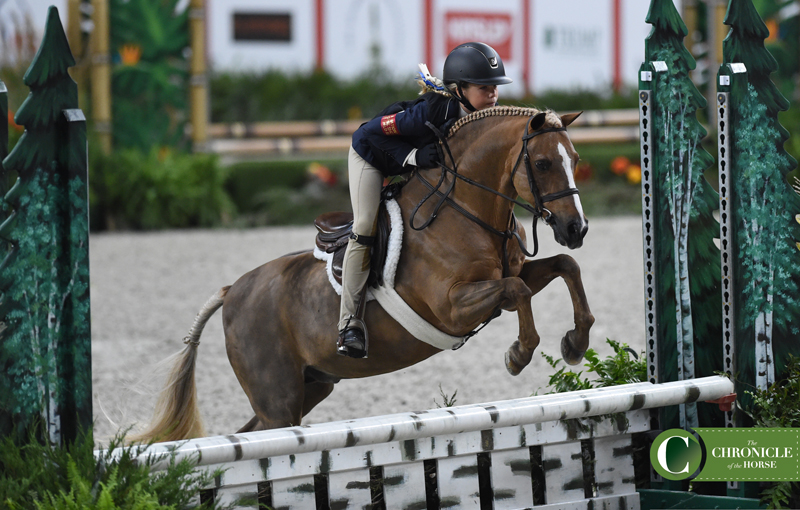 From that beginning, the partnership blossomed and thrived. Last week, Barnes and the 21-year-old Welsh Pony gelding topped the WCHR Pony Challenge at Capital Challenge (Maryland). And this week they earned the small pony championship at Harrisburg above Sweetnam and Armani.
"She's one of those kids that really never says no. She tries her hardest," Belford said. "It doesn't matter whether she's ridden five ponies and it's 90 degrees. It doesn't matter if it's a Tuesday. It doesn't matter what day it is. She just really is all in. And the ponies love her. Rico is literally, to me, in heaven. She understands his balance—he just thrives underneath her."
But more importantly, "Rico" has provided her some family on the road. She traveled to Pennsylvania with her grandmother Stephanie Ring, but the rest of her relatives stayed in Ohio. Barnes brother is sick, but all tuned in to watch her on the livestream.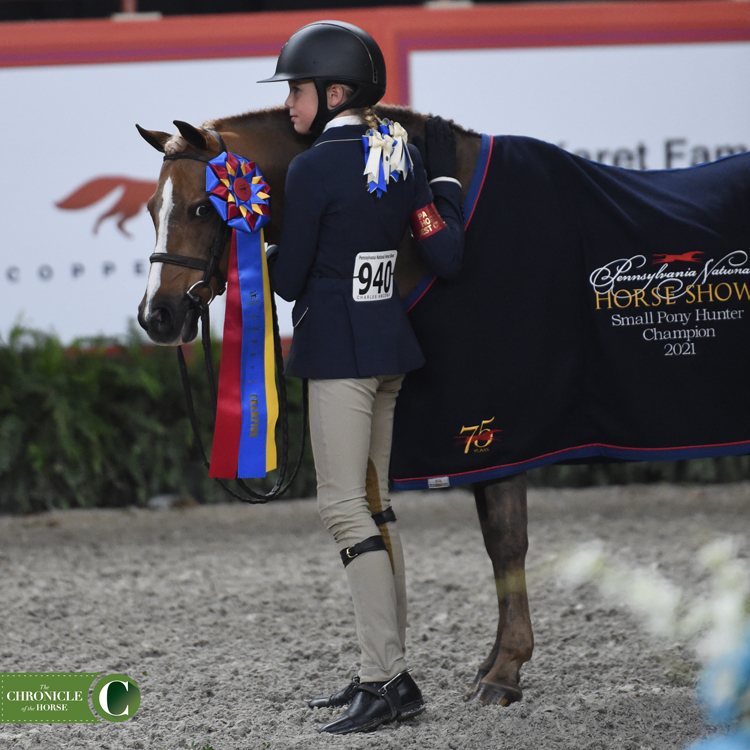 "It means a lot to me because all my family was there watching me back home," said Barnes.
Both Belford and Ring said that Barnes' ponies have provided her with security.
"It's really taken on a pseudo family in the sense that she's enthralled with her ponies, and they try their hardest for her," said Belford.  "I think it gives her a little solace. It's a little bit like her little island."
"Thank God she has the ponies. She did really well at Capital Challenge last week. This is good for her," said Ring. "Ava's an amazing horseman. She loves the ponies, and the horses first. I think that's what makes the big difference, to me for Ava, that she loves to win, too, but she loves the pony first."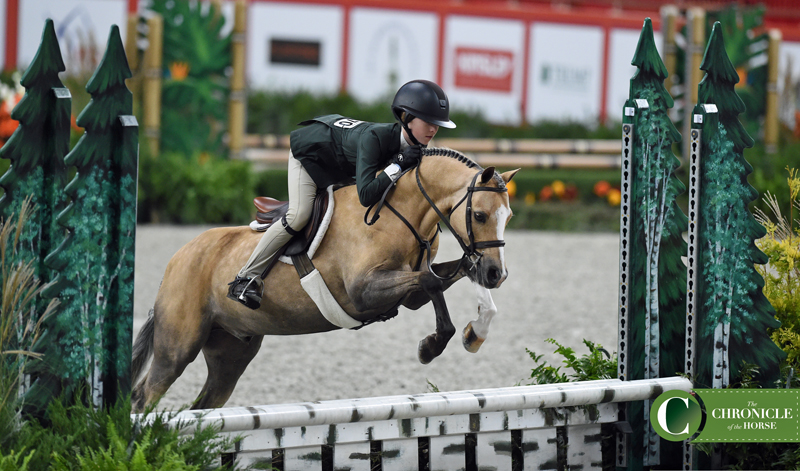 See full results here. Want more Pennsylvania National? The Chronicle will be on the scene through grand prix night bringing you photos and stories. Plus see more analysis from the Pennsylvania National in the Nov. 8 issue of The Chronicle of the Horse magazine.