Known for her famously quirky mount, Verdades, Laura Graves debuted her first new FEI-level ride since 2012 at the Adequan Global Dressage Festival this winter in Wellington. They call him "Fizzy."
Fizau (Fidertanz—Marina E, Maquisard) is first horse Graves has competed other than Verdades since her meteoric rise to the top of the dressage rankings over the past few years. The 8-year-old Westphalian gelding began training with Graves in 2015 after his owner, Susan Shattuck-Fryett, watched Graves compete in the Alltech FEI World Equestrian Games (France).
"Susan contacted me after the WEG and asked me if I would be interested in training her horse," Graves said. "I watched some videos, then said OK. Susan was new to the high performance world, but it was a journey that she knew she wanted to be a part of."
Unlike his barn mate Verdades, who can be spooky and sensitive, Fizau has a reputation around the farm for being incredibly easygoing, both in-hand and under tack.
"He's just incredibly sweet and gentle and safe," Graves described. "Under saddle his strength is big time his personality, just like in the barn. He may have to work a little harder for things than a horse who's maybe naturally more physically gifted, but he does! And he's willing to! So that's the neat thing.
"Sometimes you get a talented one who doesn't want to work at all," she added. "This little guy really tries his heart out."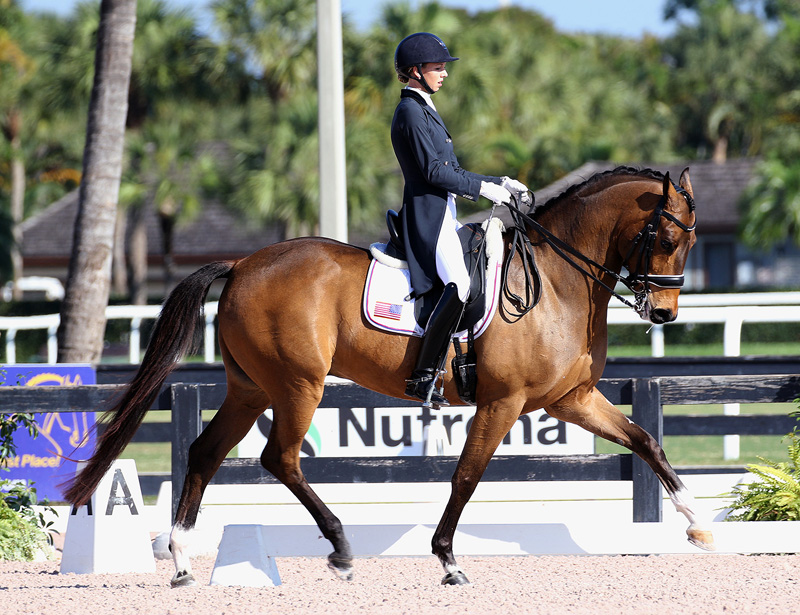 Bred in Germany by Ernst Eickelkamp, Fizau showed extensively at training and first level in Texas with Gail Abele before coming to Graves as a 6-year-old, so she didn't see much point in taking him out for exposure. Instead, the pair worked quietly at home until December 2016, when Graves decided to test the waters at third level at the Orlando Winter Classic (Fla).
They won their small class with a 73.48 percent. Two months later, they debuted at Developing Prix St. Georges at the AGDF 7 national show, earning two scores over 70 percent and another win.
"Going into that weekend, we just barely—maybe a couple weeks—had been doing the tempi changes. I'm not even kidding!" Graves laughed. "The second day—Sunday—he got all of his threes and all of his fours. Just every time he hit a change I thought, 'You are such a good boy!' "
Despite the success, Graves doesn't intend on keeping Fizau in the limelight any longer than necessary before getting back to work at home.
"Once he's qualified for nationals, we'll spend our time training," Graves said. "The big goals for this horse are to continue the quality in the flying changes, self-carriage, which is a really big focus point for most horses his age, and really just developing his collection for things like the pirouette. That's our homework.
"Now he's got most of the Prix St. George on him, so it's an exciting time!"