Calgary, Alberta—Oct. 28  
Canada's Isabelle Lapierre became the first rider to win multiple events on the Longines FEI World Cup™ Jumping North American League this year when she rode Cescha M to her second victory of the season in Calgary (Alberta).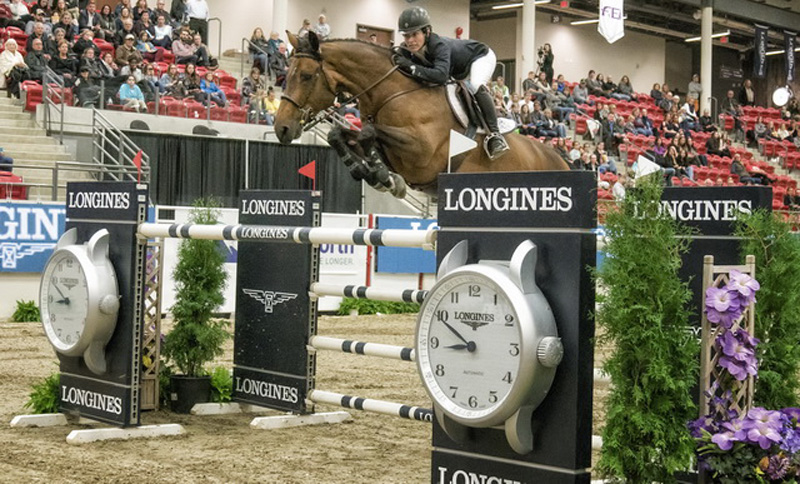 Lapierre, from Quebec City, and her own 10-year-old Dutch Warmblood mare were one of just three horse-and-rider combinations to jump cleanly in the first round of the Werner Deeg-designed course.
No one produced a clear round in the jump-off, so Lapierre sealed the victory with a 4-fault score and a time of 50.16 seconds over Laura Jane-Tidball and Concetto Son, who clocked in at 50.75 seconds, also knocking one jump-off rail down. U.S. rider Sarah Scheiring and Dontez were third with 4 faults in 52.84 seconds.
"This was her second show indoors. She's very green, and we didn't know what to expect, but she always tries to win," said Lapierre of Cescha M. "She's always good when she needs to be. She just likes to win."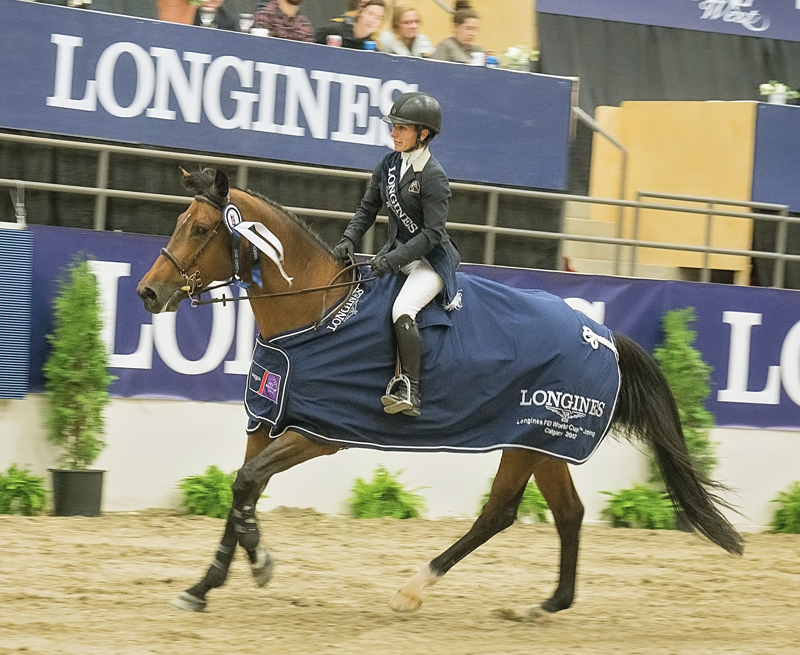 Lapierre trains out her family's Les Ecuries de la Chaudiere. Isabelle's mother, Nicole, organizes the business and keeps the books while her father, Langis, is a farmer. The 38-stall barn is home to boarders who compete in hunters, jumpers and equitation. "We do it all," said Isabelle. "I do training, give lessons, and go to shows with clients mostly around Quebec City and Montreal. For my level, I have to go to Toronto and the United States."
Cescha M is Isabelle's only 1.60-meter horse, and Isabelle has developed the 10-year-old Dutch Warmblood from a young horse to the grand prix level.
"In this sport, it is all about the connection with your horse, that relationship. I don't have a groom, and because I have only her, I have time to take care of her myself. You get to know them, all about them, and they give it to you back" Isabelle said in a COTH article after her Bromont World Cup win.
"I really try to take care of her. Horses are not machines. We have to take care of them; they have to know that we will do that. I believe in that. I am lucky to be able to have a connection with my horses. Some people may be lucky to have 52 horses. I am lucky to have one who I have a connection to," Isabelle said in her Ringside Chat with COTH from August.
Isabelle and Cescha M won the season opener of the league, triumphing in Bromont (Quebec) in August in what was the mare's World Cup qualifier debut. Uniquely, the duo has won an event in each of the league's sub leagues: Bromont is part of the East Coast sub league, while Calgary is in the West Coast sub league.
Now, Isabelle has her sights set on the Longines FEI World Cup™ Jumping Final, which will take place in Paris in April 2018. "Paris is still a long way off, so we'll keep her sound and fresh, and maybe we're going to fly over the ocean!" she said. "But she's looking good. That's the plan so far."