Rebecca Langwost-Barlow has a list of dressage accomplishments as long as her once-badly-broken arm and the kind of guts usually associated with top event riders and a terrific laugh.
After staying home for the past year or so during the pandemic, Langwost-Barlow returned to the show ring this summer and proved that she hasn't lost a step. Aboard her own Libertina, Langwost-Barlow won the Grand Prix with a 70.67% and finished second in The Maestro Cup FEI Grand Prix Challenge at Dressage at Lexington (Virginia), July 16-18.
The Long Island, New York, native didn't come from a horsey family. When she was 11, she was visiting her mother's family in California and fell in love with a mustang her uncle was breaking to be a ranger's horse.
"He was a little cow, but I thought he was the most beautiful thing in the world. What did I know?" Langwost-Barlow said with a laugh. "I would get on him by the gate, but he wouldn't budge, so I led him far away from the gate and jumped on him, and he would take off at full speed and throw me over the fence. Every time, I would run back to him and throw my arms around his neck and cry because I loved him so much, but he wouldn't go for me."
Upon her return home from that influential but dangerous vacation, she begged her parents for riding lessons.
"On Long Island, it was all about the hunters and jumpers," she said. "I became a top jumper in the area, even competing against Harry DeLeyer and those guys."
She tried every other discipline she could get near: barrel racing, fox hunting, driving Standardbreds at the track and draft horses in parades. It wasn't until she imported a jumper stallion from Germany that, ironically, she tried dressage.
"He had to do a dressage test as part of his stallion licensing," Langwost-Barlow explained. "I thought, how hard could it be? And here I am, 40 years later, still perfecting my circles."
As she made the switch to dressage, she caught the attention of some big names in the U.S. and Germany. She has worked with the likes of Morten Thomsen, Georg Theodorescu, Dr. Reiner Klimke, Michael Klimke, Willy Arts and Rudolf Zeilinger. She has ridden in three U.S. Dressage Federation symposiums with Dr. Klimke and Conrad Schumacher.
"God, I've been around a long time," she said with a groan while recounting her list of influences.
Langwost-Barlow stayed in New York for a while, working as a court reporter to pay for her horses, but she grew to realize that working indoors wasn't for her. With the help of friends in the industry, she eventually made the move to Maryland's Eastern Shore, where she still lives on a 50-acre farm in Preston with her husband, her mother and a few horses.
Langwost-Barlow has been training and coaching full time for more than three decades now, including as senior trainer at Wyndham Oaks in Boyds, Maryland. She was the first Maryland-based USDF-certified instructor and the first recipient of The Dressage Foundation's Major Lindgren Instructor Education Grant.
"I love riding, but I also really love coaching and watching riders figure things out," Langwost-Barlow said. "It's so satisfying."
Bringing a horse to the Grand Prix level takes a combination of determination and small miracles. Langwost-Barlow has had both, along with a special relationship with Libertina (Liberty Gold—EM Lucy, ES Letkiss), a 15-year-old Hanoverian mare.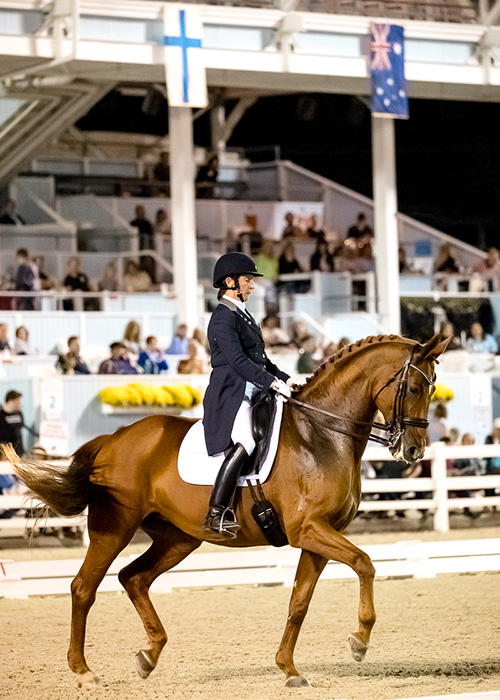 Langwost-Barlow purchased "Tina" 11 years ago from a student who proved to be a bit over-matched by the mare's spicy nature, and she has never regretted it.
"Tina is a little spooky, but in the ring she's all business, the consummate professional," Langwost-Barlow said. "She's so solid, I just love her. She's a great horse. She always tries, she never says no. I don't care how hard it is, she'll never say no, just try harder."
Langwost-Barlow likes the horses "a little hotter," a preference that may have been ingrained by the recalcitrant mustang she attempted to ride in her childhood, or perhaps from her time galloping race horses—a career stop she seems to miss. On a recent trip to Florida, she found herself at the track watching workouts and waxing nostalgic about how she used to be one of the riders out there in the early mornings.
But it wasn't a baby race horse or her brief time spent eventing—"It just wasn't a thing in Long Island; if I'd grown up in Pennsylvania I would probably be an event rider"—or one of the many baby horses she has started or rank horses she's ridden that caused the fall that nearly ended her career in 2015.
"It was my last Grand Prix horse," she said. "I was leaning over to tighten his girth, and I must have been dehydrated because, the next thing I knew, I was hanging off near his tail."
She described a slow-motion fall where she knew she had to just let go of the gentle 18.3-hand giant she was riding as he slowly loped away from the confusing situation.
"Then I hit the ground with the top of my shoulder, just exactly the right way to shatter my humerus."
The fall resulted in a helicopter ride to Baltimore and a consultation with a surgeon who said she was probably not going to ride again, at least not at her level.
"I told him that was not an option, and he said OK and put a nice, big plate in my shoulder," Langwost-Barlow said. "At my recheck, he said he knew if anyone could come back 100% from that break, it would be me."
She continued to defy medical professionals at physical therapy, where her shoulder specialist said she was doing much more than recommended and discharged her early. Langwost-Barlow described her physical therapy as walking along the beach at her family's vacation home, carrying rocks around and doing anything she could think of to get her strength and range of motion back. She went from being unable to hold a coffee cup to back in the saddle in just over three months.
Life got in the way again when COVID-19 hit five years later, but she took it in stride and pulled back her competition schedule to protect her elderly mother from potential exposure.
Her July win in Lexington came as she was just getting back into showing more regularly.
On the heels of that win, she hopes to qualify for the USDF Dressage Finals in November. As always, she will take opportunities and chances where they come and take nothing for granted.
"I'm looking forward to getting out and showing some more and seeing how I do," she said. "I'd like to try a Special with her. I haven't done that. I might try that next, just to see how it goes."