Traverse City, Mich.—July 30  
For the second week in a row, Mexico's national anthem rang throughout the Flintfields Horse Park as Santiago Lambre took home his third consecutive FEI win in the Amalaya Investments $50,000 Flintfields Farm Grand Prix CSI2* on Doloris to conclude Week 4 of the Great Lakes Equestrian Festival.
"I never expected three wins in a row. The mare is unbelievably careful and when you're in the ring you never have to worry about having a rail down. I'm very happy with her," said Lambre.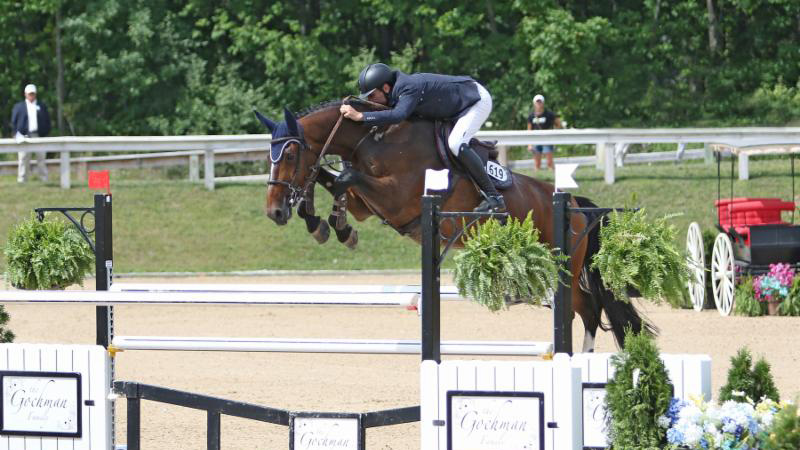 Twenty-seven international show jumping athletes came forward to challenge the Bernardo Cabral-designed first round course, but only six would jump fault-free to advance to the jump-off.
Michael Morrissey was the early clear pathfinder in the jump-off as second to go aboard QBS Equestrian LLC's Chance STE Hermelle. The pair finished with 0 faults to their name in 38.97 seconds.
Theo Genn followed two trips later to produce another double-clear effort with Dirocco Blue, owned by Eduardo Leon. They crossed the finish line in 43.45 seconds, which would be good enough for third place.
Lambre entered through the archway of the Grand Prix Ring as the final challenger in the tie-breaking round, knowing he had to be fast and clear to beat Morrissey. He blazed around the shortened course with the 9-year-old Dutch Warmblood mare, clocking in just ahead of Morrissey in 38.55 seconds to defend his grand prix title and secure his third GLEF win, while Morrissey would take home second place honors.
"Before the last fence, I was thinking I was too slow to beat Michael [Morrissey], but I was really tight to the last jump. My three horses are 9 years old and I believe by next year I'll have them ready to compete at the four-star and five-star level."
Lambre, who has a total of six horses competing throughout the GLEF circuit, also won Friday's $35,000 Welcome Stake CSI2* with Doloris as well as the $50,000 Great Lakes Grand Prix CSI2* with Dingeman during Week 3.
Courtney Calcagnini and Lori Mathew's Bowie returned to the Great Lakes Equestrian Festival to claim their second consecutive win in the $25,000 USHJA International Hunter Derby.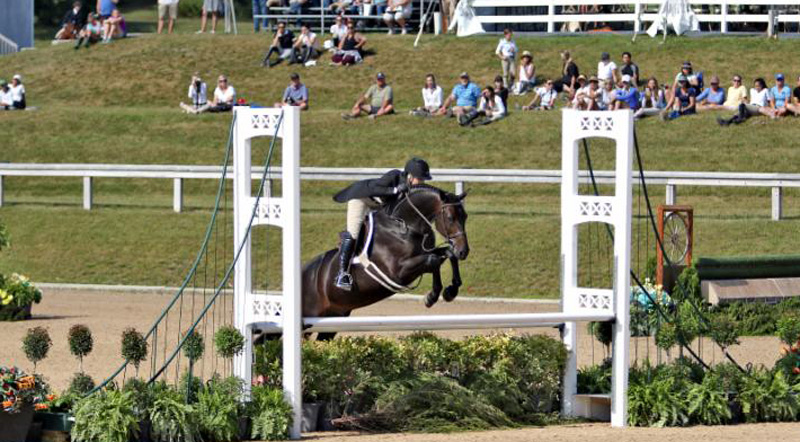 Sitting in second place following the classic round, Calcagnini and the 11-year-old warmblood gelding returned to challenge Andy Christensen's handy round along with the remaining top 12 competitors out of the original 21 starters. Their careful but technical performance was well-awarded with scores of 90 and 88, with additional handy points, from the panel of judges. The pair completed all four high options, with the highest oxer marked at 4'6″, for a second round total of 201. Combined with their classic round score of 167.5, where the pair chose all high options as well, they earned an overall score of 368.5.
"I'm so excited. This is a dream come true. I was a little nervous going in to the first round because we won last year but he was perfect, and awesome in the second round also. It all worked out."
Saturday's win proved even more beneficial for Calcagnini and Bowie as they now turn their focus towards preparing and competing at the upcoming 2017 USHJA International Hunter Derby Championship (Ky.) on Aug. 17-19.
"[Bowie] jumps amazing and really high. I tried to make sure I had a great pace going to Fence 1 and just stayed on it the whole time. I didn't see other riders go, but that's what I liked the most about my round," Calcagnini said. "He is one of a kind. He's the scopiest horse I've ever ridden in my life. When we tried him in Europe he jumped 5 feet, so this is so easy for him. It gives me so much confidence when I ride him. He's a beautiful jumper and beautiful to look at. He's so much fun. He actually did the amateurs this morning with his mom so it's really special we were able to do both today. It's the first time we've ever done that. I've been riding him since he was 8 years old. Getting him going in the derbies and now seeing how he is with Lori [Mathews], it's just the best feeling in the world."
Kelsey King rode boldly aboard her own I'll Say JSF to finish in second place with a total score of 349. It was the 9-year-old Belgian Warmblood gelding's first derby competition since 2014. The pair executed fluid tight turns in the handy round, receiving seven additional points from each judge to take the short-lived lead before being overtaken by Calcagnini and Bowie.
Well-versed junior rider Isabella Russekoff dominated the competition finishing in third, fourth and fifth place with Winnetou, Chinchilla and Kingston. The only competitor to have three mounts, Russekoff first navigated the handy round aboard Ashland Farms' Kingston to give the 7-year-old equitation gelding his derby debut, finishing with a total score of 328 for fifth place. Suave Pony LLC's Chinchilla followed with a 334 total score for fourth place and Winnetou, also owned by Suave Pony LLC, concluded Russekoff's final hunter derby ride to earn her third place with a total score of 336.