Wellington, Fla.—Feb. 4
They might have to rename the Ruby et Violette WEF Challenge Cup series, as Eric Lamaze is writing his name all over it.
Week 4 of the Winter Equestrian Festival continued with a win for Lamaze and Check Picobello Z in the $35,000 Ruby et Violette WEF Challenge Cup Round 4. It was Lamaze's third consecutive win in the class in as many weeks with two different horses, with victories in weeks two and three aboard Rosana du Park.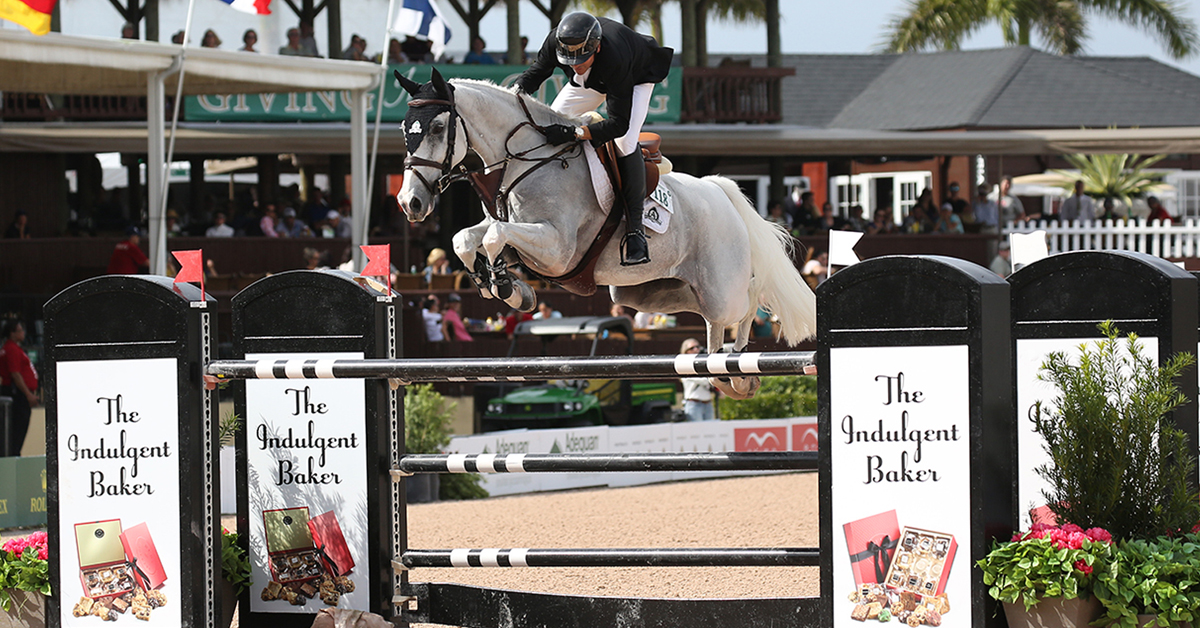 Eric Lamaze conquered his third consecutive $35,000 Ruby et Violette WEF Challenge Cup in WEF Week 4 with Check Picobello Z. Photo by Sportfot
"I am really excited, especially today," Lamaze stated following his round of honor. "I believed in this horse from the beginning, but it was a long time in the making. He was not the easiest horse to ride, and he was always really careful. He is still a little hard to maneuver at times, but I always believed that he could be a really good horse.
"He started to show us that by the middle of Spruce Meadows in the summer tour, and then he got hurt, so he missed the rest of the summer. I was not sure what I was going to have at the beginning of this circuit with him, but he came right back where he left off, so I could not be happier," Lamaze said.
Guilherme Jorge set the track for 56 entries in Thursday's Challenge Cup and 14 jumped clear in Round 1, with 12 continuing on to the jump-off, where six double clear rounds were completed.
Kevin Babington of Ireland and Mark Q set the pace in 42.02 seconds, which eventually placed third. Daniel Bluman of Colombia and Conconcreto Believe were next to clear the short course in 42.57 seconds to finish fourth. Lillie Keenan and Chansonette Farm LLC's Super Sox were next to go, clear in 41.86 seconds to take over the lead, but eventually finish second.
Audrey Coulter also cleared the jump-off with Copernicus Stables LLC's Alex, placing sixth overall, with a time of 43.46. Lamaze and Check Picobello Z followed with the winning round in 41.43 seconds, and last to go, Pedro Muylaert of Brazil jumped into fifth with a time of 42.90 seconds riding Rubens Takaneo's Colorado.
Tiffany Foster of Canada and Brighton, and Todd Minikus and Babalou 41 were each faster than Lamaze, but incurred faults.
Check Picobello Z is a 10-year-old Zangersheide gelding (Cardento x Orlando) that Lamaze purchased from Ilan Ferder when the horse was 7 years old. Check Picobello Z is owned by Artisan Farms, LLC and Lamaze's Torrey Pines. The gelding had an injury that kept him from competing at the end of the 2015 season, but he came back to place second in the $35,000 Suncast® 1.50-meter Championship Jumper Classic during Week 2 and now picked up a win.
Lamaze watched some of the early jump-off rounds and made his plan to do nine strides in one line where everyone else paced ten, but once in the ring, he did not need to leave out the stride.
"I did not count between jumps 1, 2, or 3 to be honest," Lamaze detailed. "After Fence 1, we landed a little right, so I just got back on track and then I stayed on 10 strides. I got a good slice at the liverpool and then I knew I could trust him at the double. He has a big stride, so coming home was good. I was not sure if I was on it. It did not feel like the fastest jump-off to me, but today it was good enough."
The rider spoke further about Check Picobello Z and the transformation that the gelding has made in the last couple of years, specifically coming back for jump-off rounds.
"His ride is a bit different," Lamaze said. "He does not really appreciate help. He likes to go his own way, and you have to just leave it up to him and he really does amazing things. At the beginning of last year in Florida, he jumped a lot of clear rounds, but I had trouble coming back in the jump-offs. I always had a rail or two, either from conditioning or from him trying so hard in the first round and being tired for the jump-off, or me trying too hard in the warm-up. It just did not work in the jump-offs. Now a year later, things have changed. This is his first big win.
"As an 8-year-old, I never went fast in any classes because he was not so easy to ride, and I did not believe it was a good thing for him to learn," Lamaze continued. "When he was 9 I tried, and by then I was a little bit confused about how to come back with him in a second round, but by the summer he started getting things."
With another win under his belt, Lamaze plans to bring out his big guns next week with another horse, Fine Lady 5. "Fine Lady" was the rider's mount for three out of his five Challenge Cup wins in the 2015 circuit and will contest the class in next week's CSI 5* competition.
"That is my most ready, competitive horse," Lamaze stated. "She is so dependable, and I know her so well. She is so quick. She will do two 1.40-meter classes this week and come out in the WEF [Challenge Cup] next week, so we will see what comes of it. I am starting every horse very easily. I do some easy classes and then I come into these classes with horses that are fresh and capable, but you need a certain amount of luck as well, which I seem to be having on Thursdays."
Final Results: $35,000 Ruby et Violette WEF Challenge Cup Round IV
1. CHECK PICOBELLO Z, 2006 Zangersheide gelding by Cardento x Orlando, ERIC LAMAZE (CAN), Artisan Farms, LLC & Torrey Pines: 0/0/41.43
2. SUPER SOX, 2006 Hanoverian gelding by Salito x Silvio I, LILLIE KEENAN (USA), Chansonette Farm LLC: 0/0/41.86
3. MARK Q, 2002 Irish Sport Horse gelding by Obos Quality 004 x Positively, KEVIN BABINGTON (IRL), Kevin Babington: 0/0/42.02
4. CONCONCRETO BELIEVE, 2006 KWPN mare by Ukato x Burggraaf, DANIEL BLUMAN (COL), Blue Star Investments, Alberto Simhon & Abraham Chehebar: 0/0/42.57
5. COLORADO, 2003 Belgian Warmblood gelding by Darco x Voltaire, PEDRO MUYLAERT (BRA), Rubens Takaneo: 0/0/42.90
6. ALEX, 2004 Westphalian gelding by Arpeggio x Mon Cheri, AUDREY COULTER (USA), Copernicus Stables LLC: 0/0/43.46
7. YPAJA YANDO, 2007 Finnish Warmblood stallion by Quinar x Lasino, RICHIE MOLONEY (IRL), Equinimity LLC: 0/1/53.43
8. BRIGHTON, 2006 KWPN gelding by Contender II x Quick Star, TIFFANY FOSTER (CAN), Artisan Farms LLC: 0/4/41.02
9. BABALOU 41, 2005 Oldenburg mare by Balou du Rouet x Silvio I, TODD MINIKUS (USA), Two Swans Farm: 0/4/41.19
10. HEROS, 2007 Belgian Warmblood gelding by Canadian River x Clinton, AMY MILLAR (CAN), AMMO Investments: 0/4/43.13
11. EMILIE DE DIAMANT AS, 2004 Belgian Warmblood mare by Diamant de Semilly x Flipper D Elle, HARDIN TOWELL (USA), Jennifer Gates LLC: 0/8/41.92
12. CHIVAS Z, 1999 Zangersheide gelding by Cumano x Lord Gotthard, RICHARD SPOONER (USA), Little Valley Farms: 0/50/94.02