Aachen, Germany—July 19  
When Canada's Eric Lamaze and his equally small and nimble Hanoverian mare, Fine Lady, are in the jump-off, his fellow competitors have to keep on their toes.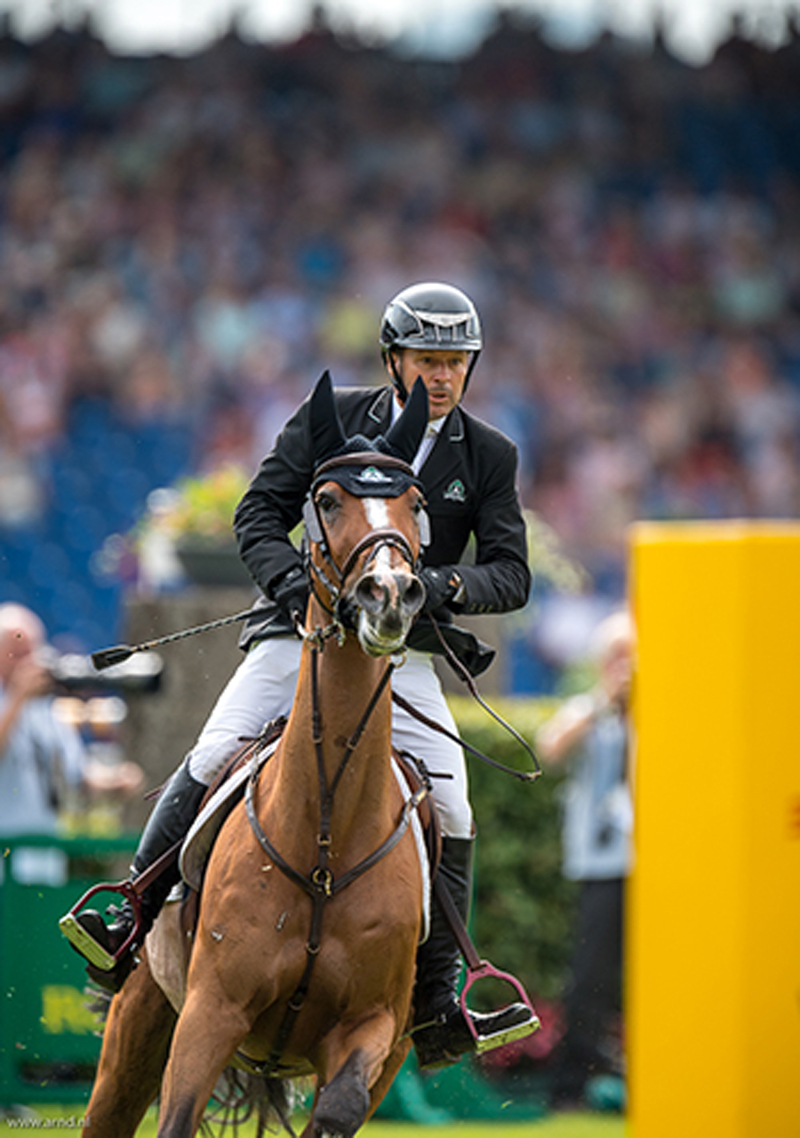 This was the case again when the pair repeated last year's victory in the €100,000 Turkish Airlines-Prize of Europe.
"She jumped amazing!" said Lamaze of the 14-year-old bay (Forsyth x Drosselklang II) owned by Andy and Carlene Ziegler of Artisan Farms in partnership with Lamaze's Torrey Pines Stable.
"To win here in Aachen is very prestigious, especially for a Canadian, and it's very special to win two years in a row.  You don't ever forget competing at Aachen with all of its history, and you certainly don't ever forget winning."
Of the track set by course designer Frank Rothenberger of Germany, Lamaze commented, "The course was big, and included a pair of double liverpools that caused a lot of problems.  When we first walked it, a lot of riders thought it was too big for the first day, but you have the best in the world competing here and ended up with 20 in the jump-off."
There were also three U.S. riders in the jump-off, and Beezie Madden placed 21st with just 1 time fault in the first round with Breitling LS. Of the riders who jumped off, Lauren Hough was the highest placed with Ohlala—she was fifth and just fractions of a second off Lamaze's time. McLain Ward had a rail in the jump-off with Rothchild, placing 12th, and Voyeur stopped at a combination off a tight turn in the jump-off, putting him and Kent Farrington into 20th. Laura Kraut was 29th on Confu with 4 faults in Round 1.
The weather showed the CHIO Aachen no mercy. Gale warnings and a storm that quite literally hit the Soers in a flash, led to all competitions having to be interrupted, including the Turkish Airlines-Prize of Europe.
Lamaze and Fine Lady crossed the jump-off finish line clear in a time of 42.97 seconds—a performance that proved possible to beat. The Spanish rider Sergio Alvarez Moya and his horse Arrayan were the only ones faster, galloping over the finish line in 42.27 seconds, unfortunately they had knocked down a pole for 11th. That didn't happen to Fine Lady.
The small mare seems to double in size when she enters the ring. Where other horses make up time with their huge canter strides or lose time because they haven't got a big stride, she beats the clock with her agility. Last year, Eric Lamaze opted not to competing with the mare in the grand prix because the Rio Olympic Games were imminent. However, this year he has set his course for Sunday's highlight: "I already said to myself before the competition: If Fine Lady jumps well today, I will ride her on Sunday in the Rolex Grand Prix."
That definitely wasn't easy today, as Ludger Beerbaum, who ranked second in the class, emphasized. The weather remained calm during his rounds with the Holsteiner mare, Chiara. Other fellow colleagues weren't as fortunate: "The sky had gone very dark quite a while before. That scares the horses! And then the noise the hooves made in the wet grass after the rain. That is particularly difficult for younger horses. If it hadn't been for the weather, I am sure we may have had 23 or 24 clears," Beerbaum said.
Eric Lamaze reached the finish line a whole second faster than Ludger Beerbaum, whereas only 1/100 of second separated him and the Irish rider, Bertram Allen, who came third with Molly Malone.
See full results of the Turkish Airlines-Prize of Europe.
IMPORTANT LINKS:  What You Need To Know  |  Schedule  |  Live Results  |  Direct link to Aachen stream on ClipMyHorse.tv  |  Aachen's main site