Wellington, Fla.—Jan. 25   
Now it's almost news if Eric Lamaze doesn't win a WEF Challenge Cup. On Week 3 of the Winter Equestrian Festival, Lamaze notched his 25th victory in the Thursday grand prix series of WEF, this time in the $35,000 Equinimity WEF Challenge Cup Round 3 with Chacco Kid.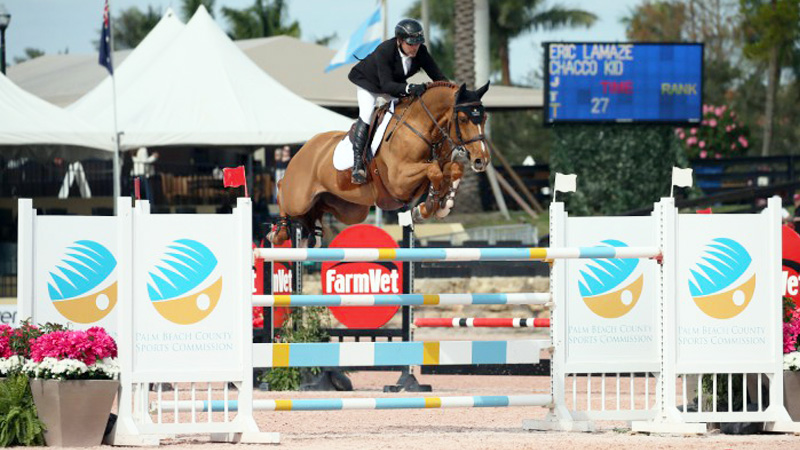 "Chacco Kid is learning to go fast," said Lamaze. "Last year I didn't really take any chances with him in the jump-off. This is a lesson to get to know your horse and to take some chances. This was a good 1.50-meter, so the jumps were up there, but still, you have to get to know your horse. If you're ever in a situation that it's the largest prize money or the biggest competition in the world, you're going to feel better taking some risks, knowing that you've done it before."
The $35,000 Equinimity WEF Challenge Cup Round 3 had 85 entries, and there were 27 clears over the course designed by Peter Grant of Canada. Seventeen of those returned for the jump-off, and it was once again Lamaze and Chacco Kid who were fastest to lead the victory gallop. They crossed the timers in a speedy 40.02 seconds, the fastest time of the day and also a clear round. Lamaze now ties Olympic gold medalist McLain Ward for 25 WEF Challenge Cup victories, the most in the history of the class. Lamaze and Chacco Kid won this class just last week as well.
Watch his jump-off round:
Second place went to Sunday's 1.45-meter classic winners, Marilyn Little and Clearwater, owned by Karen O'Connor. They finished clear in 41.37 seconds. Olympic gold medalist Beezie Madden and Abigail Wexner's HHS Hercules were third in 42.28 seconds.
While the class was stacked full of tough competition, Lamaze felt it was a good learning experience to go for speed with Chacco Kid, a 12-year-old Oldenburg gelding by Chacco-Blue owned by the Chacco Kid Group.
Lamaze knew going into the class that he would compete in the jump-off, even though Thursday's class is the qualifier for the Saturday night grand prix.
"It's the beginning of the season," he explained. "The horses are fresh. He feels really good. He's jumping well. Nothing is telling me that I should have saved him for Saturday. I have a superstition about that. I feel it's bad luck.
"The Chacco Kid Group is formed out of wonderful owners that are supporting me with this horse," said the rider, who boasts Olympic individual gold, team silver, and individual bronze medals. "I couldn't be happier for them. This is a horse I believed in from the beginning, so I'm really happy for him."
See full results of the $35,000 Equinimity WEF Challenge Cup Round 3.