Deciding to pack up and cart my green off-the-track Thoroughbred three hours away to ride in a clinic with the one and only Lainey Ashker was probably one of the best decisions I have made all year.
While my riding past includes jumpers, foxhunting, and eventing, I've been toodling around the hunter side of the hunter/jumper discipline for the better part of the past decade. My horse, Joker, is a Texas-bred Thoroughbred (Jockey Club name: Funtagious) that was given to me by Dr. Gerald Farris of Farris Farm last year. My focus with Joker this far has been helping him be light to my leg and hand regardless of if we are looking for extension, collection, or lateral movement.
I tend to bring my horses along too slowly, so a clinic should be the perfect thing to give me the kick in the pants I've been needing!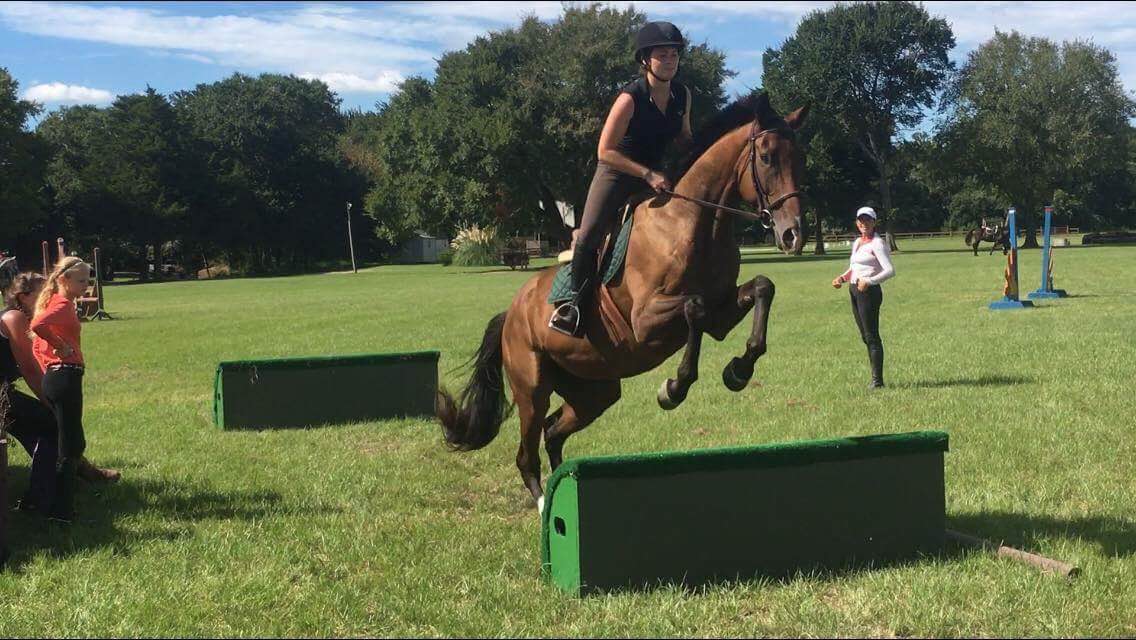 Joker and I jumping the skinny roll top two stride excercise—a great test of straightness!
I decided to ride with a large group of friends, all eventers by nature, and entered my horse in the beginner novice/starter group with the vague idea that I've evented before (eight or so years ago, on a much more educated horse) and if worst comes to worst, jumps can easily become ground poles.
While I knew from browsing her many Instagram posts that Lainey is a huge fan of gridwork (something my horse Joker has done maybe once before), she's also a very outspoken advocate for the off-the-track Thoroughbreds, and Joker is probably the cutest OTTB you could ever hope to meet, so I figured that would endear me to her if we totally flubbed the exercises she planned.
My division began with introductions of all the riders, and the general theme seemed to be along the lines of, "My horse is green(ish) and I'd like to build confidence." To that end, Lainey devised a seemingly simple course for us to work through, the highlights of which include a small grid of alternating ground poles and verticals all set up as bounces, a two-stride line of a triple bar oxer to a solid-looking set of wooden planks, with a five-stride bending option to an oxer, and a two-stride line of skinny roll-tops sans standards.
Everything about this course was designed to challenge a horse and rider's ability to ride accurately to each obstacle in a balanced gait, which meant that rider position was paramount.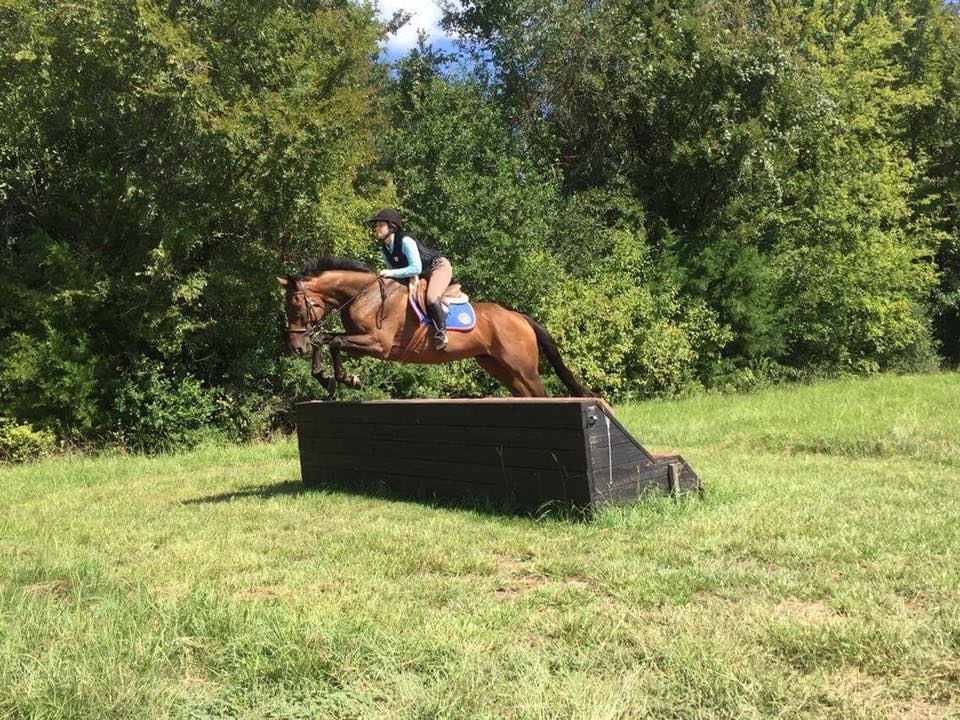 Joker and I tackling one of our biggest fences to date!
I came into this clinic with the absolute wrong kind of preparation. I had been stuck in a rut of pretty but ineffective riding, convinced that Joker was fine running around with his nose to the ground and that maybe someday he'll magically mature and be capable of jumping more than 2' verticals.
After my first fairly disastrous go at the small grid, I learned Lainey had other plans for me. She coached me through finding my seat by bringing my upper body back and opening my hip angle, which helped balance Joker back onto his haunches instead of on his face. I had to ride with a connection to each fence, meaning I couldn't get away with just flinging my hands up his neck at the base of every fence. I had to ride him above the bit and into my hand every stride of the way. This was a challenge for almost every rider I watched—I'm sure Lainey got tired of saying "don't let their ears drop!"
The best part of Day 1 of this clinic was seeing the results that this change in posture created. I watched rider after rider transform their rounds from mediocre to magnificent, and I felt that change happen in my own horse. Before riding in the clinic, I would have sworn up and down that Joker's maximum height would be somewhere in the range of 2'3″, maybe 2'6″. Turns out that when you stop riding your horse on his face he starts jumping better, and we sailed over our first triple-bar oxer with ease.
I loved the versatility of the course that Lainey created for the stadium portion of the clinic because it was the perfect challenge for every group—starters rode the same course that the preliminary-level riders did, and everybody discovered and overcame at least one challenge within the exercises.
One clinic participant remarked to me that this was the first clinician she had ridden with who set up truly challenging obstacles and then worked each individual rider through their difficulties, and I would have to agree. Lainey never settled for "good enough" with any horse and rider pair. She created situations that would deliberately challenge the integrity of every rider's position, and I don't think a single rider left the field feeling like they hadn't learned something.
Going into the cross-country course on Day 2, I think we will all be grateful for the hard work we put into creating a solid position and a balanced position.
Day 2: Good Position Makes Cross-Country Easy
Day 2 of the Lainey Ashker clinic was probably one of the best rides of my life, and I know a lot of other participants feel the same.
The position corrections that seemed so difficult yesterday made a world of difference today, and laid a foundation for successful rides for everyone. My biggest issue yesterday was putting my horse in an uphill balance by sitting up and back with a steady contact on the reins, but today Joker and I both came out with our game faces on. I was able to ride much more effectively, and he breezed through the cross-country course as if he'd been doing it his entire life.
My group spent most of our time popping over beginner novice fences, but early in our ride Lainey created a course that included a novice-level jump. Most of us looked at it with trepidation. However, the fence rode in a very inviting way, and while a couple of us had to ride it more than once to be successful, we found that with our leg on, upper body tall, and a solid connection through the rein our horses practically grew wings.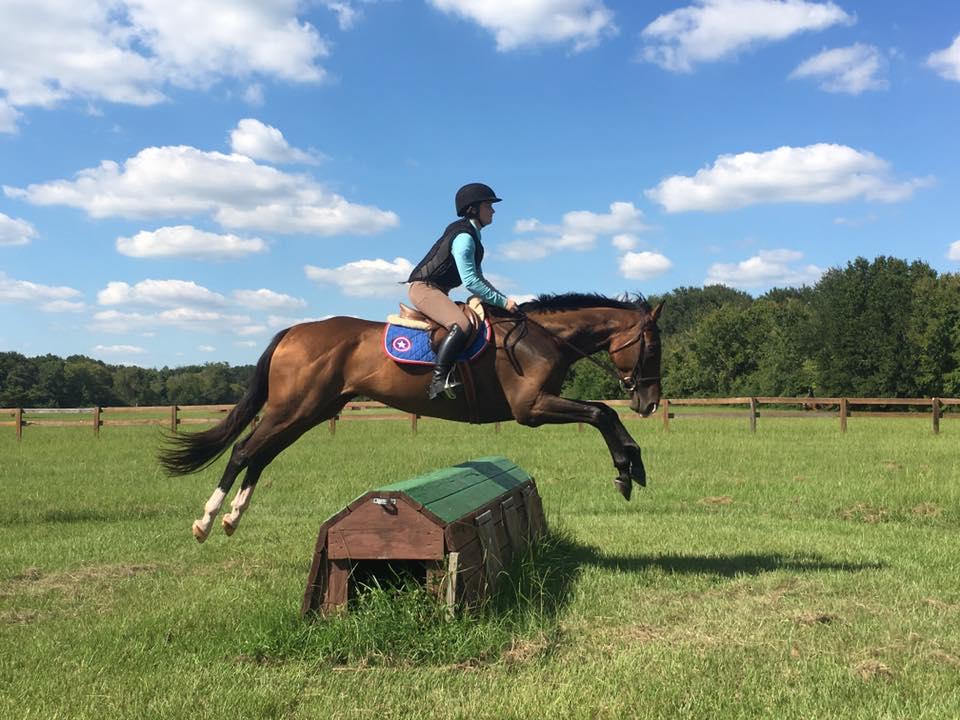 Lainey's awesome instuction (combined with my superhero saddle pad) helped Joker and I fly over the cross-country obstacles.
One of the things I loved most about this clinic is that Lainey doesn't accept anything halfway. She demanded and inspired our absolute best at every fence, in every group, but the best example of this was in the starter group.
The starter group consisted of some fairly green horse and rider combinations, including my friend Taylor and her horse Gandalf. Taylor and Gandalf started cantering under saddle just three days before the clinic. Their biggest struggle in Day 1 was figuring out how to use her position to give Gandalf the confidence to tackle any fence, and the skinny roll-tops were a huge challenge. Not only were they skinny and solid but they were definitely way bigger than anything Taylor had jumped in a while.
It took several tries to get over them, and then several more instances of Lainey saying, "that's not good enough. I want it straighter. I want it better," before they made it over well. The experience of struggling with that issue yesterday created so much confidence for Taylor and Gandalf that today they cantered happily around a cross-country course that included more than one beginner novice fence and left hungry for more.
That unwillingness to accept less than the best definitely made Lainey Ashker the most challenging and rewarding clinician I have ever audited or ridden with. A lot of instructors and clinicians would have accepted just making it to the other side of the fence when they have a horse and rider that have tried and failed the same fence a dozen times. Not Lainey. She struck a great balance of pushing us to be our best without pushing for more than we were capable of giving, and she set up courses that challenged everybody without overfacing anybody.
While most of my group went pale at the thought of jumping a huge novice jump, Lainey had succeeded in setting us up for success and inspiring us to demand a little more, a little better from ourselves and our horses. In some cases, she completely revolutionized what we thought we were capable of. In short, she gave everyone a clinic experience where we dismounted and immediately asked when she would be back again.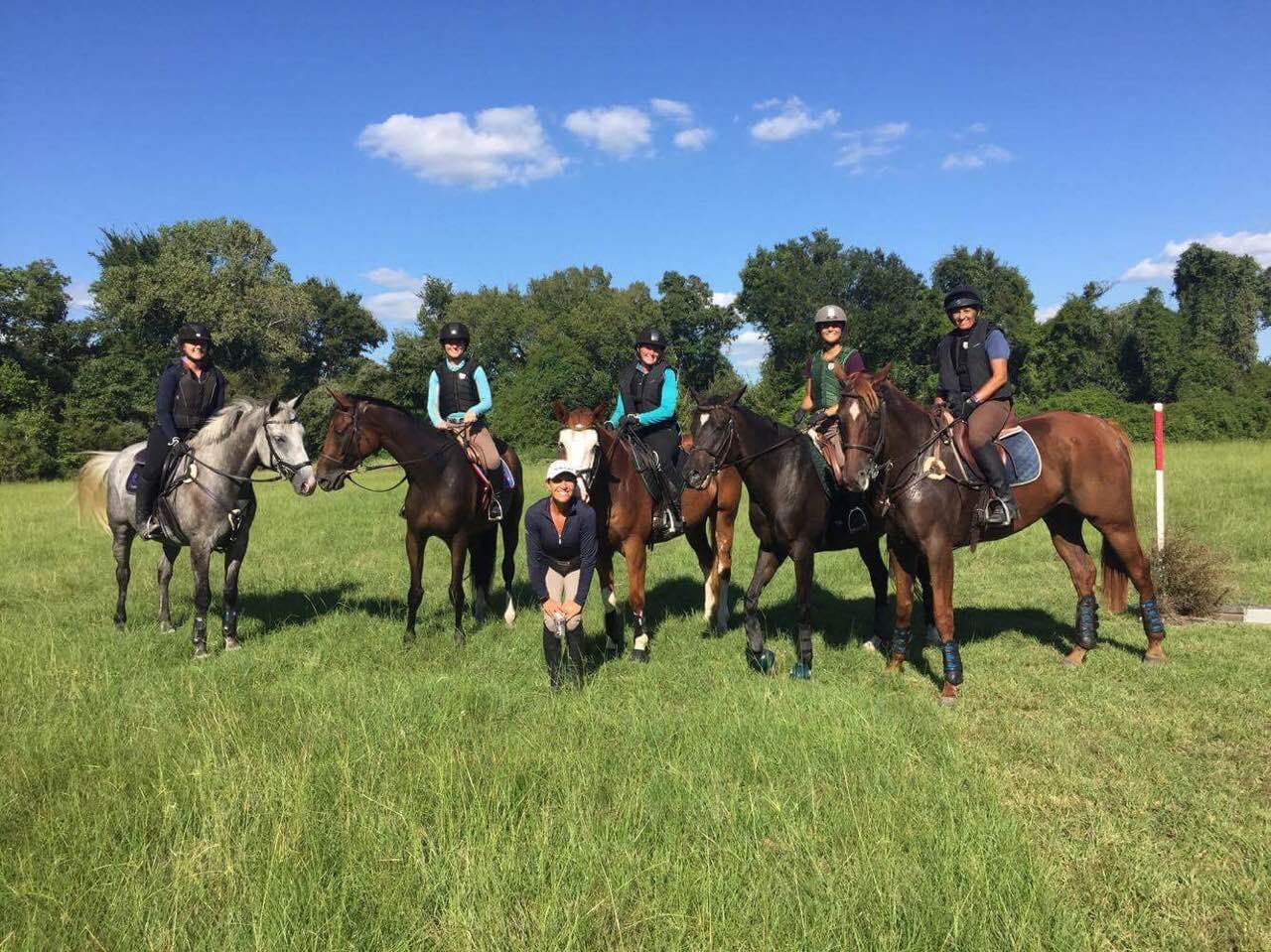 Lainey posing for a picture with our beginner novice group!
Megan Hasemann is an Illinois native who showed extensively on her local H/J circuits and dipped her toes into dressage, eventing, foxhunting, and even vaulting. She graduated in December of 2014 with a degree in Equestrian Studies from Stephens College in Columbia, Mo., and moved to Texas to work at an A show hunter barn before opening her own business. She now trains and teaches lessons for Integrity Equestrian in Longview, Texas, and enjoys her three horses, Joker, Brooks, and Nola.