Upper Marlboro, Md.—Oct. 3
There's an awful lot of pomp and circumstance around the presentations at the Capital Challenge Horse Show. For the big classes the top 12 horses all ride for ribbons, with the top pair riding in last.
As Amanda Steege and Lafitte De Muze stood alone centered in the in-gate after the $50,000 WCHR Professional Challenge, Steege looked as if she were preparing for another round, her hand moving in circular motions as she asked for advice on what to do as the crowd of fans grew around her.
"I think I've gotten a ribbon once or twice in this class; I don't think I very often made it to the second round," said Steege. "I've been coming to Capital Challenge since 1998. I know Capital Challenge-style and the whole awards thing, but when it was actually time for me to be the last one in I said, 'Oh my God, I don't know how to do it when you're the winner!' "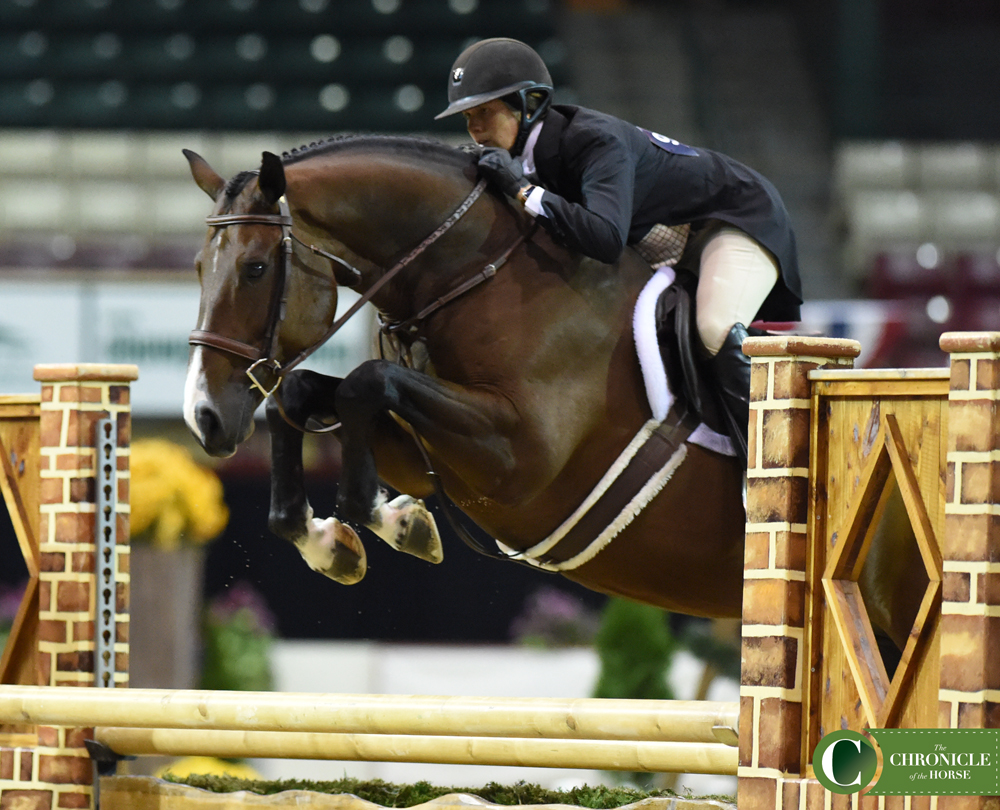 Steege was fourth going into the final round, and she wasn't too stressed about it. This round was for "Lafitte" (Darco—Everylychin De La Pomme, Malito De Reve), as was every competition they did this year; her focus has been on giving the 7-year-old Belgian Warmblood solid experience as build up to an even bigger undertaking.
"His goal is to be a derby horse and do [USHJA International Derby Championships (Kentucky)], so I think it's very important that he spend some time doing these classes with more atmosphere," said Steege. "I was really excited for him to do this class and especially to get to do the second round because it's dark outside; you have to school under the lights — it's a little reminiscent of the feeling of derby finals which is my ultimate goal with him."
Watch Steege's winning round, courtesy of USEF Network:
With this being Lafitte's first time showing indoors, and his first year showing as a hunter, Steege wanted to give him a ride that would complement his inner pro. In Round 2, the pair were the sole combination to earn scores in the 90 point range from all three judges, and they finished with a cumulative score of 178.66 to win.
The victory qualifies them for the WCHR Pro Finals class on Friday. Hannah Isop and Red Ryder finished just behind Lafitte in second, and Liza Boyd and Tradition rounded out the top three.
Banksy Banks A Developing Pro Win
Karli Postel came to Capital Challenge looking for redemption. Her trip last year ended prematurely with a stop, but this year she couldn't have felt more confident as she trotted into the arena on Grace Russo's 8-year-old German Sport Horse gelding Banksy for the second round of the WCHR Developing Pro Challenge.
"It's really exciting for me," Postel said. "I feel like I've worked really hard for the last two years for this goal. I had a really good first round; and it made me really confident going into the second round. Banksy is so rhythmical; he just kind of shows you right where you need to be. I just had to look for the jump,s and he did the work. It was really easy."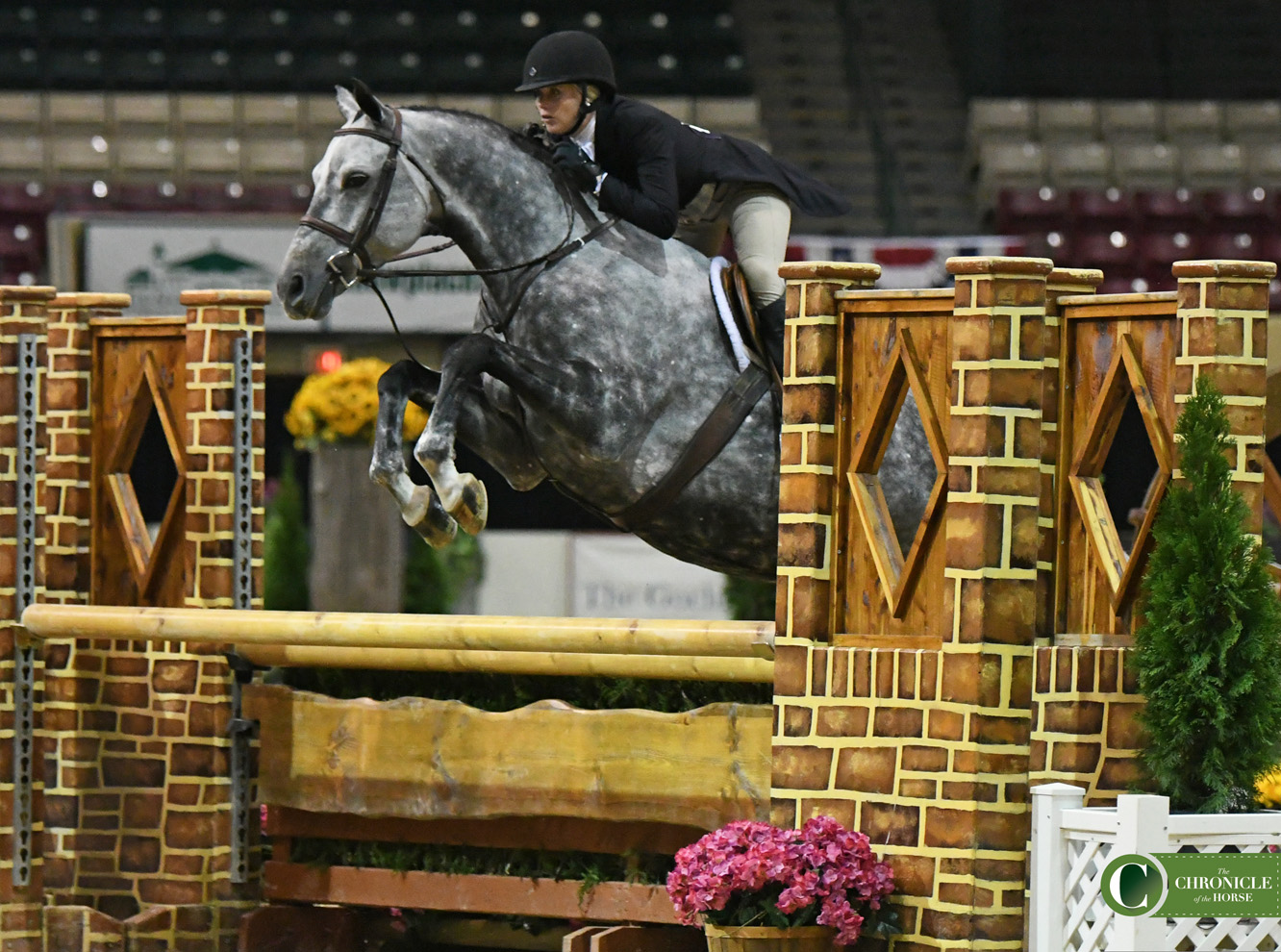 Postel, 27, Westlake Village, California, first got the ride on Banksy earlier this year after his usual pilot, John French, was injured in a fall. Postel rode Banksy to a combined two-round score of 179.32—a comfortable lead over second-place finisher Taylor Willever and Cornetto on 175.82.
Banksy is based out of Archie Cox's barn in Lake View Terrace, California. Postel has been working for Cox for two years and credited the fact that Banksy was in easy reach with allowing her to develop a relationship with him despite the short time they had to train together.
"I've gotten to hack around on him and flat around on him a decent amount," Postel said. "Of course it's different at the show with nerves, but I've watched John show him enough that I knew what it's supposed to look like. I've been very fortunate that John's also stepped in to help me with tips and insights into how to ride him better."
Postel also felt that her shortcomings at Capital Challenge last year may actually have been a blessing in disguise.
"It gave me another year to go and get experience," she said. "I was really fortunate; I got to show at Devon [Pennsylvania] for the first time ever this year. I did a couple of derbies and the $25,000 WCHR West Coast Hunter Spectacular [California]. I've gotten more experience, and it's made me walk into the ring today a lot more confident and more comfortable. Last year I was so, so nervous. That definitely showed in the arena."
Check back at coth.com for more from Capital Challenge, and make sure you're following us on Facebook, Instagram and Twitter @chronofhorse.
Check out the Oct. 22 issue of the magazine for much more from the competition.