Lexington, Ky.—Sept. 1
While Leslie Law and his wife Lesley Grant-Law have had Lady Chatterley since she was 5, it's taken them both some time to figure her out.
Grant–Law competed her first but passed the reins over to Law two years ago.
"I started riding her because she does have a little bit of a mind of her own," Law said of the mare, owned by Jackie Brown. "We had a few mixed results in the beginning, then she got pretty consistent toward the end of last year, and this year she's been extremely consistent."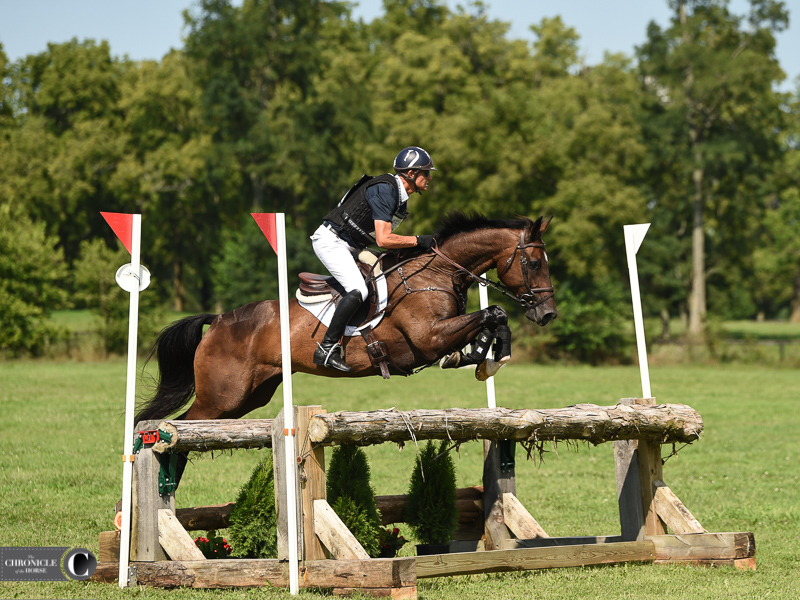 That consistency showed today on the cross-country at the U.S. Eventing Association American Eventing Championships and they maintained their lead on their dressage score of 25.5 in the open intermediate division heading into show jumping tomorrow.
"She went great today," said Law. "She's took it all in her stride, so that was really rewarding. She felt very honest and really on. She gave me a great ride."
Law said that last year they found out the 10-year-old Holsteiner mare (Connor—Jucy) had some issues with her ovaries when she was in season, so a change in management led to a chance in attitude.
In the same division, Law moved from fifth to second with Craig McCallum's Typically Fernhill. He's had the gelding for two years.
In the $60,000 Adequan USEA Advanced Final, defending champions Boyd Martin and Long Island T, owned by the Long Island T Syndicate, took the lead in dressage with a 24.1.
"He's such a seasoned, experienced campaigner now; he gets through the tough and tricky, technical tests at the advanced level without a mistake," Martin said. "He was really good, and I was thrilled with him. He basically went through the test faultless and came out with a good score."
The 15-year-old Oldenburg gelding (Ludwig von Bayern—Highlight) didn't have the best go around the Kentucky Horse Park last time he was here in April, depositing Martin on the ground after an awkward jump at the Head Of The Lake in his five-star debut.
Since then, Martin dropped him back down to gain his confidence and take the pressure off.
"The cross-country course looks brilliant," he said. "With all the rain, the horse park has this unbelievable ability to drain copious amounts of water. I walked the course tonight, and the footing's spectacular. I feel that Derek di Grazia's built us a solid track. He's used a number of the iconic Kentucky five-star fences like the coffin and the mounds. To me, it's a good, forward-riding looking course."
As defending champion, Martin admitted he's got a lot of pressure on himself.
"I've got a few loan sharks chasing me at the moment!" he said with a laugh. "Ludwig's a little bit of a hard horse to go fast on just because he's a feisty customer, but he ran really well here two years ago, so I'm hoping he remembers it."
Martin had the gelding entered at the Luhmühlen CCI5*-L (Germany) in June, but decided against it.  "He ran pretty well at Jersey [CCI4*-S (New Jersey)] but was still a little bit rattled, so I made it quite easy for him for six weeks in his preparation [for the AEC.] I did a prelim horse trial a couple of days after I got back from Tokyo. He's a horse that thrives on confidence. I'll have to do a masterful job tomorrow of trying to be competitive and give him a real sweet ride."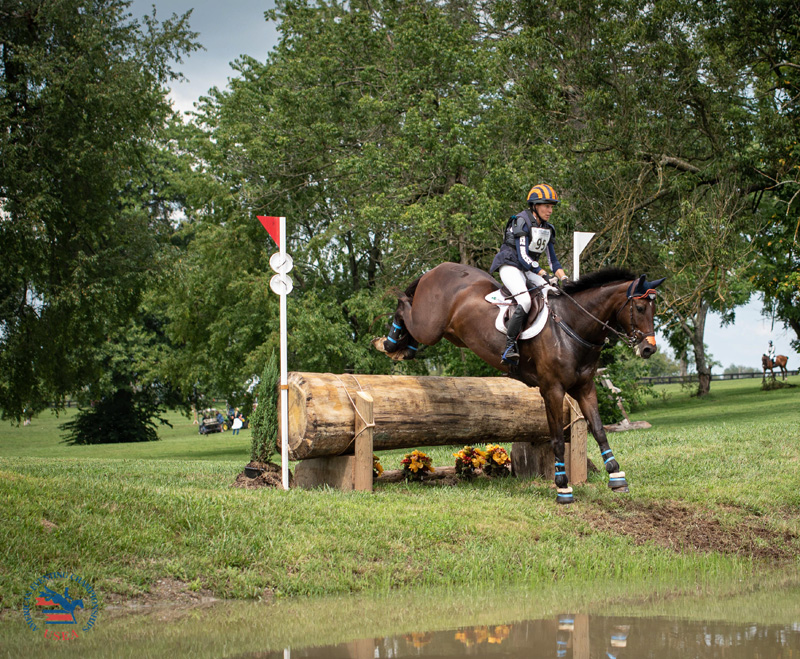 Liz Halliday-Sharp leads the Bates USEA Preliminary Horse division on Shanroe Cooley, a 6-year-old Irish Sport Horse gelding (Dallas VDL—Shanroe Sapphire) owned by Ocala Horse Properties, LLC.
"I set out and I was a little bit slower early on, then decided today is not the day to have time faults," she said. "He's a brilliant horse. He's very brave and probably the only areas that sometimes aren't quite perfect is because he's just a big horse, and the adjustability sometimes isn't where I need it to be. That's to be expected. He's 6. He always wants to do the job and always tries really hard."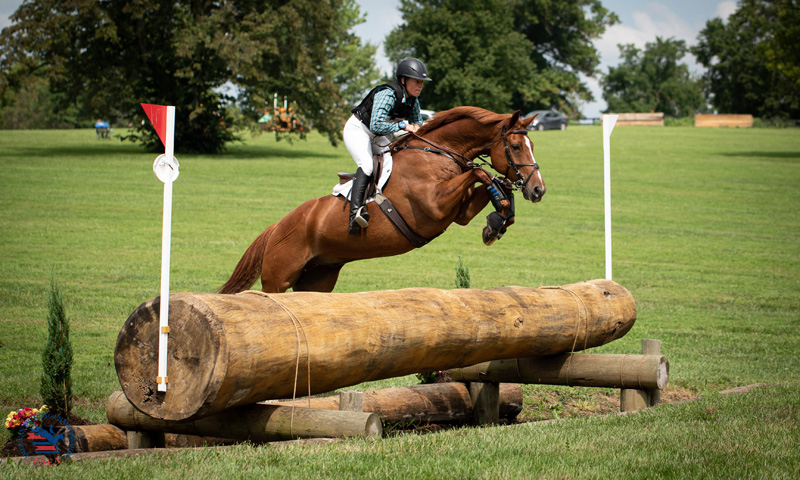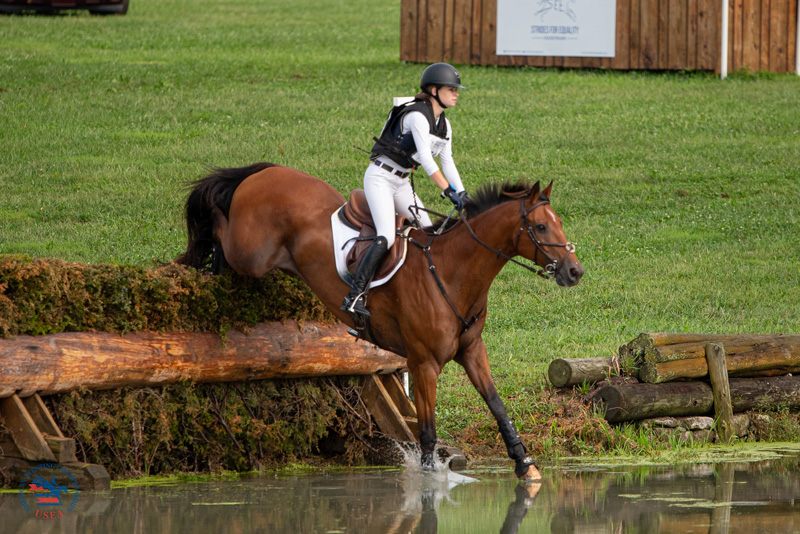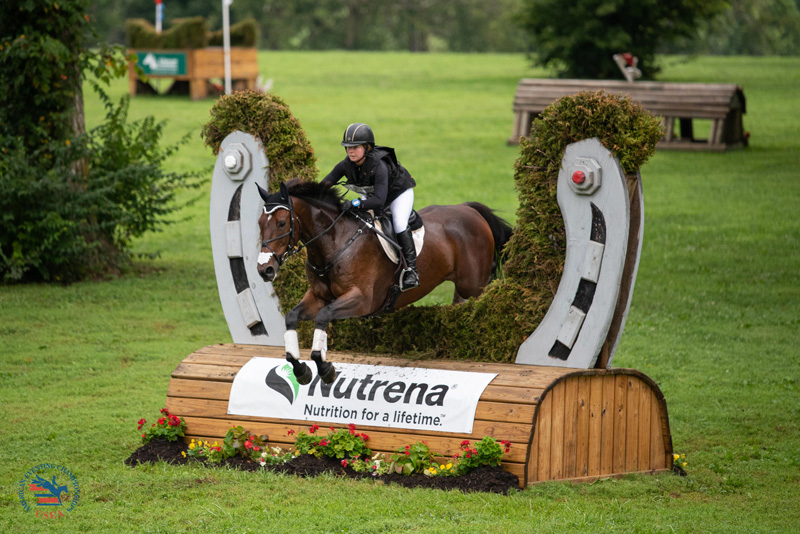 The preliminary and intermediate divisions will crown their champions tomorrow after show jumping, while cross-country will be busy with the open modified division kicking off at 7:42 a.m., followed by the advanced division at 9:36 a.m. and then training level at 12:32 p.m. Novice riders will complete their dressage tomorrow.
Full results I Live Stream I COTH's Coverage I Schedule I Course Maps
2021 AEC - Wednesday
Lindsay Berreth / Sep 1, 2021 8:51 pm