Lexington, Ky.—Nov. 5
As Ladriano Z rocketed down to the final oxer of the $215,900 Longines FEI World Cup Lexington at the National Horse Show, he looked every bit the top athlete he is—but it wasn't that long ago that rider Daniel Bluman wondered whether the gelding's international jumping career would continue. In 2020, Ladriano Z developed a confounding bone bruise kept him out of the ring for 14 months.
Last year, the National Horse Show marked the 14-year-old Zangersheide (Lawito—Gambelle, Baloubet Du Rouet)  gelding's second show since the injury and his first grand prix. That year they finished third. But the gelding couldn't be bested tonight over Guilherme Jorge's short course, stopping the timers in 35.13 seconds.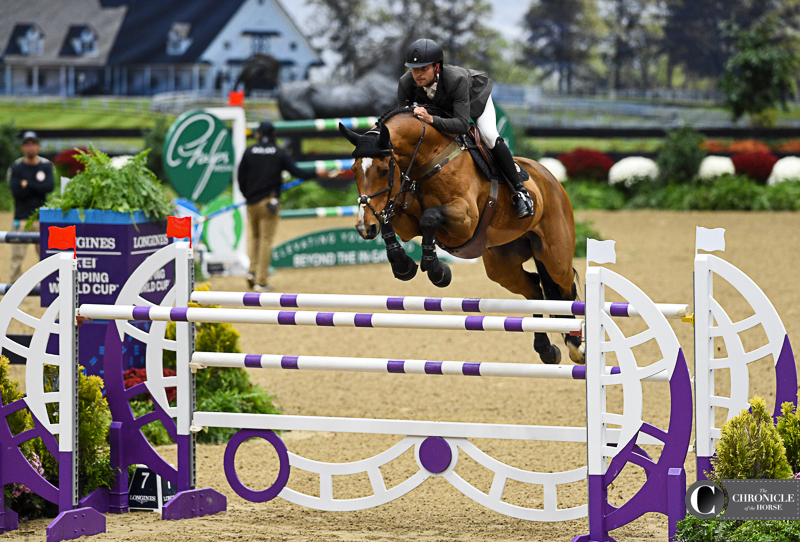 "This is the 10th horse show that he's jumped this year," said Bluman. "And it's good to have a win. He's been second multiple times and third and stuff like that, but tonight he won. It's great for the horse. I'm really happy that he gets to put his name on a prestigious horse show like this."
Seven of the 36 combinations to start the class progressed to the jump-off. Devin Ryan, who won Thursday night's $73,800 International Welcome Stake with Eddie Blue, was the first to find a clear path around the course. They set the pace to beat at 37.84 seconds and became the marker Bluman used to solidify his jump-off plan.
"I had the chance to watch Devin go, and I thought he was very fast from what I was able to watch," he said. "So my plan was to do a little bit sort of what he did and to edge him in the turns pretty much. Then when I was about to go in my cousin Mark [Bluman] told me to do nine from the wall to the liverpool and pretty much things worked out. For me jump No. 3 was very, very difficult in the jump-off because my horse spooks at the wall. My plan was not to take a big risk, but then I just did. I just couldn't help myself."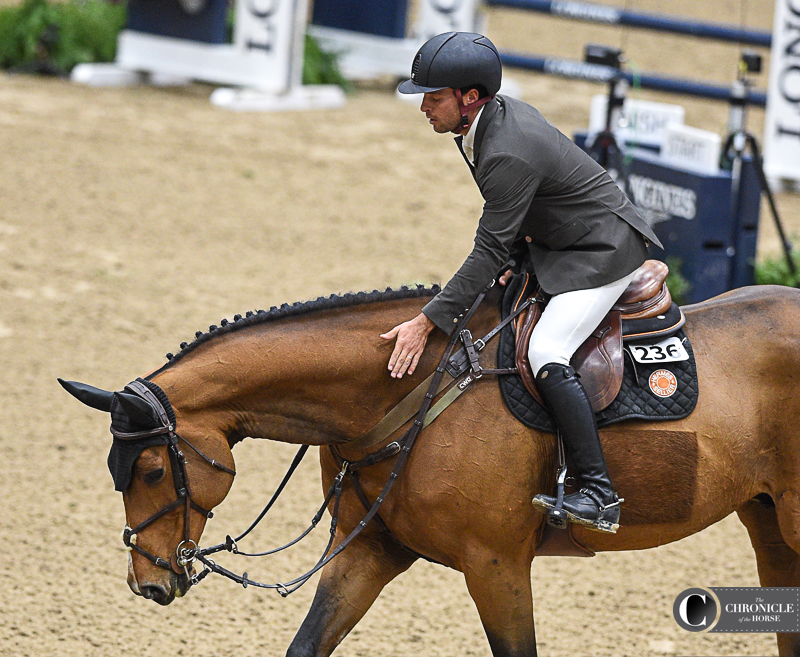 Nick Dello Joio slotted into second on Cornet's Cambridge, owned by The Berry Group LLC, with a time of 35.47 seconds. It was first time the 10-year-old Oldenburg (Balou Du Reventon—Chantal, Cambridge 8) had competed in a World Cup qualifier, so Dello Joio was thrilled with the gelding's performance.
"He has a big stride when I open him up," he said. "But then the consequence is in the turns. He got down the five really easy. I thought I made a tighter turn, but I had to really slow him down, but I lost a bit of time there. He did the nine easily, and he actually slipped, but that might have helped me a little bit for the next oxer, and then he made a big effort coming out. I landed a little bit heavy and dead, and I had to get him back up. I just couldn't be happier with this horse."
Young professional Hunter Holloway, who competed in her first FEI World Cup Final last year, rode Pepita Con Spita, an 11-year-old Westphalian (DSP Con Spirit—Pamina, Come On)  to third with a time of 35.99.
"My plan might have been a little bit different just because she's a medium-strided horse," she said. "I was planning six strides down the first line, but decided to bow it off the left lead, that way I could be kind of be tighter that turn back to the wall, and it worked out really well for me, but maybe I was a little slower after the liverpool in that turn. I did lose a little traction there, and then I tried to be as fast as I could, but these boys really laid it down today, and they did a great job."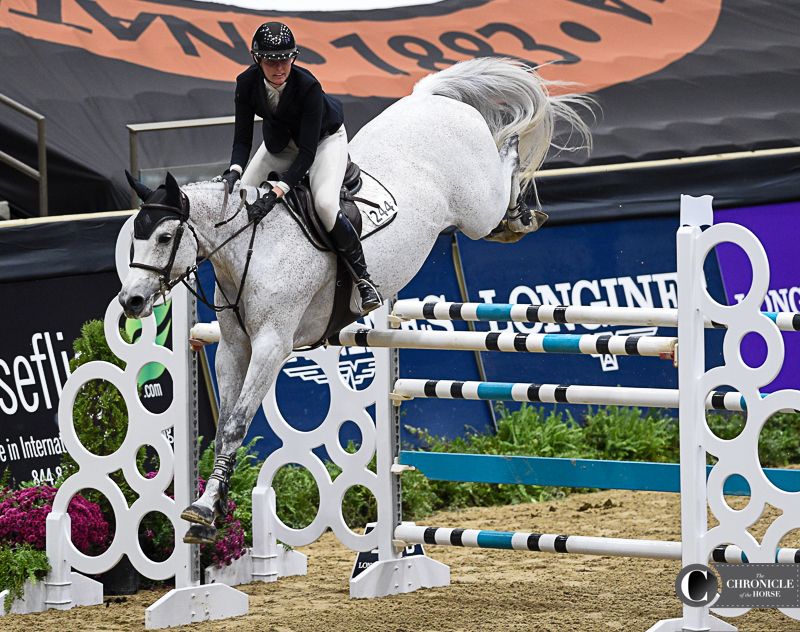 With the show hosting its annual barn night Saturday, the crowd was large and enthusiastic, something all three riders appreciated.
"It's always nice to see people in the crowd and the kids having fun and cheering," Daniel said. "Not many years ago we were those kids watching the National Horse Show and cheering for the riders that we liked, so it's always cool when people show up and the class turns out to be an exciting one like it was tonight."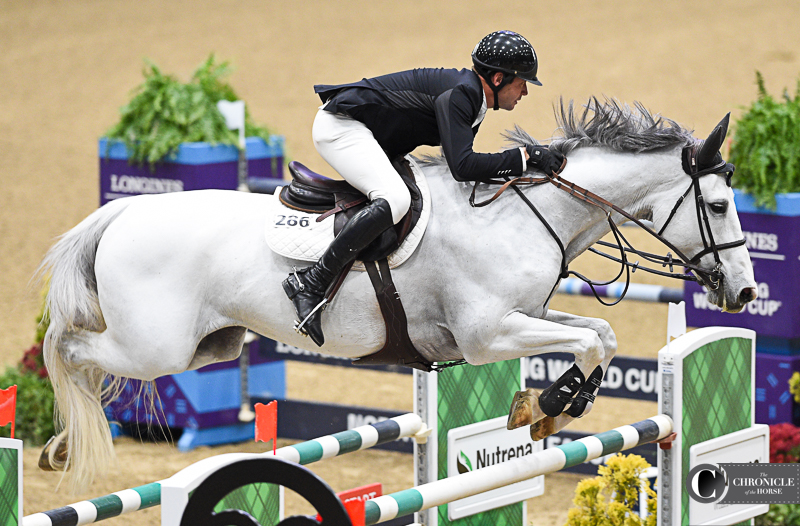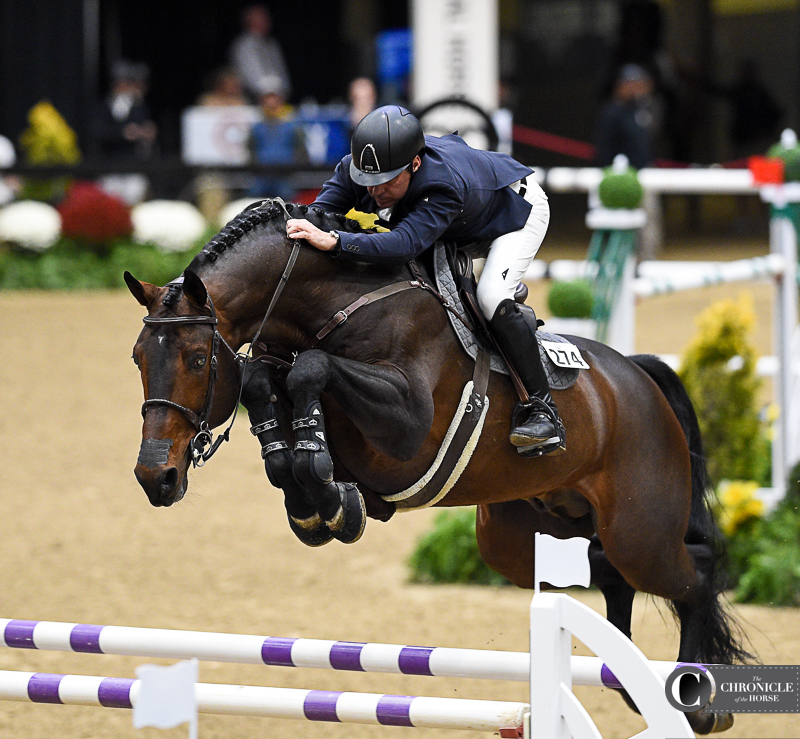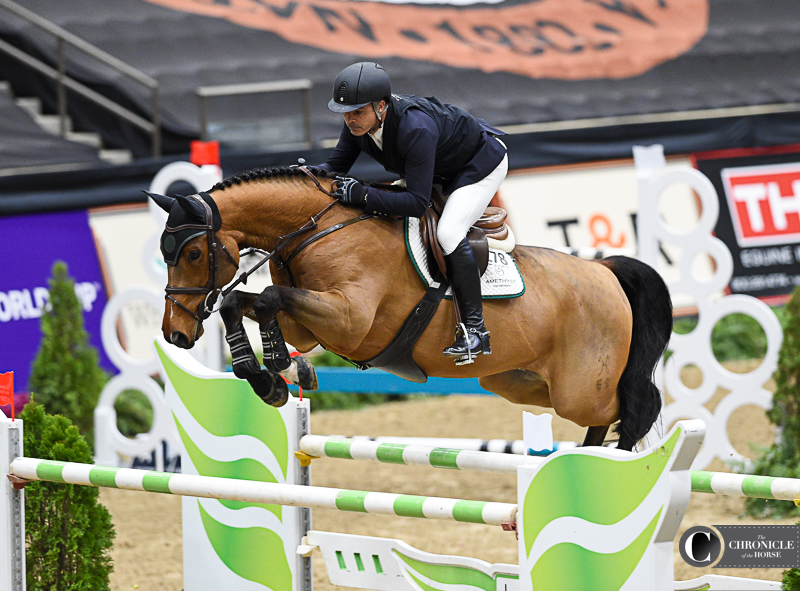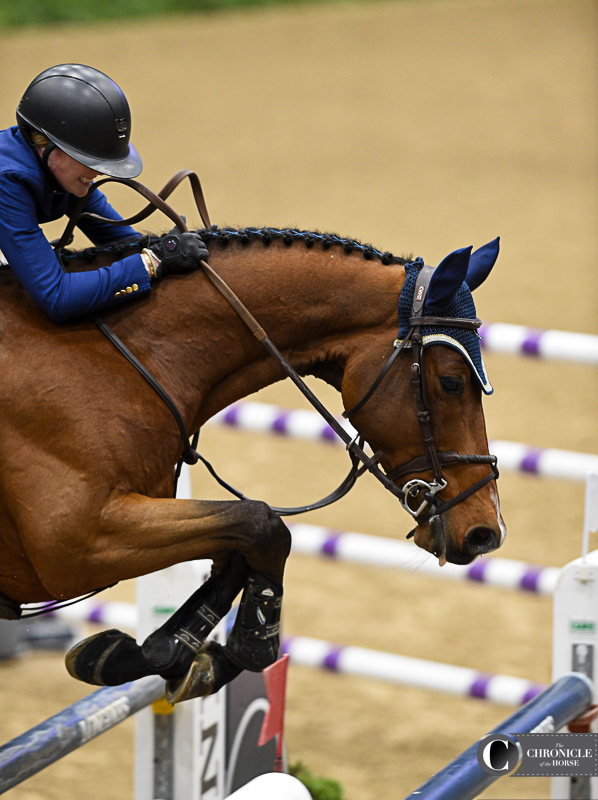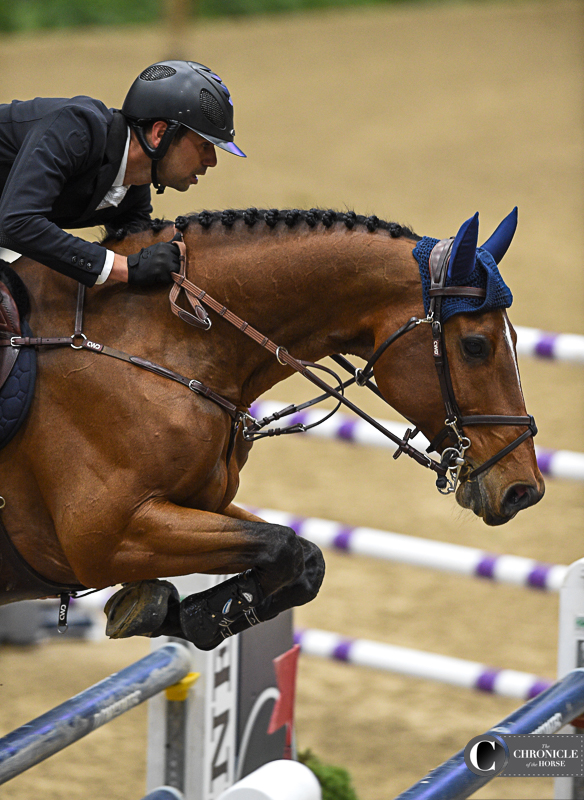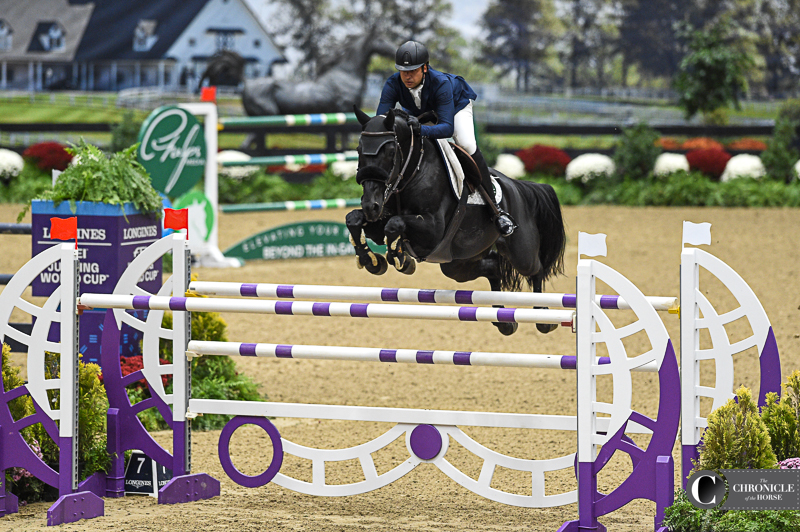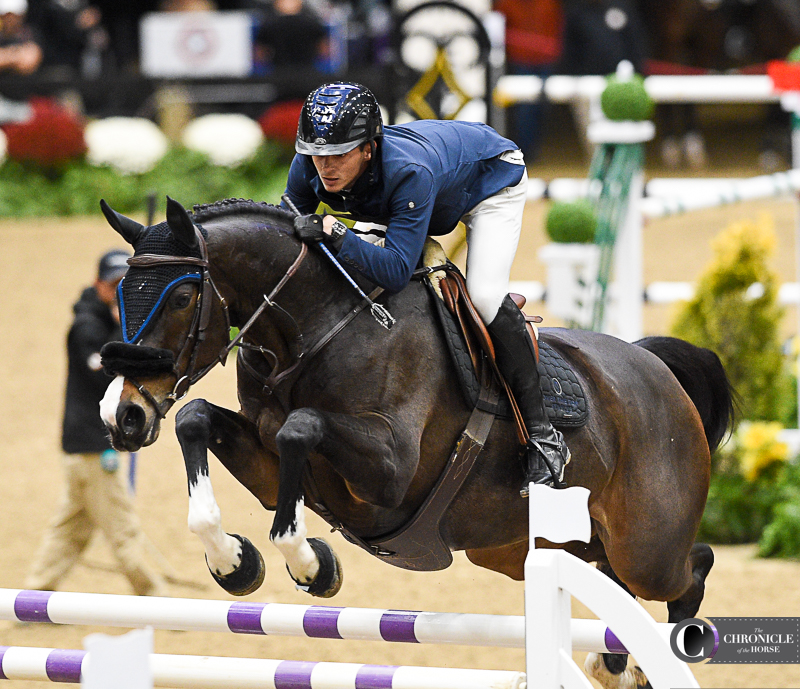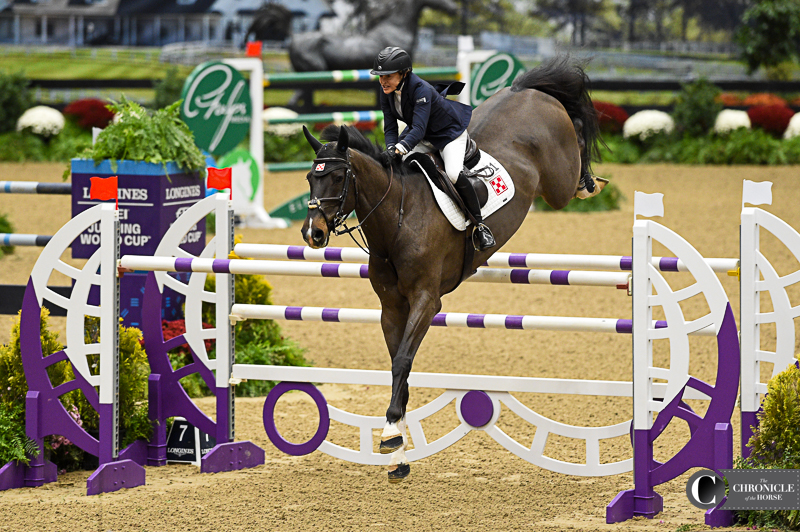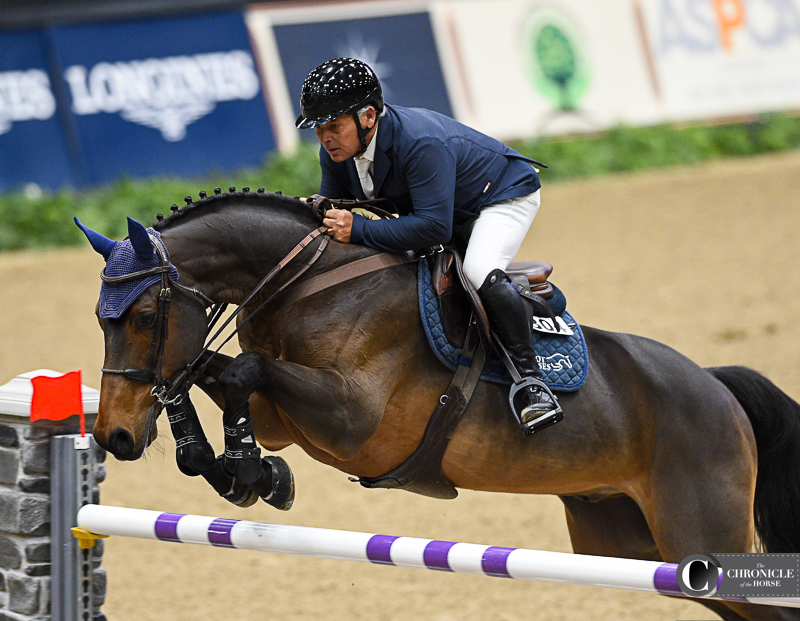 The Chronicle is on site at the National all week to bring you photos, stories and more. You can find full results from the show here, and don't forget to read full analysis and coverage from the horse show in the Nov. 21 issue of the magazine.