During a press conference held Nov. 6 in the lead-up to the Stuttgart German Masters, Michael Jung announced he will no longer contest team competitions with his back-to-back Olympic champion La Biosthetique-Sam FBW.
The decision came as a result of the 17-year-old gelding's failure to start at the Pau CCI**** (France) last month. Jung schooled the gelding in the morning prior to his dressage test on Oct. 27. When Jung brought "Sam" back out to warm up for his test two hours later, the gelding felt stiff, so Jung withdrew. The veterinarian who examined Sam suspected he'd struck himself in the leg.
"It wasn't supposed to be," Jung wrote on his Facebook page on Oct. 28. "Yesterday morning, Sam went fresh and chipper before dressage and then [he felt off]. Last night [he was] clearly better, and now he's running again as if nothing had been. We can't explain it but are very happy that [it is] apparently nothing serious."
In the Stuttgart press conference, Jung said he didn't want to submit Sam to the pressure of a championship. But Horse & Hound reported Nov. 8 that the gelding might contest the Mitsubishi Motors Badminton CCI**** (Great Britain) next May.
"I'd have to warm him up and [compete him in a championship] because the championship is really important [to the German team]," he said. "But rather, I very freely decided that if I don't have a good feeling about it [then I could retire or withdraw from competition]."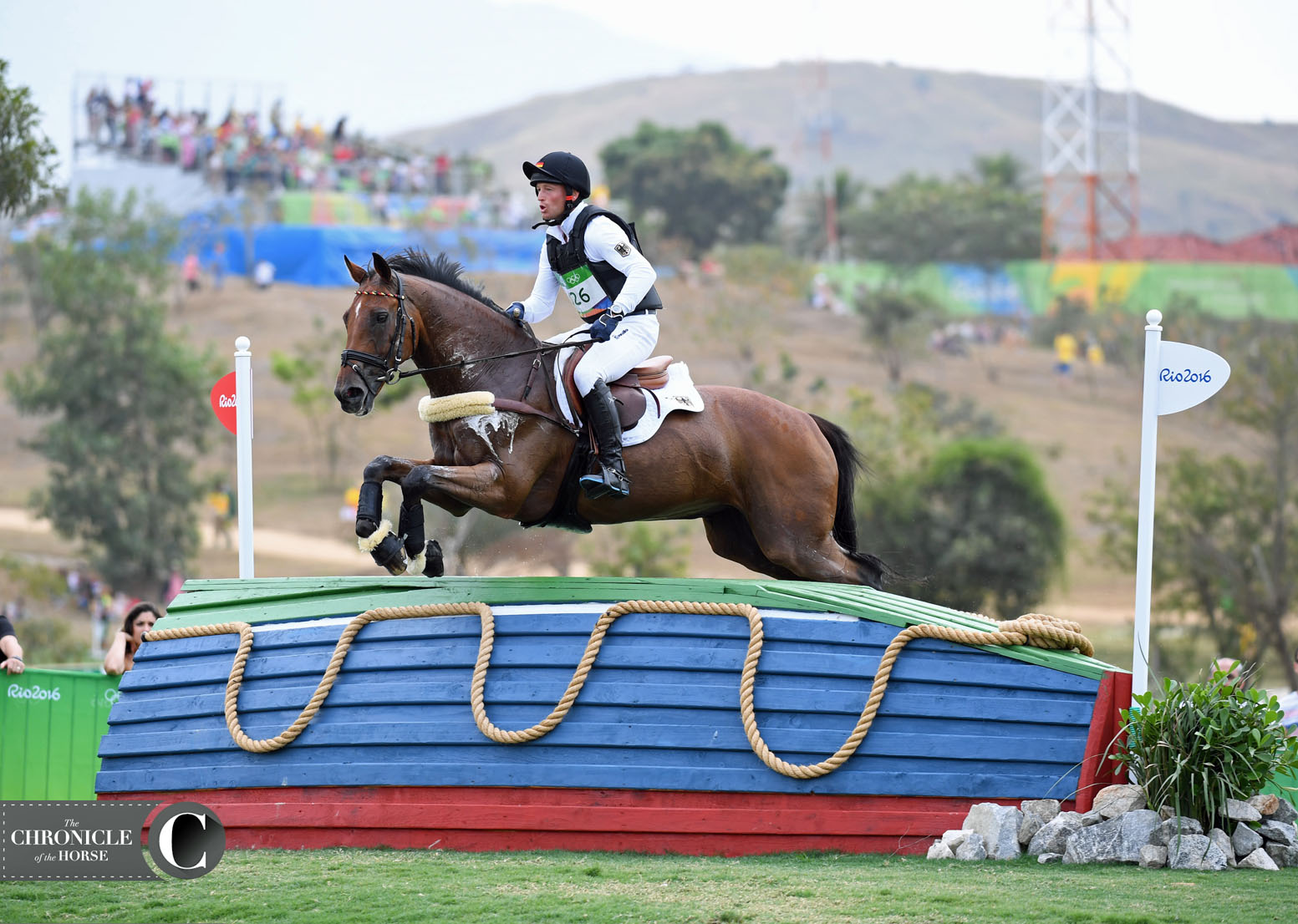 Günter Seitter bred the 17-year-old Baden-Württemberg (Stan The Man xx—Halia, Heraldik xx), and Sabine Kreuter sent him to Jung for training as a 5-year-old. He is currently owned by the Jung family, Erich Single, Joachim Jung and the DOKR.
Sam started competing in Fédération Equestre Internationale competitions in 2006 and beginning with the Strzegom CIC* (Poland) in June of that year, he never finished lower than sixth in any FEI competition he completed.
In 2009 Sam won the HSBC FEI World Cup Eventing Final in Strzegom and won the World Cup again in 2010 when it was a points-based championship. That same year, Jung and Sam took individual gold at the Alltech FEI World Equestrian Games (Ky.). Sam represented Germany twice at the European Championships, earning double gold in 2011 and individual bronze in 2009. He earned double gold at the 2012 Olympic Games (England) and took individual gold and team silver at the 2016 Games in Rio De Janeiro.
Sam contested nine four-stars in his career, winning his first start at Luhmühlen (Germany) in 2009 and always finishing in the top three if he completed. He won the Land Rover Burghley CCI**** (England) in 2015 and the Mitsubishi Motors Badminton CCI**** (England) in 2016 to help Jung clinch the Rolex Grand Slam.