Jessica Jo Tate has ridden plenty of big-moving, fancy warmbloods over her career, but two years ago she was offered a fun new challenge when Connemara breeder Pam Liddell asked her to take the ride on her homebred Kynynmont Gunsmoke's Gideon.
Now Tate and "Gideon" are competing in the Dixon Oval at Dressage At Devon in their second CDI start.
"He showed here last year and was fourth level champion," said Tate. "It's been really fun to bring him out into the international scene because he is an all around awesome horse. I always joke and say if he was 17 hands, everybody would be talking about my next future Olympic horse because he's just the whole package. He's smart and trainable, athletic, agile, a little cheeky, which is fun."
At nearly 5'11" with long legs, Tate was a little unsure if she would be a suitable size for the 15.2-hand 3/4 bred gelding (Gun Smoke—Kynynmont Tara, Greystone Mcerril), but after watching videos of herself for the first week, she realized it worked.
"He completely carries you and never makes you feel like you're on a pony. He's got such big movement and fills up my leg and fills up the arena," she said.
Two years ago when Tate first met Liddell, she'd dropped off a Dutch mare for her to train. At the time Liddell was looking to make a change of rider for her homebreds, so she offered several of them to Tate and her assistant rider, Kaitlin Blythe, to train.
In addition to Gideon at Devon, Kynynmont Kerianna and Kynynmont Cooper O'Grady are contesting the fourth level with eventer Erin Freedman.
Emily O'Neill and Rachel Chowanac had campaigned Gideon, now 8, to third and fourth level, respectively, and he made his national Prix St. Georges debut with Tate in early 2015 in Florida.
Tate and Gideon contested their first CDI at Tryon in April where they scored a pair of 66 percents in the Prix St. Georges and Intermediaire I.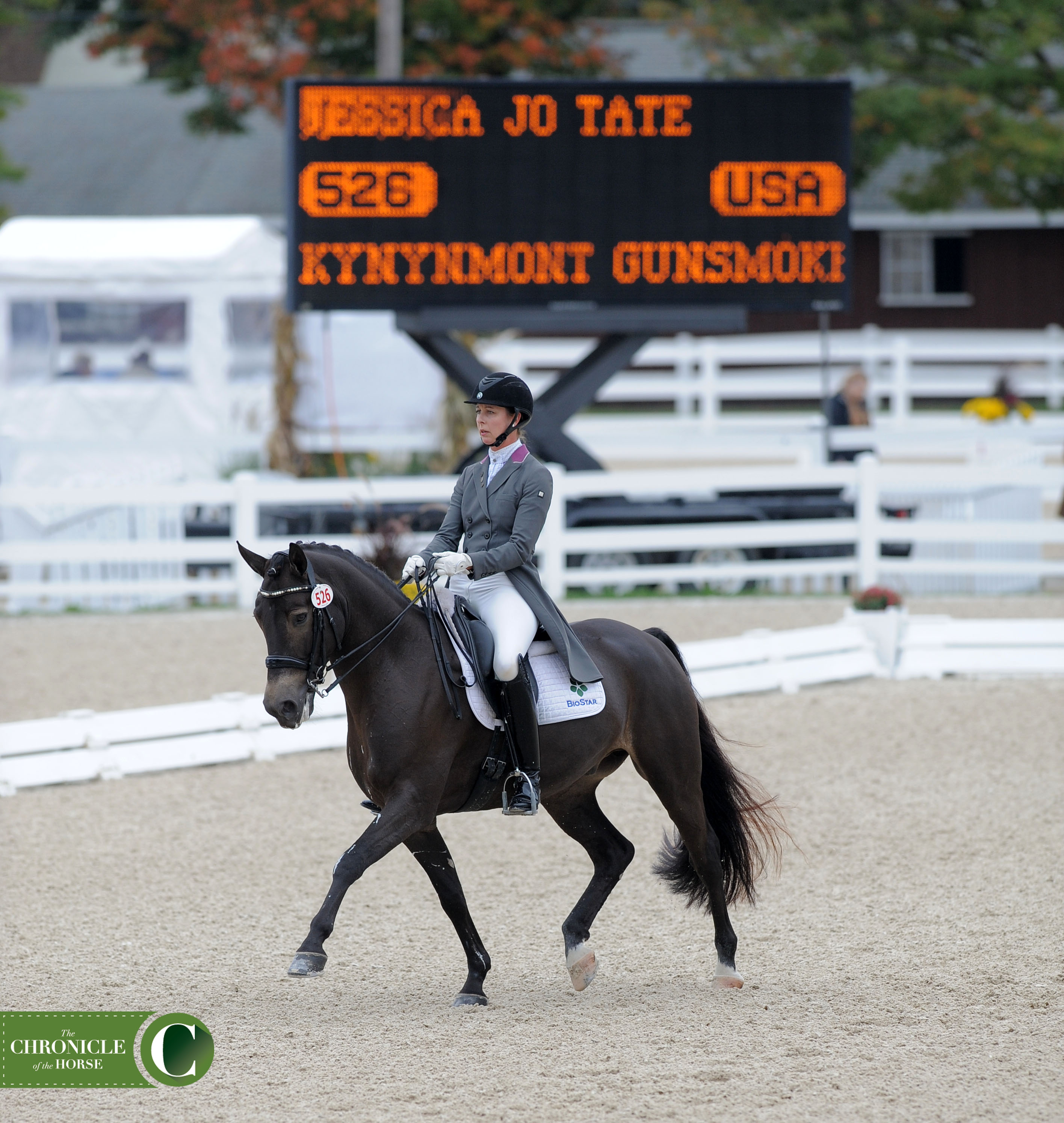 Photo by Lindsay Berreth.
At Devon, they scored a 64.51 percent in the Prix St. Georges test and a 64.63 percent in the Intermediaire I today.
"When we were all here on the first day, and everyone's really excited, he gets excited, and he's got a giant trot," said Tate. "He starts out like a pony—I always warm him up long and low, little tiny steps, then all of a sudden he just starts trotting. All these big horses were here flying through the mud, and I had just started with him and told him, 'Just cool your jets. You trot big too, just give it a minute.' He gets so excited to be big here. He's over eager sometimes. He loves it. Then he gets all proud of himself when he's trotting his big trot. He's one of those horses that everything comes so easy I have to be careful not to do too much."
Gideon is a barn favorite and loves to trail ride. Tate likes to take him on a polo field near her winter base in Florida to let him work out in the open.
"He's everyone's favorite because he's really well behaved but is always a little cheeky. It's always from great energy," she said. "He's just so positive all the time that it's never naughty. He's always happy. Of course he would probably like to eat a lot more, as any pony, but he's always excited to go out to the paddock. He's always a horse I can count on to be there for the rider. He's been really fun to train. He makes me laugh. He's so much fun everyday."
Tate, Landrum, S.C., didn't have any experience riding ponies since she was tall as a child, but she's enjoying bringing some attention to the breed, which she says is great for a variety of riders. With a variety of sizes, Tate says Connemaras are sure-footed, "husband safe" and just plain fun.
"I talk to a lot of people who have Gunsmoke's or Connemara's, and what I hear all the time is that they're just awesome athletes. It is a wonderful breed for adult amateurs. They can do anything a horse can do but they're maybe not as big and powerful or intimidating or scary. They can jump, they can do everything," she said.
She's experienced some "breed bias," but Gideon's been holding his own against fancier warmbloods. He was in the top 20 qualified horses for the Developing Prix St. Georges division this year.
With a good piaffe and passage, Tate hopes to take Gideon to Grand Prix in the near future.
"I hope he opens up a world of acceptance. Because when it's good, you should just give it the points because he's well-trained and accepts everything really well," she said. "I do think there can sometimes be a breed prejudice, that it's not this big, fire-breathing, flashy warmblood, but he is so through and so correct and has a great mouth and hind leg, and he's over the back. We hope to just be so good they can't deny him the scores!"