Leipzig, Germany—Jan. 17
Imagine this: you're 22, you just found out a few days before the class that you were competing in your first World Cup qualifying class, and you qualify for the 14-horse jump-off against some of the world's top riders.
Do you jump around conservatively and play it safe? Or do you lay it all on the line and go for broke?
The young Niklas Krieg went for broke, and he pulled off the most sensational result of the season so far by winning. The relatively unknown young German galloped to victory at the ninth leg of the Longines FEI World Cup™ Jumping 2015/2016 Western European League on home turf in Leipzig.
The rider who hails from near Donaueschingen turned 22 just three days before and was making his debut in the FEI World Cup™ Jumping series. He was the third of 14 to jump-off over Frank Rothenberger's track and he simply outclassed competitors more than twice his age and with far more experience when producing a stunning performance from his 12-year-old mare, Carella.
Ireland's Denis Lynch lined up second with All Star ahead of The Netherlands' Harrie Smolders and Don VHP Z in third when they were the only others to leave all the fences in place second time out. But Krieg won with a massive three-second advantage to announce his very definite arrival at the top end of the sport
Changed His Plan
"I wanted to try [to win] but not to overdo things," Krieg said of his jump-off. "But then after the first two fences I really felt fantastic. Altogether this was fantastic and three days after my 22nd birthday I have given myself the best present!"
Krieg admitted that he changed his plan during his jump-off round. "I talked with my father before I went in and we decided I should go around fence 12, but then the first two fences came up really nicely and I thought to myself, 'no risk, no fun!' so I just went for it!" he explained.
He has absolute faith in the mare he rode to team gold at the FEI Young Riders European Championships in 2014 and to team silver last year. "I have had Carella since she was 2 years old and no one else has ever ridden her so we have a big understanding between us. I know I can trust her every time—she is a bit of a diva, but I love her very much!" he said.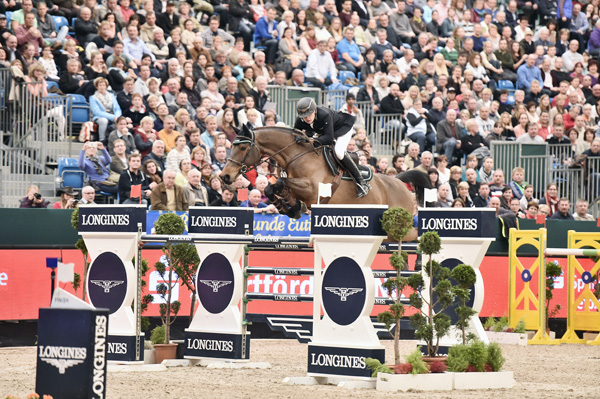 Niklaus Krieg has been riding Carella since the mare was 2 and together they won their first attempt at a World Cup qualifying class. Photo by FEI/Karl-Heinz Frieler
"This was for sure my biggest success until now. It was my first World Cup competition and additionally to win in your home country is tremendous," he added.
He insisted that he didn't feel any pressure in the jump-off. "My goal was to finish in the top five or six—my horse was super and did definitely fight for me and so we tried, but I would have never thought that it would be enough to win!" he said.
The biggest pressure he may now face will be the high expectations for more stunning results after an exceptional day of great sport on which a young man, ranked 354th in the world, showed the best of the best how it should be done.
Last-Fence Frustration
There was a lot of last-fence frustration in the first round, the 1.60m-high white plank claiming a number of high-profile victims, while fences 9 to 11 also proved highly influential. Rothenberger's track was typically uncompromising with tall verticals and big, open oxers and while there was plenty of distance to manoeuver around the course, the 68-seconds time allowed also piled on the pressure.
The vertical at fence 9 was approached off a corner, and many paid the price for turning too sharply or arriving on a poor stride here. Rothenberger gave them a forward four-stride distance to the following double of big oxers at 10 and another three-stride effort to a vertical with a small water tray at fence 11, while the penultimate oxer at 12 also set a challenge to those running out of time. Jumped off a curving right-hand bend it demanded a lot of respect, and an untidy effort here often left horses off-balance coming down to the last.
The clear rounds kept coming however, Jessica Mendoza first to leave all the poles in place, while Krieg was one of the many budding German stars who really impressed on their first attempt at this level of competition today when joining the British rider in the second-round race against the clock. And what a thriller that was.
Chances Were Dashed
Mendoza's chances were dashed when Spirit T hit the second fence on the new track, formerly No. 11, and then the second of the two remaining elements of the triple combination that were now three fences from home. But when another of the sparkling young German contingent, 20-year-old Guido Klatte, cut inside the final fence on approach to the tricky oxer at 12 which was now the third obstacle on the track, then it quickly became clear that this was the route to go.
The angle was acute, and Klatte's 9-year-old, Qinghai, kicked the poles out for 4 faults, but their time of 39.76 seconds was more than three seconds quicker than that posted by the speedy Mendoza.
So when Krieg got it all right, then he really put it up to the rest of them.
Krieg's mare never flinched, galloping down the long distance from the opening vertical to the next at fence 11, and then spinning right-handed to cross the oxer at 12 and hard left to the following oxer. The pair were on fire from start to finish, and when they broke the beam in 38.04 seconds then it was up to the rest to catch them. But none would succeed.
The biggest test of the young German's nerve was having to watch the remaining 11 riders trying to oust him from pole position, and with so many of the biggest names in the sport on that list it would be an agonizing wait.
Well On Target
Young Irish talent, the 20-year-old Bertram Allen, looked well on target after negotiating the difficult angle at 12 with relative ease. But his mare, Molly Malone, hit both the following oxer and the penultimate oxer for 8 faults in a quick time of 38.69 seconds.
The fastest jump-off round was recorded by Belgium's Gregory Wathelet, but the man who took individual silver at last summer's FEI European Championships in Aachen (Germany) was yet another victim of the dreaded oxer at 12 when crossing the line in 37.81 seconds.
French superstars Kevin Staut (Reveur de Hurtebise HDC) and Simon Delestre (Chesall) also failed when going for the inside-turn angled approach here, before Harrie Smolders changed the tactics. Taking the longer and safer route around the final oxer he safely negotiated the bogey fence 12 to post only the second clear of the jump-off with Don VHP Z in 46.85 seconds. And when Ireland's Denis Lynch and All Star upped the pace but also took the more scenic route, they slotted in ahead of the Dutch pair in 41.04.
The excitement still wasn't over however, the crowd gripping their seats as, second-last to go, 22-year-old Belgian, Olivier Philippaerts, took the short route with H&M Legend of Love and was up on time coming to the last. But that fell for 4 faults and when Spain's Sergio Alvarez Moya and Carlo also had a great cut at it and also did the time, only to be denied the win by a mistake three fences from home, then it was finally done and dusted. A new German star had been born.
Result:
1. Carella, Niklas Krieg, GER, 0/0 38.04
2. All Star 5, Denis Lynch, IRL, 0/0 41.04
3. Don VHP Z, Harrie Smolders, NED, 0/0 46.85
4. Eldorado van het Vijverhof, Gregory Wathelet, BEL, 0/4 37.81
5. H&M Legend of Love, Olivier Philippaerts, BEL, 0/4 37.89
6. Carlo, Sergio Alvarez Moya, ESP, 0/4 37.99
7. Chesall, Simon Delestre, FRA, 0/4 38.12
8. Reveur de Hurtebise HDC, Kevin Staut, FRA, 0/4 39.08
9. Qinghai, Guido Klatte, GER, 0/4 39.76
10. Liberty Son, Philipp Weishaupt, GER, 0/4 40.14
11. Castlefield Eclipse, Paul Estermann, SUI, 0/4 46.50
12. Molly Malone, Bertram Allen, IRL, 0/8 38.69
13. Spirit T, Jessica Mendoza, GBR, 0/8 43.00
14. Leonard de la Ferme CH, Pius Schwizer, SUI, 0/8 46.62.
Longines FEI World Cup™ Jumping 2015/2016 Western European League leaderboard – after Round 9 at Leipzig (GER):
1. Christian Ahlmann GER 77
2. Simon Delestre FRA 61
3. Harrie Smolders NED 51
4. Jos Verlooy BEL 50
5. Penelope Leprevost FRA 45
6. Nicola Philippaerts BEL 42
7. Henrik von Eckermann SWE 39
8. Daniel Deusser GER 36
9. Marco Kutscher GER 36
10. Romain Duguet SUI 35
11. Kevin Staut FRA 34
12. Max Kuhner AUT 33
13. Olivier Philippaerts BEL 32
14. Marcus Ehning GER 32
15. Douglas Lindelow SWE 31
16. Patrick Stuhlmeyer GER 31
17. Steve Guerdat SUI 30
18. Emanuele Gaudiano ITA 28
19. Laura Renwick GBR 28
20. Scott Brash GBR 27