Woodstock, England—Sept. 14   
Germany's Julia Krajewski has taken pole position at the end of dressage in the CCI*** at the SsangYong Blenheim Palace International Horse Trials.
Riding Chipmunk FRH, the 28-year-old scored 33.4, which gives her a 2.3-penlty lead over Britain's Pippa Funnell and MGH Grafton Street.
Krajewski said: "I normally don't get nervous before dressage, but when you're right at the end you have time to think about it. This is the highlight of Chipmunk's season—he was my reserve horse for the European Championships, so he was fittened up for that, and we thought Blenheim would be a good alternative.
"He wants to please and he's very genuine—if he understands something, he'll do it."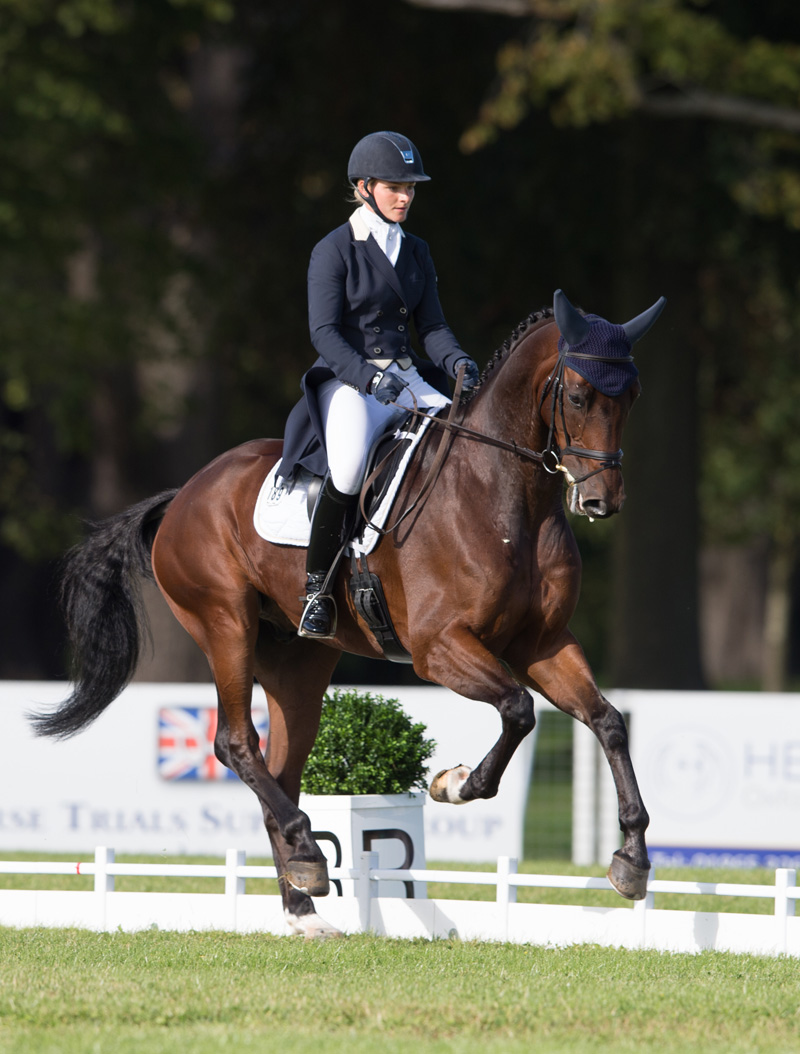 There are two American riders in the top 10 after the dressage. Kim Severson is in third with 37.8 aboard Cooley Cross Border. "He was very, very good, very obedient, very relaxed," Severson said. "I missed the timing on the last change and the last halt was a bit abrupt, but it was a lovely test. He was very good. I felt that we were both present and in the same picture.
"We came over for Tattersalls [CCI*** in early June] and that didn't go very well, so he's been over in Ireland all summer and I've been going back and forth," Severson said "I walked the course and got a little confused by all the 25 different numbers, so I need to walk it again to solidify that in my head! It's Blenheim, there's plenty to do—I haven't been here in 16 years, so it's good to be back. As long as he's good, he'll be going back to the States after this."
Hannah Sue Burnett lies in sixth with RF Demeter on a score of 39.7. "She was really good—it's still a new partnership, but every time I take her out I feel like she's more and more with me, and like she's really my horse now," Burnett said. "What an incredible animal—I can't say enough good things about her. She knows her job, and she loves showing off, and it's just really fun. I enjoy every moment riding her."
Doug Payne, on Vandiver, is in a tie for 18th after a solid test that scored 46.6. "We've had an incredible amount of support—I was lucky enough to come here on the Jacqueline Mars/Land Rover travel grant," he said.
"We finished at the AEC [on Aug. 30 – Sept. 3], he made his way to New York on Tuesday, and then flew out on Wednesday, so we were at Jesse Campbell's yard on Thursday. Then we moved into Blenheim on Monday! But he's travelled great—it's his first time travelling internationally, so it's great to see that he's unaffected by it all. Courtney [Carson]'s our head groom and he's totally attached to her now. He's usually a pretty needy horse, but I think he's found his little animal—wherever Courtney goes, he goes!
"I think the cross-country course looks great—of course nothing's a given, and there's a lot to do, but I'm excited to get out there," Payne continued.
Liz Halliday-Sharp sits in a tie for 24th on Carpe Diem IV (47.1), who she says is green at the level. "He's not the easiest to ride on the flat, but he's got more relaxed and tidier, and I'm really pleased with him," she said. "He tries really hard and he's such a nice person. It's a shame—in the second flying change, which he can do, he just got a bit confused and thought I wanted him to trot. I had hoped he may be able to do Blenheim or Boekelo at the end of the season, but I decided that Blenheim would suit him more."
It was just August when Tiana Coudray secured the ride on Under The Clocks (read all about it on COTH in "Fairy Godmothers Helped Tiana Coudray Add A Four-Star Veteran To Her String"), and she rode the 15-year-old veteran into 28th (48.2). "He's an incredibly well trained horse; there's no education that's missing, really, it's just about putting it together in the ring. I'm still trying to figure him out," she said. "I've only taken him to two CICs, so it's all trial and error—how long you warm him up, whether you ride him before or the day before, whether you take him for a gallop.
"But I'm really happy with him; he was impeccably behaved, maybe even a bit conservative and lacking a bit of sparkle. In his test at Barbury he got really lit up by the atmosphere, so my goal for today was to keep him quiet and get him to settle, which he did."
Coudray had the horse in her barn for three years and did most of the conditioning work on him until owner Murray Lampard would fly in from Australia and compete him. "It got to the point they realized it didn't make sense for them to keep spending the money on coming back over here, and so they made the really hard decision that he needed to be sold, which was heartbreaking for everyone," Coudray said. "Then somebody rang me up and said they wanted to help me, and they bought him for me. So we went from thinking he was going to knowing he would be able to stay. Losing the ride on a horse has happened to me a few times over the last few years so when I got the call I was speechless—I didn't know what to say. It was amazing."
Lauren Kieffer is in 41st on Landmark's Monte Carlo (50.5), and Andrea Baxter, who sits 81st on Indy 500 (63.1) and is re-routing to Blenheim after not completing the Land Rover Burghley CCI****
Important Links: Dressage results  |  Blenheim Palace Horse Trials website  |  Live streaming