Mill Spring, N.C.—Sept 13
If you were to walk into the Tryon Stadium at the FEI World Equestrian Games today and watch Julia Krajewski ride her dressage test, you'd probably think you sat down in the wrong seat as she looked like she'd fit right in a few hundred yards away in the Helgstrand World Dressage Championship taking place at the same time.
The German eventer laid down a 19.9 on Chipmunk FRH this afternoon to take a commanding lead in the Mars Incorporated World Eventing Championship with a lovely, fluid, relaxed test that became the third best World Championship dressage score, and the best since 2002, according to Equiratings.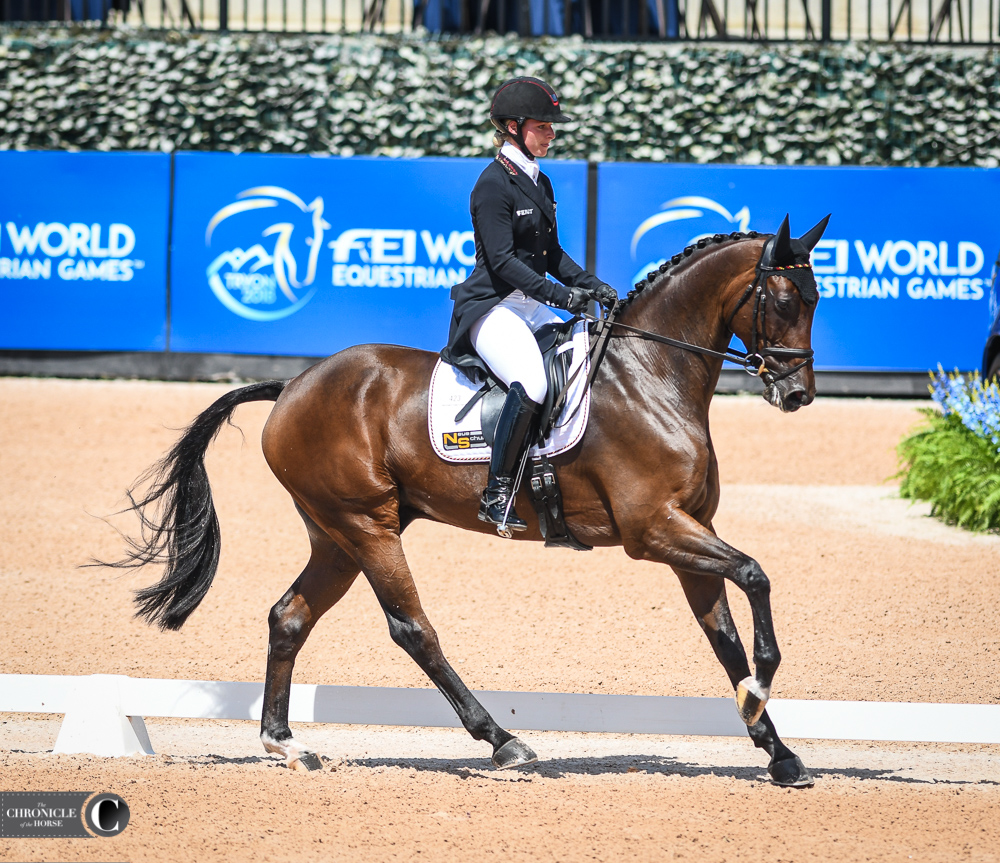 But a score that incredible isn't unusual for the pair. They've earned two other sub-20 scores this season—at the Aachen CICO*** (Germany) and the Bramham CCI*** (England), both of which they won.
"[I'm] very happy," she said. "And also quite relieved because obviously everybody knows we can do 19s dressage, so nobody tells you they expect it, but secretly they joke about it, and you feel the pressure a little bit. I think you can do most about the dressage, so it's all about the preparation. With Chipmunk it's all about preparation until the last day because if he peaks too early then it's still good but not as good, so I'm very happy that I obviously did the right thing in the last couple of days. He was so relaxed and calm and with me, and that really helped."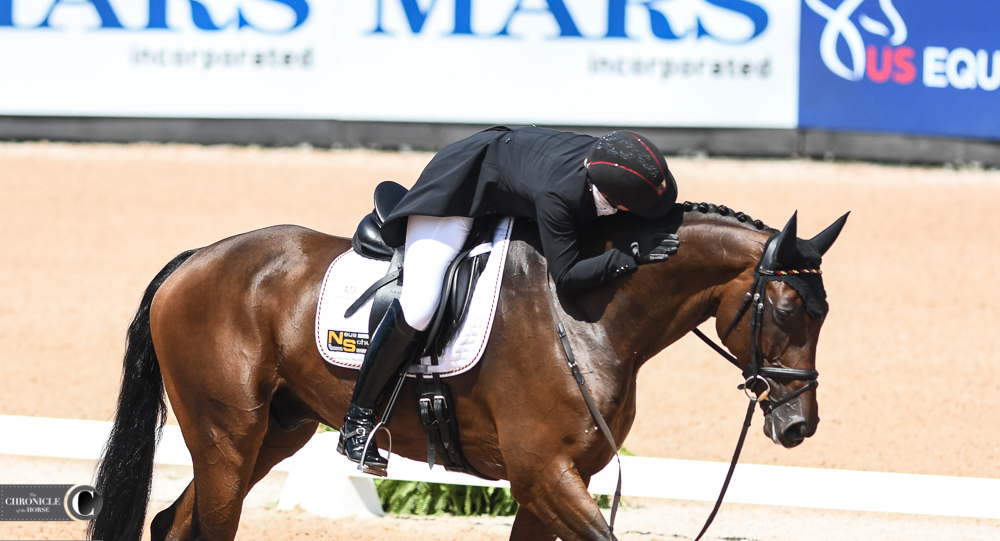 Krajewski, who's also the coach of the German young rider team, has had Chipmunk, a 10-year-old Hanoverian gelding (Contendro I—Havanna, Heraldik xx) since he was 4.
When asked about the cross-country course, she said, "Dressage first, and then we will see. With rain coming maybe or wind or whatever, nobody really knows how this whole week is going to play out. I think Chipmunk is very fit and feels very good here. The aim from now on is to keep my points."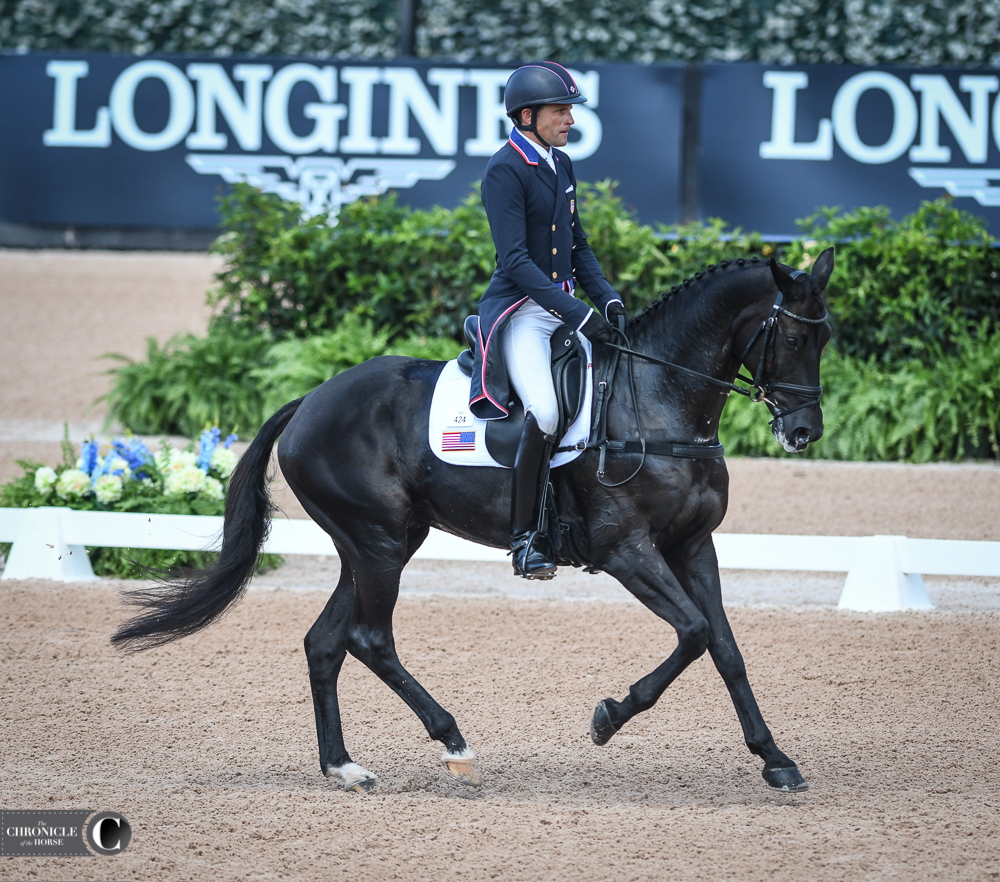 Boyd Martin scored a personal best to slot into second (27.1) on Christine Turner's Tsetserleg, an 11-year-old U.S.-bred Trakehner gelding (Windfall—Thabana, Buddenbrock).
"I was thrilled," he said. "You know, you ride at this level, and the biggest fear is not giving your best in the moment. 'Thomas' was awesome out there; the crowd erupted when he went in there because he's an American horse, and it almost picked him up a notch. In the past I've had horses like Neville [Bardos] and Otis [Barbotiere] that would have gone berserk, and Thomas started passaging a little, so it was really cool."
Martin said he messed up his first centerline, but was otherwise pleased with the diminutive gelding's work.
"We've been dialed in on this one a long time now so we've been going over those movements for months with [Chef d'Equipe] Erik Duvander," he said. "This week I probably fumbled every movement but also did it well a couple of times, so you just hope in those 7 minutes you can execute every movement and get it right."
Martin's had a look at Mark Phillips' cross-country course, and said that it's tough because it's twisty and turny and technical.
"To ride that fast is going to take some real skill and a trained horse, and you have to leave a bit in the tank for the last 2 minutes; that's gonna be the fitness we've put into him over the years and the training," he said. "A lot of it will come down to heart and desire. My guy is a real trier, so I'm gonna go for it and give everything I have."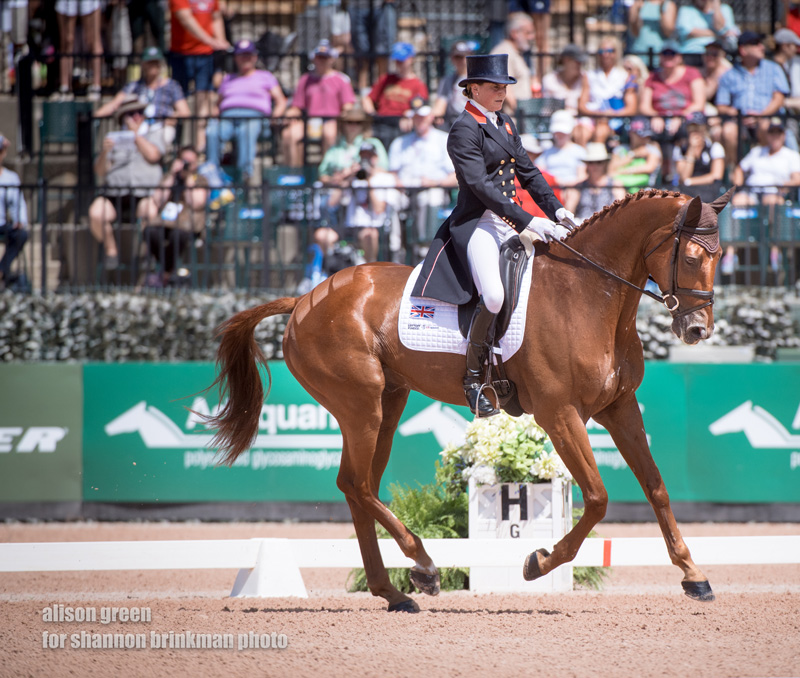 Great Britain's Piggy French is currently third (27.8) on Quarrycrest Echo, an 11-year-old Irish Sport Horse gelding (Clover Echo—Royal China, Cavalier Royale).
"It's great to be here, it's what we do it for," she said. "He's a really cool horse. He's still not the most experienced, and there's still more to come from him, but he's got an amazing brain, so you can be quite brave, and I always give it a good go. I was delighted. We had one mistake at the beginning where he cantered out of the first halt, which is really annoying. It's quite nice to nail an entry and get the judges thinking it's good, but on the whole I'm delighted. I think he's given it his all, and that's all we can do."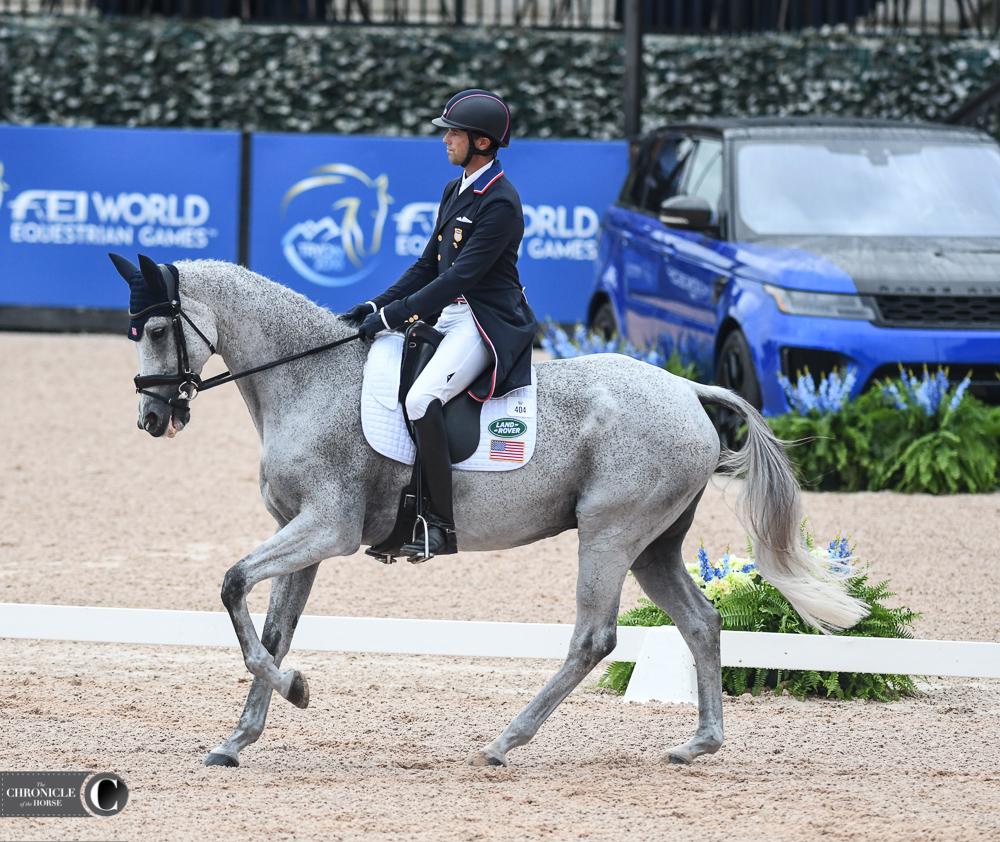 Two other U.S. riders completed their dressage today. Will Coleman and the Conair Syndicate's Tight Lines, an 11-year-old French Thoroughbred (Turgeon—Merindole, Tel Quel) were fourth to go today and scored 35.6 for 28th place. Coleman was called up last minute when Marilyn Little withdrew RF Scandalous last weekend due to a minor injury.
"No one's watching him trot around here and thinking he might be a dressage horse," said Coleman. "Given the atmosphere and this being his weakest phase by a long shot he was good. He's gonna get better with time, but he's still relatively green and needs to get stronger, so I'm happy with him. I don't think I could ask for more."
"Phish" will be looking forward to Saturday's cross-country.
"He's a Thoroughbred, so he's really here for Saturday and Sunday; that's where we really are gonna put our focus now," said Coleman. "It's an honor [to be on the team and go first]. It's an important role because it's the first chance we get on the course, but it's also the first chance to put a score on the board, so there's pressure that comes with that, but I have a lot of faith in my horse, and we're just gonna go out there and let it rip."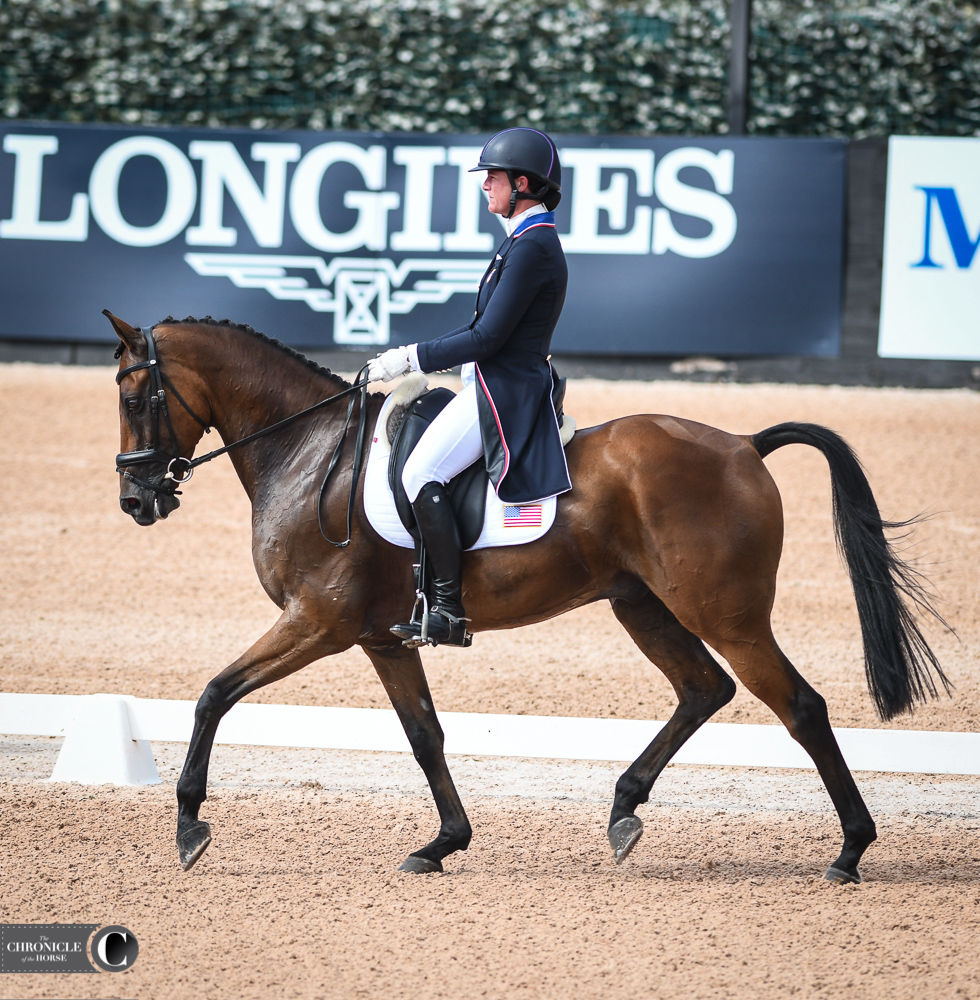 Kieffer's test with Jacqueline Mars' Vermiculus, an 11-year-old U.S.-bred Anglo Arabian gelding (Serazim—Wake Me Gently, Be My Native xx), had a few bobbles in the trot work, which Kieffer described as "Bug" being "a pony."
"He was a little naughty, a bit of a pony, it's easy to forget that he's a bit green and hasn't done a lot in this atmosphere," she said. "He actually didn't feel hot; he was just a bit of a pony. It was a long week of just sitting here and everything else. But still the quality of the work was really good. They definitely kept wanting to throw me scores; I could have been a lot worse off. Once we get him to be more of a professional he'll reach easily into the 20s."
Kieffer is riding as the individual for the U.S. team.
"The course really suits him," she said. "I'll be glad to be on an Arabian if it's hot, and we have to run up that hill on Saturday. You still want to deliver for your country, but I might take a crack at it where I would be a little safer if I was on a team. I'm not here to just get around, I want to be competitive, so at the risk of making a mistake I'll do what it takes to be competitive. That's my game plan."
For full results, click here.
For everything you need to know, including broadcast schedules, click here.
For all WEG coverage, click here.
We'll be onsite for the full two weeks of WEG to bring you all the news you need to know plus gorgeous photos and insight into the competition. Be sure to check out the Oct. 8 issue of the Chronicle for detailed analysis.
2018 WEG - Eventing Dressage Day 1
Lindsay Berreth / Sep 13, 2018 7:25 pm