Feb. 7—Wellington, Fla.
Christoph Koschel's plans to compete in his first Adequan Global Dressage Festival got off to a rough start when he arrived in Florida with Rostropowitsch NRW in mid-January.
Less than a week after getting off the plane, the 13-year-old Westphalian gelding (Rockwell—Wildcandela) got a spider bite, which turned ugly fast.
"The first three days were good—I was so happy that he was good after his first time flying and he came out of quarantine well, but at the barn where we're staying, maybe there was a spider in the box—it looked awful the next morning to be honest. It was really itchy at that point and he bit himself. At first it looked more like there was an alligator in his box! He was missing some meat."
Koschel had hoped to compete the gelding in a CDI sooner, but thought he better not. "He wasn't lame, but I would never have been able to pass the vet check," he said. "It's healing now and looks a lot better. We had to put silver spray on it, but it's just some hair still missing."
Despite a silver spot on his right hip, you wouldn't know "Rusty" ever had an issue as he and Koschel took home the win the CDI*** Grand Prix freestyle on a 75.10%.
Riding for Germany, Koschel was familiar with the show grounds since he'd spent the last two seasons in Florida with clients, but this year he and his wife, Patricia, decided to bring their group of horses to show.
Koschel brought out Rocky and Tiesto, whom he contested the five-star with.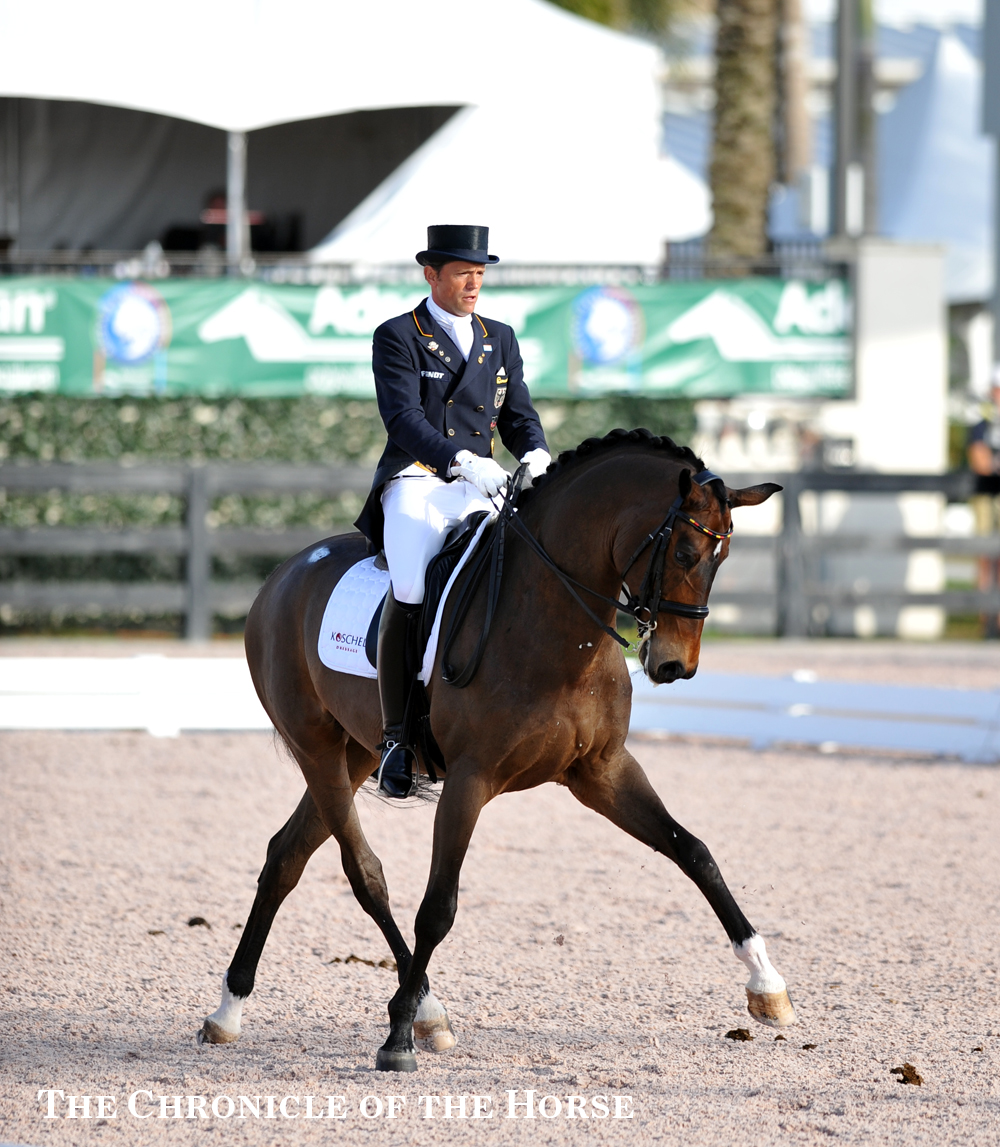 Christoph Koschel and Rostropowitsch NRW (Photo by Lindsay Berreth)
"I was really happy he came back like this," Koschel said of Rusty. "I was already happy with my Grand Prix. I had a few mistakes in the canter tour, but today he was even better—just a little mistake in the ones."
Koschel, 38, was a member of the 2010 Alltech FEI World Equestrian Games (Ky.) team for Germany and he's currently named to their B-squad on Rusty. He lives in northern Germany near Hof Kasselmann in Hagen.
He's had Rusty since he was 6 and has enjoyed forming a partnership. "He does quite well," he said. "He's still improving. Sometimes he's a little behind you and you have to find the fine line in between. In the Grand Prix, he was a little too hot in the canter tour. If you slow him down too much, then he gets behind in the piaffe/passage. It's a fine line I'm still working on.
"He's a bit like a dog," he continued. "You would not expect it from a Grand Prix horse. [My] kids play with him in the box when he lies down and you can sit on top. He's well behaved. I've used him several times for the Goodbye of Nations at Aachen where everyone normally takes another horse in front of 40,000 people waving handkerchiefs, and you can ride him a little bit like John Wayne on a long rein! He's a really calm horse normally."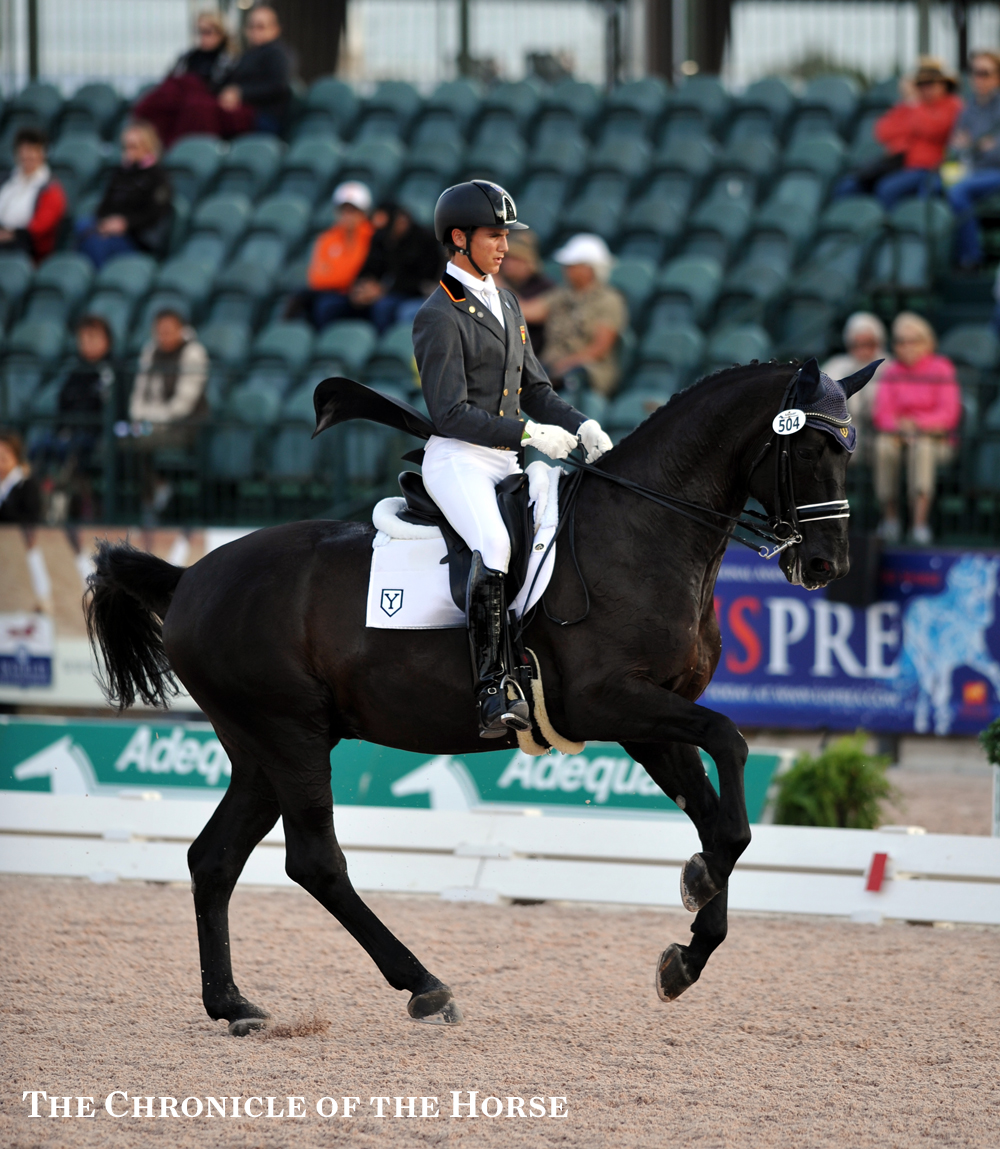 Juan Matute Jr. and Don Diego Ymas (Photo by Lindsay Berreth)
Juan Matute Jr. couldn't believe he was sitting in the press conference for the CDI*** Grand Prix freestyle, but the 17-year-old Spanish rider held his own, finishing second (72.37%) with Don Diego Ymas, a horse that's brought him through the young rider ranks to his first Grand Prixs.
"It was our second freestyle Grand Prix, so it was fun and exciting," he said. "It's a bit intimidating sitting right here next to Mr. Koschel, but I like the challenge and I enjoy it."
Matute Jr. kept busy all weekend riding Don Diego and two horses in the CDI junior and young rider classes, but he had the most fun on his longtime partner.
"He's the horse whose taught me everything I know," he said of the 12-year-old. "We were together for my first junior CDI in 2012 and together we've grown up and gotten to where we have. We've built this relationship and now when we go in the ring with all these big riders, I feel this special bond with him. I trust him and he trusts me and we have this special magic between us that makes everything flow."
For full results, visit FoxVillage.com.
Catch up on all the action from the weekend at our hub page.