Lexington, Ky.—Nov. 11
When you've got a loud pinto Friesian Sport Horse, you've got to own it. So that's exactly what Jim Koford did when he headed into the Alltech Arena aboard Adiah HP for the open Grand Prix freestyle at the U.S. Dressage Finals.
The pair danced to cowboy themed music, and their first halt was accompanied by a voiceover of "Well what do we do now sheriff? Now, we ride!"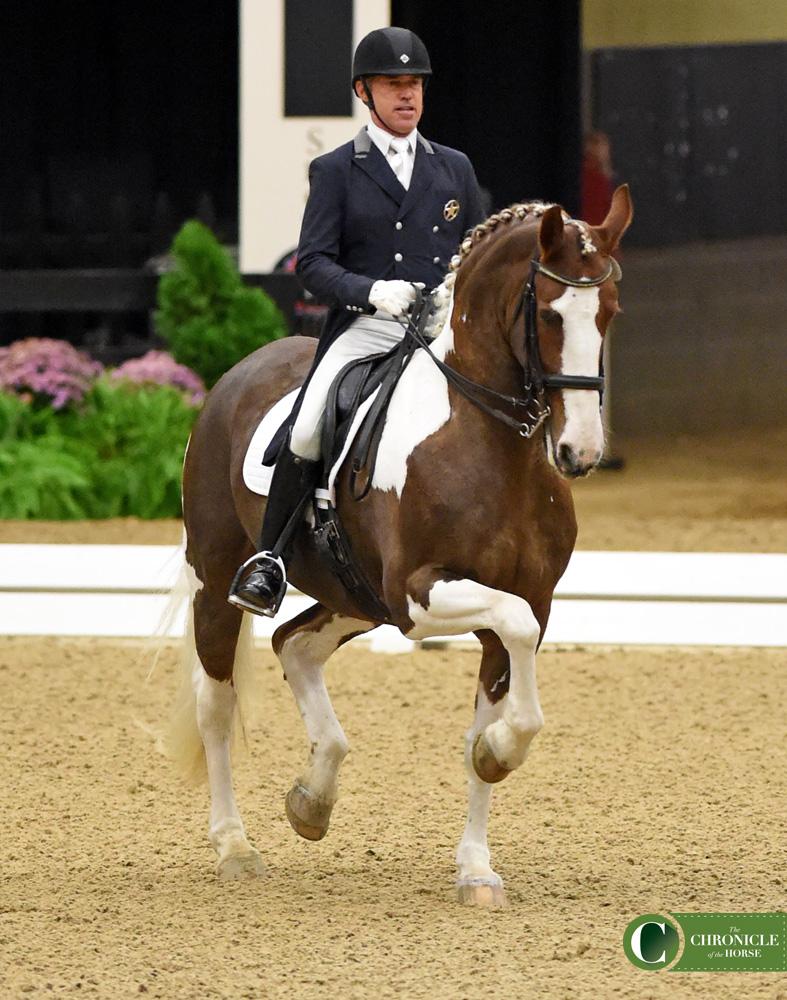 Their trot work included the classic western whistle, and it felt like they were ready to gallop off into the sunset. The crowd certainly got into the façade, and it did cause the pair to lose their tempo a couple of times during the one tempis.
"This is not a sport that rewards diversity," said Koford. "What are we doing here? I don't know!  But I'm so glad the crowd [enjoyed it.] I could feel the crowd. I was in the middle of my one tempis, and I heard all this going on and all of a sudden she started getting little wacky, so we lost our ones, but I was like wow, the audience is really connecting to her. And I get it because I'm right here [on her back,] but everyone thought the cowboy theme was awesome. It's like a total kick in the pants; it's really fun."
The judges agreed, giving him a 71.13 percent for the win.
Watch Jim Koford and Adiah HP's winning test courtesy of the USEF Network:
Koford started competing the 10-year-old mare (Nico—Marije Ant) owned and bred by Sherry Koella in 2016. He started her in the Developing Grand Prix this spring and competed at the Markel/USEF Young and Developing Horse Dressage Championships (Ill.) in August. They won both of their qualifying tests at the GAIG/USDF Region 2 Dressage Championships (Ohio), before heading to the finals.
"I was actually feeling guilty this week," Koford admitted. "I was thinking she's not really ready. She's just started Grand Prix; she's only done a couple shows Grand Prix. What am I doing? This is too much. Because when you're this visible, and this different you don't want to not be ready and be unprofessional and unpolished and unfinished and like an unmade bed."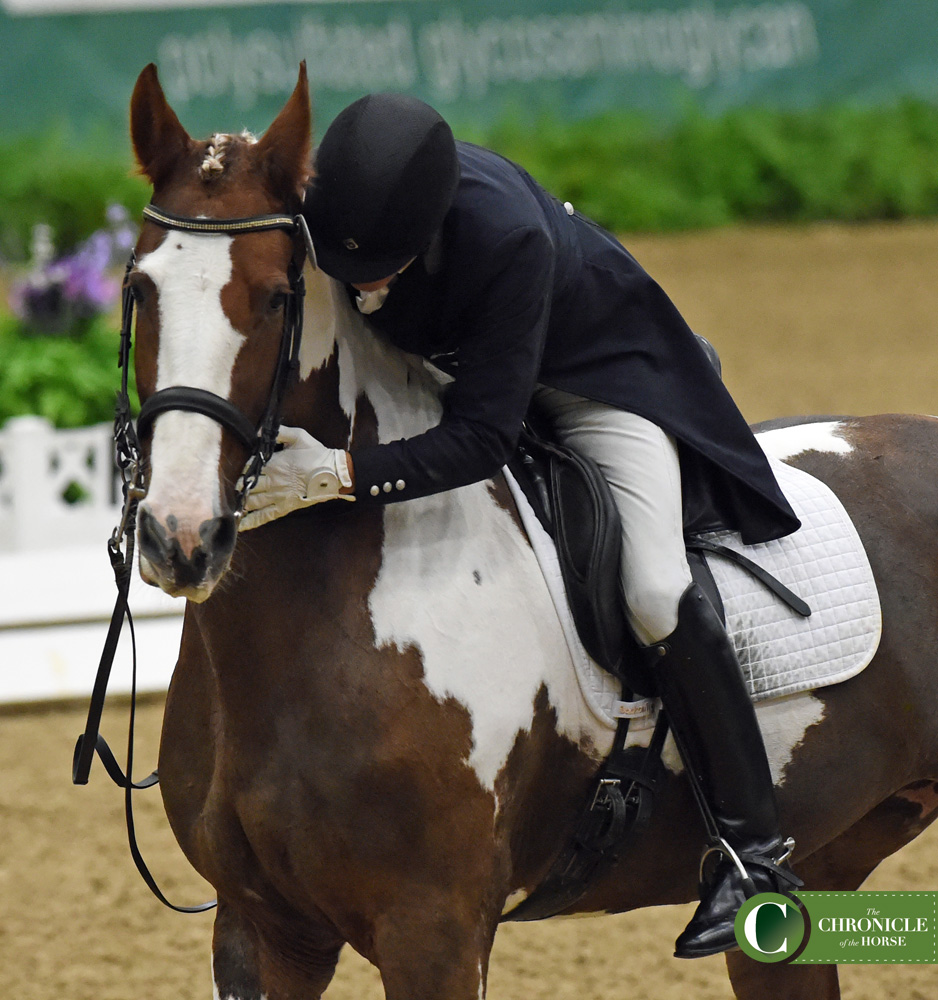 But Koford has big plans for Adiah, so it's important that he exposes her to a big atmosphere.
"She has so much talent," said Koford, who's based in Lexington. "There's no place to school for this kind of conditions. No matter how much you practice at home and even going to the back fields and the Kentucky Horse Park to do a dressage show it's not the same. So it's like win, lose or draw I've got to expose her to this and see if she wants to go bright lights big city, see if she wants to go to Wellington [Fla.], so this was like a schooling show for us because it's right around the corner."
Adiah answered that question with an emphatic yes. She's never performed this freestyle in competition before, as it was an early Christmas gift from a friend of her owner, but when it was her turn to head into the arena, she turned up the charm.
"She literally heard the applause from the horse before her and charged down the channel to go in," said Koford. "I was like, 'Game on sister, let's go. Beat the chest, let's go.' She's like, 'Hang on, Jim. I've got this.' "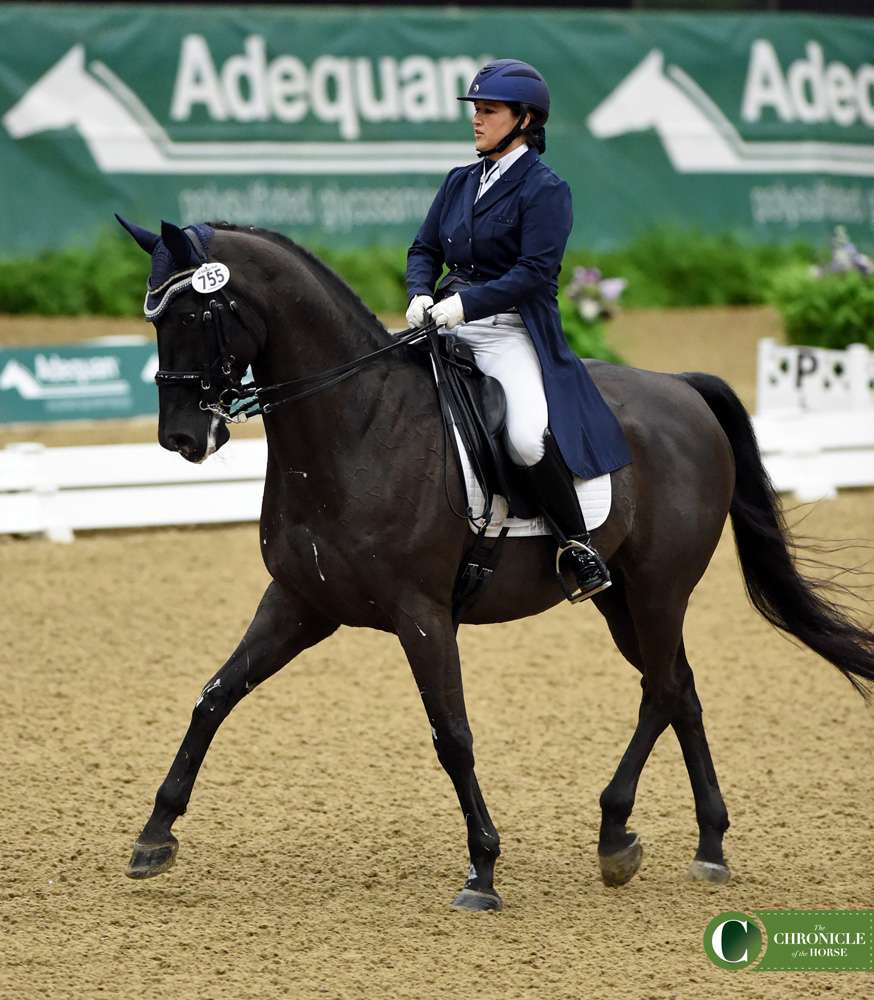 Nicole Harrington took second with a 70.61 percent on Wizard Of Oz, with music from the movie of the same name.
"He's a really good hard working horse," said Harrington. "It's really a pleasure to bring him along, and I have high hopes for what he may accomplish. My freestyle designer came out. and I was like, 'Oh it would be cute to do a 'Wizard Of Oz' theme, and we started playing different pieces and all of a sudden it started coming together. We tried a bunch of other pieces, different music and it just fits him to a T. He loves his music."
Wietze G Scores Repeat Victory
When Lynnette Wadsworth first tried Wietz G, the Friesian gelding had all the pieces to be an upper level horse. He'd been trained up to Grand Prix by Belinda Nairn-Wertman, but Wadsworth had only ever done third level, so it took a few years for them to get on the same level.
"It's taken a long time," she said. "I feel like I was barely a third level rider. He's had to rise to the occasion, and he has taught me to ride. I couldn't ask for a better dance partner. He's safe and fun."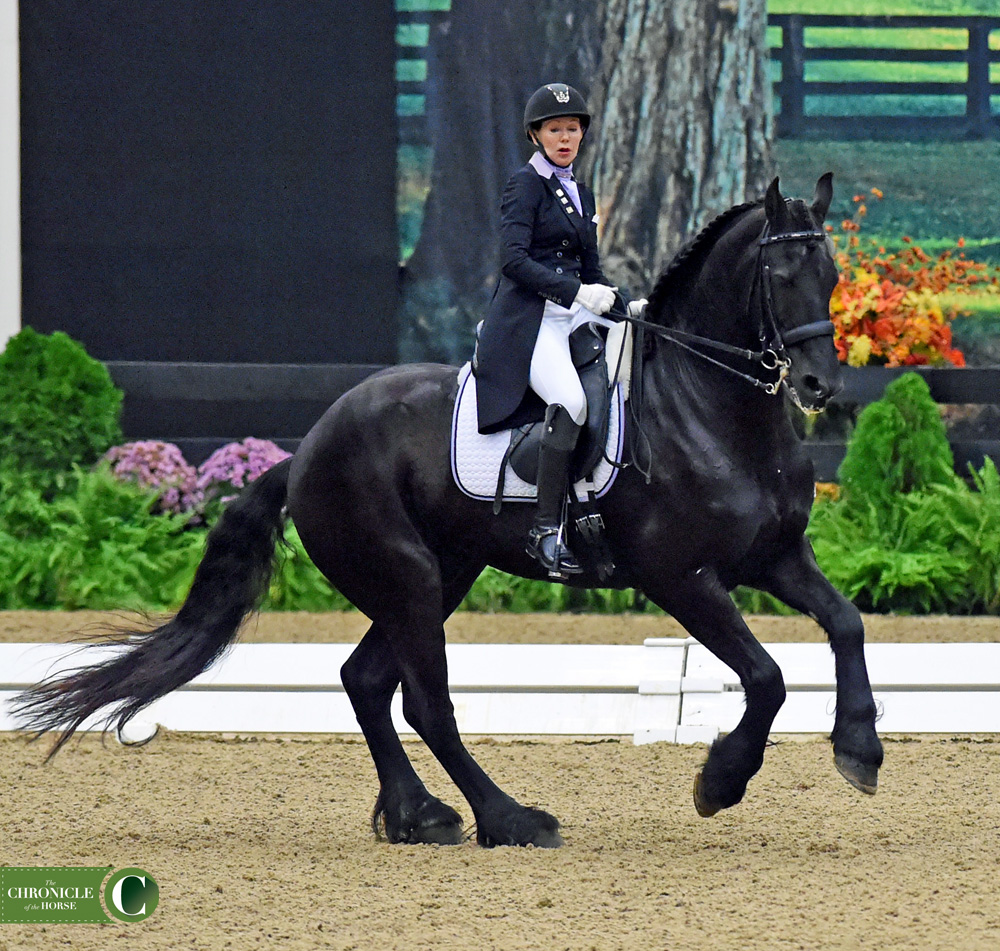 The pair have been coming the U.S. Dressage Finals since 2014, and last year they took home their first championship in the adult amateur Grand Prix freestyle. The title belonged to them again this year, as they scored a 66.41 pcerent to just edge out Jennifer Drescher and her Morgan Blue and White Raven (66.05%).
"He was very tense," Wadsworth admitted. "His thing is looking at the ground, and when he saw the footprints [in the footing], I thought I was in trouble, but I was able to have a decent ride."
The pair danced to new music this year. Wadsworth is a retired dance teacher, so she used her knowledge to create a freestyle to 80s rock music.
Other champions from today:
Open Intermediaire I freestyle: Melissa Taylor and Ansgar on 74.05 percent
Adult amateur fourth level freestyle: Susan Jones and Reliance on 71.06 percent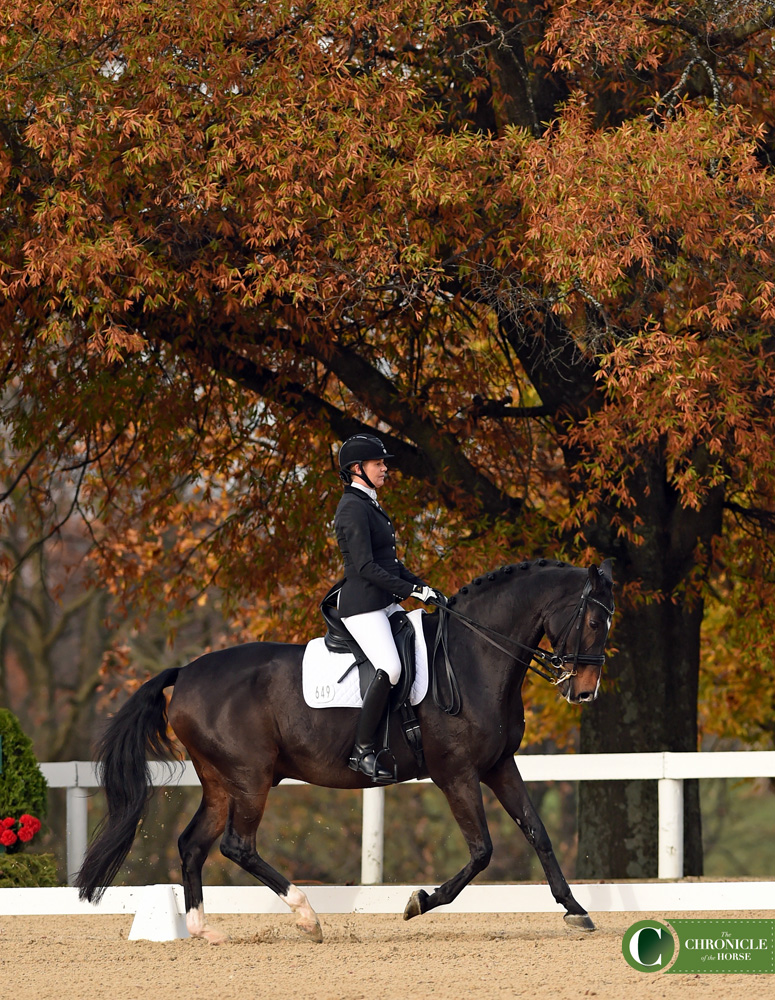 Open first level: Anna Marek and Haiku on 72.84 percent
Adult amateur second level freestyle: Sara Stone and Gotham on 72.84 percent
Adult amateur third level: Linda Currie and Frost T on 70.00 percent
Adult amateur first level: Stephanie McNutt and Freestyler HRH on 72.59 percent
Open fourth level: Heather Mason and RTF Lincoln on 72.85 percent
Adult amateur Intermediaire 1 freestyle: Alexandra Krossen and Damani on 70.84 percent
Open third level freestyle: Angela Jackson and Femke Zarma TF on 74.10 percent
Open second level freestyle: Hailey Guard and Dalwhinney on 74.55 percent
Want more from U.S. Dressage Finals?