Lexington, Ky.—Nov. 8
For this, the inaugural U.S. Dressage Finals at the Kentucky Horse Park, riders are arriving from all over the country. There are competitors from California, competitors from Texas, competitors from Maine. Then there's Jim Koford, who loaded up Rhett for a long haul…of about 10 minutes. Koford's based out of a farm in Versailles, Ky., and he topped the open Grand Prix tonight on 67.12 percent. Whit Watkins and Oublette were second (66.31%).
I have to say, it was really, really fun," said Koford. "The Alltech Arena is completely magical. The footing is great. You go in there, and the atmosphere is electric. It's beautifully decorated, there are plants and flowers, and you just feel special. We just had a good time. I made a mistake in the one [tempis], because I'd put in a nice, clean solid test, and during the ones I thought, 'Sit still.' And I actually did nothing, and then funny enough nothing happened, so I had to get back on my game after that."
Koford, 51, and Rhett, a 13-year-old Dutch Warmblood (R. Johnson—Madette, Hendo) gelding owned by Shirley McQuillan, qualified for this competition by winning the open Grand Prix and Grand Prix freestyle in Region 1 (Va.). They also competed at the Dutta Corp./USEF Grand Prix Championship here in Kentucky last month.
"We had just finished the Festival of Champions here, and I felt a bit bad—he was home for two days and then had to leave for Regionals to qualify to come here. But I just sort of said, 'No pressure, if it works, it's great.' But I was not going to let there be a national competition five miles from where I'm living without at least trying. Rhett's like my best buddy. It's sort of like when you throw your dog in the car and say, 'Let's go to the store.' I threw him in the trailer and said, 'Come on, let's go to a show.' And so for us, it's like, we get to hang out together, and it's no pressure, and it's really fun."
But while Koford and Rhett are on a roll now, they lost a summer season after Rhett picked up pneumonia while down in Wellington, Fla., over the winter. They lost some time last year, too, when Koford broke his hip in a fall from another horse.
"This is the most humbling sport," said Koford. "Whenever you think you've got it going on, the rug is pulled out from underneath you. He started out in Florida last year and was second in the [World Dressage Masters] CDI***** in the Special, and I thought, 'Great, he feels super,' and then he ends up with pneumonia.
"Then I've had my own issues," he continued. "It was a sort of scary, near career-ending injury for me. It was difficult to recover from physically, but for me, even more mentally. To sort of process where I am as a 50-year-old, and then, 'Am I going to be able to ride again? Am I going to be able to compete at this level again?' It's fun to be back in the game. It really just changes your whole relationship with the sport. You have so much more appreciation for it."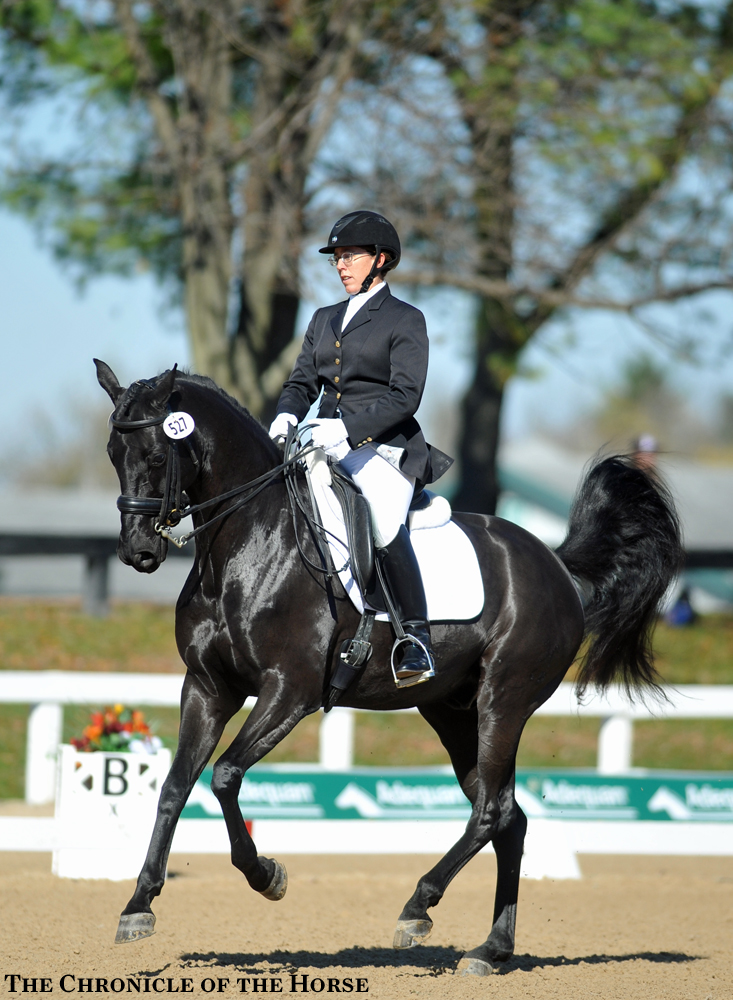 Anna Marek picked up the highest score of the night in the Grand Prix with Unico G, the only score in the 70s, but she was eliminated upon leaving the arena for blood on the horse.
Eight championships were awarded today, including the open Grand Prix, adult amateur Grand Prix (Jennifer Huber on Vito with 65.35 percent), open Intermediaire I (Emily Wagner on WakeUp with 72.41 percent), adult amateur fourth level (Stephanie McNutt on Con Dia with 67.83 percent), adult amateur Intermediaire I (Heather Mendiburu on What Happen with 69.51 percent), open third level (Heather Mason on Romantico SF, pictured, with 72.81 percent), open training level (Debbie Hill on Floretienne with 76.33 percent) and adult amateur second level (Rachael Hicks on Don Cartier with 72.97 percent).
Full results available online.