Del Mar, Calif.—Oct. 21   
Andy Kocher isn't shy about showing how he feels, especially when he wins! So after Kocher glanced back at the scoreboard and realized he had claimed the first World Cup-qualifier victory of his career, his joy was obvious. He punched the air and whooped, and his grin didn't fade for quite a while.
"I looked up at the board and thought I was going to be second, and I would have been very happy to be second," Kocher said. "Believe me, I would have been thrilled! But it was me this time! I was first! So, it was fun today."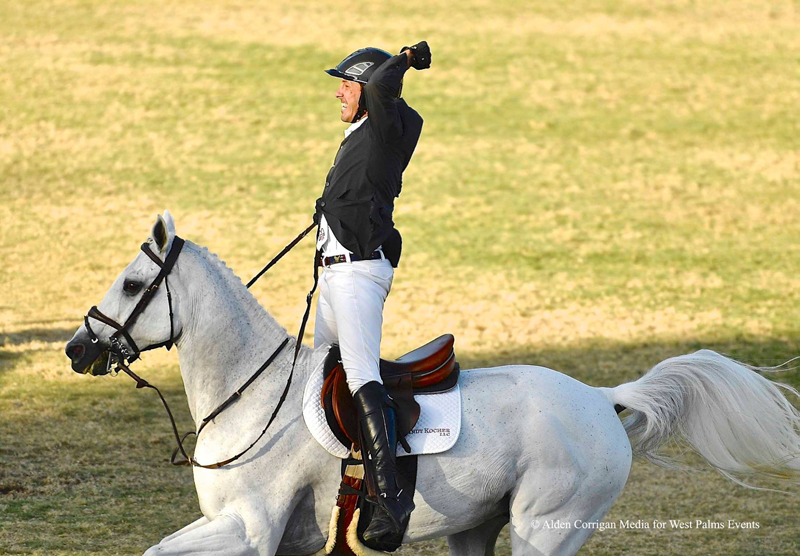 Kocher rode Navalo De Poheton, 16, to the blue in the $100,000 Longines FEI Del Mar World Cup Qualifier over a field of 29. In a class where a tight time-allowed proved problematic for riders in the first round, Kocher got inventive with his often-strong mount. He took three inside turns, two that no other rider attempted, in order to add strides down some of the lines and still make the time.
"There was a really good rider named Terry Rudd, and she had a horse named PS Gazpacho, and my dad always talks about it." Kocher said. "Last week, he said, 'I think you should ride Navalo De Poheton like she used to ride that horse. Go any possible inside turn around the course that you can, so you can keep the horse on a slow, short stride and kind of keep him in check.' Today, I made two kind of ridiculous inside turns and kind of shocked him, and it worked. So, I took that theory from my dad and a little history from Terry Rudd."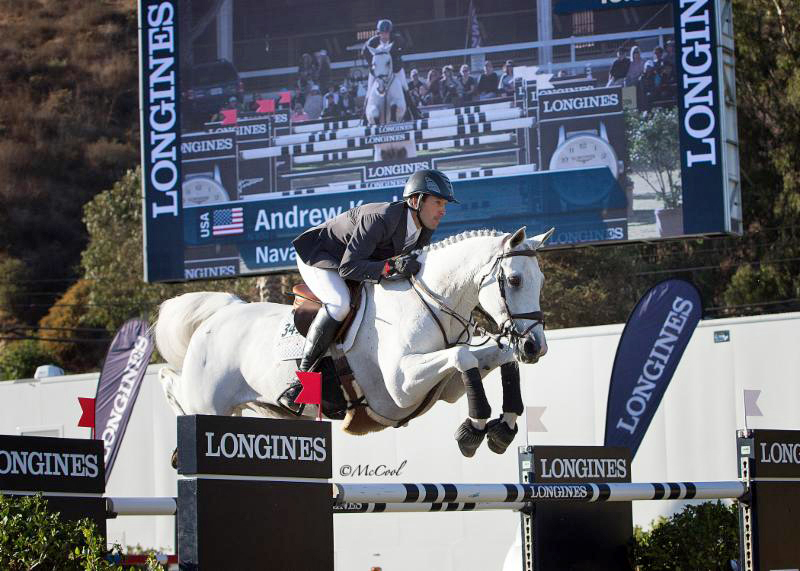 Alan Wade of Ireland designed the first-round course with 16 jumping efforts including one triple combination and one double combination. The course rode smoothly for most, with jumping faults spread around the field. Eight horse-and-rider combinations, including Kocher, rode clear and within the time allowed to return for the jump-off round.
Sarah Jeanne Scheiring was the first to tackle the short course aboard Cheval Equestrian LLC's Dontez. The pair finished well within the time allowed but with a few unfortunate rails.
Next to ride was Chris Pratt of Canada, in the irons on The Epic Group LLC's Concorde. Pratt and the 10-year-old chestnut Dutch Warmblood gelding put in a fast and clear round and crossed the timers at 37.75 seconds.
Following Pratt was Alison Robitaille and Serise Du Bidou. Robitaille took a more conservative track on the 11-year-old, chestnut, Selle Francais mare but had a beautiful clear round.
Next on course was Jenni McAllister and LEGIS Touch The Sun, followed by Jamie Barge and Luebbo, then Richard Spooner and Chatinus, who each pulled unlucky rails.
Eric Navet took to the field on Catypso and piloted him around a direct, tidy course including an extra tight rollback to the double combination. He and the 10-year-old bay Hanoverian gelding were rewarded by beating leader Chris Pratt's time by 2/10 of a second.
Last on course was Andrew Kocher and his mount Navalo De Poheton, a 16-year-old grey Selle Francais gelding. The pair was lightning fast in a thrilling round that put them across the timers 1/20 of a second faster than Navet to take the lead and the blue ribbon.
No one was more delighted than Kocher. "My horse just jumped amazing," he said, "and it came up the way I was thinking it was going to, which it never does. Coming to the last combination I saw it long, then short, and figured I'd just sit still and hope he makes it. And he did!"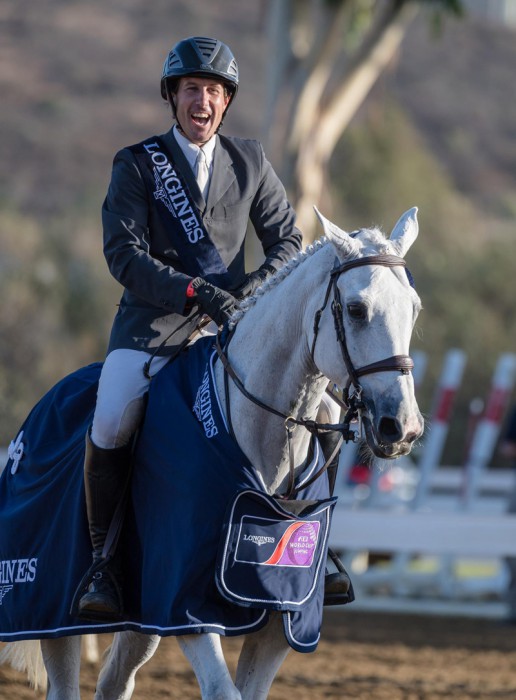 Kocher, an east coast rider, has competed on both coasts through the first five World Cup North American League events and plans to make several other cross-country journeys in the coming weeks.
"We're going to Calgary [Alberta], Lexington [Ky.], Toronto [Ontario], Las Vegas [Nev.], and then I think we'll come back for one of the weeks of Thermal [Calif.]. I might hit that show in Mexico [at Guadalajara]. We're going to do a little more out here [on the west coast]," said Kocher.
See full results from the $100,000 Longines FEI Del Mar World Cup Qualifier.
Watch Kocher's post-win interview…