Mill Spring, N.C.—Sept. 13
At the beginning of cross-country day at the Mars, Incorporated World Eventing Championships the German team was favored to lead with four strong pairs, including dressage leader Julia Krajewski (Chipmunk FRH) and second-placed Ingrid Klimke (SAP Hale Bob OLD).
But by the end of today, the German team was nowhere to be found, save for Klimke leading the individual competition.
The rain held off, and conditions were perfect for a good day of sport over Captain Mark Phillips' course.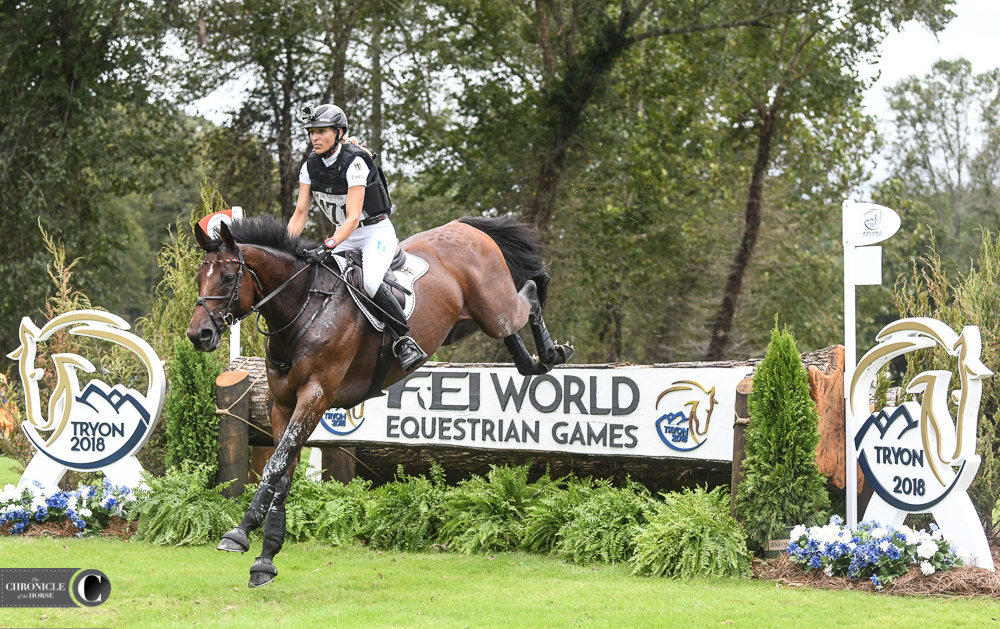 Great Britain rose to the top with four clear rounds inside the time, while Ireland jumped into silver medal position, and France, the reigning 2016 Olympic champions, are in bronze.
Germany dropped to sixth place after Krajewski picked up a runout.
Klimke and "Bobby" finished right on the optimum time of 10 minutes.
"I had a lovely round," she said. "I liked the course a lot. Bobby was really fit. He really cantered up the hill and got a second breath, so I could ride him for the time. I was lucky because I went at the end. All of my team members helped me a lot. We had a wonderful team spirit.
"He's always a fast horse and loves to run because that's his favorite, doing cross-country," she continued. "In the beginning I was held at the start for awhile, so I was lucky that he didn't speed up in the wrong direction! We finally made it to the start, and he was on his way."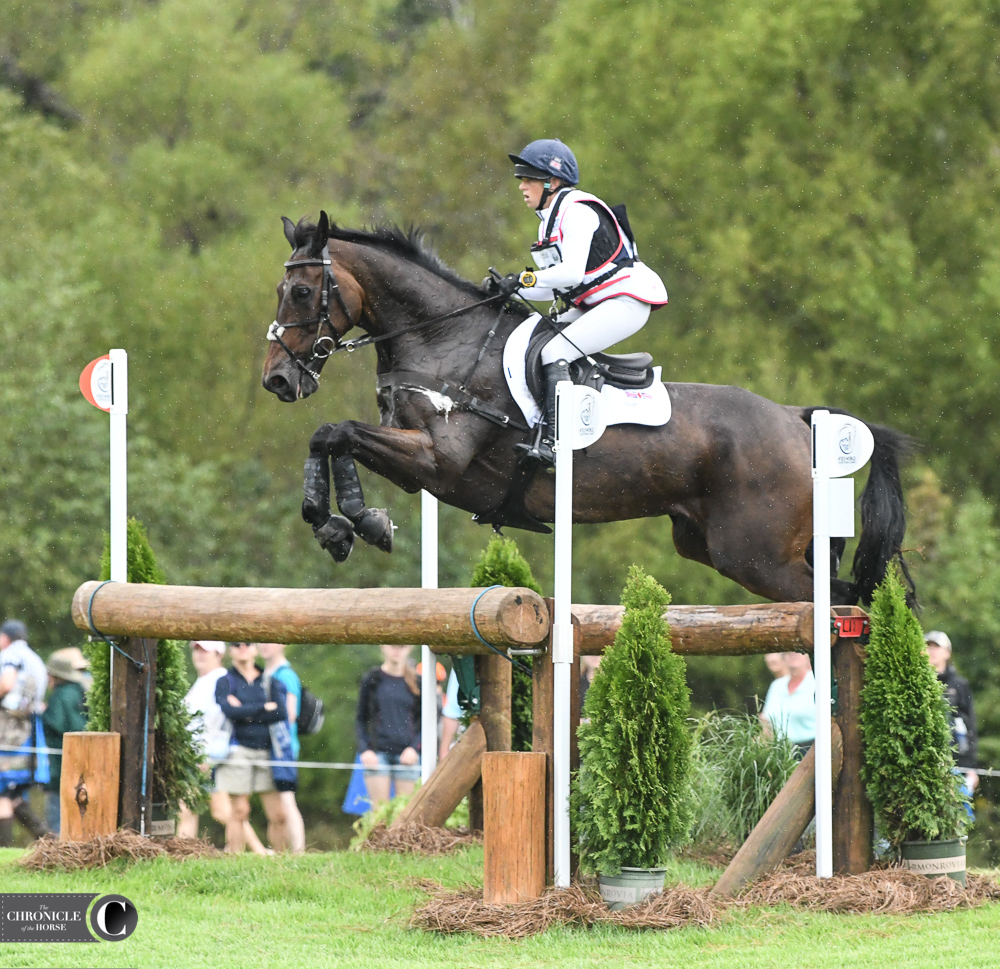 Great Britain was in silver position after dressage, but with an incredible cross-country day, they now have an 8.2 penalty lead.
"Absolutely fantastic. Unbelievable. Four clear rounds under the time, they were class acts," said British Chef d'Equipe Richard Waygood. "I can't wait to watch the videos back and see the performances from all of them. They sat beautifully; they rode beautifully; the horses reacted to them, and the way they came out ahead in the end was super. We're very privileged that we have a big group of riders. We've got width, we've got depth, and these guys just proved it this afternoon."
Gemma Tattersall was first out for the team on OTTB Arctic Soul, and he came home 13 seconds inside the time.
"Obviously Arctic Soul is a complete cross-country machine," she said. "My job today was to go out and go clear inside the time as pathfinder. Luckily I managed to set the tone for the day, and these guys all followed, so that was brilliant. I was 15 seconds down at the bottom of the hill. It just shows how quick that horse is. From the second-last to the end he was still 13 seconds inside the time."
Piggy French and Quarrycrest Echo moved into the top 10 after their round for the British team. "I was really proud of my horse today," she said. "It was one of the first times he had to get really gritty and dig very deep, and he just performed effortlessly and stepped up to it. I was pleased to be able to show the horse he is. It was hard work, and it felt like a tumble dryer, but he really dug very deep, and I was very proud with how he finished."
Great Britain's Tom McEwen and Toledo de Kerser also had a strong round, and Ros Canter and Allstar B easily galloped home to secure the team gold position and to sit in third place individually.
It was Canter's first time at a WEG, and she came into it as a favorite for an indivdual medal. "Allstar B is just the most fantastic horse. We've grown up together learning at this level. I had every faith in him today, and he really delivered for me," she said.
"Today was all about the team, as was yesterday, and that's my No. 1 focus," she added. "The fact that I'm in a medal position is a bonus, and it's really exciting. I've just got to thank the whole team and our support team that's around us because I couldn't have done it without them. Going forth I got all the information and knew exactly where I needed to be, and it really helped me today. We all knew our horses were fit today, so we just went for it, and they really delivered."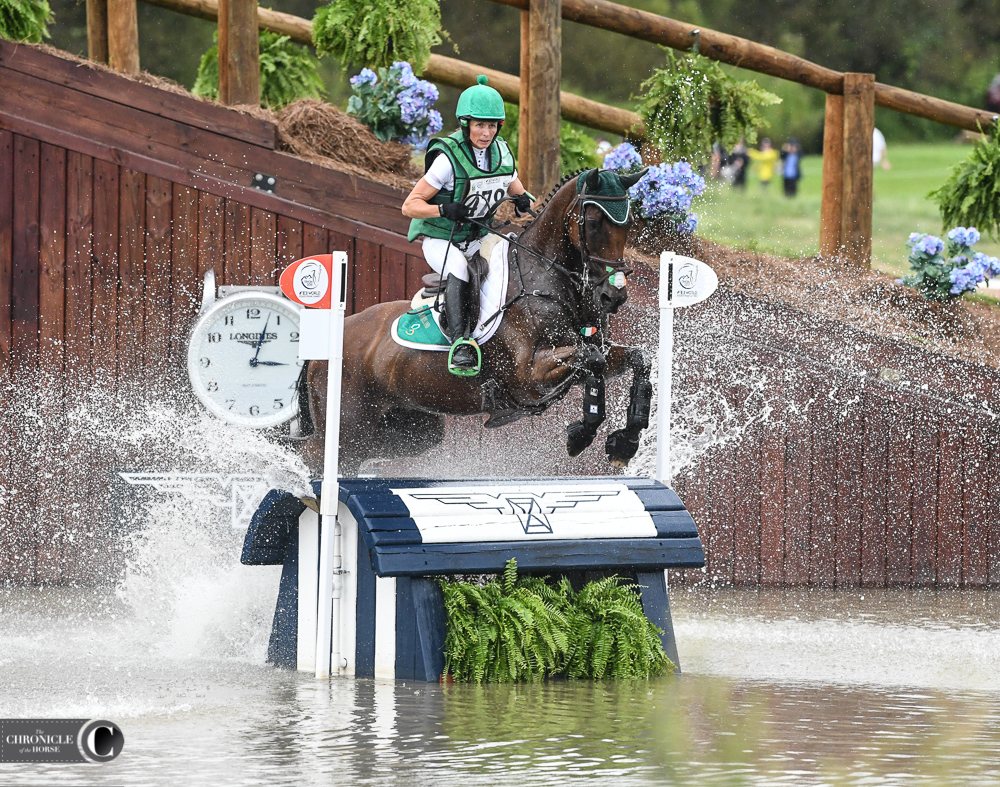 Ireland wasn't necessarily a favorite for a medal going into this WEG, but they've revamped their team training in recent years, and Sam Watson, who rode Horseware Ardagh Highlight to a clear round, has seen the effects.
"I've done more hours training as part of Team Ireland in the last year and a half, 10 times, than I did in the 10 years previous in terms of training as a team," he said. "It used to be just something that you would leave, even cross-country, for you to do privately, and [Chef d'Equipe Sally Corscadden's] put on a lot of clinics, and she's pretty hard on us to make sure it's all done properly."
Ireland has two riders in the top 10: Sarah Ennis and Horseware Stellar Rebound in third and Padraig McCarthy in seventh.
"I was very proud of them," said Corscadden. "They did an amazing job; they were so professional. They've had a fantastic preparation. We knew they could do it; they just had to believe in themselves and keep doing what they do."
"I thought all the fences were very jumpable—a lot of options," said Watson. "I think it was a very clever course in that it gave the riders a lot to think about. It didn't have some of the height that we've seen at Burghley as a four-star, but I don't think we're going to expect that now at this level. I think it maybe lured a couple of riders into a false sense of security early, but the combinations were all from the textbook, all testing the same thing, and we've been working on this for a year now. Cross-country is our No. 1 thing that we work on. We want to be the best cross-country nation. Ireland has a good reputation, and I think we showed it today that we can do it."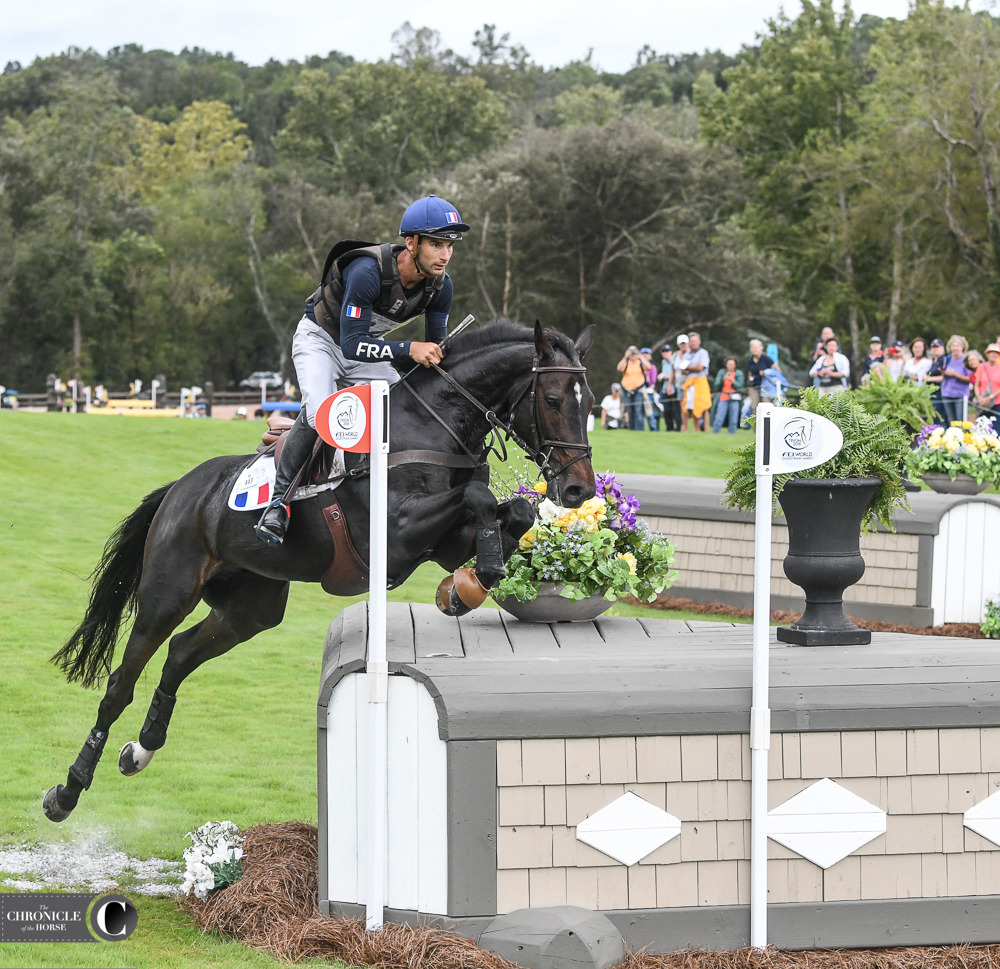 France has two riders in the top 10—Thibaut Vallette and Qing du Briot ENE HN are fourth, and Astier Nicolas and Vinci de la Vigne are in fifth.
Things did not go to plan for the U.S. team, who were hoping for Olympic qualification this week.
First out was Will Coleman and Tight Lines, who picked up stops at 10D, a narrow bank with a waterfall, and 14B.
"Well it didn't go very well for me," he said. "There were a couple surprises like that waterfall bank; he just flat out stopped at it. I've never had a stop like that on him in my life, and I don't know why that caught him by surprise. They don't really focus that well on where they're going there, that's why we planned to wait and do an extra stride, but then it just completely caught him off guard, and I had nothing."
Boyd Martin and Tsetserleg were next and picked up a stop at 10B, a boat in the water after a drop.
"I started off really good," he said. "He was galloping really well, jumping everything out of step. It was almost going too good, and I was feeling bulletproof, and to be honest I just completely rode that fence wrong. I've practiced that jump 100 times, 1,000 times, and I got in there completely wrong and tried to add a stride right at the end, and poor old 'Thomas' got right underneath it and stopped. So it was a crushing moment because it sort of just destroys the team and the momentum we had. I just came up short today. It's a great course; it's got everything—it's technical, it's galloping, it's twisty and turning, and there are options galore. It's just for the life of me, it's the one jump I wasn't worried about. That will haunt me for a while."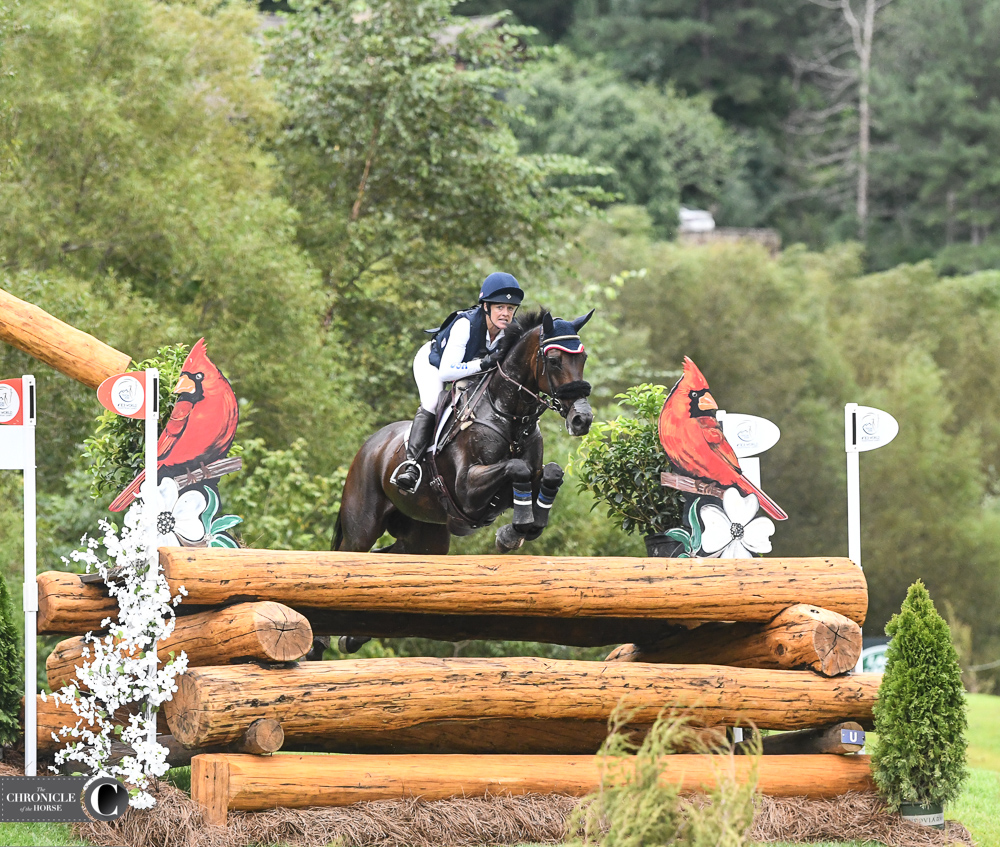 Lynn Symansky and Donner smoked around double clear to move into ninth place. "I'm pretty lucky to be on this horse today," she said. "I tried to put out of my head what happened with the team earlier in the going and made a plan for my own ride and just went out and relied on what I know he does so well. I trust him, and he trusts me, so everything did really go according to plan. I was a little down on my minutes midway throught the course but didn't panic too much. I gave him his time through the middle because I knew I could rely on the fact that he is a Thoroughbred for that hill, and he just dug so deep for me today. He was awesome."
Phillip Dutton, the most experienced rider on the team, rode Z, one of the least experienced, to a clear round with 6.4 time faults.
"He was good. I would say the priority at this stage was for me to jump a clean round, so it was get a clear round, don't take too many risks, but go as fast as I could, and a couple of parts I was a little making sure things were right and had to try to catch up at the end, which we made up some ground," he said. "He did exactly what I wanted him to do. The footing is good. It hasn't changed at all, and actually the conditions were a little bit of wind and moisture; it was pretty horse friendly."
Lauren Kieffer, riding as an individual, parted company with Vermiculus at fence 18A, a table with a large drop dubbed the Land Rover Turn, but she got up quickly.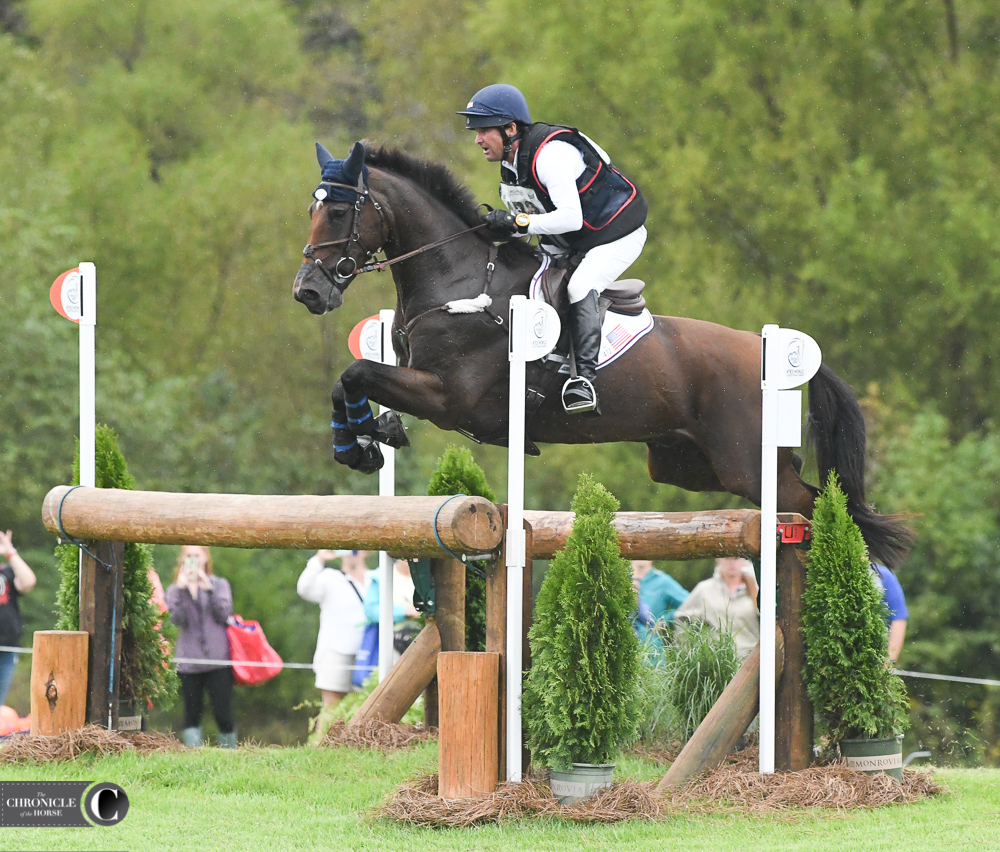 The second water, the Mars Sustainability Bay, fence 10ABCDEFG, was one of two combinations that caused a lot of heartbreak on course, with 14 riders faulting there. In addition to Martin and Coleman, Sandra Auffarth had two refusals at that combination before retiring on Viamant du Matz. William Levett also parted ways with Lassban Diamond Lift there.
Canadian Jessica Phoenix fell from Pavarotti at 18A.
The second combination that posed problems was the CSX Junction at fence 14ABCD, which included three corners. Five pairs faulted there including dressage leader Krajewski and Coleman.
Blyth Tait and Dasset Courage were eliminated after having two refusals at the second water and then a third at the corner combination.
Norwegian rider Heidi Bratlie Larsen was pulled up by the Ground Jury with Euforian after fence 21. The horse was taken by trailer to the onsite veterinary treatment center and was diagnosed with a soft tissue injury.
Brazilian rider Henrique Plombon Pinherio was eliminated after his horse Land Quenotte Do Feroleto jumped into the ditch at fence 5. The horse was extracted from the ditch and attended to by veterinarians.
Two frangible pins were activated on course by Patricia Ryan (Dunrath Eclipse) at 9B and Ryuzo Kitajima (Queen Mary) at 19.
Box Qutie, ridden by Sweden's Anna Freskgard, pulled up lame at the finish of the cross-country and was transferred by horse ambulance to the Tryon Equine Hospital near the venue for assessment. She was diagnosed with a soft tissue injury.
Phillips was happy with the day. "One or two people tipped off, but that's part of the thrills and spills of cross-country," he said. "We managed to keep the horses on their feet, which is really important. Doing a world championship at the three-star level at 10 minutes for the first time, we were going into unknown territory, but we had a lot of really good four-star horses here and the best riders in the world, so it was a difficult one. We saw a lot of people get round that you may not have thought would get round. I hate to name names, but with Mark Todd and Christopher Burton and people having a problem, the course did its job."
There was a lot of talk about the multiple options at the Mars Sustainability Bay, which featured a long route that was labeled as parts A through F.
"The fence into the water was a normal three-star fence with a 1.70-meter drop," Phillips said. "We could have had a 1.80 drop. It was a completely normal fence. The unknown quantity was the waterfall, but there were lots of options. It's a championship, and it's sort of fun to put a joker in the pack like that because with a team competition, that can make all the difference."
The hill in the final minute was a known quantity, so riders came prepared with fit horses. An overcast but humid day with a few lines of light showers kept conditions better for the horses than the past several sunny, hot and humid days. "We were lucky with the weather; it could have been hotter," said Phillips. "But to see the way horses came to the arena with their ears pricked, it's what we want to see at the end of cross-country courses, and I thought in that respect the sport of eventing had a wonderful day."
Riders will have a day of rest tomorrow as competition management has postponed show jumping and the final horse inspection until Monday due to high wind and rain expected from Hurricane Florence.
"It's very odd," said Symansky. "I don't think any of us have ever really practiced that before, so it's nice in a way. You get a little longer to take care of the horses, but sometimes if you go out and run a  really, really long race you feel kind of OK the next day, and then you feel even more sore the next. It's muscle fatigue, so I think it will be a big shake up Monday when everyone jumps because we don't really know how to prepare the horses because we've never practiced that before. You have to rely on the job you've done and take care of them as best as possible and keep them moving, which also might be very difficult with the storm coming in because there aren't a lot of big covered places to do that. Fingers crossed the weather doesn't get too dramatic."
For full results, click here.
For everything you need to know, including broadcast schedules, click here.
For all WEG coverage, click here.
We'll be onsite for the full two weeks of WEG to bring you all the news you need to know plus gorgeous photos and insight into the competition. Be sure to check out the Oct. 8 issue of the Chronicle for detailed analysis.
2018 World Equestrian Games - Cross-Country
Kimberly Loushin / Sep 15, 2018 8:37 pm